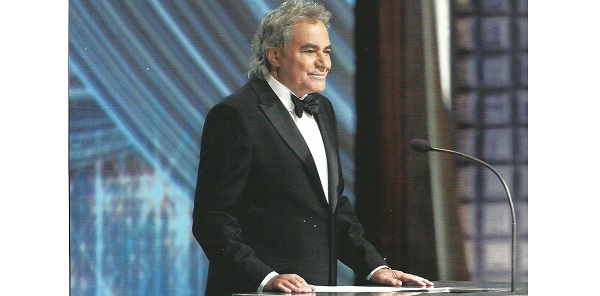 A little light-hearted entertainment for the weekend.
As earlier mentioned in a comment — a contest was launched to commemorate the annual IAS event to see who could produce the best Shermanspeak on the topic of scientology and the world today.
Our winning entry is below.
Dan should be proud.  Throughout history, great writers have had an identifiable style — from Shakespeare to Ernest Hemingway. Speechmakers too — Abraham Lincoln and Winston Churchill come to mind. But it seems that though Sherman has developed a unique style, he follows in the tradition of another famous orator, Professor Stanley Unwin the creator of Unwinese, clearly a predecessor to Shermanspeak. 
Enjoy…
Scientology And The World Today
When one examines the core relationship which has been amazingly forged and increasingly strengthened over an astounding 55 year period between the Scientology religion and the world as we know it today, it behooves us to first define what exactly we mean when we say " world", which is not to say that we don't have a perfectly serviceable wog definition, or two, or 3,  for it, but no, we want a definition upon which to build the elemental structure that will be our next great advance toward the only worthwhile goal that exists, which, I'm sure I don't have to tell you, is planetary clearing.
So let's apply some Word Clearing Tech to this situation, shall we?
What is the "world", really? What is the actual, truly workable significance of this term?
Because, make no mistake; there is a world, and to any Scientologist, this is, of course, self-evident.
On the other hand, having said that, as we in Scientology go about our work clearing the planet, as we endeavor to actually wear those enormous boots which are an intrinsic part of LRH's legacy to mankind,  as we continue to successfully spearhead our crusade for spiritual freedom for all against incredible odds,   it would be a grave error on our part  to assume that any non-Scientologist can even identify let alone define what a world actually is. Now, in turn, from this premise, we can deduce that, if someone is unable to perceive something, then it would be undefinable, and, finally, it can be extrapolated that, being unable to define it, effectively, for that person, it cannot exist – indeed, one might almost conclude that it does not exist.
And you would be right about that. (Laughter).
Now, if we apply this principle to the word "world",  Yes, I'm afraid that there is indeed a sub-strata to this particular issue which is, quite simply, for the people of Earth, there is no world. (Shocked, stunned silence.)
And there we have the crux of the matter. They don't see it, can't define it, yet somehow, dimly, they believe they're in some kind of "world".
Certainly, it is a term continually bandied back and forth with very little thought. That it is beyond all reasonable doubt that this term is used lightly by the majority of people on the planet is unfortunately to vastly understate the issue, thus it need hardly be mentioned that your average Joe or Jane,  living blindly from day to day, trapped in their pedestrian goals,  imprisoned by their own mundane, unimaginative and relentless quests for food, clothing and shelter have this term glibly defined, whereas we in Scientology are too well aware that many meanings exist for this term, that it can and does have many significances and, given this understanding, I'm sure you'll agree that it behooves us to apply KRC, by taking responsibility for what we know,  and, to,  actually, for the first time in the history of this universe, not only adequately, because "adequate" is nowhere near good enough for us, no, we have leaped beyond the mere adequate to fully and standardly per LRH define for our purposes this term so that we and we alone control its usage in Planetary Clearing.. (Standing O)
Now, with that build up, I'll bet that you're expecting me to give you this definition – right? (Everyone in audience nods.)
Well, guess again! Because I'm not going to!  (Laughter, applause)
No, I'm not going to feed it to you! You're going to have to look it up! (More laughter, hooting, applause.)
(Miscavige, smiling) But, have no fear. We in RTC have you covered. Yes, I'm leaving you for a short time in mystery, but no, you will not have to suffer with this MU for very long, because the proper definition, the only useful and correct and standard definition for the word "world" is soon to be yours, defined clearly for you for all eternity, LRH's gift to you.
Which brings me to the subject of our latest release, and quite seriously, it is the Missing Ingredient, it is what has been missing from all of our Planetary Salvage Campaigns, and it is quite simply stated, the tool with which you will now be able to reach people, reach deeply into the communication lines of what practically every non Scientologist is calling the "world" while at the same time having no idea what they're talking about, and, yes, we are very proud to present our latest release, which, by the way, happens to be very aptly named, "Scientology And The World Today".
(Very long standing O, cheering, hooting, hollering, laughing).
As all of you are well aware, Scientology's impact on the world today is huge.
The effects we are creating on every dynamic on this planet have continued to increase by leaps and bounds and at this point have reached such epic proportions that even beginning to detail them would trivialize what is evidently the culmination of nothing less than a concatenation of  LRH's original postulates for the freeing of beings in this sector! (Standing O)
Thank you. But there is still much work to do, which is not to say that we have not had phenomenal successes and yes, the planet is opening to us, but, no, we cannot afford to rest on our affluences, as it were, but instead we must continue to man our posts to spearhead the vital technology of Scientology to every man, woman and child, and while this may sound like a gargantuan task, let me assure you that With "Scientology And The World Today"  our goal is reachable in this lifetime. Buy it, read it, sell it. Give it to your friends.
It bears repeating: Only in this book is the word "world" truly defined, as LRH always intended. With this definition of "world" cleared to full conceptual understanding, the people of earth can now be enlightened to the vital fact that there IS a world, a world that they actually inhabit, a world that actually is, thanks solely to Scientology Technology and the priceless legacy of L. Ron Hubbard becoming  a society without war, without crime, without absurd political campaigns, where man really can aspire to greater spiritual heights, where they can finally realize that Scientology is the force that is creating all of the good that is in the world today while at the same time saying a resounding "no" to the bad, its all here in "Scientology And The World Today,"  and yes, that's how we're getting out the real message of the huge impact that Scientology is having on the world today! (Standing O, shrieks, hoots, hollers, foot stamping).
Thank you.