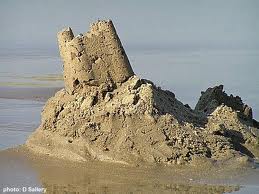 There are many indicators that David Miscavige's sandcastle is sliding into the oncoming tide.
One of them is a new line is being used by MAA's and OSA to try to handle those who raise questions concerning the state of affairs in Scientology:
 "Yes, some things are wrong within the Church, but that's no reason to tear it down"
Just 5 years ago to admit "some things are wrong" would have been high treason. It would likely have warranted a "provisional declare."
It is an acknowledgement of the inevitable — there are just too many people asking too many questions or giving the wrong answers when they are interrogated as to why they are not showing up for events, giving money or "on lines."  But it is also a typical effort to shift the attention from the outnesses onto those who are making those outnesses known. Because the unstated point of the second half of the sentence is this:  "Anyone who questions or criticizes ANYTHING about the church is trying to destroy it."  
This "logic" is quite pervasive in the RCS (Radical Church of Scientology) and the two halves on the sentence, when you think about what they really mean is that while we know we look absolutely stupid saying everything is perfect, we are telling you that if you comment on any of our imperfections you are suppressive. And that all "black PR" (i.e. anything that is wrong) comes from a "handful of bitter defrocked apostates."
And also unstated is ANYTHING you can do about it other than the very worn "write it up" which literally means "take a number and get in line for a sec check at your expense."
But of course, in just a couple of weeks ALL possible "imperfections" WILL be cured.  
GAT II will become the panacea for EVERYTHING. It will explain why there are no auditors and nobody is making it up the Grade Chart. It will explain why in spite of all the promises, the "Ideal Orgs" have not boomed anything at all and are just as dead and empty as the non-ideal orgs. It will explain the lack of new public coming in (MU's because of the suppressive Student Hat? or something…) even the need for "heavy ethics" (they'll find something — some quote about ethics get heavy when tech is out or some such).
So, they feel confident that they can acknowledge everything isnt perfect soon it will be! Just like it was with the release of OT VIII, GAT, GAK, Basics, Ideal Orgs, Div 6 campaigns and of course "thanks to the IAS."
It is interesting to watch the contortions and leaps of logic as they unfold.