We don't hear much from STAAD any more.
Seems Fast Eddie has gone back to stuffing envelopes in the basement or whatever it is that he usually does. He has been silent on Twitter — one post since 22 October and that could have been written by any of the STAAD flunkies and posted on his behalf.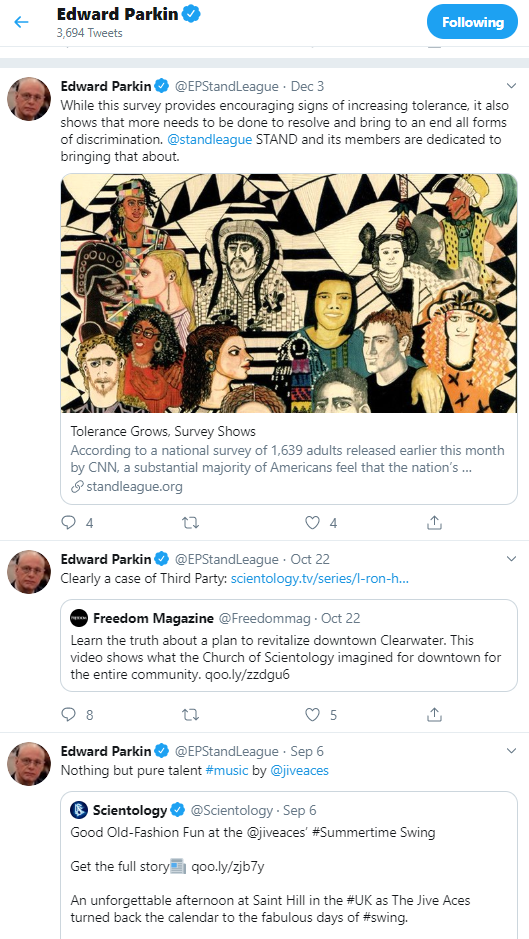 Even the STAAD League itself has been pretty dormant, every now and then sending out a retweet promoting Marty Rathbun like the last Japanese soldier on a Pacific Island firing into the air in an act of defiance to keep the fight going. This is one of their most recent retweets from a year or more ago…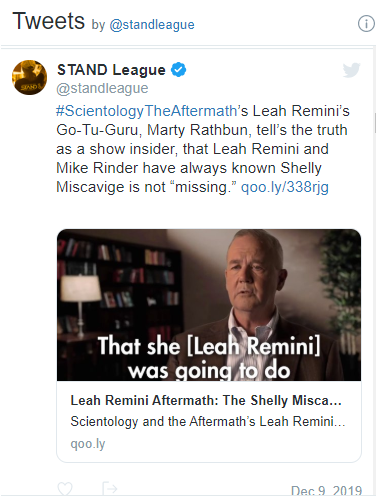 It should be noted, Marty Rathbun has not seen Shelly Miscavige for even longer than me. He has as much idea of her whereabouts as the guy sitting under the Brooklyn bridge nursing a bottle of ethyl alcohol. But that doesn't stop Marty from pontificating about the subject in support of Miscavige's "talking points."
It is a strange topic to rehash on Twitter. Wouldn't want to call attention to one of the most popular hashtags in scientology "WhereIsShelly?" Nobody has been talking about it, but now…
The reason for this post is because sometimes it irks me how blatant the lies are that scientology tells. And manages to persuade people it bullies into submission to say on its behalf. Like Marty Rathbun.
Marty Rathbun is claiming to say here that he has "always known" that Shelly is not missing.
Unfortunately for him, his extensive writings after he left scientology and before he returned to its side (for whatever reason) are generally available.
Here are just two things I pulled up in a quick internet search of Marty Rathbun and Shelly Miscavige.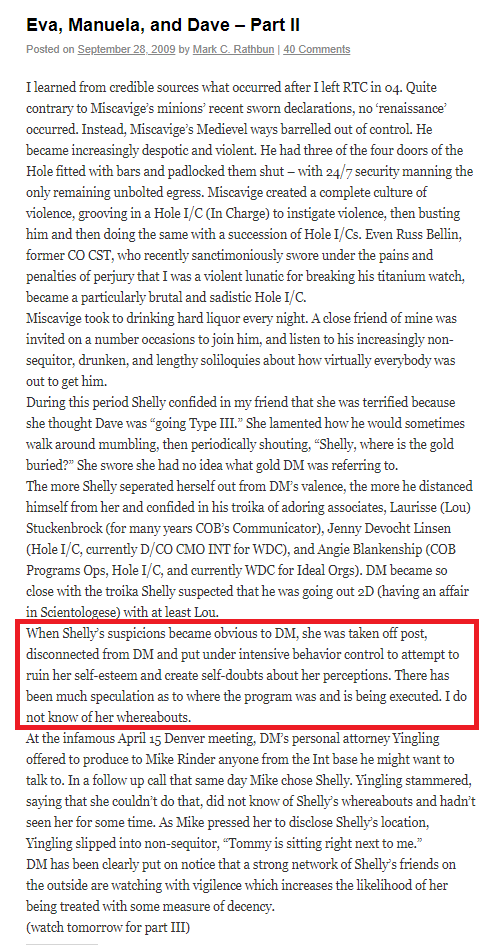 He clearly states here, in September 2009 "There has been much speculation as to where the program was and i being executed. I do not know of her whereabouts."
And then in December 2013 (interestingly, while discussing the proclivity of scientologists to lie in a post he titled "Trained to Lie") he says the following: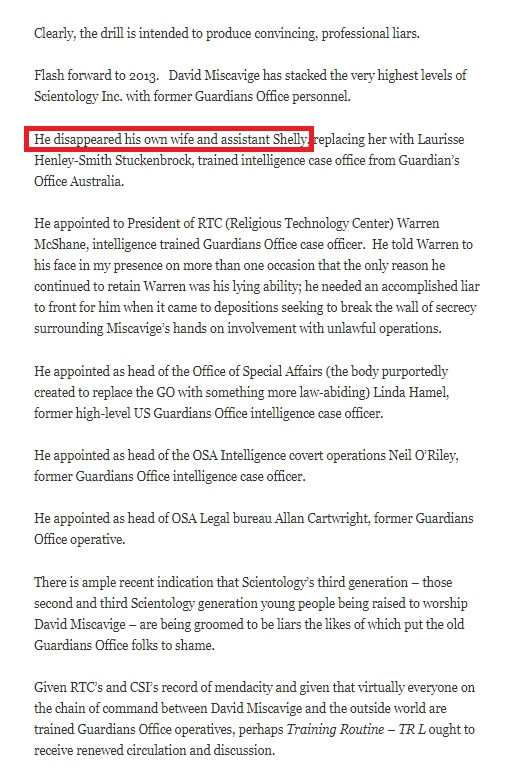 "He [Miscavige] disappeared his own wife and assistant Shelly…"
"Disappeared" is not the word one uses when a person has simply been removed, or even banished but you know where they are. Disappeared is when someone is made to become invisible, and if they are invisible you don't know where they are.
This is clearly a case of, "Nobody knows where she went, deliberately so."
And in all this time since the question has been raised — nobody has seen her. She has not been produced for even a POW style video. Some lawyers have made statements "she is fine" but who knows what they were told and by whom. A lot of lawyers representing scientology have said a LOT of very untrue things based on what they have been told by scientology (just think of Monique "Muffins" Yingling sitting in national TV saying Gold is a "worker's paradise" for but one of MANY examples).
David Miscavige wants Shelly Miscavige out of sight and out of mind.
I thank the STAAD League for giving me a timely reminder that we should never forget those who have been "disappeared" (not just Shelly, but also those like Heber Jentzsch and many others) and have no voice to tell the world. Scientology is NOT above "disappearing" people who are witnesses to crimes — see the recent article on Tony Ortega's blog about the Masterson case witness disappearing to the Freewinds. That is just the latest in a LONG line of people going all the way back to the forcibly kidnapping of Michael Meisner, tying him up and stuffing a tennis ball in his mouth to prevent him from complying with an FBI subpoena.
So, let the cry ring out once again: "Where is Shelly?"