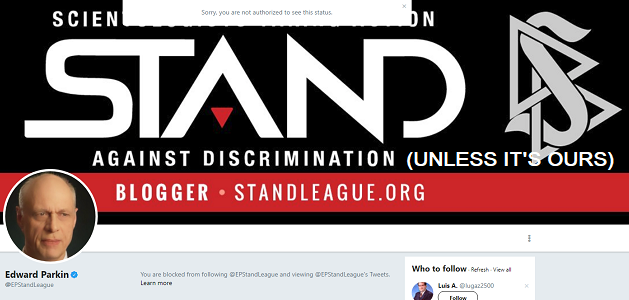 Frankly, they don't have a whole lot to say about this — but they simply cannot let any appearance of Leah Remini go unchallenged.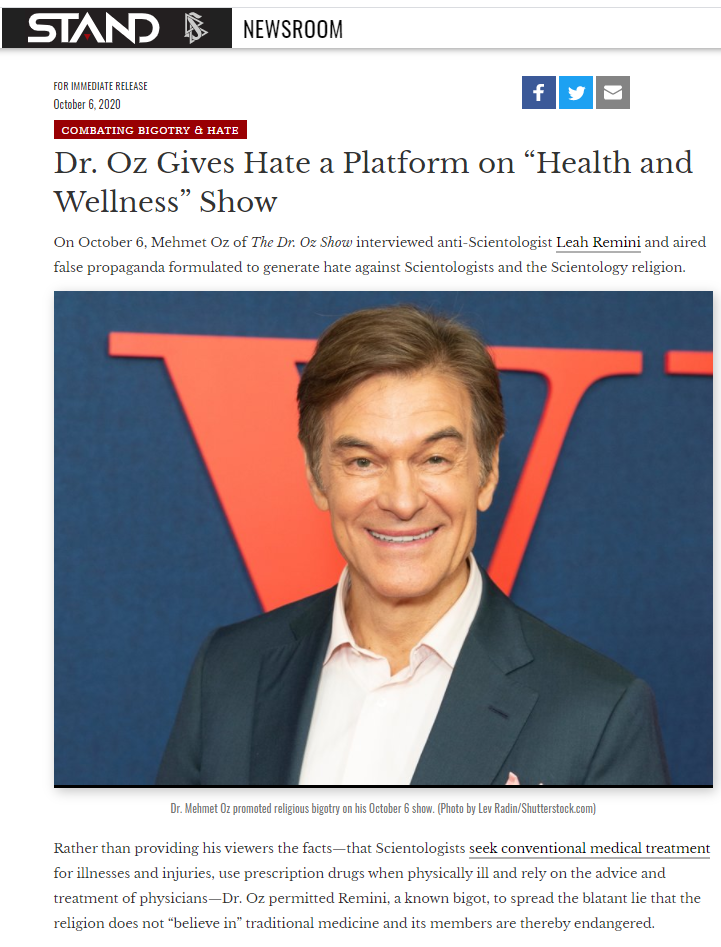 But as usual, their flailing brings up something worth commenting on. Scientology invariably lies in their attacks on the media.
This time, their complaint is this: Dr. Oz permitted Remini, a known bigot, to spread the blatant lie that the religion does not "believe in" traditional medicine and its members are thereby endangered.
And then they include a quote from "STAND National Director" Bari Berger (an OSA PR person): "Dr. Oz had to go out of his way to weave hate speech into his 'health and wellness show. In doing so, he aligned himself with those fringe members of society who practice what the people of this nation have made very clear, in recent months, that we wholeheartedly reject: the marginalizing of minorities."
OK, let's take a look at what L. Ron Hubbard actually had to say about medical doctors and treatment. It is true that there are quotes from Hubbard that say "send people to doctors when they have broken bones or to verify they might need some medication." But this is lip service in reality and much of it is included to protect scientology from claims of practicing medicine without a license or other legal liabilities. Scientologists do go to doctors — as a sort of last resort or for emergencies. And why is this? Because there is a ton of Hubbard statements about the incompetence and evilness of medical doctors, casting them as fools who know little compared to the genius of anyone who has studied the brilliance of LRH.
Here is a very small small sampling:
Almost any chemical engineer can administer antibiotics with better results than can a doctor. Any civil engineer knows more about sanitation. Almost all operations as in the field of surgery are needless. And in problems of psychosomatic medicine the doctor has been and is a rather miserable flop — and psychosomatic medicine comprises better than seventy percent of Man's ills!
The medical profession has prepared its own retreat into the fields where it belongs, for it has openly fought original research into the problems it itself could not solve. It has continued to accept money from the public to remedy ills it cannot help. It has therefore forfeited to a large extent the goodwill of all research people and, as any poll would show, the affection of the public as well.
Any organization unnaturally pretending to cure all when it cannot nurtures the seeds of its own destruction. Any organization which pretends to developments which it at first fought at length becomes laughable. That the medical profession is now advertising, as in the Ladies' Home Journal, that it is now nicely accepting the prenatal theory of Dianetics without credit to Dianetics does not escape any ridicule or give us any real responsibility in helping the AMA to continue.
Here's another snippet.
You think some medical bums or psychiatry nuts climb out of their pig troughs long enough to act without pay?
Medical doctors are the "servants of the insane politician."
Therefore we must, very hard, push the idea that the eradication of unwanted minorities and unwanted religious groups is the primary target of the medical doctor who is himself simply the servant of the insane politician.
Scientology has a "vested interest in knocking out the medical doctor."
We have a vested interest in knocking out the medical doctor and psychosurgery and electric shock since these men are the tools of mad do-gooders, and as they are the out-ethics segment of the planet.
Doctors are "careless and incompetent."
Doctors are too often careless and incompetent, psychiatrists are simply outright murderers. The solution is not to pick up their pieces for them but to demand medical doctors become competent and to abolish psychiatry and psychiatrists as well as psychologists and other infamous Nazi criminal outgrowths. Society and police agencies should deal with such offenses. It is not up to Scientologists to salvage the wreckage created by these professions, but to prevent it from happening in the first place by reforming a degraded society.
And the original sin of Hubbard. Claiming Dianetics could cure everything from the common cold to tuberculosis — why would any ill scientologist resort to a medical doctor when Dianetics can cure it.
Treatment for accidental injury, surgery for various things such as malformation inherent in the body on a genetic basis, and orthopedics, which actually can be classed under both, remain properly outside the field of dianetics, although it can be remarked in passing that almost all accidents are to be traced to dramatization of engrams and that clears rarely have accidents.
Psycho, of course, refers to mind and somatic refers to body; the term psycho-somatic means the mind making the body ill or illnesses which have been created physically within the body by derangement of the mind. Naturally such diseases, when one has resolved the problem of human aberration, become uniformly susceptible to cure.
Arthritis, dermatitis, allergies, asthma, some coronary difficulties, eye trouble, bursitis, ulcers, sinusitis, etc. form a very small section of the psycho-somatic catalogue. Bizarre aches
and pains in various portions of the body are generally psycho-somatic. Migraine headaches are psycho-somatic and, with the others, are uniformly cured by dianetic therapy. (And the
word cured is used in its fullest sense.) Just how many physical errors are psycho-somatic depends upon how many conditions the body can generate out of the factors in the engrams. For example, the common cold has been found to be psycho-somatic. Clears do not get colds. Just what, if any, part the virus plays in the common cold is not known, but it is known that when engrams about colds are lifted, no further colds appear — which is a laboratory fact not so far contradicted by 270 cases. The common cold comes about, usually, from an engram which suggests it and which is confirmed by actual mucus present in another engram. A number of germ diseases are predisposed and perpetuated by engrams. Tuberculosis is one.
And finally, why go to a doctor, when the great man himself says that ALL illness derives from being PTS (Potential Trouble Source — connected to a Suppressive Person).
ILLNESS = ONLY PTS
ONLY PTS = ILLNESS
And finally, a recent post I did about Scientology Healing.