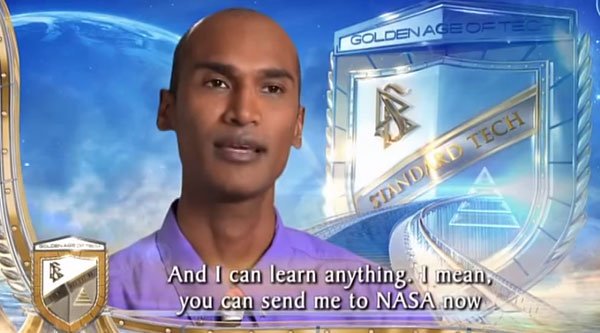 One of the craziest things about scientology is the use of "success stories." These things are a strange mixture of self-affirmation, peer pressure and fear.
People write them to accomplish one or all of the following at the completion of a scientology service:
a. To ensure they are allowed to complete and be presented with a certificate, they write what they think they are supposed to say
b. To affirm for themselves that they have in fact gotten something for the time and money they have invested
c. To gain recognition from others for their "wins."
In truth, nobody should need to write a glowing statement about their "wins" — but in scientology it is a requirement in scientology to progress on the Bridge.
A lot could be said about the effect that writing these things creates and I am sure many people much smarter than I have analyzed the use of this sort of technique, as I suspect this is not limited to scientology as a means of controlling how people think and act.
But there is one thing about scientology successes that are really striking to me, now looking from the outside in. So many of them undermine everything the person has done previously in an effort to present the most glowing "success" about what they are currently doing. Thus you have people writing the most amazing things about their "wins" on the Purif for the THIRD TIME through after having completed numerous other auditing actions. I commented the other day that I would like to see Rafferty Pendery's THREE Running Pgm "success stories" side by side. (It is another interesting thing about scientology which is likely quite unique — all of these affirmations are written).
I was reminded of this with a new email one of our Special Correspondents sent in and it added to some other stuff I had been collecting.
Barbara Dews seems to be the new Crazy Edy of WUS. She sends out remarkable stuff that she apparently doesn't even realize is pretty cray cray. If the first "success" below isn't enough to make you stop and pause about just what going all the way through to OT VIII does for you, then you are probably beyond hope.
OT VIII not only didn't eradicate amnesia on the whole track, surpassing the cause over life that came from OT VII, it apparently didn't even stop B.M.'s dwindling spiral.
Read these little capsules of crazy and appreciate the fact that you are no longer on the treadmill that requires you to say ridiculous things in order to maintain the status quo.
"So that in order to pick up horsepower… – thetan-power… a thetan would have to regain, to some degree, his power of decision." – LRH
(From the lecture series: "The Remedy of Havingness")
Here's what New OT VIIIs are saying about Super Power!
"I felt my dwindling spiral stop completely. And then reverse ever upward with each new day." – B.M. New OT VIII
"I honestly feel that this is THE most important auditing and drilling action I have done in Scientology. I don't say that lightly having been doing services for 56 years." – I.D. New OT VIII
"The New OT VIIIs MUST, MUST do this rundown. I promise you an experience like never before." – S.F. New OT VIII
"The playground is big now. Really big. Lots of action. Lots of purpose. Targets being set and made. I am on fire!" – J.D. New OT VIII
"As a New OT VIII and Ls completion, this was the missing piece. When I received Super Power I realized that THIS is what I came into Scientology for." – S.S. New OT VIII
Please call or write anytime for anything!
Love,
Sandy Dodwell
Flag Service Consultant
1865 Lundy Ave
San Jose, CA 95131
And in the spirit of calling bullshit on bullshit, check this out from the Moneywinds.
Special "economical and efficient" route to OT IX and X. Re-do your Objectives. Because they are a pre-requisite.
OMG.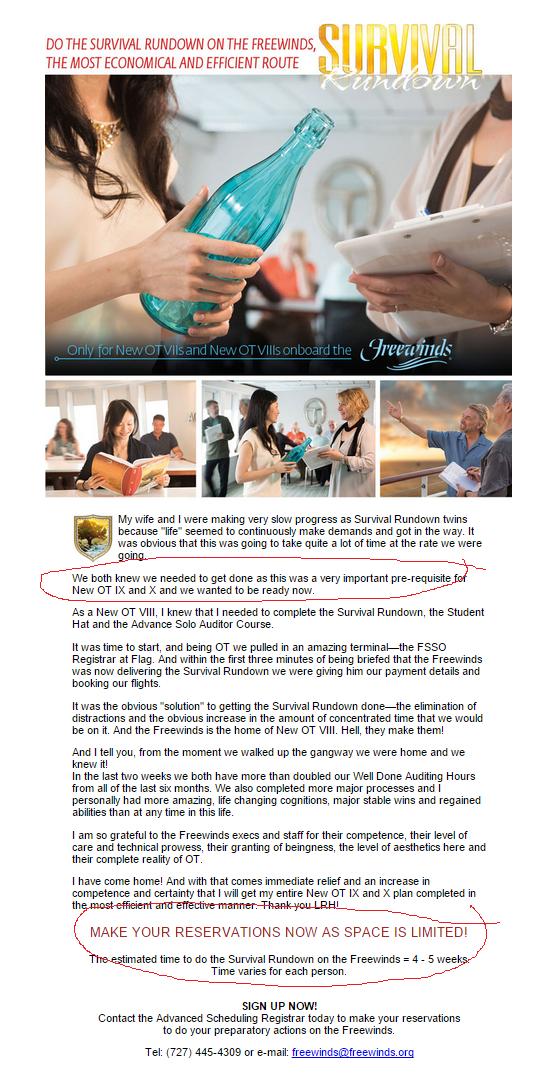 Space is limited? Hahahahahaha
And for good measure, here are some wondrous "success stories" from new OT VIII's (including Megan Shields). These will stand as the greatest thing they have ever done or will ever do, until the next success story they are required to write when they have to re-do the Student Hat or Objectives or they are declared "not Clear" with the "new" CCRD.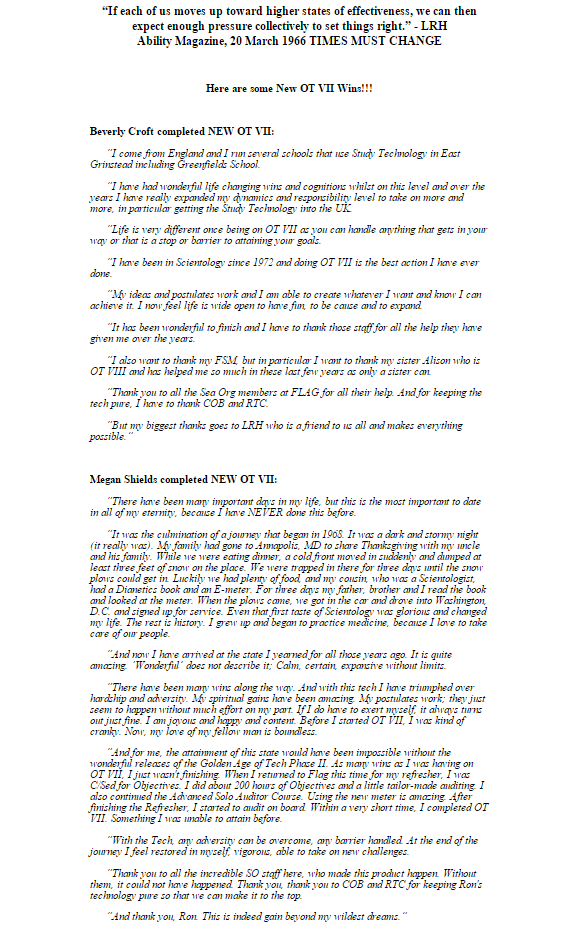 And finally, here are some OT VII Comps. Ditto to the above….
"Nothing is superior to the Solo grades." – LRH
HCOB 3 Feb 1972 R6EW — OT III
NO-INTERFERENCE AREA
"…it is up to you to get up the Grade Chart and through New OT VII, Solo NOTs, and avail yourself of this new discovery." – LRH
Ron's Journal 39
Here are some OT VII Completion Stories!
"I have been a Scientologist for the last 30 years. I have gone up the Bridge to OT V with my own resources, coming from my monthly salary. Then I started my own business so I could expand my income and help my wife go up the Bridge, as well as continue my own Bridge up to New OT VII.
"This was quite a challenge! At the same time I was busy helping my local mission expand. While I audited on the level, many barriers melted and I had many wins. My wife continued training up to Class IV internship. All the non-survival impulses disappeared. I also handled my body which is now working well.
"When I return home, I will dedicate my time to help my mission by disseminating and bringing people there.
"I want to thank all the Sea Org members, COB RTC and a huge thanks to the most wonderful person that gave me this incredible technology. Thanks LRH!" – G.R.
"All of this began in the summer of 2004. I was with some relatives on one of the islands on the Mediterranean Sea, and we spent an amazing day together and later at night, we were contemplating a beautiful starry sky and I asked myself: 'But what the heck are we doing on this planet?'
"The day after I was very bored, tanning by the ocean and I decided to get a magazine, Vanity Fair, where I read an article with one of Tom Cruise's interviews where he spoke about the many wins he had with Scientology and I told myself: 'So, you wanna tell me that this Scientology really works?'
"I went back home looking for a book, Book One! I have to confess that before that moment, I had never read a book. I used to ask my wife or my sister to read it and then do the write-up for me.
"After looking in all the bookstores in my area and not finding it, I went on the internet and found a Mission. I read the book in one breath and at that moment, everything came together for me. I had found what my family and I were looking for.
"My wife is now on OT VII. My daughter Valentina is 20 and finished Grade IV and is becoming a mom in a few days. My other daughter Alexia is 11 and she is doing the SRD. And my third daughter Arianna went Clear when she was 13, one of the youngest Clears on the planet, and she joined the Sea Org at 14.
"And Ron was right: this is one of the greatest adventures I ever took part in, and I will never be the same again. And here we are. I just finished my OT VII!! I want to thank all my supervisors, my amazing D of P, my C/Ses, my MAAs and my sups. Thanks to RTC and COB for their leadership and for their outstanding prediction of future. Grazie Ron, you are a legend!!" – G.L.
"When I arrived at the AO for my Solo Course, I always admired the completions. Today I am one of them. I attested to New OT VII!
"Auditing on the level is the best. You wake up in the morning, fly ruds, handle life and the day can start.
"Some wins are smaller; others are bigger. I, for example, always had a real problem confronting antagonistic people. I literally got sick. One day, I came out of session and somebody yelled at me. I confronted and it stopped. I even started playing a little game to see if it is REALLY gone and it is!
"And I found my true love. Of course, there was way more… But I also started to confront the 3rd and 4th Dynamic more and more. So I finished my Patron Meritorious of the IAS and increased my status with Planetary Dissemination and much more.
"About 2 years ago, I decided to go on staff at the Tampa Model Ideal Org. I became the Div 6C Sec and my division was number 6 in last year's Birthday Game.
"New OT VII is a Gift. But it is only as good as what we are doing with it.
"I am so excited about my next step – Truth Revealed! I want to thank my MAA, my sups, the Ds of P, all the wonderful crew that had so much patience with me. I love you all!
"To COB RTC, GAT II literally changed our world. Thank you for that. And to our best friend, LRH, this attest is for you Sir!" – T.E.
People commonly complete New OT VII after 1 ½ to 2 years of Solo Auditing at home. You can do this!
Please call me or write anytime for anything.
Love,
Sandy Dodwell
Flag Service Consultant
1865 Lundy Ave
San Jose, CA 95131