Hubbard had a lot of his special wisdom to impart about the skills of selling.
Scientology objects to the idea that it should be characterized as a business. Not because they are not proud of Hubbard's "administrative technology" which is the ONLY way for any business to succeed (somehow Amazon, Apple and Walmart have muddle their way to success), but because being a business is not compatible with being "religious" and thus the label threatens their tax exempt status.
Scientology "administrative technology" is full of Hubbard talking about "prospects," "sales," "commissions" and "discounts." It is the language of a business, not a religion.
WISE even offers a course composed of Hubbard's scientology writings that they call "Successful Selling."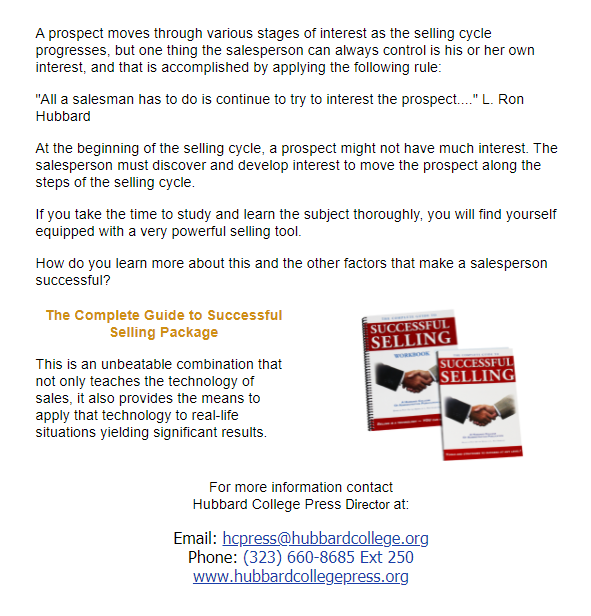 This "WISE technology" is Hubbard scientology policy "secularized" by removing the headings and deleting any reference to religion or church that may be contained in it. Otherwise it is identical (to alter Hubbard writings is a High Crime in scientology). Of course, the quote they include above about interesting "the prospect" is just as he puts it in his "church" policy. The whole "WISE tech" thing is a ruse to pretend that the "business tech" or "sales tech" is anything other than "scientology tech" or "religious tech."   When understood, it becomes even MORE incredible that scientology is deemed to qualify for IRS religious tax exemption. One organization basing its operations on this "technology" is a business, and yet another organization using identical technology can be a religion.
Just to make the point even more clearly. Here is the official scientology definition of a prospect, taken from the SCIENTOLOGY "Admin Dictionary." Find me any other "religion" that talks in terms of buyers and customers: