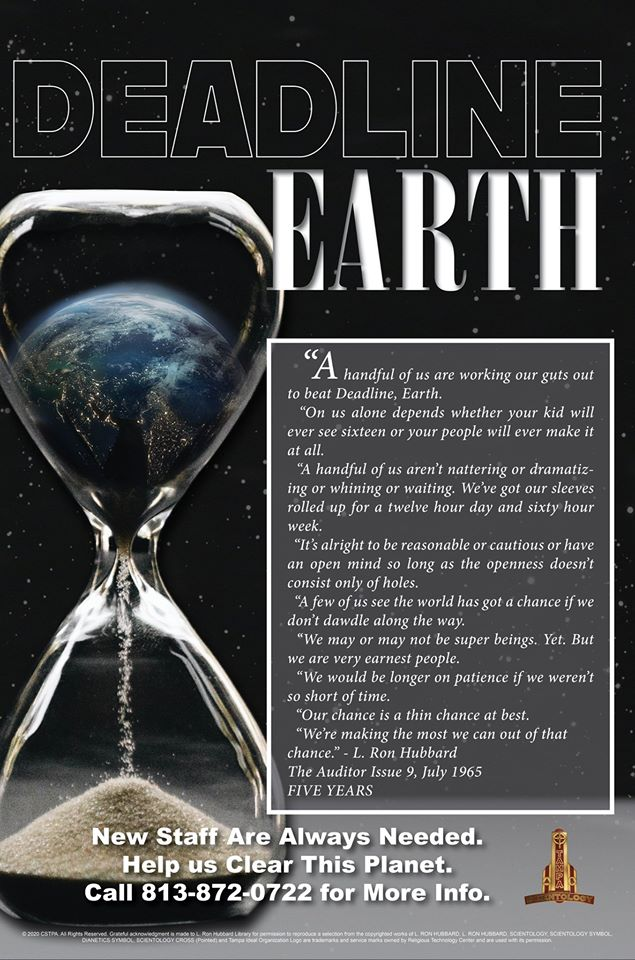 This is one of those Hubbard statements that is used by registrars and fundraisers to convince people they must hand over their money now.  And of course, as you can see, to persuade people to join staff.
This is something a lot of cults do — predict the end of the world to impress upon their followers the urgency of their mission.
That Hubbard said this in 1965, announcing just 5 years left to get the job done, is ignored by the sheeple. If Hubbard said it, it must be true.  The fact that he was proven SO wrong in his prediction is immaterial. His words are immortal, immutable and always right.
It is a phenomenon that such pronouncements, even when disproven, serve to reinforce the resolve of those under the spell of the cult. When Jehovah's Witnesses' predictions of Armageddon proved untrue, they claimed it was God "testing them" and "testing their faith" and they became even more zealous in their conviction. Hubbard has predicted a LOT of things that are untrue — not the least of which are the most fundamental claims of dianetics and scientology such as the attributes of a Clear or OT. But these things are explained away in the minds of the true believers, or they simply ignore them.
Even the final statement on this poster is a blatant lie. "Help us Clear This Planet" — they are doing no such thing and never will.