The IAS are renowned for their BS, but this one is a doozie.
They "approved a grant" but they didn't spend it because they don't have any photos of anyone on the scene. Just a generic shot from the media of a flooded location.
So, to give them the benefit of the doubt, I checked out their Twitter feed. A bunch of shots of the same 7 people, literally one after the other. This is the "team" for the displaced 500,000 people: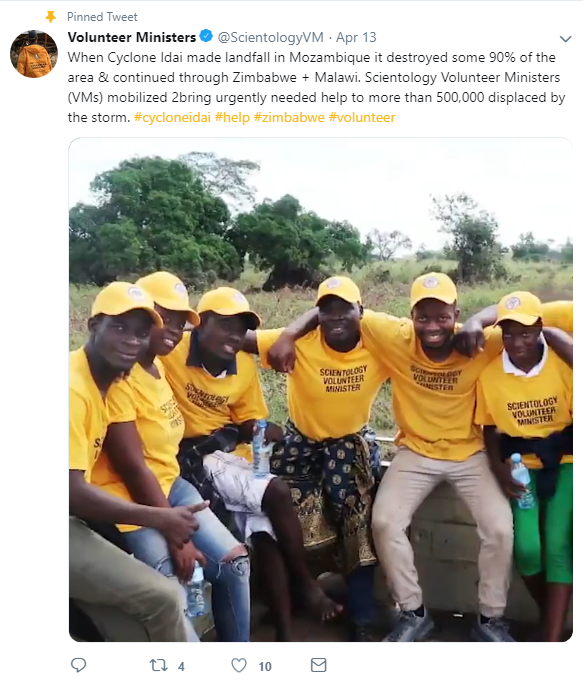 For the largest private relief force on earth, 10 likes on their Twitter feed is a bit slim. Obviously they have not allocated funds to clickfarms for the VM program.
And here is what your donation might buy:
30 VM booklets for $100. If they cost more than $1 to produce it would be ridiculous.
$1000 "can" help transport several VMs from abroad. Not sure what the definition of "abroad" is here, but its obviously not the normal definition as in "overseas". You couldn't fly one person there for $1000 but this person doesn't seem to know that or doesn't care. It sounds good enough to be believable.  And $5,000 can get you a whole team. I bet there is not a single TEAM of doctors or certified EMT VMs on the scene, the guys above are not that unless they have doctors there to hand out VM booklets. But you can be sure they collected more than $5000.
As for those VM "teams" from Kenya and "outlying" African countries, you can be sure that the 7 you see above is ALL there is.
But there is bonus.
An IAS pitch about Narconon. What they DON'T say is that these people PAY for the program (or more correctly, their insurance does in most cases — Narconon has an extensive program of getting insurance money). The IAS makes it sound as if they have something to do with these "success stories."  They don't. But they want to create the impression that "this is what your donations buy." Nope, your donations have never paid for someone to do the Narconon program. That would be "rewarding a downstat."
If this was some other organization taking credit for the success of Narconon, they would be all over them about taking credit for something they didn't do. But this is just one big ball of wax – scientology organizations are distinct only when they need to try to distance themselves from trouble. Otherwise, as this shows, there is NO distinction between the International Association of Scientologists and the scientology front groups.