The latest edition of Impact magazine has been mailed out. It is a recounting of the magnificent IAS evening aboard the Freewinds. Of course, it highlights "Mr. David Miscavige" though these days they don't bother with identifying him in the 7 full page photoshopped pix featuring his new thin look.
The weight of the world seems to be resting upon his shoulders and it is showing.
This was a veritable shermanspeak orgy, and while I am not going to recount everything here, I am including his opening and closing statements for your reading pleasure (amazement?).
If you cannot read these, because I wanted to include the full spread, I have included at the end of the post the pages of text alone so you may revel in the full mesmerizing spectacle of the global obliteration/destruction/annihilation etc etc of psychiatry the english language.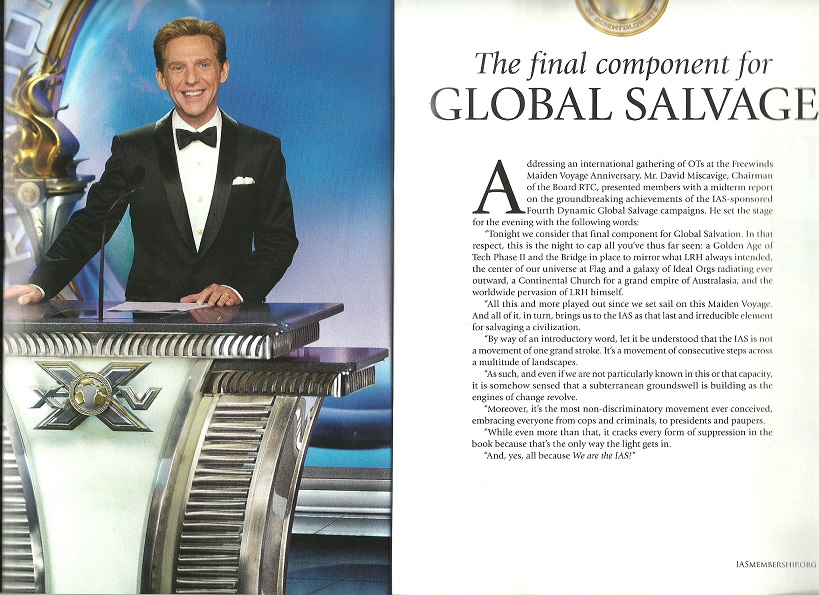 Get a load of this woodchipped word salad:
… a Golden Age of Tech Phase II and the Bridge in place to mirror  (mirror?) what LRH always intended, the center of our universe at Flag and a galaxy of Ideal Orgs radiating ever outward (they have not radiated "ever outward" since inception, same number just look nicer but reach less), a Continental Church for a grand empire (oh come on little Napoleon don't you have ANY clue how un-pc you are?) of Australasia, and the worldwide pervasion (?) of LRH himself.
…the IAS as the last and irreducible element for salvaging a civilization. "Irreducible" element? Huh? There just has to be a modifier for every noun, even if it means nothing at all.
As such, and even if we are not particularly known in this or that capacity, it is somehow sensed that a subterranean groundswell is building as the engines of change revolve. Well, subterranean seems like a Freudian slip as nobody can see anything that they are reporting is happening. This whole sentence makes no sense at all.
Moreover, it's the most non-discriminatory movement ever conceived, embracing everyone from cops and criminals, to presidents and paupers. Wow, there are a lot of less discriminatory movements I can think of.  In fact they are VERY discriminatory. No "SPs". No doubters. No media. no psychs. No "big pharma." No FBI agents. No IRS.  Though child molesters are welcome. The catholic church has less exclusions than scientology. And Facebook as a movement has them beaten hands down.
While even more than that, it cracks every form of suppression in the book because that's the only way the light gets in.  If anyone can understand this sentence, please let me know. "Because"? WTF?
Following the grand opening mangling of the english language, there are then little pieces about how the IAS (though it's never really clear what the IAS does) is:
– ending electroshock in Italy (again),
– repelling the psycho-pharma vultures in Texas,
– bringing psychiatry back under the law in New Zealand (at least they spelled it right),
– "uplifting" Detroit,
– bringing the Dominican Republic back from the "moral abyss",
– restoring peace in Plettenberg Bay South Africa (a well know vacation hot spot of crime),
– steering a generation of Israelis towards a drug free future,
– putting an end to drug trafficking in Mexico,
– delivering a nationwide "wake up call" to Japan about the dangers of drugs,
– ending inequality and the caste system in Nepal,
– changing the hearts and minds of Italian youth (?), and
– rescuing the Colombian Army from shame (really?).
I just read the headlines as I couldn't keep my eyes open to read the shermanspeak drivel. I am sure there are many more doozies, introduced with a plethora of givens, needless to says, lests, as suches and moreovers, claiming massive global impact that nobody sees anywhere — even though you can find reports of every traffic accident in Bulgaria and PTA meeting in Brisbane if you search on the internet….
And to bring the evening's celebration to a close, some final words of wisdom from Dear Leader — who interestingly is identified as "Chairman of the Board RTC" for the key fundraising pitch.  Yhis used to be a no-no as he wants to avoid liability for IAS fundraising, so it was always just "Mr. David Miscavige (international man of mystery). It is especially surprising as this is the most forthright plea for money I have ever heard him utter. Usually he talks in terms of "your support of the IAS means x, y and z" — now he is talking about "meaningful contributions" and "a significant donation to the IAS."  Desperate times call for desperate measures when you are "involved in all mankind." Though I do wonder if the tide of false materialism engulfing "whole populations" is a sly reference to his own ideal org program. Sort of like hidden messages embedded in video games or something. Miscavige preaching about "false materialism" is sort of like the pedophile priest preaching about love for children.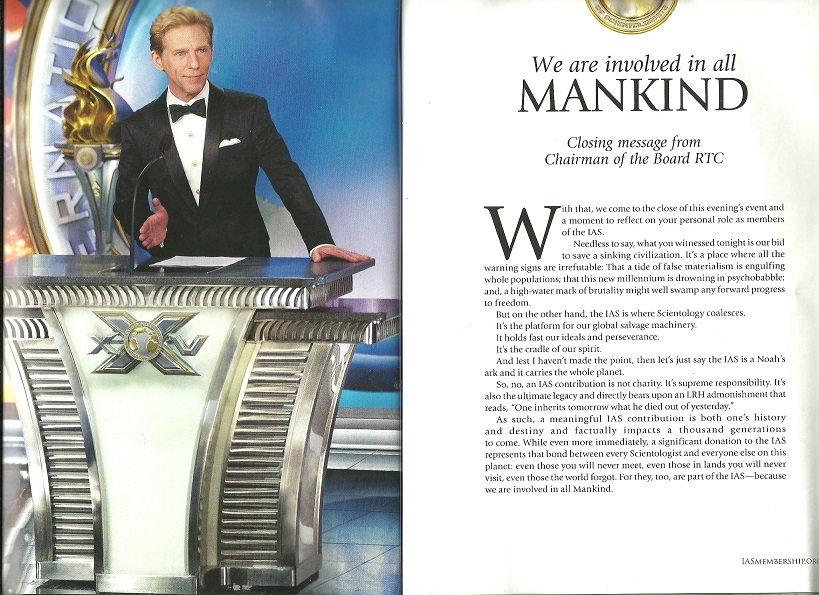 The cartoon says it all.
Spin, spin and more spin.
Large print versions for the visually challenged (like me):