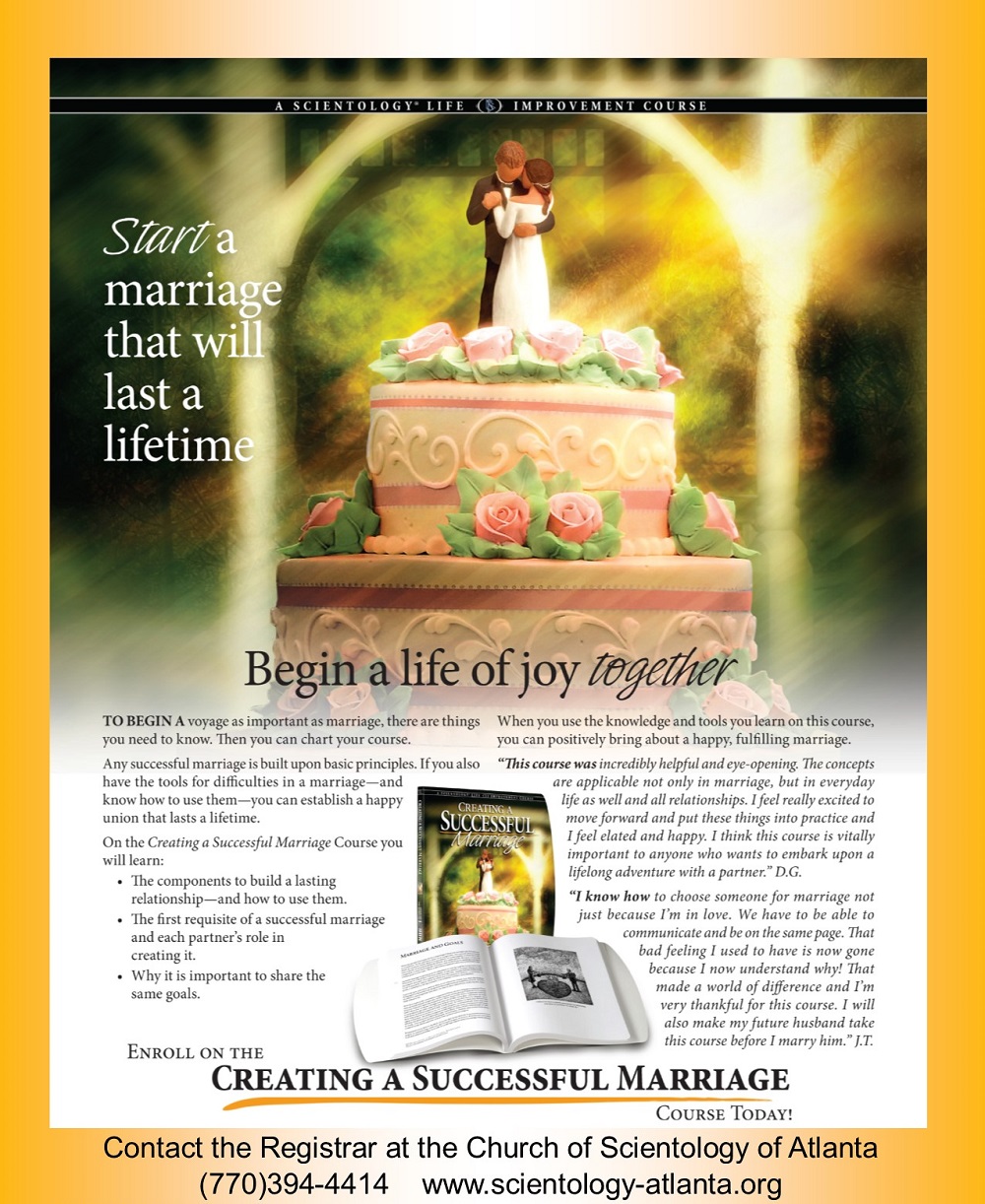 The amazing hypocrisy of scientology is no better illustrated than with this promotional piece.
Here is the "tech" of L. Ron Hubbard being sold as the way to attain happiness in life — in this case success in marriage.
This is a  classic case of "Do as I say, not as I do…"
L. Ron Hubbard was married 3 times — each ended in disaster.
He left his first wife (Polly) with his first 2 children (Katie and Ron Jnr) to pursue other "interests", including a relationship with the woman who would become his 2nd wife Sarah. He married Sarah bigamously. She bore him a daughter (Alexis) whom he kidnapped and took to Cuba — dedicating the book he wrote there Science of Survival to her. Sarah subsequently sued him for divorce claiming physical and emotional abuse. He then claimed Sarah was a "Russian spy" and disowned Alexis as his daughter. His third wife, Mary Sue, ended up taking the fall for him and going to Federal prison. He had "disconnected" from her prior to that. She died alone under virtual house arrest, living with spies who reported on her activities daily to Hubbard's successor David Miscavige.
David Miscavige has only been married once. But when his wife Michele displeased him, she was "disappeared" and has not been seen or heard from for 10 years. He disconnected from her.
Then there is the poster child for scientology — the star of Miscavige's show and recipient of the highest praise Miscavige can dish out about anyone other than himself. Tom Cruise has also had 3 failed marriages. All while IN scientology. To Mimi Rogers, Nicole Kidman and Katie Holmes (along with many other failed relationships). He has abandoned his daughter Suri because she is connected to an SP (her mother Katie).
That is the REAL advertising for the "tech" that is imparted in this course… Scientology does NOT make successful marriages. In fact, it tends to tear apart marriages and specifically tears apart families.
Like most other "tech" promulgated by scientology, the reality is very different from the hype.