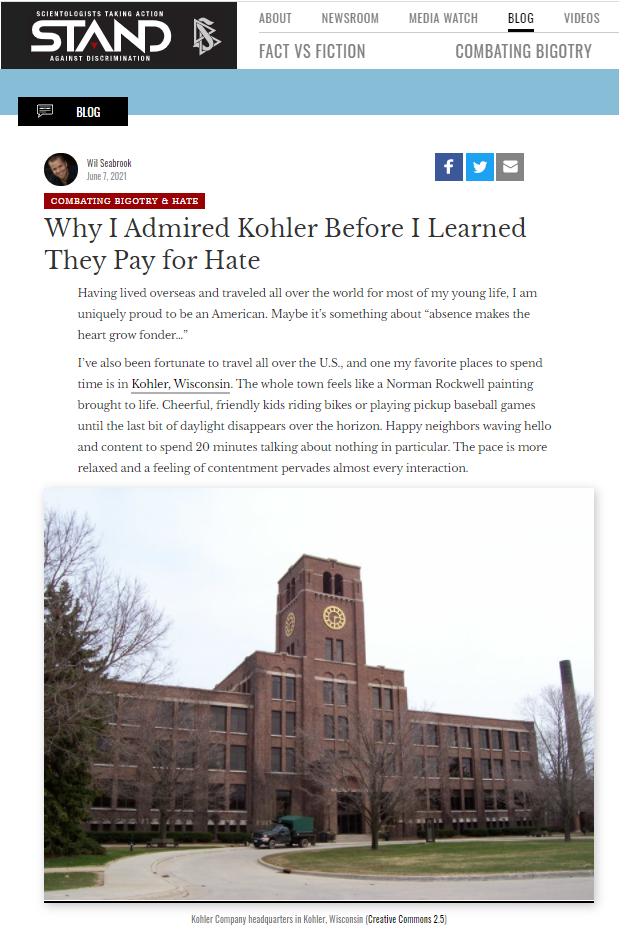 The minions of the STAND League are always on the lookout for something to cry victim about.
Wil Seabrook must have a big amends project he is trying to complete. He racked up a couple of hours and an item for his Liability formula ("I published an article attacking the SP's"). Even for the whiners at the STAND League, this one is really a stretch.
Apparently, Kohler had the nerve to advertise in publications that run stories that offend scientology. Frankly, these days, just about every media outlet has something negative to say about scientology. So you could do an article like this about every major corporate advertiser in the US.
As expected, the rambling nothingburger of Mr. Seabrook is thin on substance. In fact thin is being kind.
He starts with some sentimental (and irrelevant) tripe:
Having lived overseas and traveled all over the world for most of my young life, I am uniquely proud to be an American. Maybe it's something about "absence makes the heart grow fonder…"
He then says one of his "favorite places to spend time is in Kohler, Wisconsin." Yeah, right. And some stroking about how wonderfully American it is and what a wonderful, all-American company Kohler is and how they make such wonderful bathroom fixtures:  "that craftsmanship and quality of their work is perfectly at home in facilities like our Ideal Churches designed and built with such care." (with a link to the scientology.org website of course).
And then, this:
So try to imagine what it's like to write a letter to executives of Kohler (a company I admire and who clearly cares about the welfare of their employees and the greater community) to let them know they are funding hate speech through their advertising in A360 Media magazines which spew bigotry and bias about my religion, its members and its leadership, only to receive deafening silence in return.
Oh, the pain. The sacrifice. The heartache.
And then some more random rambling, and never mentions what terrible crime of hateful reporting A360 media has done? just no mention at all. Maybe they ran with the planted stories that Tom Cruise "might be" leaving scientology that his PR people put out before his latest offering is released?
Or committed the heinous crime of covering the Danny Masterson case, reporting that he is facing trial on 3 counts of rape?
Without any specifics, Wil wants Kohler to stop advertising their products in any magazine published by A360 media. He accuses them of "paying for hate."
And I think he might be serious.