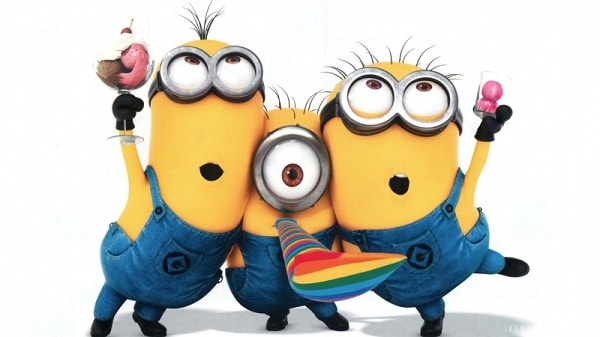 For a minimum donation of $25…
We will teach you how to find a 2D!
Using the Hubbard technology that guided him through 3 marriages, estranged children, lawsuits, abandoned wives and so much more.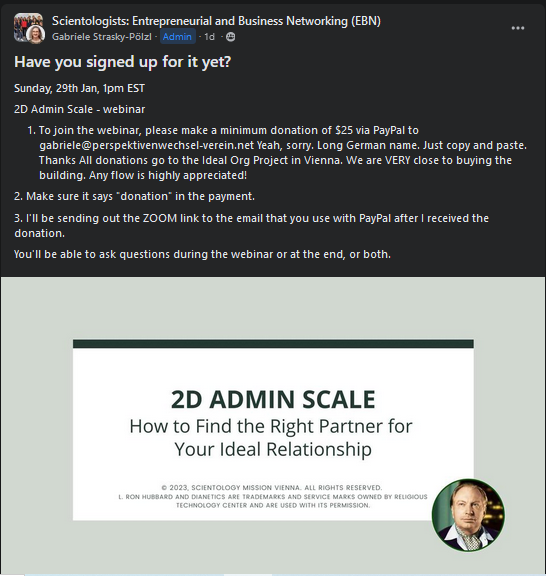 Donating for promotion now
This is supposed to be the PRIMARY thing purchased with funds paid for scientology services according to L. Ron Hubbard in his "What Your Fees Buy"
But it's nice that you get a "Team Player" award… That's a classy touch.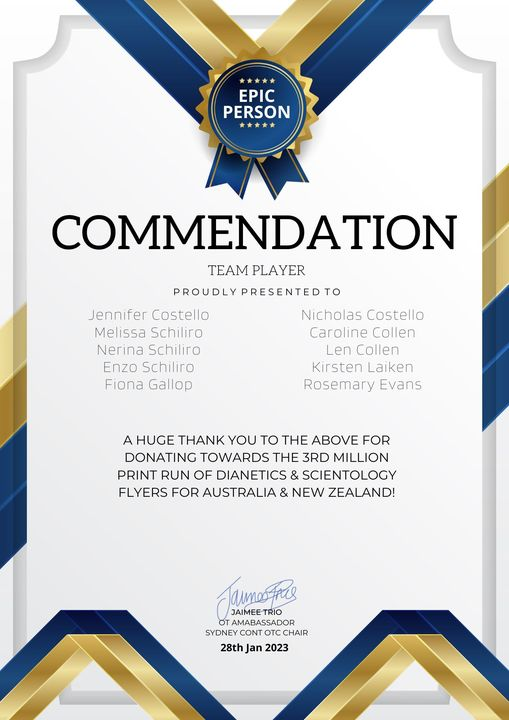 Join staff in Austin Org
Because there are lots of people who HOME SCHOOL (caps theirs) here?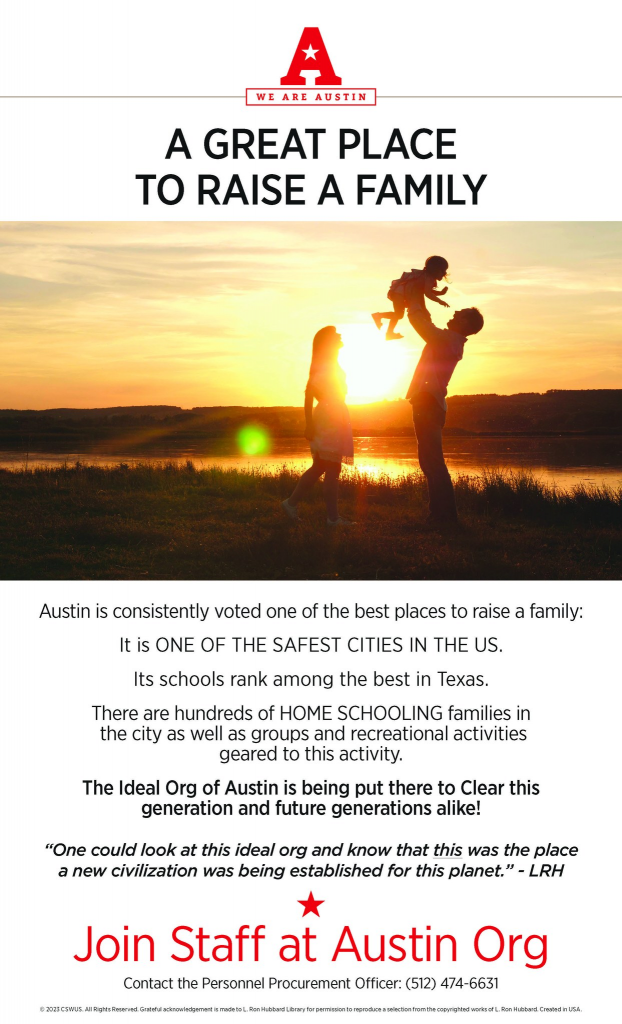 Hmmm, you know there is policy against this…
Only staff with proven records ON STAFF are supposed to be sent for full time training.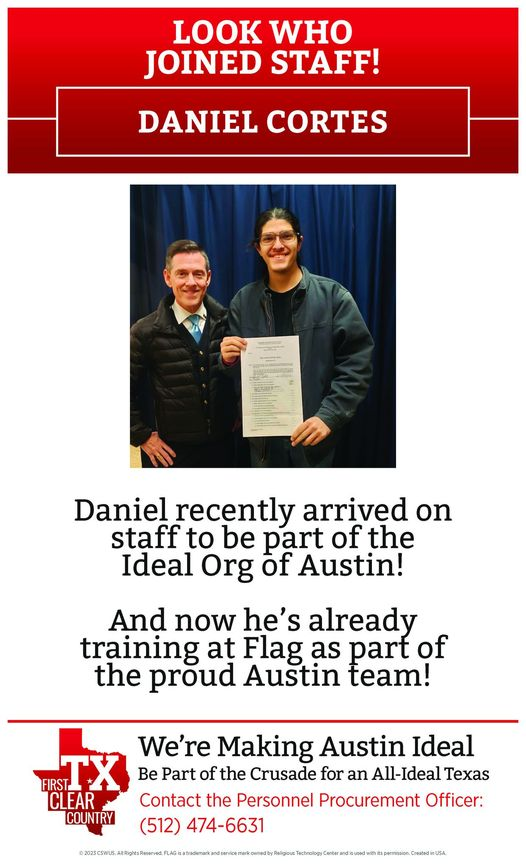 Join staff in Austin
Because it is consistently ranked as one of the best cities for career opportunities (joining staff does not count as a "career opportunity") and if someone is joining staff, why do they need another career?
As I have said many times, being in scientology, especially on staff, lowers your intelligence.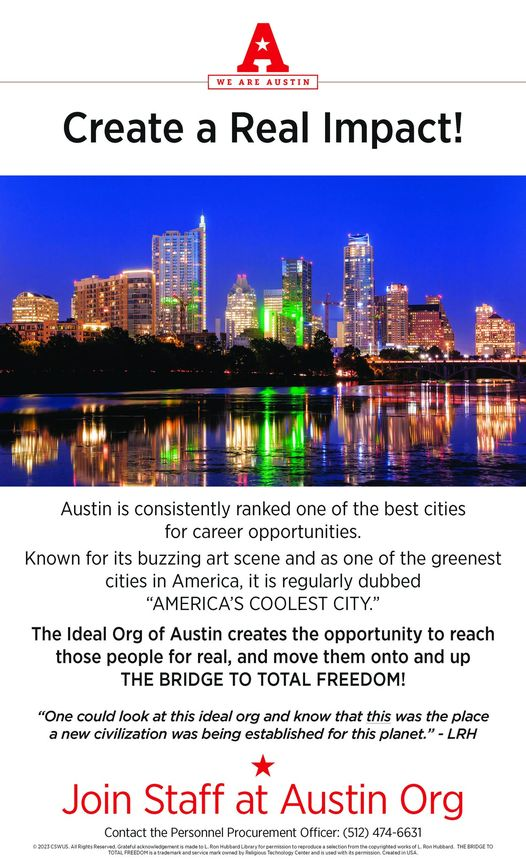 First Chicago, now Austin
The gathering of the fogies is underway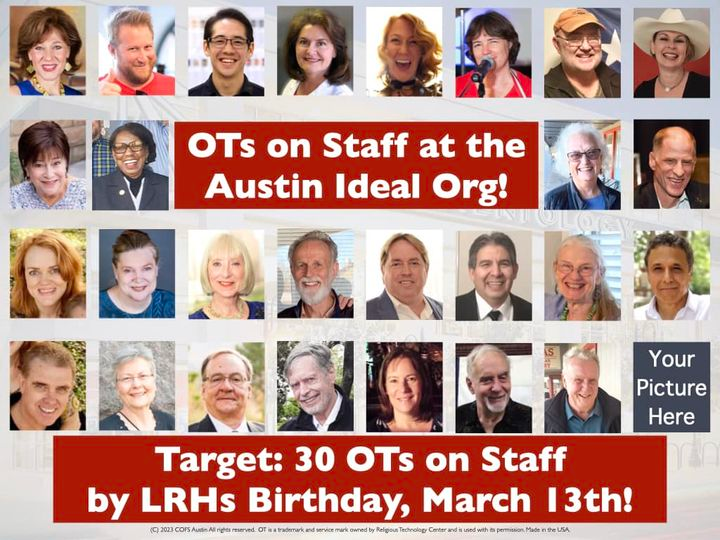 You know this is the STAFF game right?"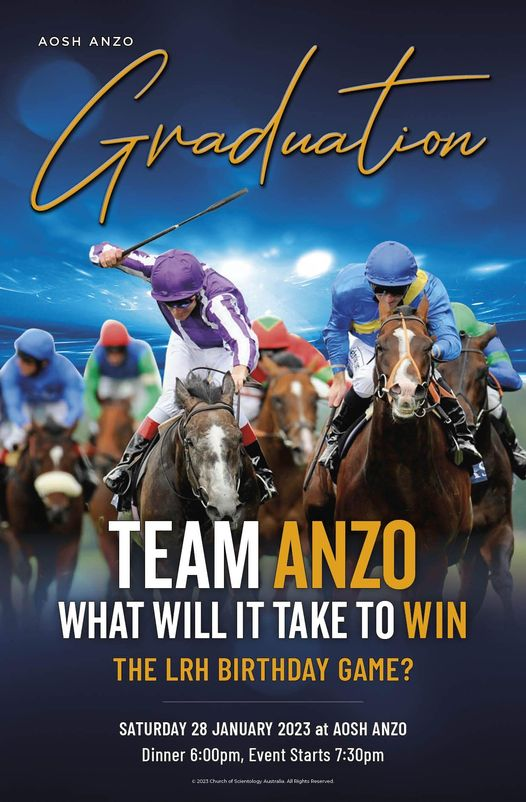 Word Clearing and Carnita Asada…
Sec Checking and Rice and Beans
Dianetics and jalapenos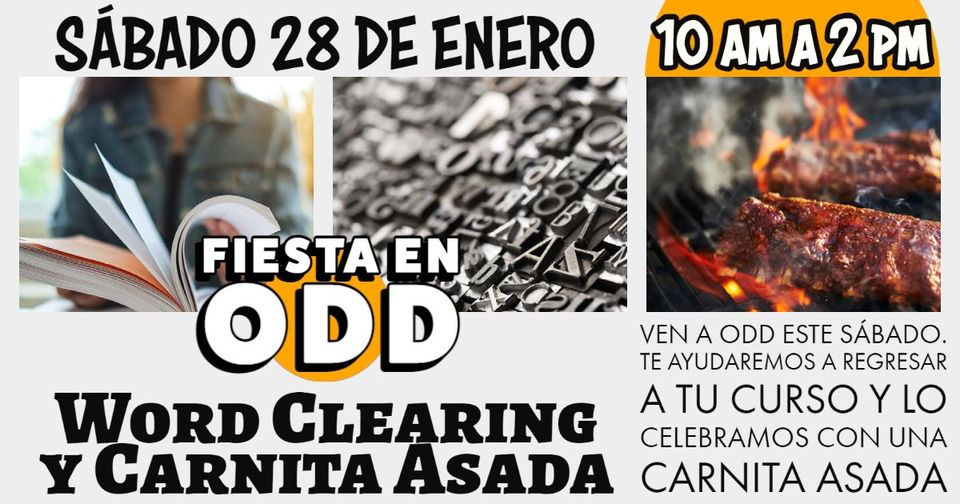 Orders of Magnitude…
Remember at the IAS events when it was announced that the total obliteration of psychiatry on this planet was going to be accomplished by 2000.
They're not very good at this.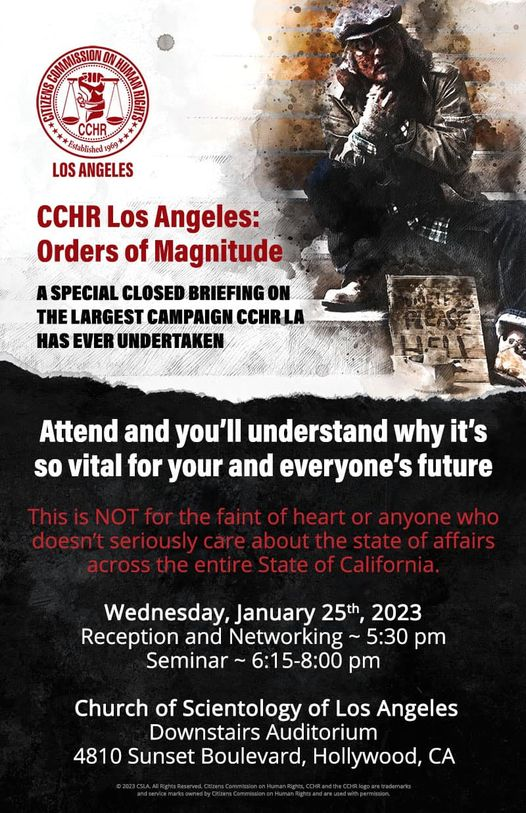 Another special announcement
They have them every week.
Save yourself the trouble.
The announcement is: "We need another 50 staff. Sign up now."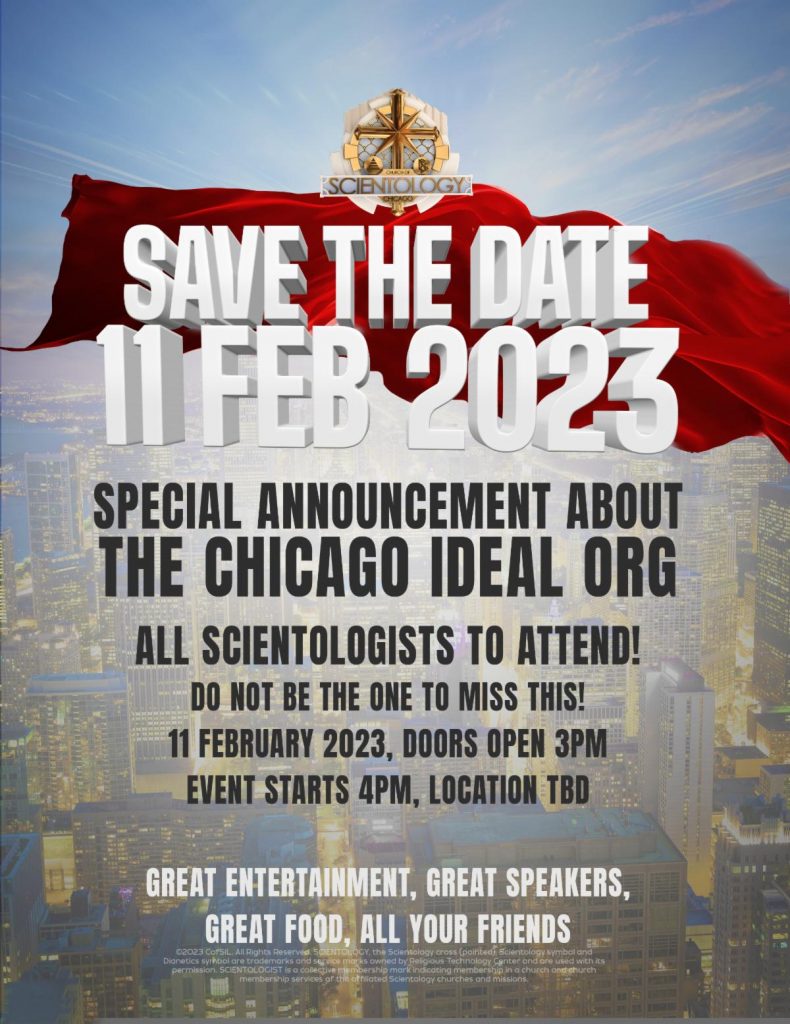 Another oldie
Wonder where he comes from that he has been on staff for 18 YEARS?
Surely they wouldn't dream of transferring him from one of the other "ideal orgs"?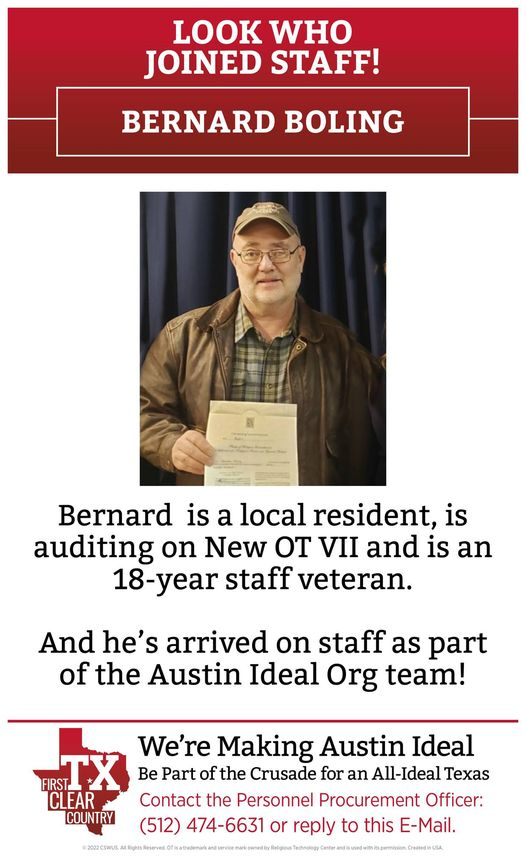 Creating that "Island of Sanity"
I hope these people are independently wealthy…
People actually pay $7500 to hear Grant Cardone speak?

I didn't believe this could be true.  I looked it up…
Not sure what category this poor woman's tickets are as there is nothing here for $7500 — or maybe she works for Cardone and is pitching to scientologists with a special "at cost" deal.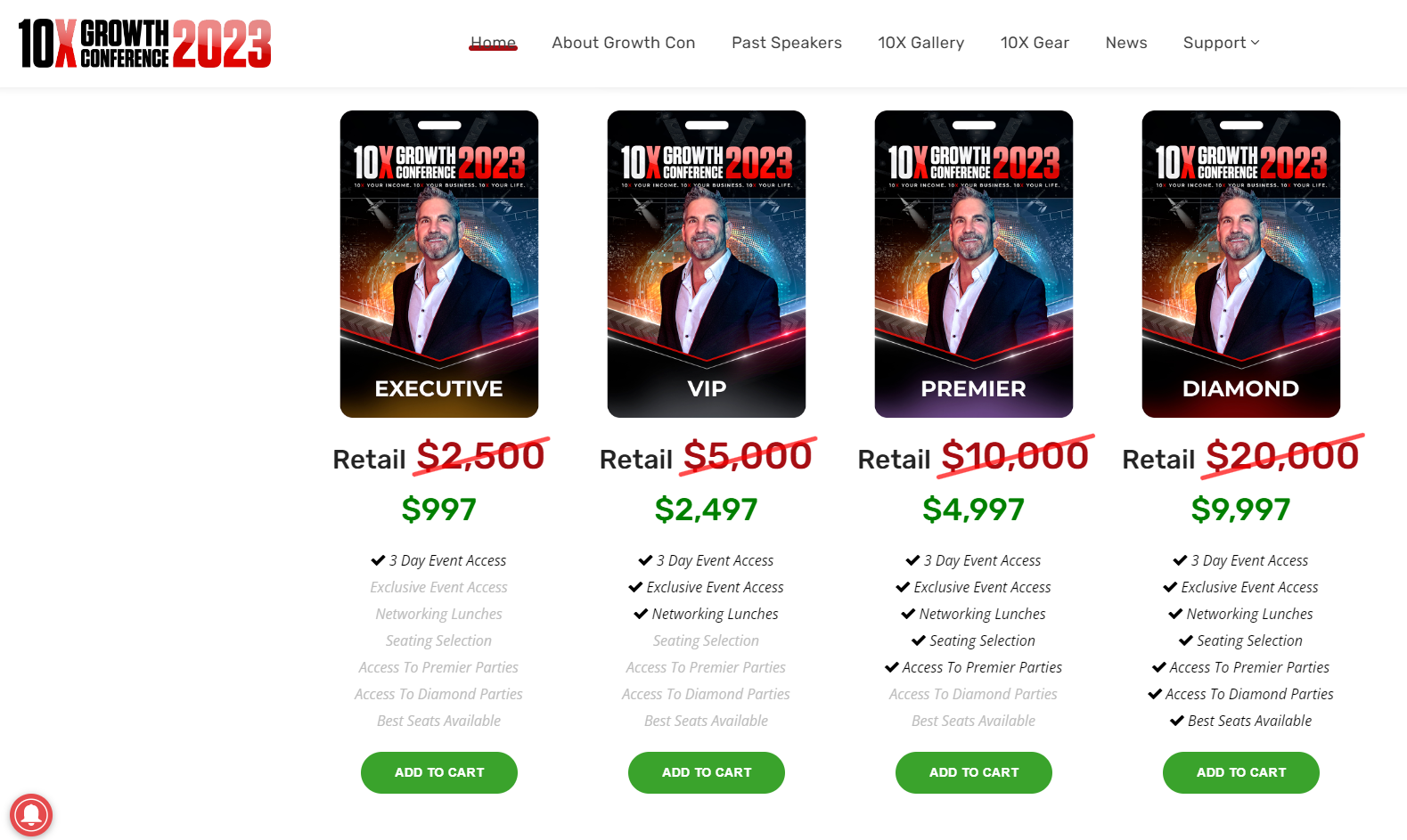 "Founding" staff member?
This org has been there since the 70's?
But it's reassuring to know they are gearing up.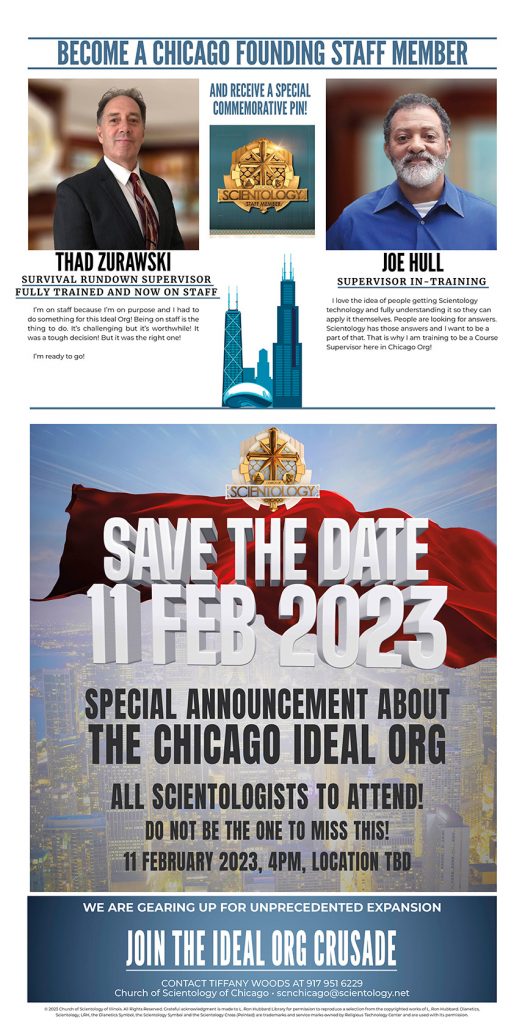 Yeah, I guess you can say that every day of the year…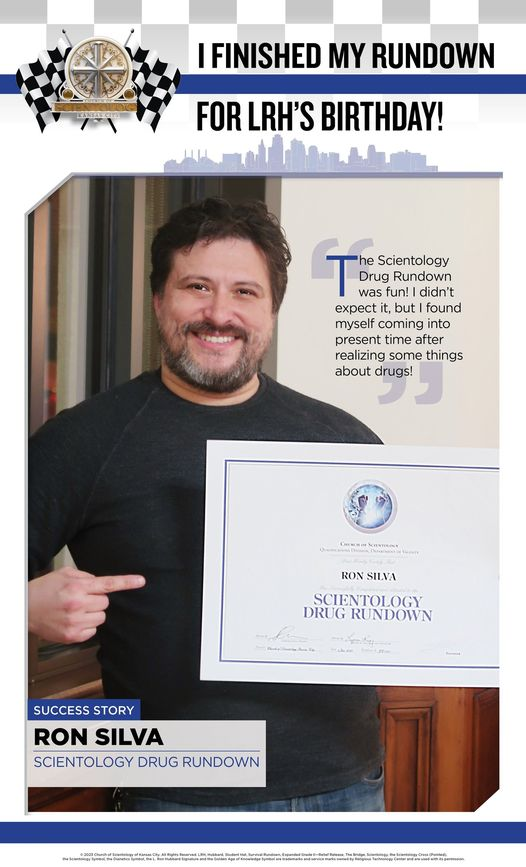 The Prayer…
Trying to seem so Christian.
Praying is not a "thing" in scientology.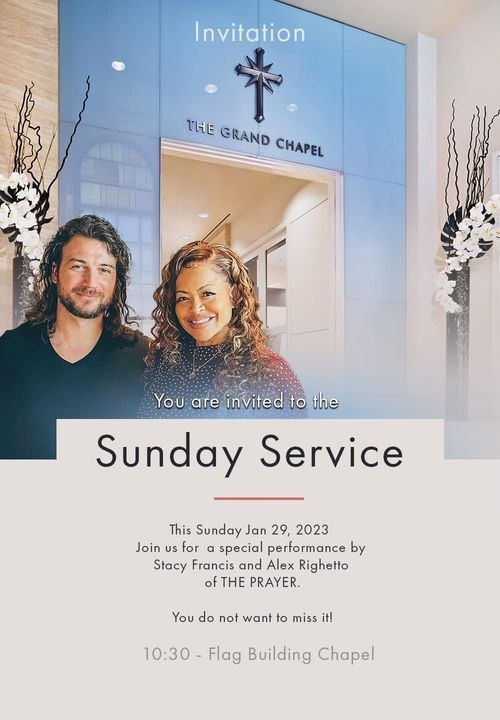 For just $10,000…
We will give you this handsome pleather notebook.
Not sure what the "greater" crusade is about. Greater than the orgs crusade?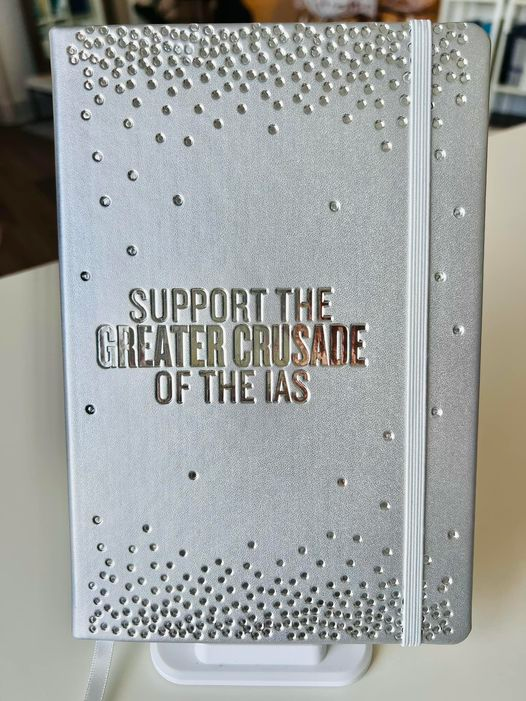 The Kansas City Movement?
The KC 100?
Something like 10,000 on Solo NOTs?  If they follow that lead they should get their 100 by about 2045.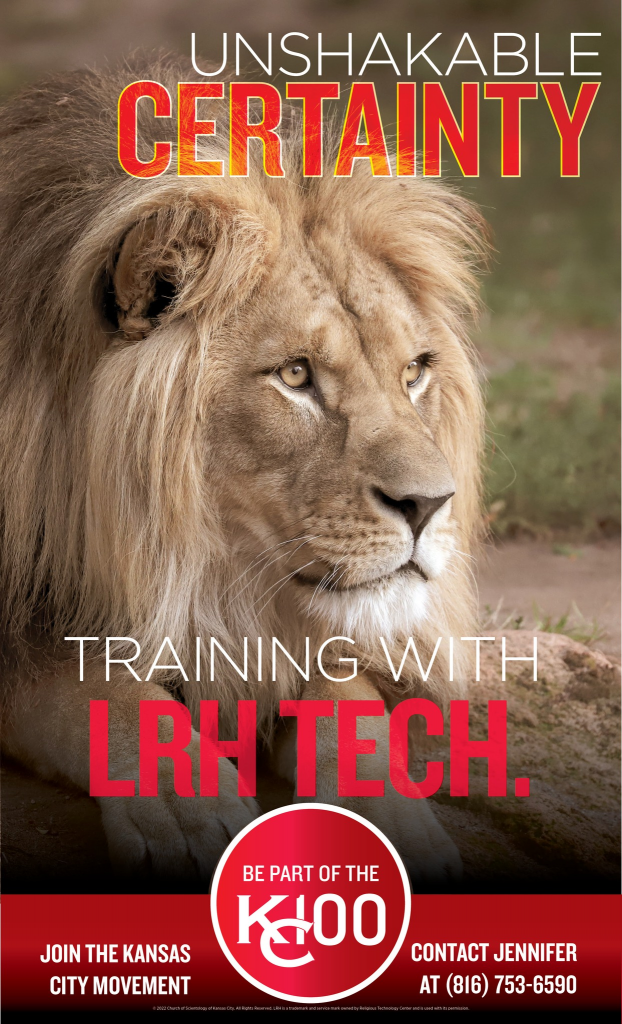 Kiddie Corner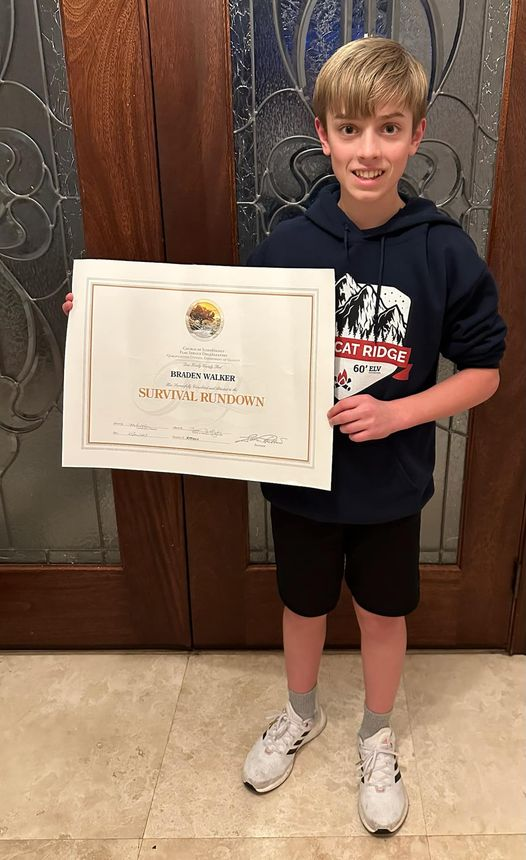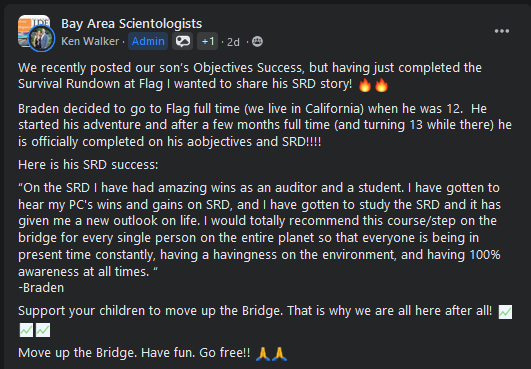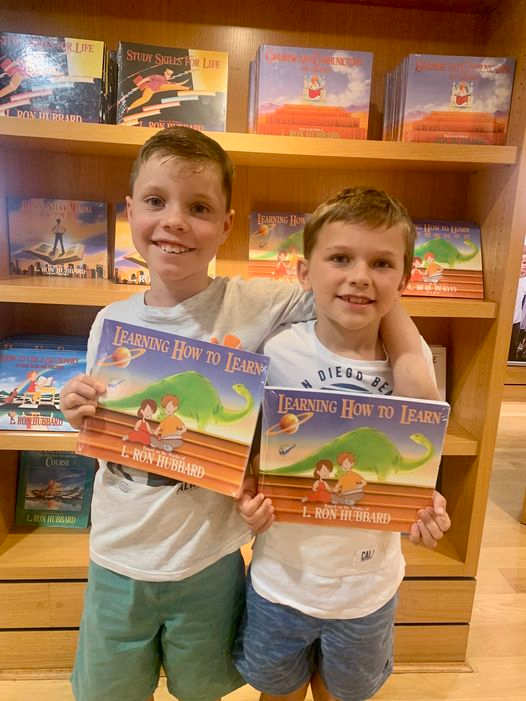 Another one who "Joined Back"
I wonder if the translation of this is actually "Eva Nemeth resigned her 2 1/2 year contract?"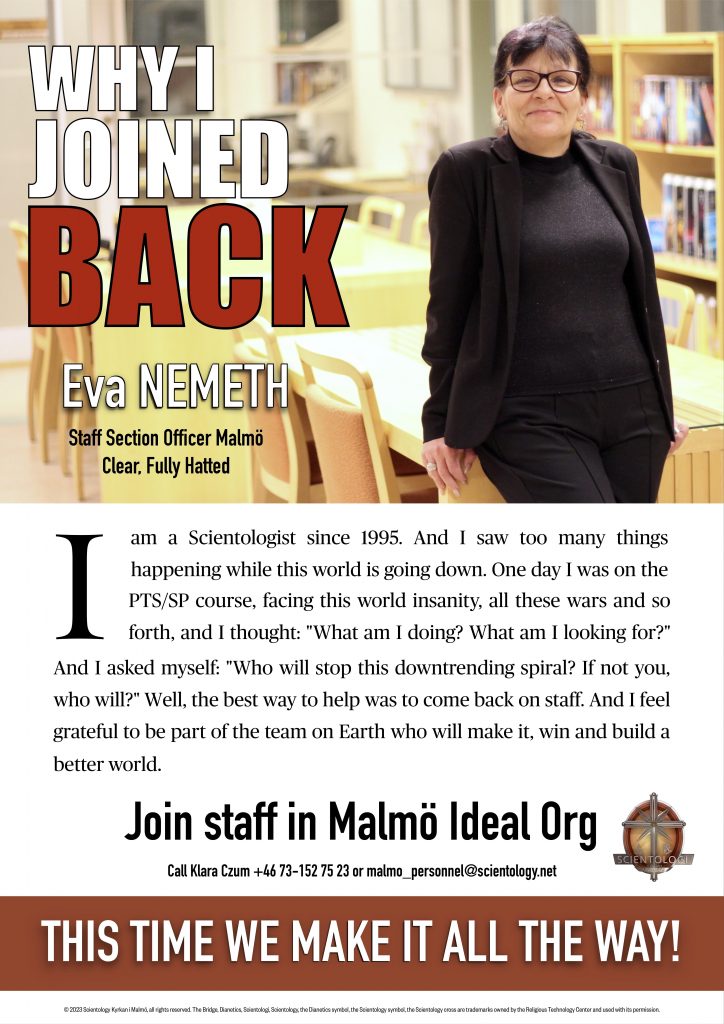 Bet the seats for this are cheaper than Cardone's 10X seminar
Then again, it's only a 1X (or maybe 3X?)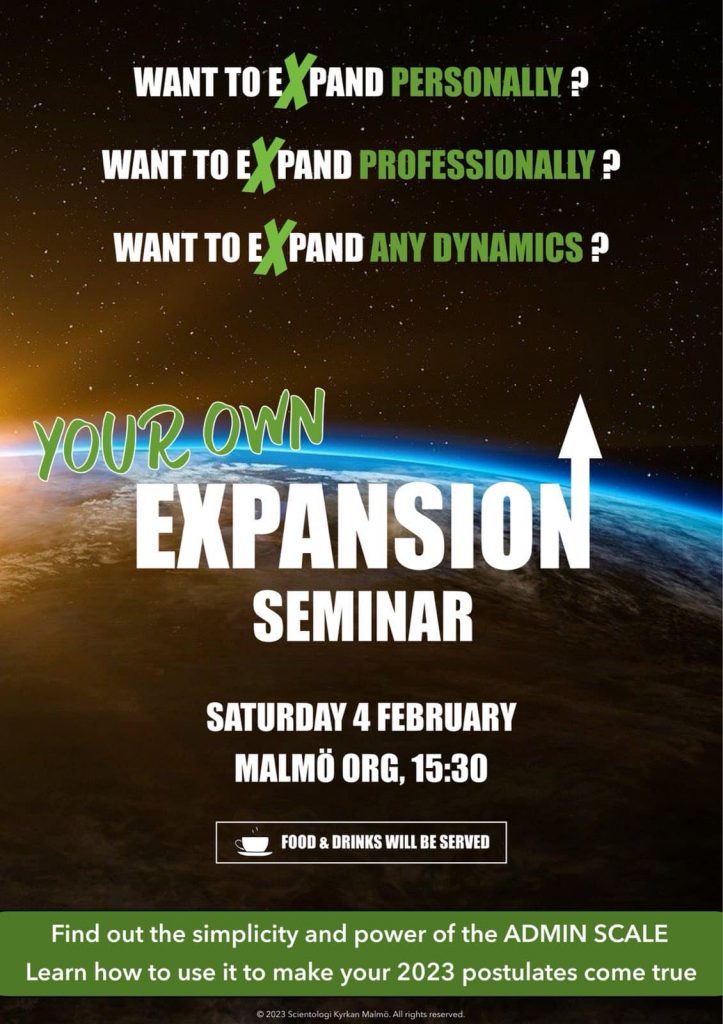 Scientology is giving diet advice now?
From a "celebrity nutritionist"?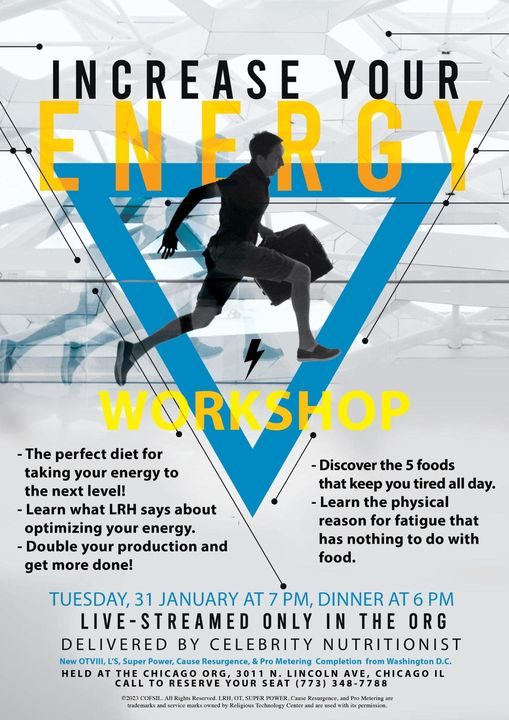 The Mission of Ocala is hiring
What an opportunity!
This was "John Travolta's Mission" but apparently no more.
But it's "going places" now with a new Mission Holder.
Will check in on it in 6 months or so and see how they are doing. It will no doubt be the same empty shell it was the last time I went by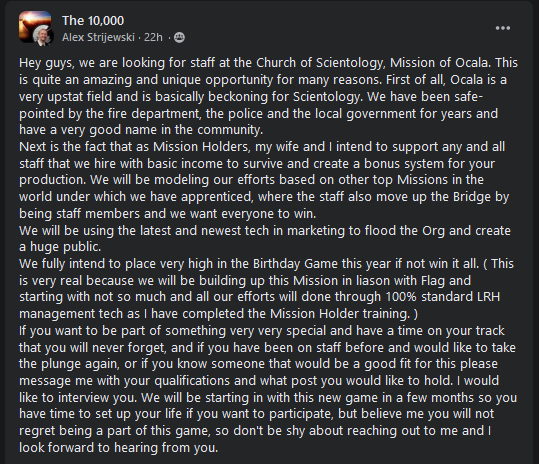 They're going to litter up the Super Bowl again…
Phoenix "ideal" org is one of the deadest of the empty orgs.
They will probably have to send people from LA just to hand out some OCA tests.
You can bet the org will be just as empty on Feb 12 (and after) as it always has been.
But you will see the hype about "millions reached" for sure.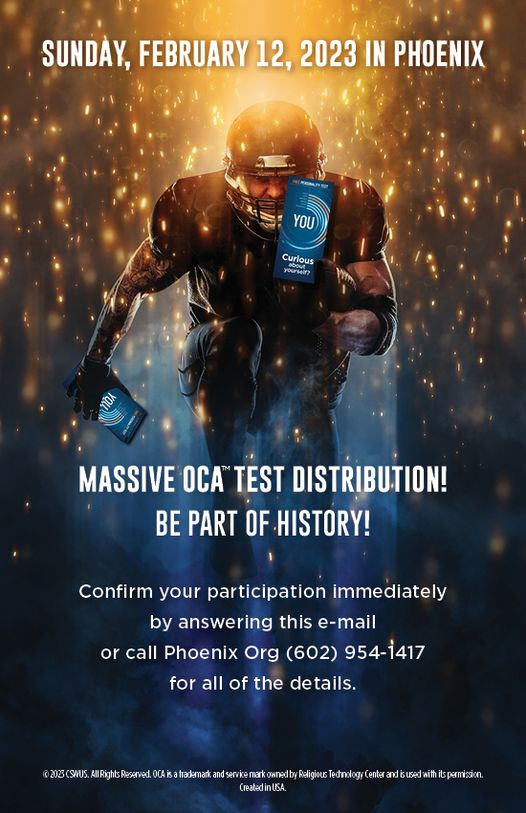 The No Social Veneer Briefing
Here it is:
We haven't accomplished anything in 70 years.
The vast majority of people in this city have no idea we even exist.
If they know about scientology they think it's a cult in the US.
We are never clearing Melbourne, let alone the planet.
You can all go home now.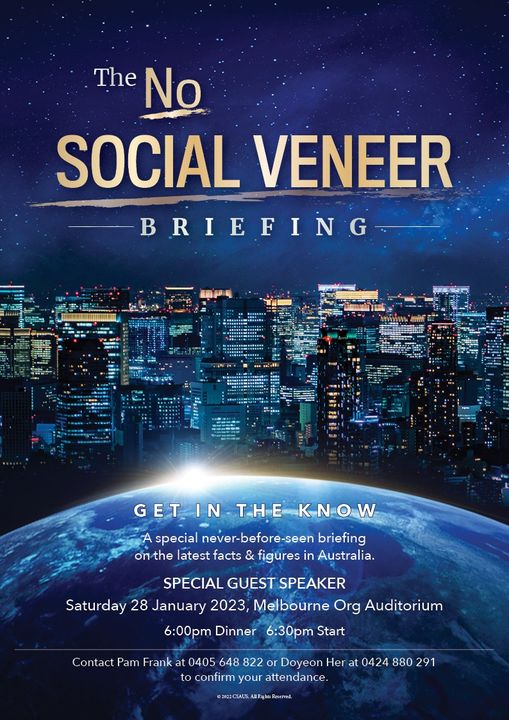 Your total freedom — right here, right now.
Somehow I think they are promising a little more than they can deliver.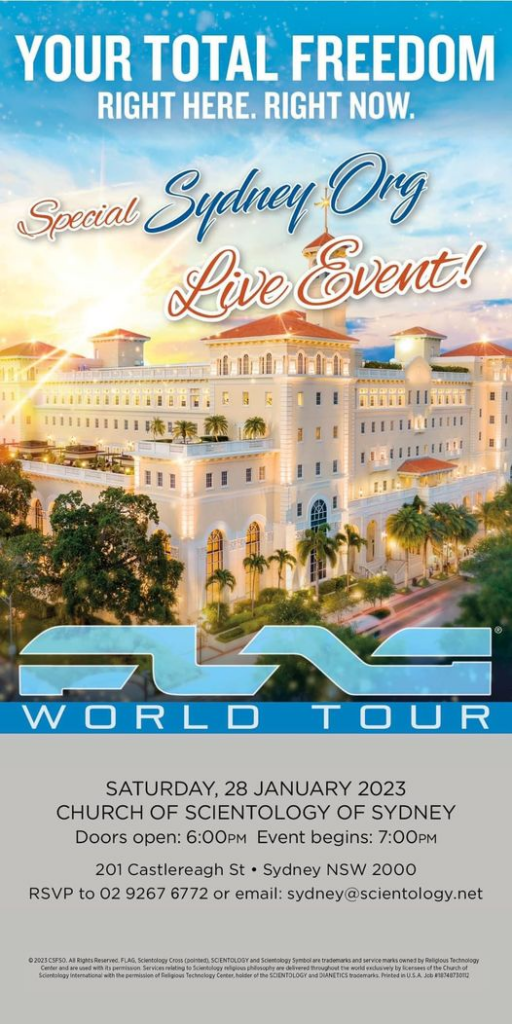 Message to Garcia
Scientologists think this is something "Ron" wrote, it's not. It's written by Elbert Hubbard. No relation.
Just a note, the summary of it is: A Message To Garcia teaches you how to be the best at your job by becoming a dedicated worker with a good attitude about whatever tasks your company gives you.
No wonder scientology pushes it…