How long will it take?
They are STILL trying to recruit Paul Schofield for staff at Auckland org even after the post last Saturday…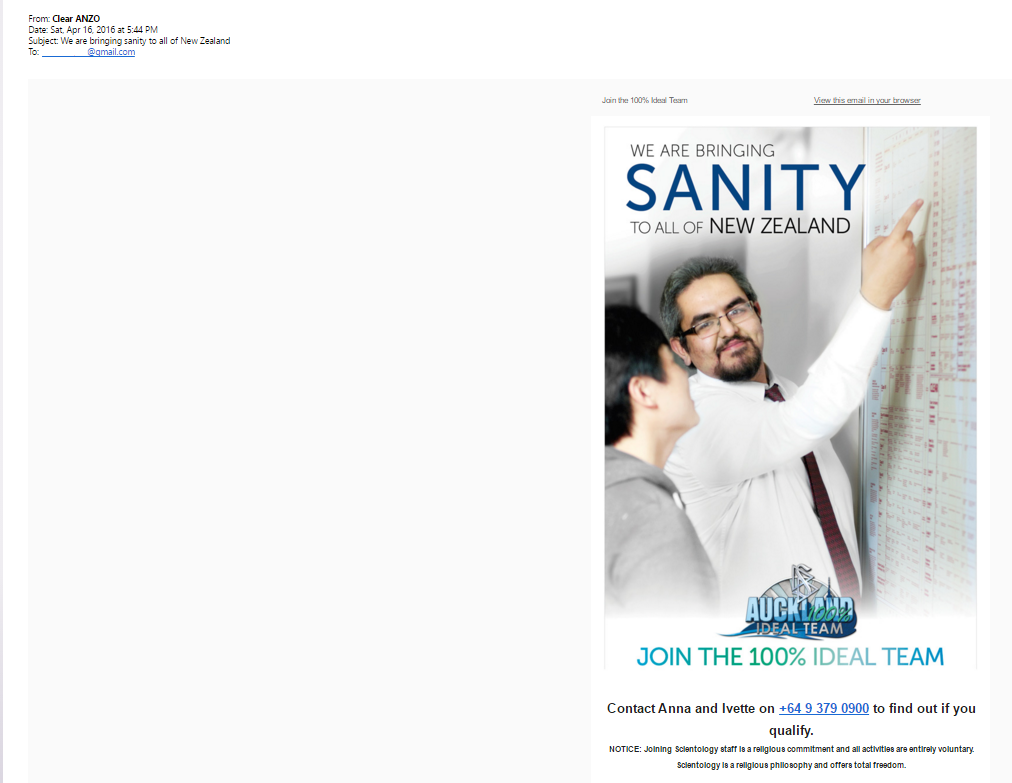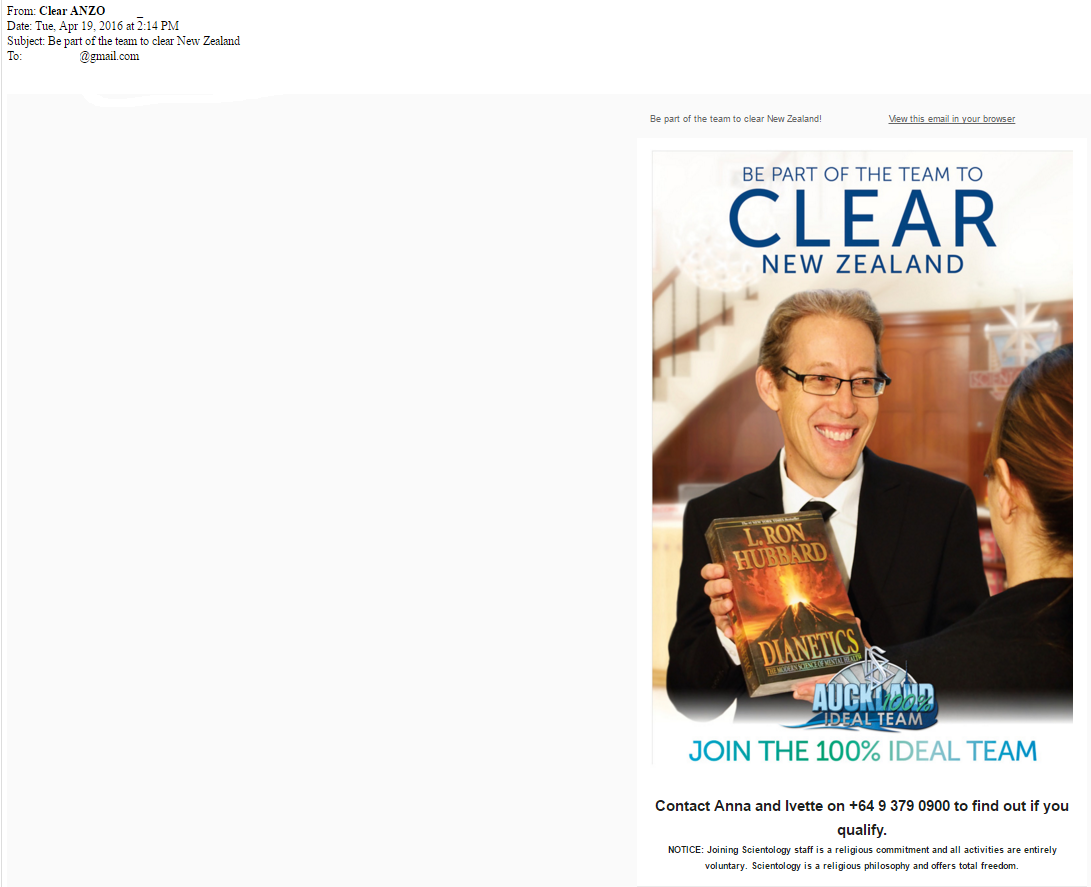 "Breakthrough accomplishments" 
We have nearly broken 6,800 ever on or through Solo NOTs and Tampa CF is done through the letter "F"….
Birmingham IS going ideal…
"The freight train has started…" Wonder if this person also writes copy for HAPI?
Hello,
Birmingham IS going Ideal. The freight train has started and will not be stopping until the cycle is done. The first Sea Org projects have arrived. This includes a project in Division 6 which will be working with the org staff and with you to get dissemination going, to service new people in Division 6, to help you with your dissemination activities and to set up groups or WISE or ABLE activities, etc…
As part of this we will be doing a series of seminars and workshops on any subjects you would want to see covered and which will help you in your activities in the field.
Please fill in the below survey so that we know what subjects you would want to see covered in those seminars/workshops. 
1. What ideas have you had in terms of dissemination activities that you wanted to get going in the past or in present.
If so, how did you get on with those ideas and putting them into reality?
2. Have you tried to get family/friends/work colleagues interested in Scientology? If so, how did you get on with that? What barriers did you run into, if any?
3. Have you run into difficulties when you tried to disseminate? If so, what did you run into?
4. What would you like to get help with in regards to dissemination?
5. Which of the following subjects would you want to see covered in a workshop/seminar:
FSM Beingness – 
Public Speaking
How to get a field group started
How to disseminate to friends and family
The Deadly Quartet
How to make a Scientologist
How to expand across your dynamics. 
Anything else?
6. What do you feel really needs to happen to get field activities done for real and in volume in the Birmingham area. 
Thank you very much for your reply.
ml, Maggie Reid (New Era) & Ann Roelens (CO I HELP UK)
Moneywinds
With an additional survey to try and figure out if anyone is going to show up.
Sharron Weber needs this
They had Matt Feshbach…
So why not Kevin Wilson. If Reed Slatkin was available I am sure they would sign him up too…
Big Fail
This was scheduled for 31 March and then on 5 April they announce it is "now happening" in May. Tells you how many people showed up. Zero.
Save a tree
Or a forest. Computerize CF.
Any excuse for a fundraiser. The Cont Finance Director isn't going to talk about "Earth Day" – this is a reg event pure and simple..
They're actually promoting this
I guess it's all they've got – an old timer redoing the Student Hat. This is an "ideal org"….
Anchor? 
That's something that usually holds you DOWN.
It's always "about to change…"
And it's always "find out if you qualify" — and the answer to that is always the same. If you can breathe you qualify.
Spirit of Play…
This "veteran" Sea Org member hasn't had any fun since he signed his billion year contract. Things are too serious for that. See above.
It's a milestone!
We are going to show you the video of the Atlanta ribbon yanking. Followed by another epic milestone – showing a YouTube video of a cat with a ball of yarn.
It's desperate
Sharron Weber has pulled out all the stops. Nobody on board doing OT VIII so they don't need a supervisor. And no likelihood of anyone showing up, so what is she pushing with the OT VIII supervisor? Come to the Freewinds to do Objectives.
And this is a broadshoot — EVERYONE "qualifies." This first one is for OT VII completions in LA.
 Huge News!
He does know there is no beach in Battle Creek, right?
Supermen? Not so much
Not judging by the state of the orgs….
City Office?
For who? Is this a Mission?
Alert for Chuck Beatty to take a stroll by Anthony St.
Join the FUN
If this is really their idea of fun, they deserve everything that happens to them….
Scots logic
We were so savage the Romans walled us off from civilization 2,000 years ago. That's a good reason to give us your money today.
A tree? Really?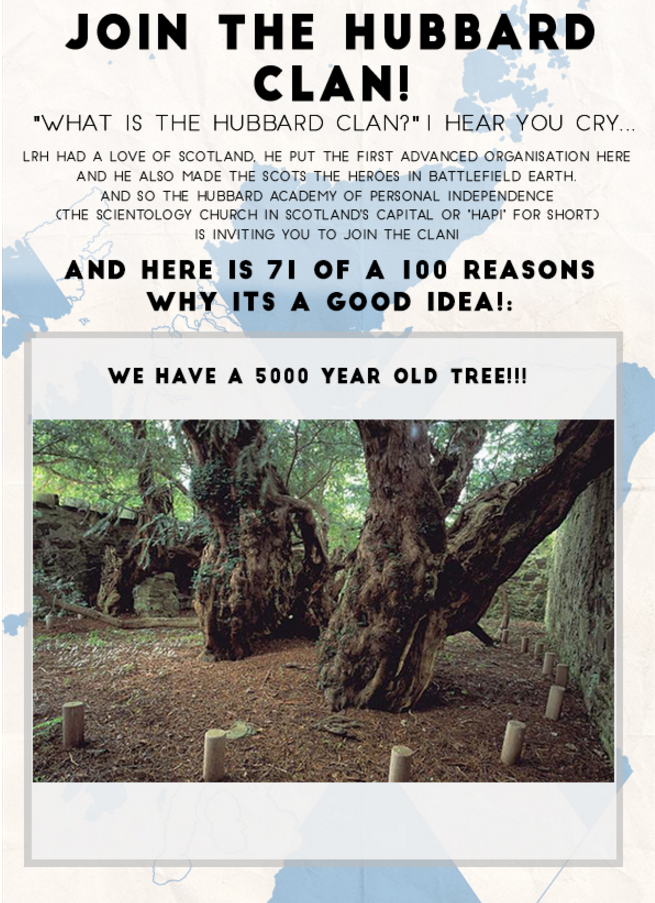 The biggest, baddest, ideal org of all
Guys, you have your own problems — all your execs just got busted. I suggest you concentrate on YOUR orgs and leave Valley to Quinn the Eskimo and the Porn Valley All Stars.
Big Expansion Surging
That rundown old castle ruin represents big expansion?
Expansion of the waistline perhaps?
It's less than 1 hour and 10 minutes long
You can put up with it as long as it doesn't go past 70 minutes can't you?
Not really
I haven't been. But I would guess this is another fundraiser, right?
In 2011 the Italians led the charge
And it's STILL not done. Tampa CF, the impossible dream.
They do read these things right?
Anyone know what this means?
And why are there 4 names and 3 guys?
Is Paul dead?
They really DON'T read these do they?
 Seriously, this has to be the WORST possible quote to use for fundraising…