Central Files
This is REALLY important. And absolutely everyone is doing it! Even the Captain FSO (OMG) is involved!
The movies must be a popular thing! Wonder how many things are misfiled as people are distracted by JT or Steve Martin?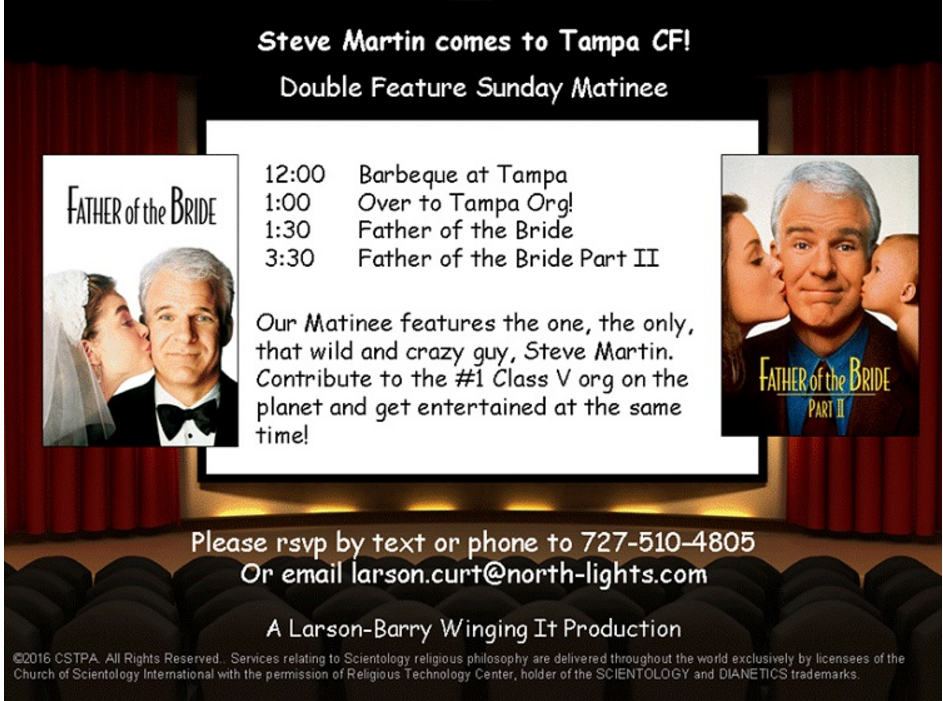 No such luxury in Miami. You just get a finger pointed at you. And there is a Sea Org ProGAM chief there…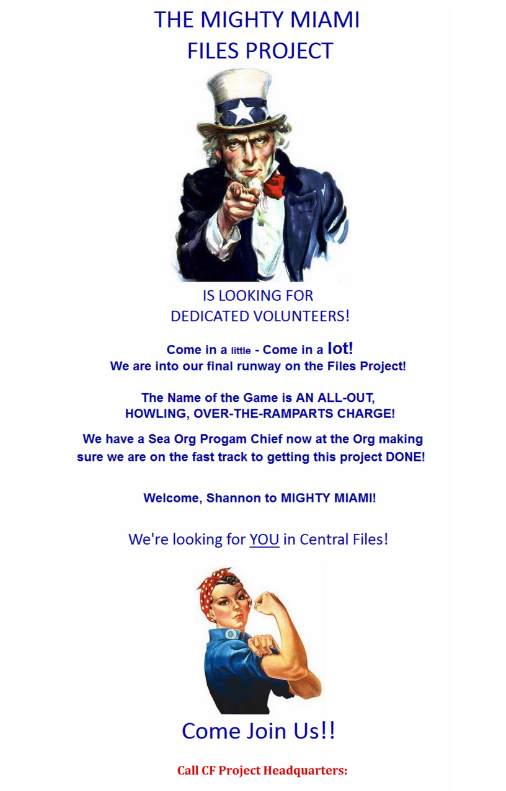 Pasadena SH Size
They don't even have a Bookstore Officer? Then again, as my old friend Rob Williamson pointed out, they ARE the size of SH… As in small and empty.
DEAR XXXXXX,
CONSIDER THIS…
"The Bookstore Officer is one of the most important posts in an org."
—L. Ron Hubbard
PASADENA Org is now accepting applications from upstat persons who are knowledgeable in:

SALES
PROMOTION
MARKETING
DISSEMINATION
Contact Jordan Petry or Brian Bruski for more information:

(626) 792 7532

email:
ppopasa@gmail.com
Please fill out the survey below and send it back.

Address:
City:
State:
Zip Code:
Age:
Phone Number (home):
Cell:
Training Level:
Case Level:
Admin Training:

1. In which 3rd and 4th dynamic Scientology activities do you currently participate?

2. What is it about these activities that makes them something you want to participate in?

3. Have you ever been interested in joining staff, either now or in the future?

4. When you were interested, what interested you in it?

5. Do you know if you are qualified to be a staff member?

6. What staff positions would you be most interested in holding?
Completely Re-rock your OT viewpoint
Whatever that means?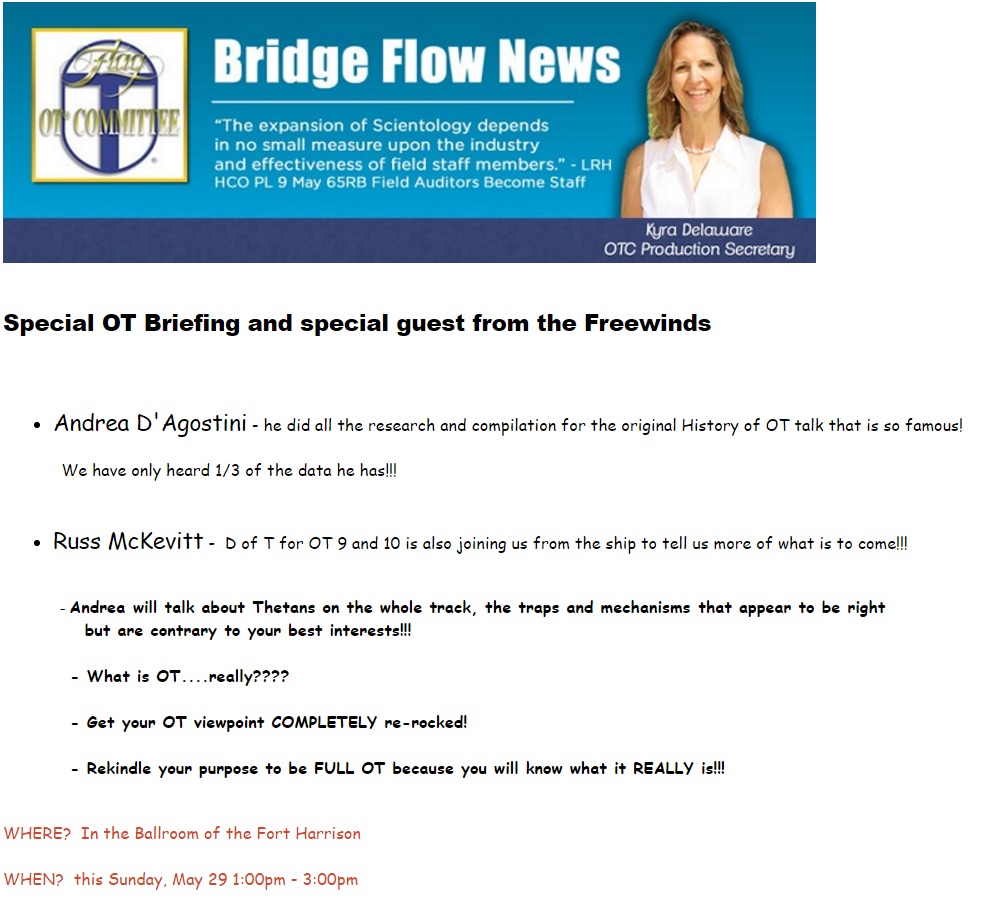 Food, glorious food…
Fabulous French dinner. Quiche and French Dip sandwiches. That's apparently the only stock shots they could find that they thought were "french dinner."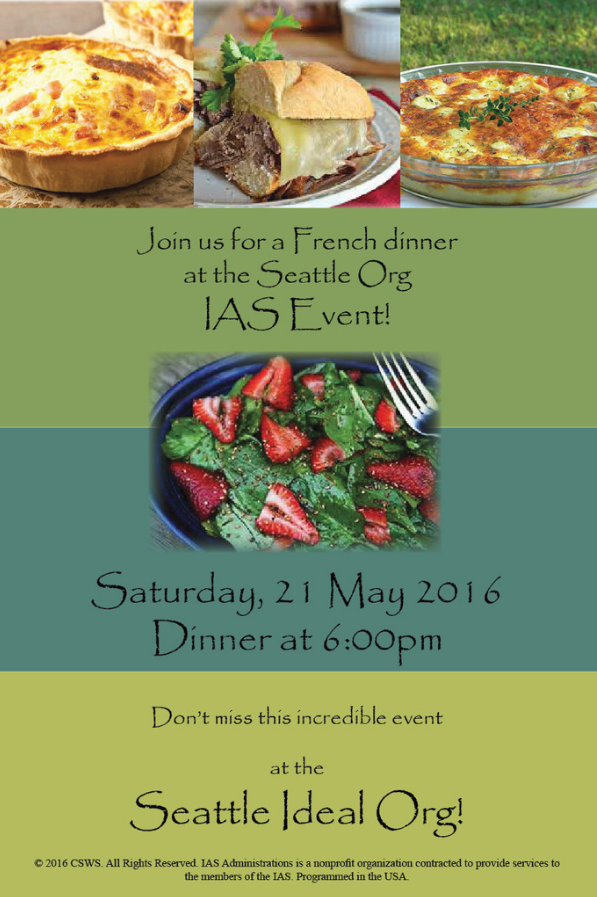 Ideal Org Absurdity
They cannot get 10 people in their current "chapel" so build one to seat a 1000…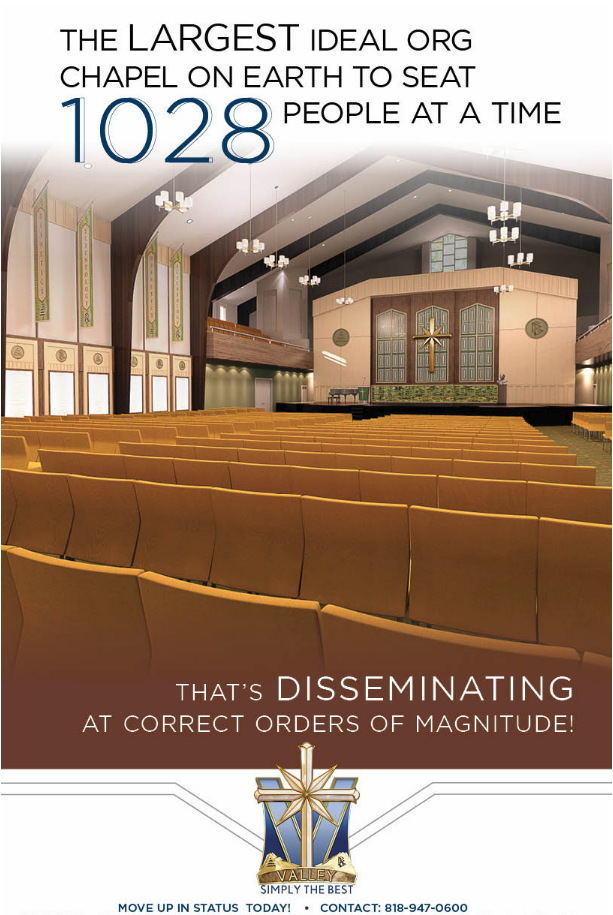 Service is apparently super fast when you are servicing nobody…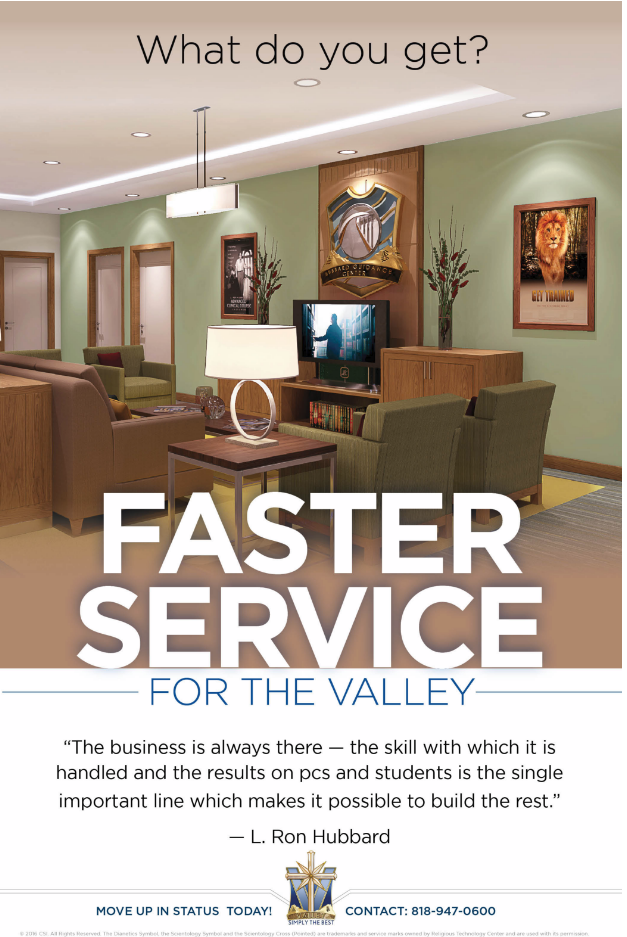 They don't have one person in their Academy now. Of course, they couldn't train an auditor because they don't have enough space…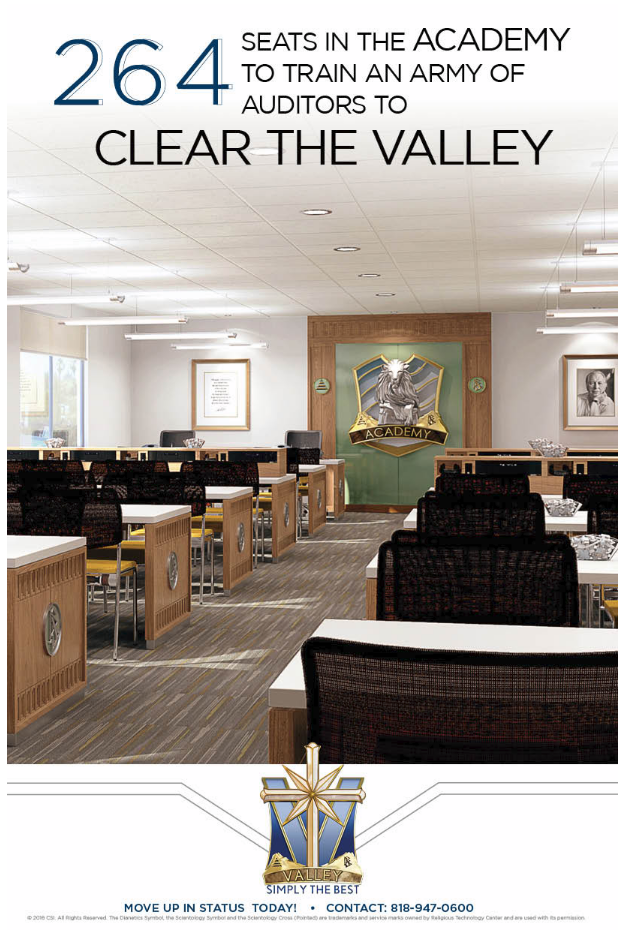 Anyone sitting in any of these empty rows would be "more"…
I wonder if they ever notice that scientology in the world of ideal orgs means room after room with NO PEOPLE?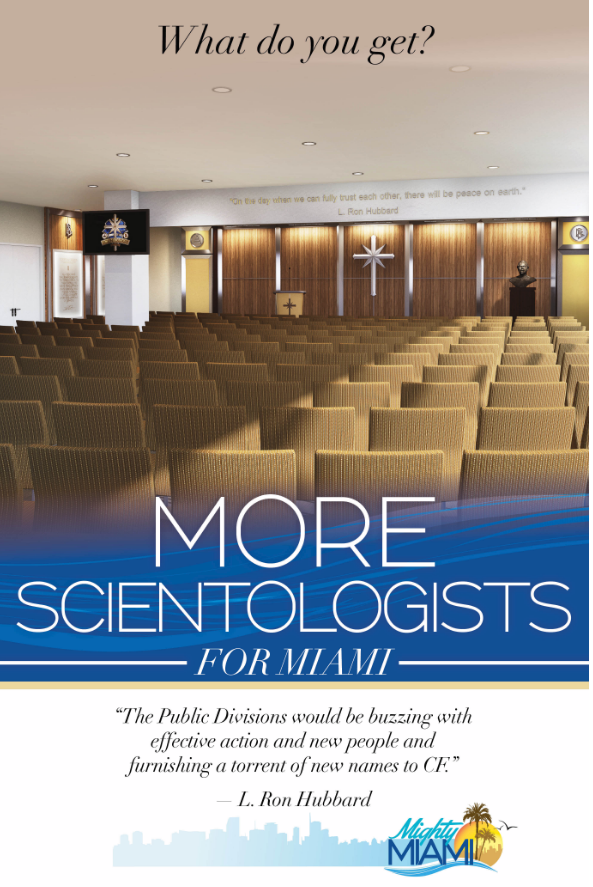 I suppose this is a Reception Desk? That is some serious expansion. An empty desk. Or a shelf with a sign on it. Or something.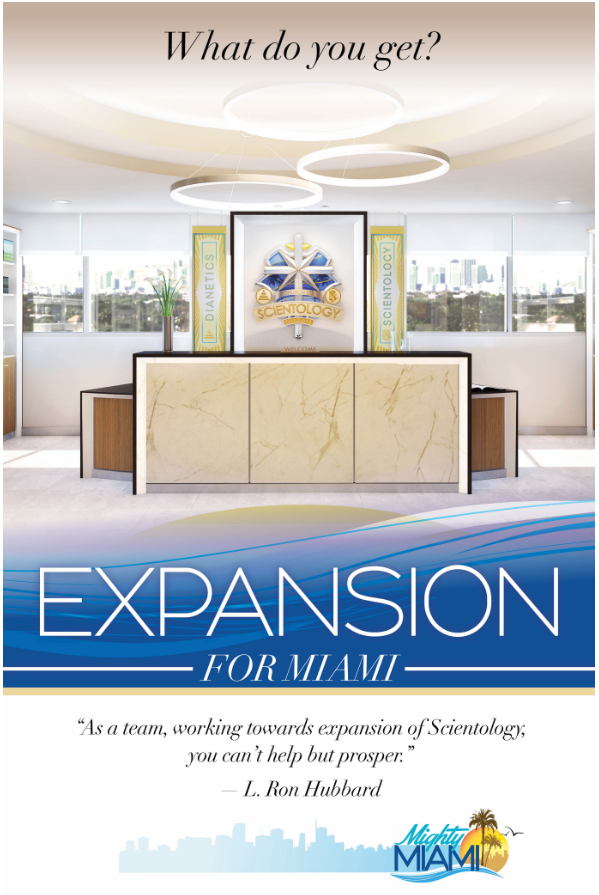 The Guardian's Office is back
The first event, unlike any you have seen, is former Flag Guardian Office Intel Chief Tom Reitze explaining how LRH discovered thetans better than LRH can describe it himself for the small fee of $10 (it will save you having to buy those Congresses and stuff…)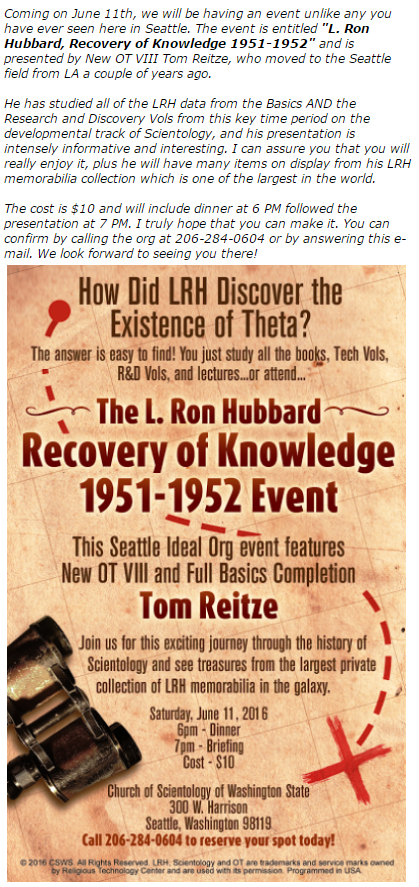 And next we have some insight from the former Deputy Guardian PR US, Arte Maren.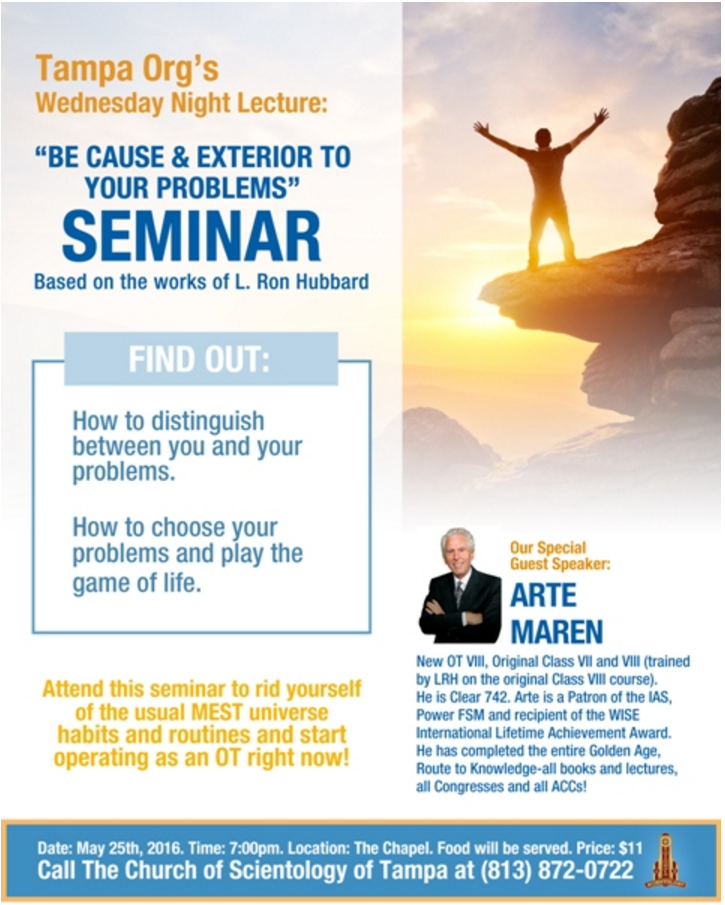 It's a religion right?
Why would any "church" be promoting fiction writing at its weekly "graduation"?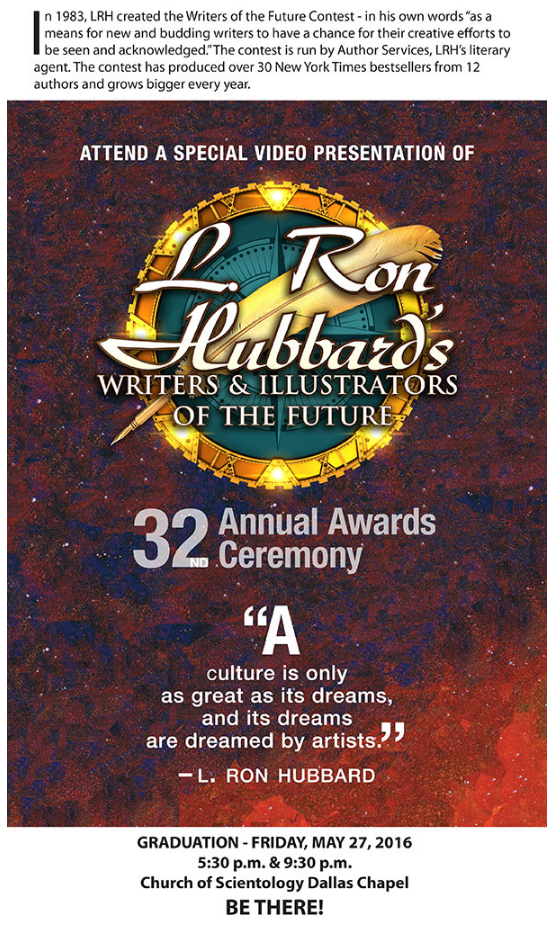 Scientology City?
3 years on and the first scientology city remains the same LSD induced dream it was the day Dear Leader yanked their ribbon.  The promises made about what is going to happen with these ideal orgs are so bizarre and not a single one of them has ever come true.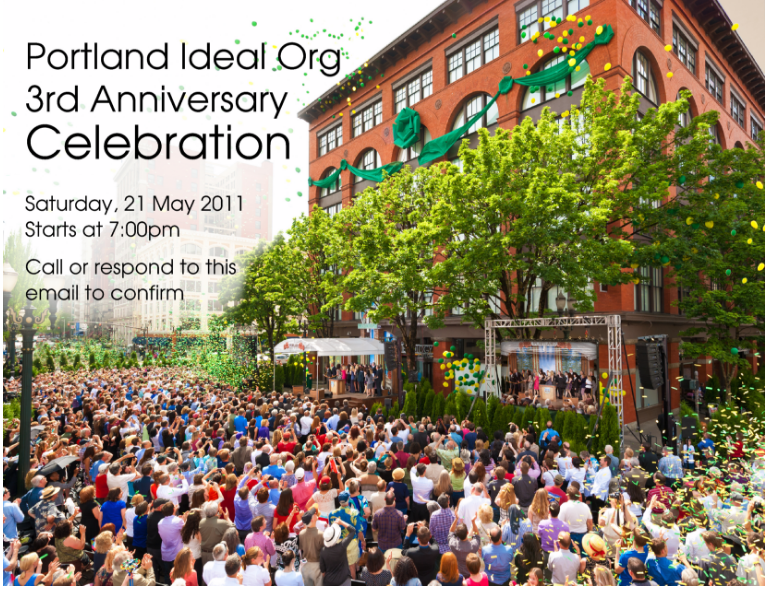 Desperate Move
The Running Pgm IC is in Dallas? They obviously don't have enough people running around in circles to keep him busy or he would never be sent out, especially not to a place that has virtually NO public.
Moved again?
They must be having a hell of a time trying to get anyone to show up for anything on the Moneywinds. They keep shifting every convention they promote to a new date?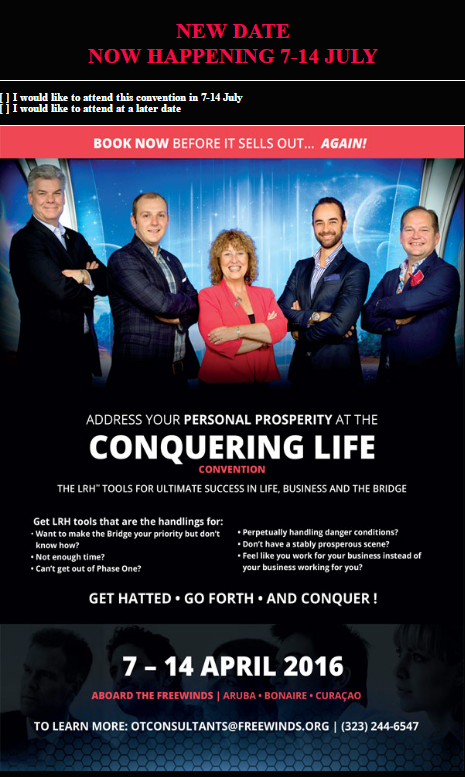 Same problem on land it seems…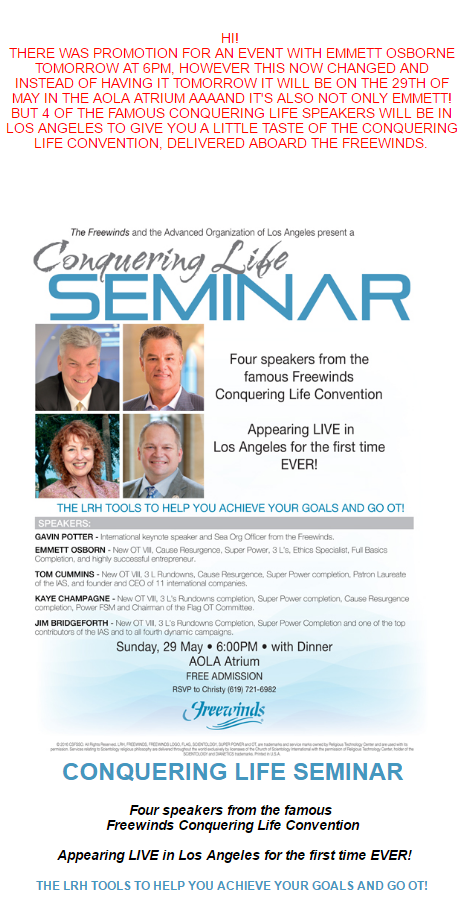 Scots humor
Can almost give them a pass on this one. Scotland IS beautiful. But the MOST beautiful in the world? A little arrogant I would say.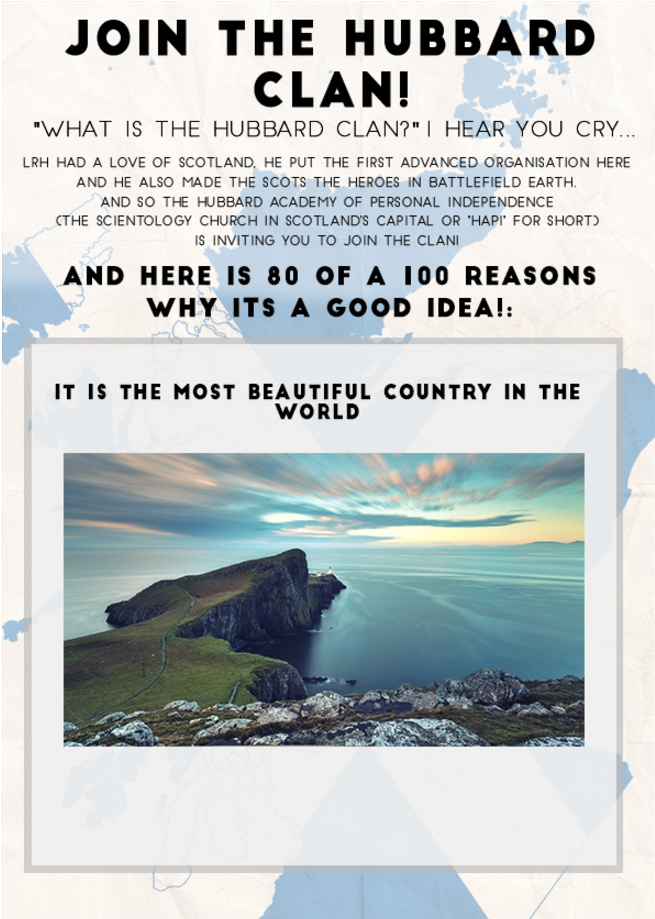 I would give my money to Canada for this one…. Or maybe Siberia. Aurora Borealis is much more dramatic a lot further north than Scotland.
Family?
Really? This is the very last thing the kings of disconnection should be promoting.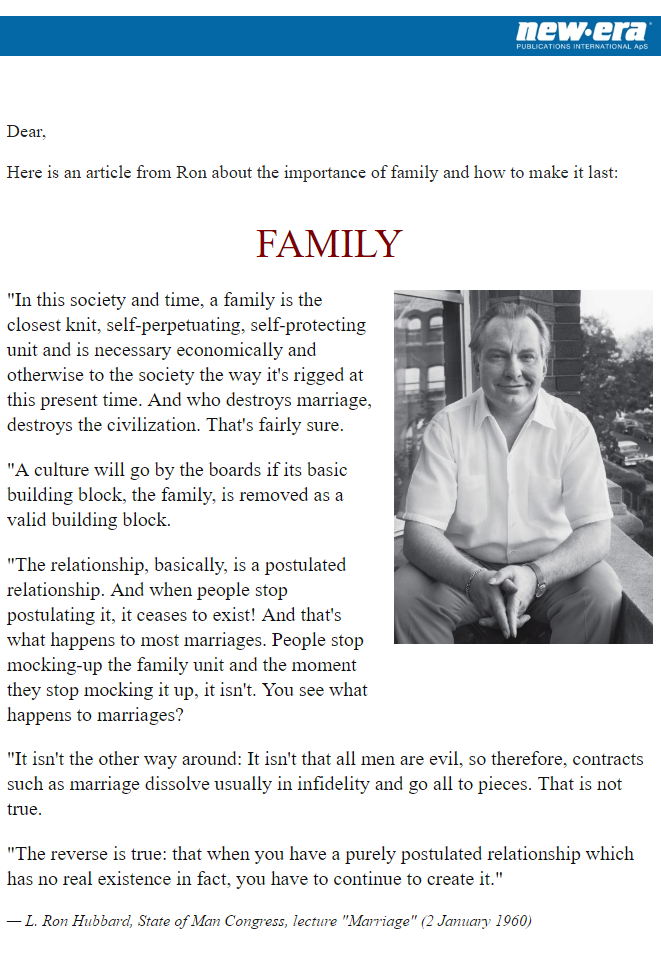 Makes sense…
To a bubble-dweller I guess? Ride on a boat, get a bit seasick, and give money for the ideal org we plan to have in 2050.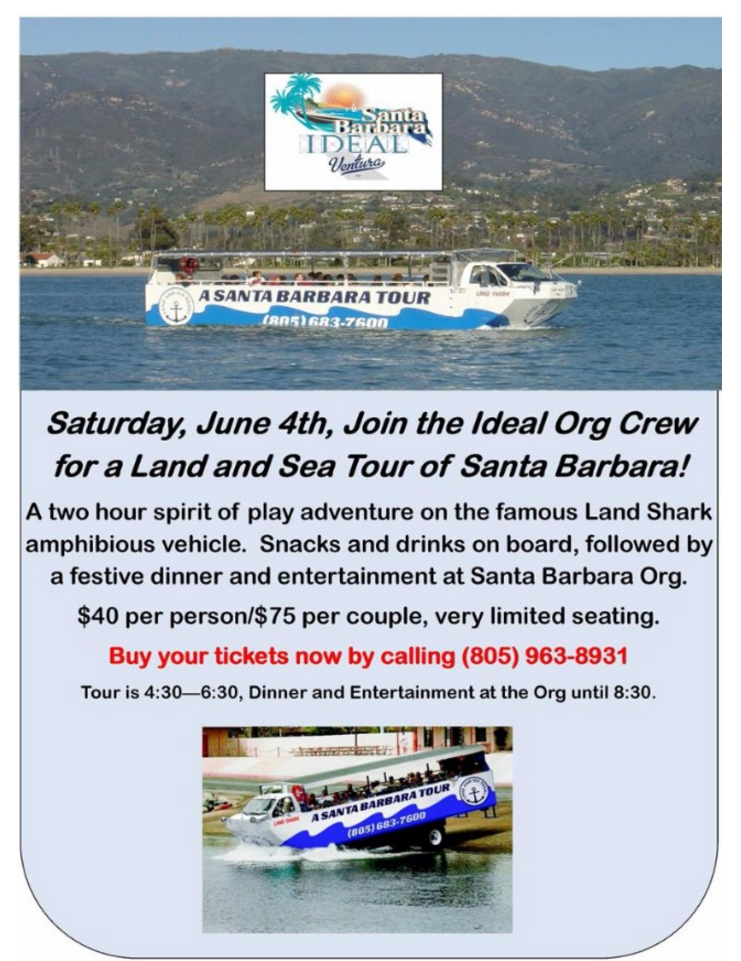 The size of SH
Seriously? This was sent to a Santa Barbara public who has never been to St Hill. His AO is AOLA, or even Flag?
Old Hazel must really be desperate. There are tens of millions of people in the British Isles for her to "get up the Bridge" — hell, just a few miles away is the wondrous London Ideal Org that is "clearing London"?
And Hazel must be about 75 by now. She should be sitting at home knitting or something.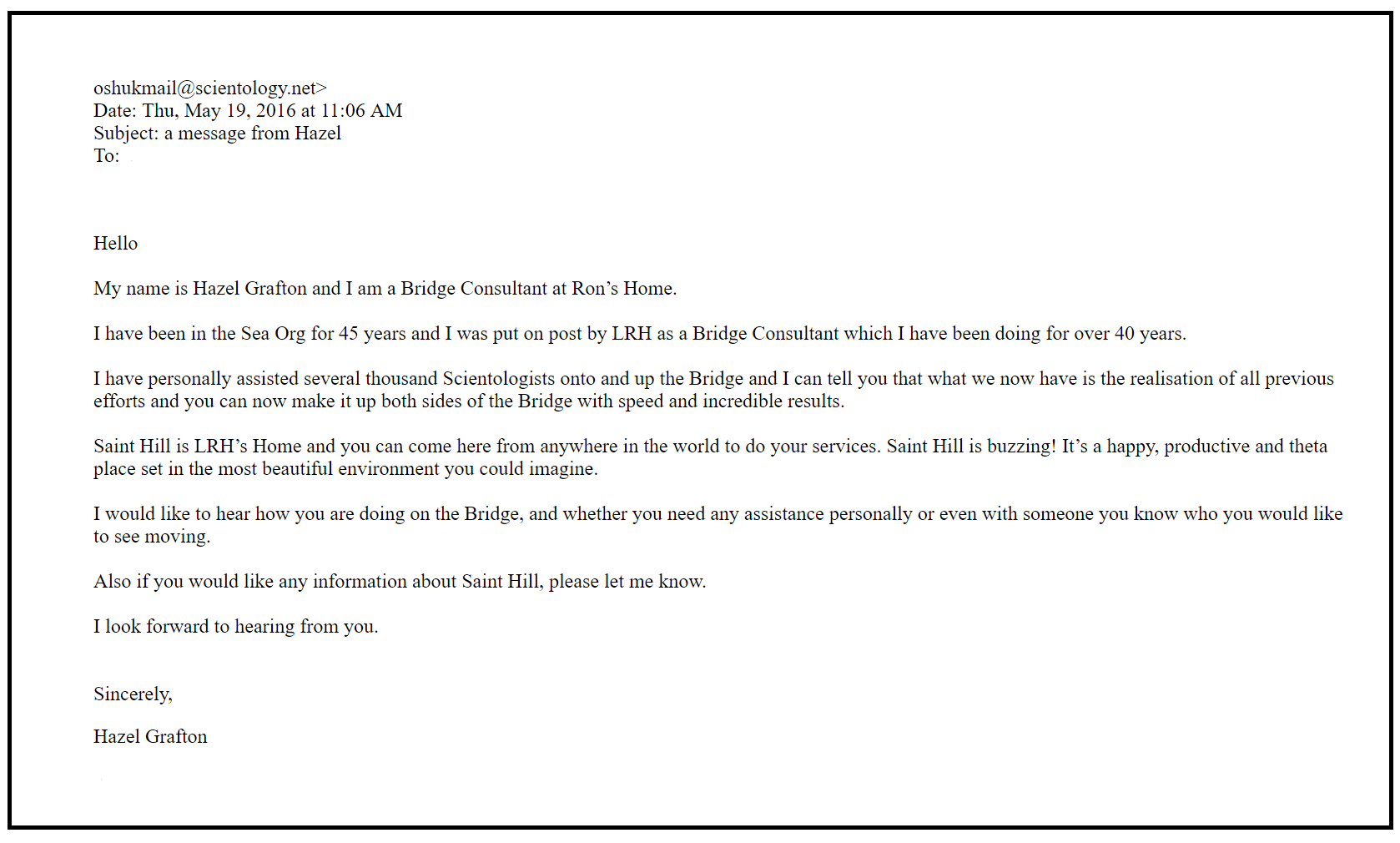 Stop it with the children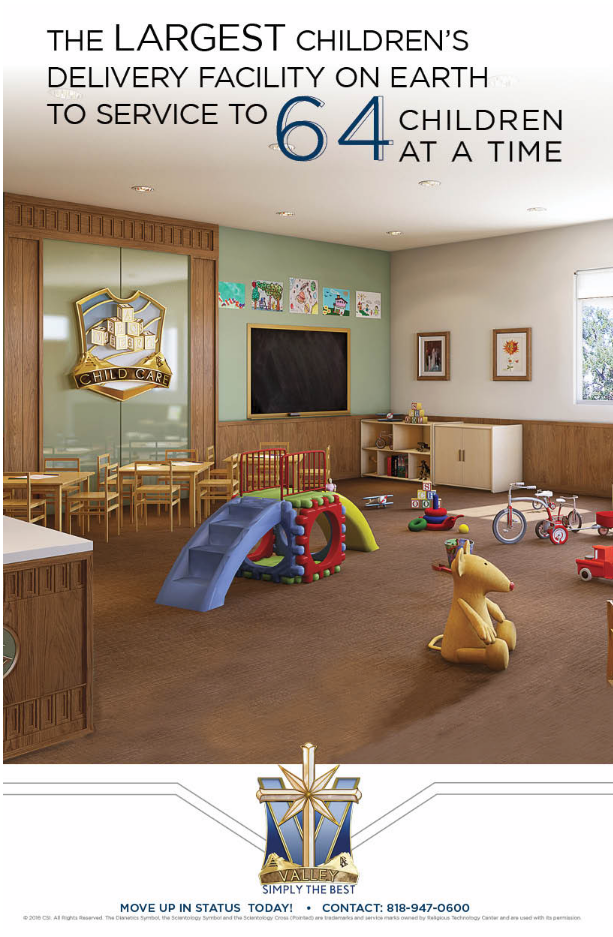 Special Guest Speakrs
Seems like the Commanding Officer FSSO can't pull anything off by herself, she needs some public guest speakrs to bolster her credibility.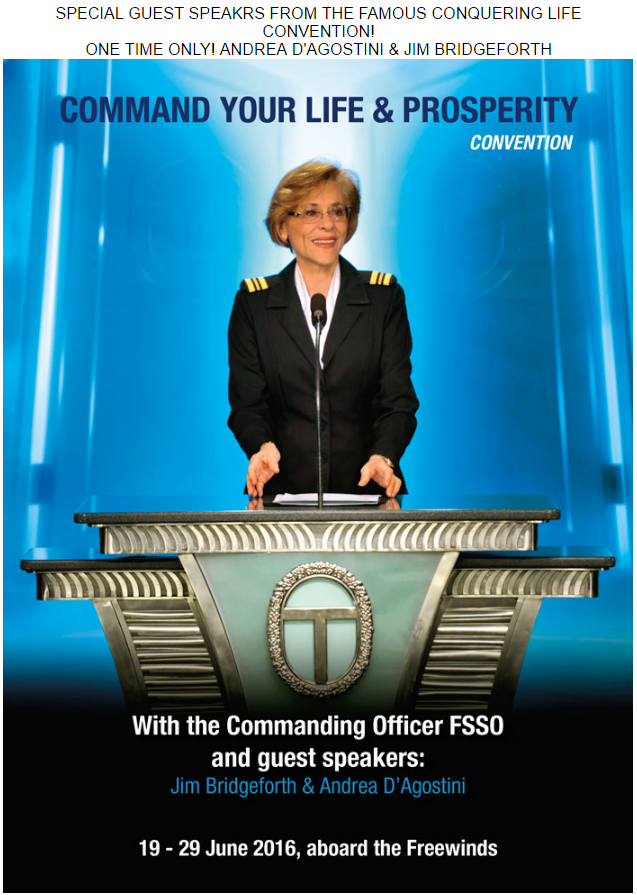 The Final Target
Just riddle me this though? If they already have 6 ideal orgs (and CC) why isn't LA already cleared? Whey do they need 7? Or, why not 25? None of these other "ideal orgs" have made any difference…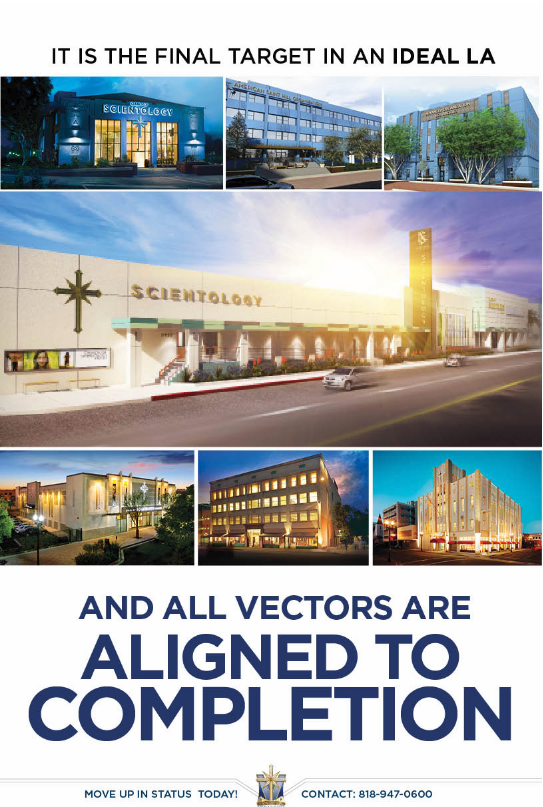 He has a brunch named after him!
OMG – wonder if there is a David Miscavige afternoon tea available?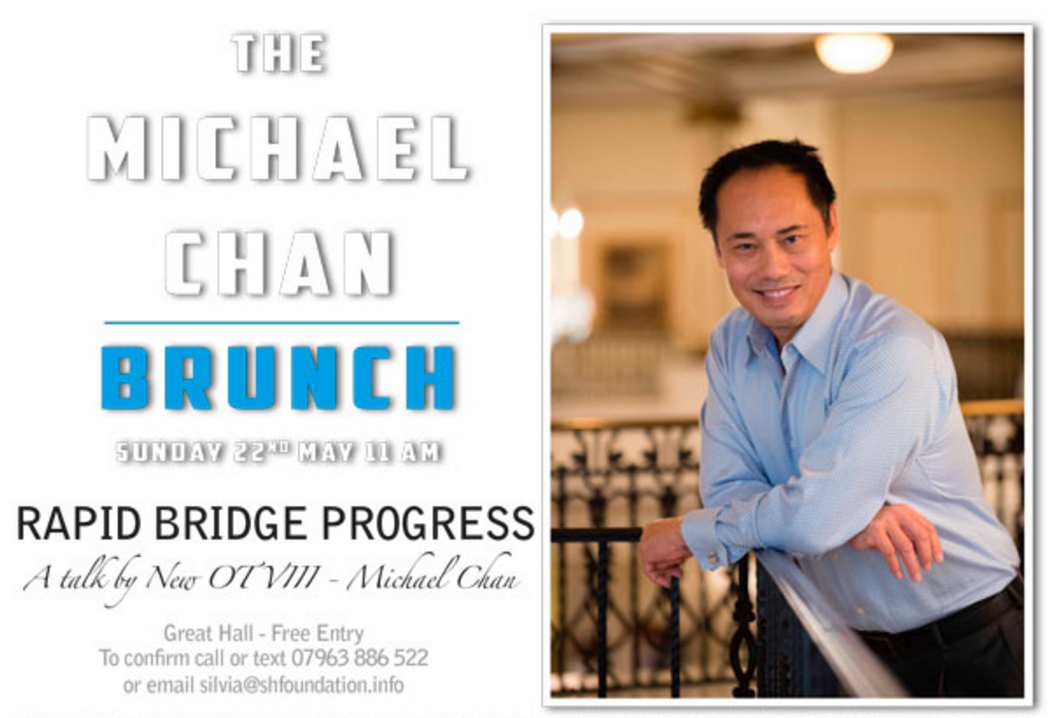 A very, very special guest speaker
Why are we not telling you who it is? Because they aren't so special. Oh, it's the Captain FSO. Wow. And this will be a totally unstaged video….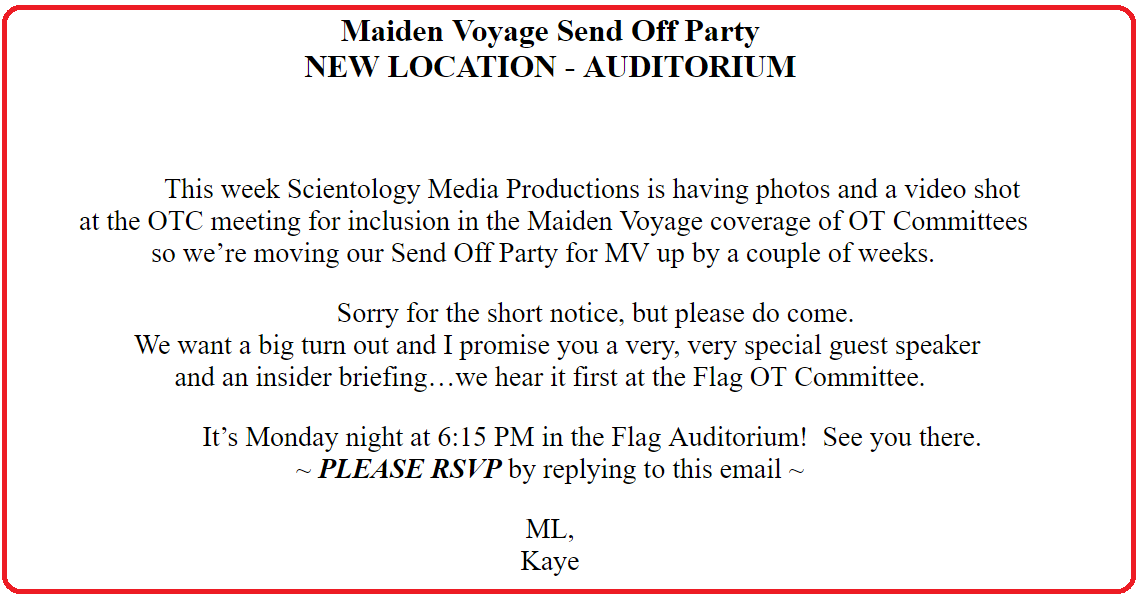 Very special guest speakers
Only one very for these guys. But at least they say who is going to be there so you know it's just another meaningless pitch for money.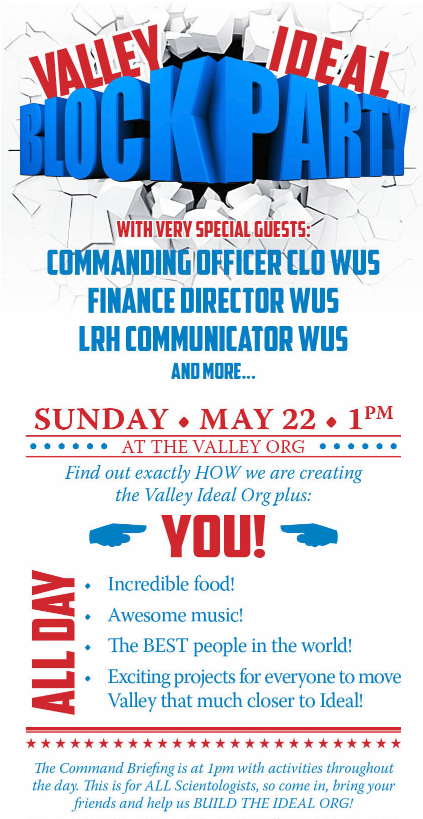 What took so long?
These guys run the most successful WISE business (according to WISE) and Kevin goes out teaching people how to make money? So how come it has taken 10 years for them to even make it to Humanitarians? Maybe they are not all they are cracked up to be?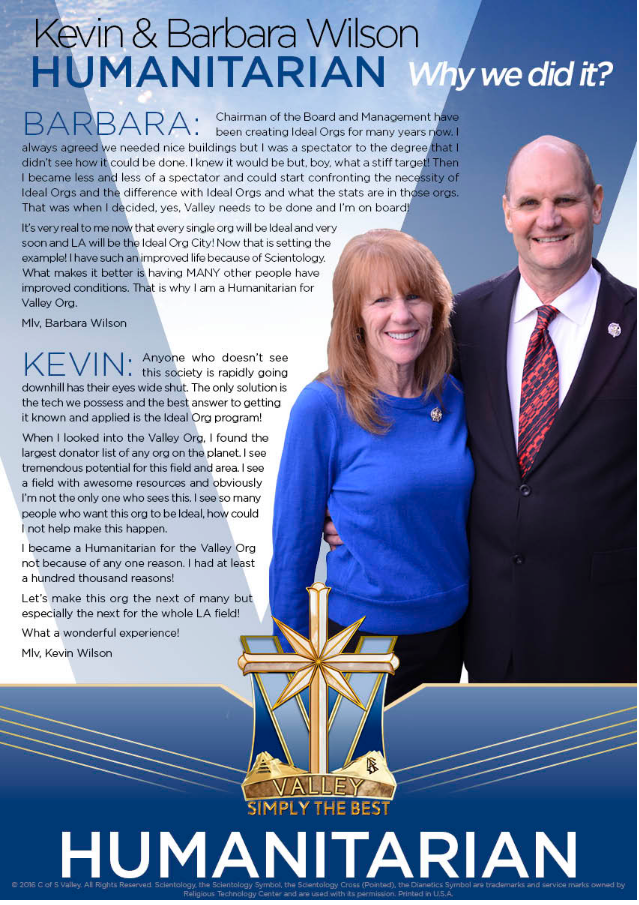 Ditto….

Quick, before Maiden Voyage
Tampa needs some people on course. You can get it cheap….

The Communication Capital of the World?
You ARE giving "them" something to talk about. It is why there is a constant stream of "entheta" and "joking and degrading" about scientology.

I thought this was a big, booming org?
St Hill. And look what they are doing. Seems the only service they are providing is in the "newly built restaurant."

What does it take?
A continuing series from the geniuses at Mighty My Mammy.
What does it take?
An expanding waistline?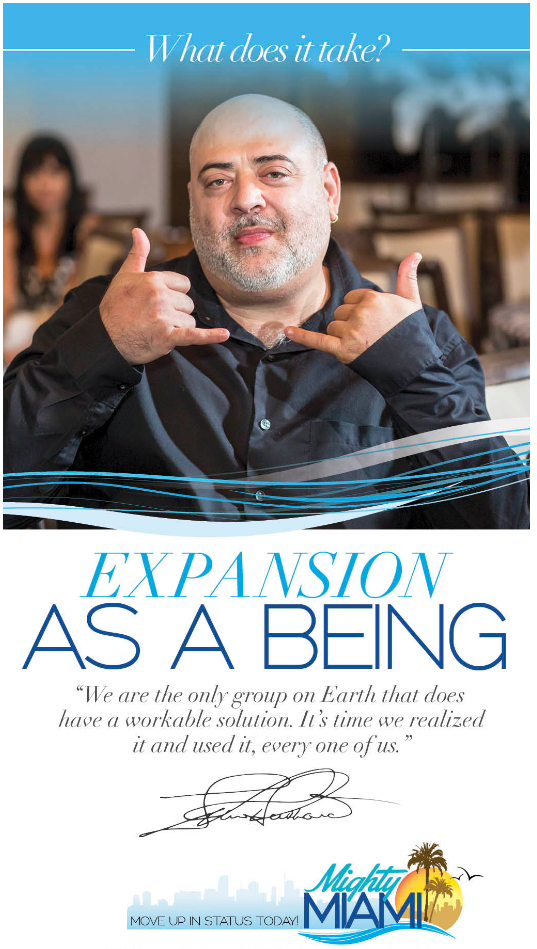 What does it take?
Crazy people?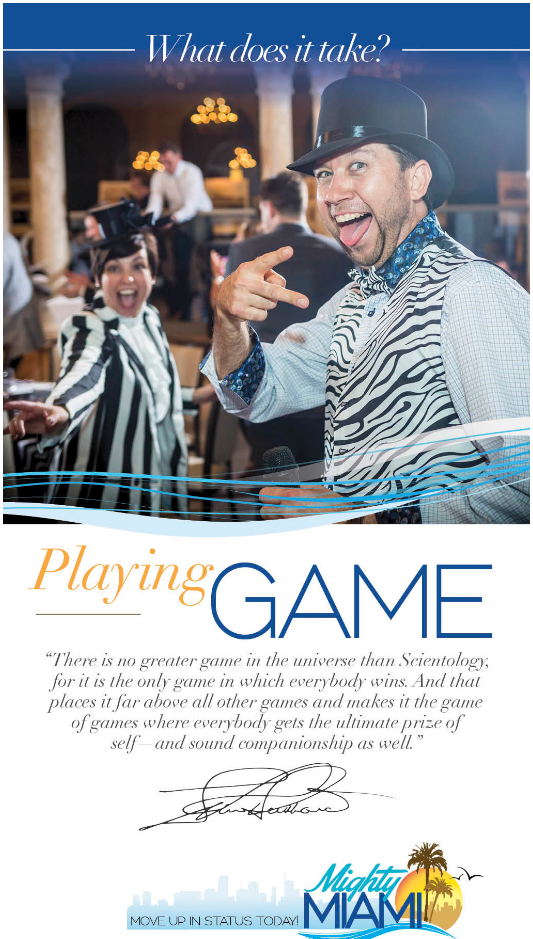 What does it take?
The real answer: DOUCHEBAGS.

Ugly Award
This looks like a mid-19th century prison or mental hospital. How appropriate. Maybe Miscavige can relocate the Hole to Kansas City.