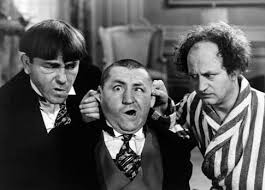 The disasters just keep on rolling. These three emails came in this morning.
Larry, Moe and Curly Joe couldn't make this more slapstick….
First, after years in the "planning" SMI is sending out an URGENT email that must be answered TODAY to give information about delivering "GAG II." Wonder what happens to the Missions that DONT have trained C/Ses, Co-Audit Sups and Auditors (ie practically every "Mission" listed on Scientology.org)? With GAG II "imminent" this is like asking at the altar whether your bride is a virgin.  It's a bit late for that sort of "Oh, I forgot to check…."
The second email is more of the idiotic — tell us you are confirmed and then we will at some point tell you when to come. But in the meantime, send us your photo so we can make an ID for you. To carry the wedding analogy on a little longer, this is like sending out invitations to your wedding, asking your guests to RSVP with no date set for the wedding, but send us a photo of you so we can verify you are who you say you are when you arrive at our undated event.
And the third email is another angle — obviously PALLET loads of materials are going to be shipped.  They will be SOLD. The big push is coming to SELL, SELL, SELL more Miscavige Materials (R) whether you need them or not. They will probably have orders to destroy all earlier materials and it is predictable that like "The Basics" and everything else, some transcriptionists or SPs screwed it all up the last time Miscavige had personally supervised the absolutely standard tech that he released in GAG I.  So, come to the wedding and you will be required to buy a dozen copies of our sooper-dooper wedding album.
Yamma, yamma, yamma, yamma….
From: SMI WUS
Date: Wed Oct 30, 2013
Subject: URGENT – DATA NEEDED TODAY

Dear Xxxx,

Data is needed urgently on your mission as part of the preparations for Golden Age of Tech Phase II release. Please give me the data in answer to each question immediately you receive this. If you have to go get some data, let me know at least that you received this and are onto getting it.

This data must absolutely be back to me by today (Wednesday).

1.    What is your mission's premises square footage?
2.    How many course rooms do you have and how many seats in each.
3.    How many auditing rooms do you have in your mission?
4.    Can your mission deliver TRs and Objectives on a Co-Audit basis?
5.    If you can deliver it, do you have a trained Co-Audit Supervisor? If you don't have one, who Sups it?
6.    Do you have a trained C/S in the mission? If so, give the name and training level of the person or persons.
7.    CONDITIONAL: If no trained C/S in the mission, who does the C/Sing for the mission?
8.    Do you have trained auditors on staff at the mission?
–    If so, list the name of the person and their training level.
–    Note if the person is single hatted as an auditor or holds another post in the mission and list out that post or posts.
–    Do you have anyone on the TTC? If so, who and for what training?
9.    Do you have a Purif I/C posted? Also note if any other staff in the mission are trained to deliver Purif.

Get this data immediately and send right back to me. I repeat, it must be back with me by today – Wednesday. Thanks.

ML

Tony

###

Date: Tue, Oct 29 2013
From: zsombor.s@flagaccommodations.org
Subject: IMPORTANT! UPCOMING EVENTS AT FLAG!

Hi!

How are you doing?
My name is Zsombor, I'm writing to you from Flag.
This is in regard of the upcoming Golden Age of Tech ll and Flag Building Grand Opening events.
The event is imminent, it is within weeks! That is why I need to give you all the data about your accommodations and flight, because as soon as we have the date we are going to have to book you right away.
We need an ID portrait photograph of yourself to place on the Flag Event Pass Card. Just send it to this my e-mail address. Your pass will be ready for you to pick up at Event sign in at The Fort Harrison upon your arrival to Clearwater.
Please send me the photo and after that we set a time for a comm cycle on the phone regarding your accommodations,transportation and food, and in order to complete the information for this card I need some personal data from you. This is done by every single event attendee.

Don't hesitate if you have any further question! Just let me know!

Regards,

Zsombor Szamek
The Oak Cove Hotel
Front Office Manager
Flag Land Base
Fax: (727) 467-5005
Cell Phone: (727) 639-2070

###

Date: Thu, 24 Oct 2013
From: SMI WUS

Dear Xxxx,

Data has just come our way that makes it imperative that a BSO is posted right away.

There are key missions in WUS who will be receiving GAT II materials directly. You are going to be getting a LOT of GAT II materials, ie pallets of materials (literally within a VERY short period of time – we are already verifying delivery addresses and have been told to be ready) as part of getting ready for GAT II delivery.

This makes it absolutely vital to get the BSO onto post. With this amount of material, you know it will all have to be inventoried, stocked to minimum stocks and moved into the hands of the public. This is the total job of the BSO. Add to that you can be sure that the stocks on GAT II materials will be heavily monitored by uplines so the admin on them will need to be impeccable. We don't need this function wrapping around the necks of the execs because the function will need to be done. We even have an Int Management program for the BSO post which puts in target by target the policy functions of the post.

It is of course also part of the RTC Minimum Standards to have a BSO posted. So get with whomever you have to and work out how to get a BSO on post this week.

ML

Tony