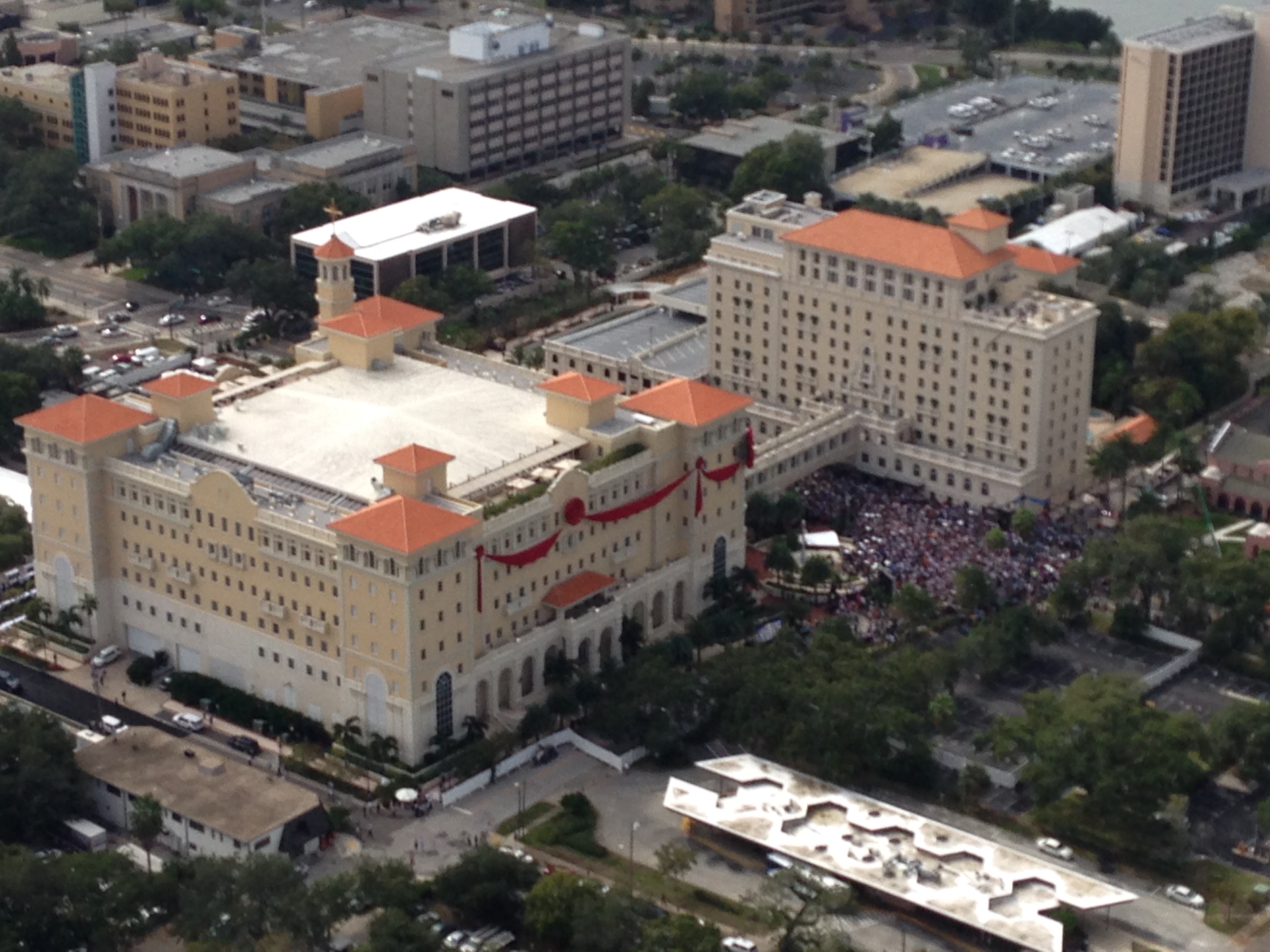 A new update from inside the bubble from a Special Correspondent.
Tours
Tours started right away after the ribbon was cut. Tours started every 10 minutes in groups of 75. It was very hot outside under the sun and many people just left instead of waiting around for a tour.
It took many Cornerstone members at least an hour to start the tour, and they had priority. Each tour lasted 2 hours. Needless to say, this did not work well for most people.
"There were four news helicopters circling"
None of the public on the ground knew anything was amiss. They though the media was just really interested in covering the opening. No one seemed to think it was odd the ribbon cutting lasted only 5 minutes. Even Ideal Org openings routinely last 45 minutes.
Comments were "He's already said so much the last 2 days". "It was really hot outside, so 5 minutes was perfect".
Building
Basement is the crew galley.
1st floor is everything Div 6. A/V displays. WISE / ABLE, Sea Org Museum, the big statues of SCN precepts, etc. (No Div 6 course rooms of course, since FLAG is not a Div 6 org)
2nd floor is HCO, Div 2, Course rooms
3rd floor is HGC
4th floor is Cause Resurgence
5th floor is Super Power (the order of 3 / 4 / 5 might be off)
6th floor is – no idea
7th floor is – no idea
Cause Resurgence Rundown
This is being billed as "Thetan Objective Processing". The briefings on this rundown made NO MENTIONS of "running".
NO ONE WAS ALLOWED TO TOUR THIS FLOOR. God forbid people wondered what the running track is for.
This rundown is being promoted as something that can be done over and over with increasing amount of gain the higher you are on the Bridge.
The cost for this rundown is $2,500. COB literally compared its use to that of a Touch Assist.
This is supposed to be an integral part of what will change the entire universe? Running around a track for $2,500?
Description of Cause Resurgence from the promo booklet:
"An entire floor of the flag building is devoted to the Cause Resurgence Rundown. It is an OT action that is not limited to OTs. Moreover it can be done many times and at many points on the Bridge with enormously greater gains available the higher one's level of case. The building was designed to incorporate every aspect of the Cause Resurgence Rundown from all support and admin spaces to the central delivery area itself." 
Sounds wonderful. But NO PICTURES of this space in the booklet and NO ONE allowed to tour the floor? What's up with that?
Auditing Rooms
The auditor's cert is on one wall, on the opposite wall hangs an Auditor's Code with a name plate under the Auditor's Code. The camera is hidden in the name plate under the Auditor's Code.
Restaurants
There is one or two cafe's in the SP building, but no restaurant.
My sources did not see any other celebs than those mentioned by the TBT. Did not see Jenna Elfman, Nancy Cartwright, Danny Masterson, Laura Prepon, Juliette Lewis, etc.
Kelly Preston and Kirstie Alley have been at graduations for the last several weeks. Supposedly they are getting close to finishing OT 7.
What is missing?
There is absolutely no space in the SP building to hold graduation or an event. There are plans to build an LRH Event Hall. But how do you open the biggest building ever in SCN and have NO PLACE to hold a graduation or event?
Student Hat
The Student Hat is now $4,000. A huge price increase. Here's why…
The Student Hat has been ENORMOUSLY LENGTHENED, by requiring every person doing the course, to M4 wordclear THE ENTIRE COURSE (lectures and pack) and to DO THE STUDENT HAT TWICE THROUGH!
This is really mind-blowing. Consider that the whole "platform" of these new releases is making sure HCO PL INSTRUCTION AND EXAMINATION, RAISING THE STANDARD OF is applied in full, and that no time is spent at lower levels learning skills that are not needed until later levels.
LRH ED 174 was a special handling LRH wrote for CERTAIN PEOPLE to debug study, which required a person to do the Student Hat once through, then M4 the lectures, then do the Student Hat again. This program has been used on prior training evolutions for tech staff.
So now that the speed of auditor training has allegedly been sped up by shortening the materials, what does COB do? Extend the length of the Student Hat by perhaps 3X!!
Imagine the logistics of having to M4 every single Student Hat student on the entire course. Imagine how many people with F/N problems, TA problems, Metab Problems are going to be bogged down. How many people will need Word Clearing Correction Lists, be found to be Out-Int or Out-Lists and routed to Qual for expensive Review auditing, which they can't pay for, and then are parked off-lines.
How many word clearers would be needed to pull off this feat? And for what purpose?
I have NEVER heard any complaints about the Student Hat since 1996. And yet COB picks this one action — which EVERYONE has to do — and extends the length / time on the check sheet by 3X.
The rationale was something like this…
"The HCOBs about study all come from the Study Tapes. So it didn't make sense to have students study the HCOBs first, and then study the tapes when the tapes are the source of the HCOBs. So students listen to the tapes first now. But that means the tapes are listened to without first having the benefit of understanding Study Tech. So students listen to the tapes first, then read the HCOBs, then M4 everything, then study it all again.
I guess LRH never figured that one out during the 20 to 30 years he was successfully training auditors.
The public don't see the contradiction. COB says on the Pro Metering course, the course sup is the one who now determines what the correct can-size is for every student on the can squeezes because "that's not what the Pro Metering Course if for…", and that makes sense to people as being a correct gradient, but on the other hand everyone needs to do the Student Hat twice before being allowed to study anything further in SCN…and no one spots this as an outpoint.
Auditing Rates
Word is that all Flag intensives are $5,000, no package rates available. If true, this is a price reduction on OT auditing and a price increases on Lower Level auditing.