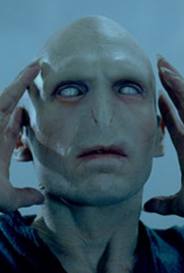 Once again, Voldemort was a no-show at Graduation last night.
Of course, the blind being led by the blindest explain this away with "He is so busy working to get everything right. You know how important this is and it has to be right because this is critical to the agonized future of every man, woman and child in this sector of the universe…" Perfection is the hallmark of "COB" — so is never completing anything because it's not yet "perfect."
But while the hypnotized and marching in lockstep, there are rumblings from an increasing number who are seeing this for what it really is — an ever growing list of lies and misrepresentations that are becoming increasingly difficult to find any sort of explanation for other than this whole scene is a dog's breakfast of incompetence, cover ups, lies and rip-offs.
The real reason He isn't showing his face at Graduation to give his signature "I'm still here…" line is explained by the almost insane desperation He is feeling about the threats he and his vulture culture confront in the legal arena.  Based on many years of experience,  there is one thing of paramount importance to Him — even beyond his fixation on how He and His MEST look — it is a threat to His position as the dictator of the Empire of the Vampires or secondarily to the Empire itself. You likely read about the devastating fraud conviction in France this past week. And the latest catastrophe in one of the Narconon cases reported by Tony Ortega. And the ongoing paranoia that unless he can somehow derail the Garcia case, the financial records of Super Power and the IAS are going to have to be turned over for inspection.
But the biggest iceberg straight ahead of Scientology's Titanic is the case in Texas where Monique Rathbun is suing Miscavige, RTC, CSI and associates in their racketeering influenced criminal organization.
Tony Ortega has a rapidly compiled (and accurate summary) report on events in the case yesterday that is required reading for all those interested in the implosion of the Vulture Culture.  This is an amazing turn of events that is like the pilot of a plane with failing engines pushing passengers out the door to try and lighten the load and save himself.  The true colors of the pilot and the lengths he will go to save himself become apparent when the heat really cranks up.
As a note, Ortega mentions the surveillance of Mike Bennitt and two reporters covering this case in New Braunfels. Of course, Miscavige has decided now that their insane PI antics are perfectly justified as constitutionally protected religious activities and to prove his point, he is unleashing the PI's (he has a restraining order against Him harassing the Rathbun's directly) just to prove how religious He is.  So now I have 3 cars of PI's following me again and the receptionist at the hotel I was staying at yesterday telling me when I came to check in "Well, you are a popular guy, we have been called every hour by someone asking if you had checked in yet."  (I asked him what he told them and he said "No. Because you hadn't" and when I said "Keep telling them that" he smiled and said it would be his pleasure).  
You can always tell when Miscavige is really worried. The Three Stooges PI's re-appear displaying the skill and tact of Moe, Larry and Curly on a bad day. 
THIS is really what has been preventing Him from completing the 50 programs that will allow Him to complete the training which will allow Him to finish the building which will allow Him to decide on a date which will allow Him to hold an event that will allow Him to release the Kraken Super Power on the world.
But, in the meantime, the drones continue their busy work.
Recently of the Flag "regges" (everyone is a reg these days) called one of our Special Correspondents asking for MORE money for the Super Power building! (Yes, this WAS in the last couple of weeks….)
The target asked the beggar reg, "Oh! Isn't the Super Power building done? I heard that there was going to be a big event for the grand opening on the 4th of October! I was thinking about making it go right to come out for it!"
Response: "Oh, we had to put that off because we found out that the tent was too big to put up in the US so we moved it to the end of October."
"You mean to tell me that they shipped that tent all the way here without checking on that first??? That seems like a complete waste of money?"
Brilliant reply: "Oh, we checked on it but, when we got it to Florida, we found out that it was too big to put up here. So we're having to split it into two tents and that's why we need more money."
And then another call to raise money "Because COB wanted to commandeer all of the hotel/motel rooms in a 5 mile radius of Flag because they have been 'deluged with calls from Scientologists from around the world who want to come.'"  
The inmates are running the asylum.