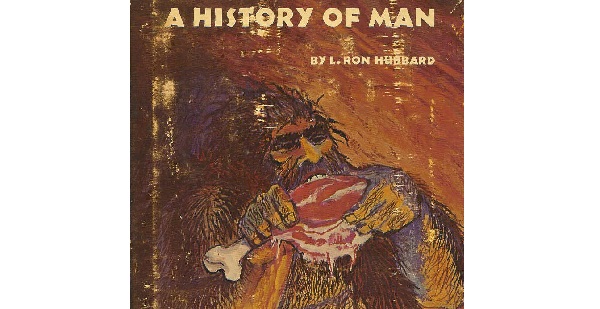 In one of his more famous brags about his research and discoveries, L. Ron Hubbard wrote the following in the introduction to his bizarre 1951 book History of Man.
This is a cold-blooded and factual account of your last sixty trillion years.
The test of any knowledge is its usefulness. Does it make one happier or more able? By it and with it, can he better achieve his goals ?
This is useful knowledge. With it the blind again see, the lame walk, the ill recover, the insane become sane and the sane become saner. By its use the thousand abilities Man has sought to recover become his once more.
…
This work is honest research, done with considerable care. And it will bear up under survey by any competent auditor or investigator. The most amusing aspect of the "whole track" is that this work bears up under the onslaught of police lie-detector experts: these, hard-eyed and uncompromising, become startled half out of their wits to discover that some of the crimes they find on their machines were committed two or three "lives" ago by the criminal under test, and that, most alarmingly, the crimes so discovered are discoverable again to the last detail in the police archives. This is very upsetting to these operators, to be informed so bluntly that Man lives many years, not three score and ten, and that today's lifer may again be on their hands tomorrow as a juvenile delinquent! Gravestones, ancient vital statistics, old diplomas and medals will verify in every detail the validity of "many lifetimes." Your E-meter will tell you.
But the book itself provides an interesting insight into Hubbard's claims of "honest research, done with considerable care."
All one need to do is check the fruits of his "honest research" in the section of the book entitled The Piltdown Man.
Here honest researcher Ron describes part of the "cold-blooded and factual account" of your history, when you were a "Piltdown."
Man's first real Manhood is found in the PILTDOWN, a creature not an ape, yet not entirely a Man. It is so named not because it is accurately the real Piltdown Man but because it has some similarity.
The PILTDOWN contains freakish acts of strange "logic," of demonstrating dangerous on one's fellows, of eating one's wife and other somewhat illogical activities. The PILTDOWN teeth were ENORMOUS and he was quite careless as to whom and what he bit and often very much surprised at the resulting damage.
Obsessions about biting, efforts to hide the mouth and early familial troubles can be found in the PILTDOWN. It is a wonderful area in which to locate GE overt acts.
Honest Ron's research bubble was burst when it was disclosed that the Piltdown Man was a hoax in 1953.
This is the first line of the Wikipedia entry:
The Piltdown Man was a paleoanthropological hoax in which bone fragments were presented as the fossilised remains of a previously unknown early human.
Despite this, Hubbard never corrected his assertion about the "cold-blooded and factual account" of his research using the E-Meter that had uncovered the incident called "Piltdown Man." Obviously, there was no such "incident" in anyone's "past life" that he had uncovered.
Yet, Hubbard continued to sell the book, never removing this passage.  It is still sold by scientology today, In fact, all scientologists are required to read it as part of "the Basics"…I guess the problem is that the Piltdown is no different than of the other claims of man's history consisting of life as a clam on the beach or a sloth in a tree. Fiction as science from the self-proclaimed science as fiction pioneer.