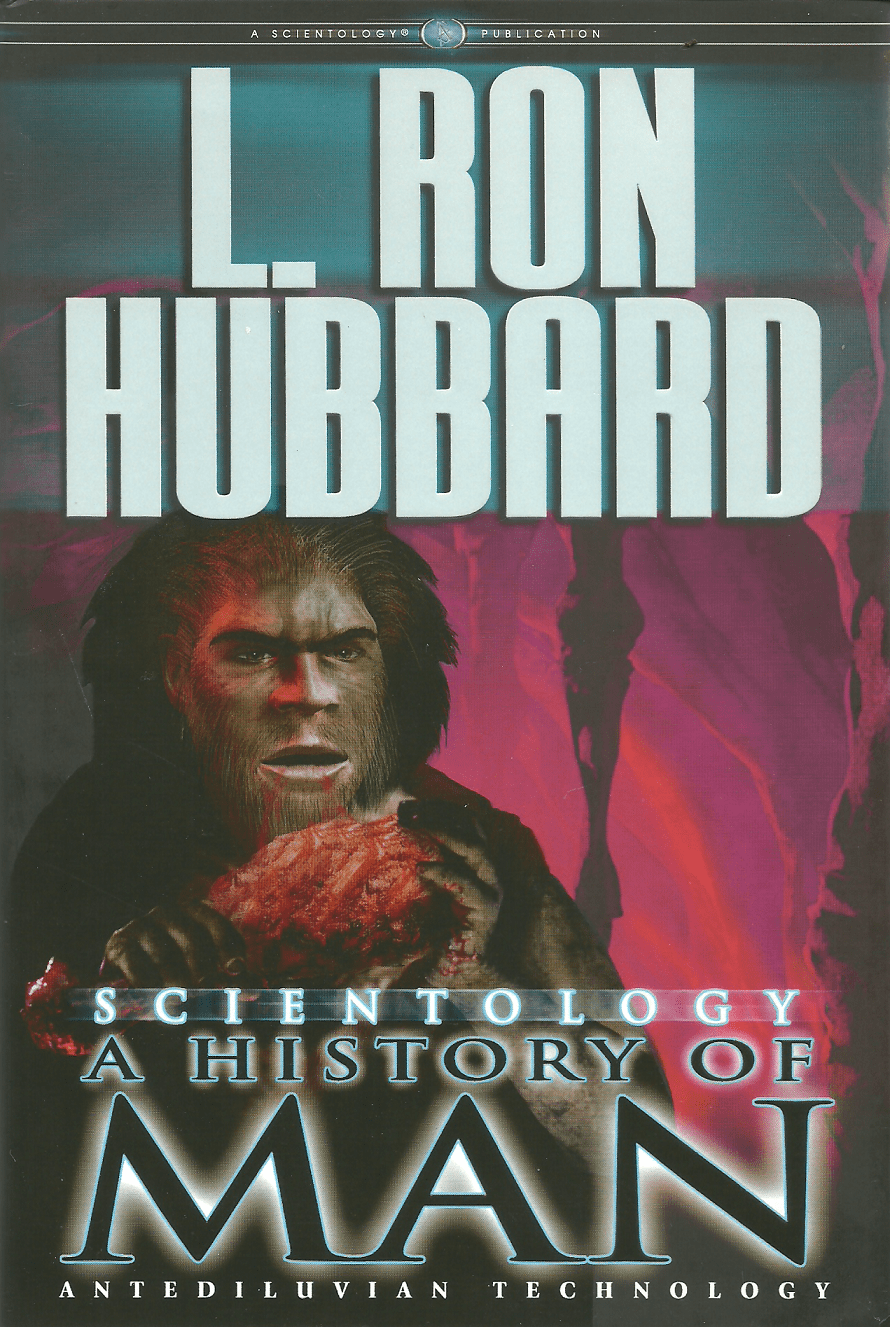 "A History of Man" is one of the more bizarre scribblings of L. Ron Hubbard. This so-called "Antediluvian Technology" (antediluvian is defined as: of or belonging to the time before the biblical Flood, so not sure what this "technology" is supposed to be) is not considered "outdated research" or "theoretical. " It is part of what every scientologist must study to even be considered a real scientologist. I was reminded of this when I saw a recent post on Tony Ortega's blog that included this FB post: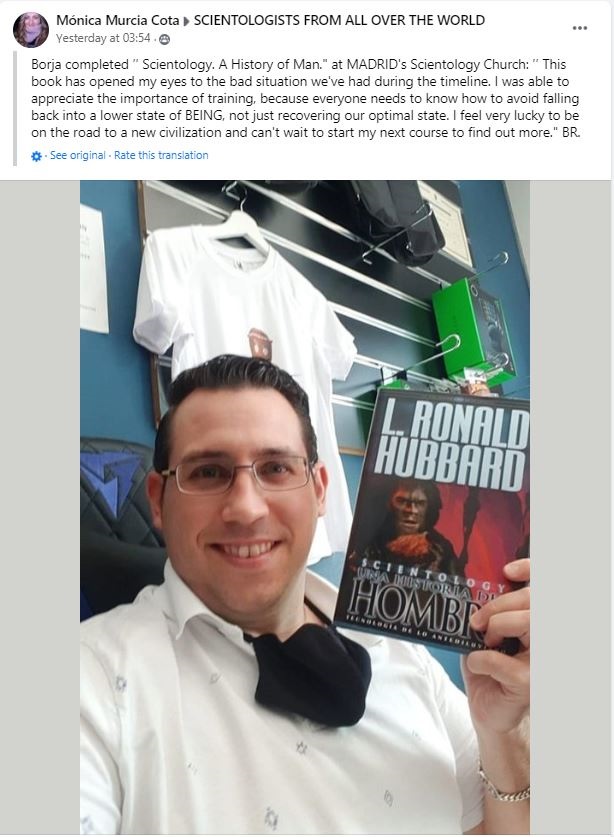 I made an earlier post about this book, focusing on the reference to the Piltdown Man. I included some of the Foreword, but I pulled it out again and re-reading it made me realize just how astonishing it is.
This is a selection of two sections from the Foreword. The bolding is mine to highlight specific statements of Hubbard.
FOREWORD
This is a cold-blooded and factual account of your last sixty trillion years.
The test of any knowledge is its usefulness. Does it make one happier or more able? By it and with it, can he better achieve his goals?
This is useful knowledge. With it the blind again see, the lame walk, the ill recover, the insane become sane and the sane become saner. By its use the thousand abilities Man has sought to recover become his once more.
Like all useful knowledge it was hardly won. I began search into the back track of Mankind some years ago. There was no actual knowledge of it in existence. There were numberless superstitions, countless guesses, as many theories in favor of one thing as in favor of another. People believed, some of them, that Man had lived before. They had no proof. Others believed that Man was born innocent and died and went to a place called Hell. Most believed that when you had lived once, that was all, fellow.
Such a number of conflicting theories must have truth in them. It became my business to discover, against considerable odds, that truth.
In the first place, there was something wrong with Man. An animal such as a cat, even a reptile, a lizard, had habit patterns which carried him through his early days. Not Man. Why not? As usual, a lot of vagueness answered this. The very schools of 'thought' that said Man was just another animal bogged utterly on why it was that babies, the young of this very intelligent animal, are much more stupid than kittens. That was only one thing wrong with Man that wasn't explained.
…
Further, it is very hard to argue with a miracle. Today, Eleanor has arthritis. She is audited "whole track" with 1952 techniques. Tonight she doesn't have arthritis. Miracles, using "whole track" are plentiful. By using this data an auditor can obtain a MEST clear rather easily.
But the best argument which can be advanced for "whole track" is that it is factual. By using this knowledge, more is obtained than auditing results. A preclear suddenly recovers the ability carefully learned eighty years ago, to play a piano; an electronics engineer, doing poorly before suddenly wraps up formulae that would puzzle Einstein and which may get man off Earth; and a thousand details in a hundred sciences become clear.
The search of this track began some years ago and was conducted sporadically on many preclears. Various instruments such as the electroencephalograph and the police lie-detector, were used to further this search, but these were inadequate and limited for my purposes. Finally, Volney Mathison applied his electronic genius to the problem and invented the Electropsychometer. This instrument had a range and ability greatly in excess of anything before known; it compares to itself only in the field of physioelectrical mensuration and to existing devices as the electronic microscope compares to looking through a quartz stone. As soon as this instrument was turned loose on the problem, the problem ceased to exist. By adding up and checking probabilities on scores of persons, the character, extent and content of the whole track was mapped.
Once the E-meter gave reliable data, the main problem became the estimation of intentions, of sources, of the reasons behind the reasons. Most of this work has been done.
It comments poorly on Man's dullness that this project was impeded and slowed greatly by lack of funds and by very active efforts on the part of some to acquire and own the copyrights of Dianetics— may the ill of the world forgive them. Thus the map is not as complete in this issue as it might be.
This work is honest research, done with considerable care. And it will bear up under survey by any competent auditor or investigator.
The most amusing aspect of the "whole track" is that this work bears up under the onslaught of police lie-detector experts: these, hard-eyed and uncompromising, become startled half out of their wits to discover that some of the crimes they find on their machines were committed two or three "lives" ago by the criminal under test, and that, most alarmingly, the crimes so discovered are discoverable again to the last detail in the police archives. This is very upsetting to these operators, to be informed so bluntly that Man lives many years, not three score and ten, and that today's lifer may again be on their hands tomorrow as a juvenile delinquent!
Gravestones, ancient vital statistics, old diplomas and medals will verify in every detail the validity of "many lifetimes." Your E-meter will tell you.
L. RON HUBBARD, 1951
As he so often did, Hubbard's "proof" of his "research" and "discoveries" is that he declares they are true and verified. It is interesting that not a single "police lie-detector expert" or any other expert for that matter has ever been able to verify any of the claims made by Hubbard. It's a complete bait and switch. He promotes his "discoveries" as rigorous science, able to withstand the scrutiny of any unbiased and independent observer, but dismisses every other "expert" in the field of the mind or healing or even science as ignorant fools, unworthy of any credence. Thus, the ONLY person who can verify his claims, is L. Ron Hubbard himself. And he repeatedly offers up statements like "the best argument for this is that it is factual." Huh?
Pose the question to a scientologist "Why haven't any of Hubbard's discoveries been validated by anyone else?" and they have various stock replies, but generally "they don't need to be, the tech works," "it doesn't matter what anyone else says, it's whether the person got better and was helped," and "nobody else has an understanding of the mind and the thetan so they cannot possibly verify anything, only an auditor with an e-meter can do this."
It's a self-fulfilling prophecy. "I declare I have thoroughly and scientifically researched this.  The proof is that I say it is true because it has been verified on the E-meter."
Like the "discovery" of the Piltdown Man?
I also happened upon some passages that may well answer that age old question: Why were L. Ron Hubbard's teeth in such need of dental care? He seemed to have the same aversion to dentists as he did to medical doctors. There are a couple of early references to dentists and teeth in A History of Man when he is discussing "The Clam" incidents that everyone supposedly experienced way back "before the Flood" when clams were sitting on the seashore. Hubbard claims this is a seminal period for all humans, and is what gives rise to the derogatory nickname for scientologists: "clams."
By the way, if you cannot take a warning, your discussion of these incidents with the uninitiated in Scientology can produce havoc. Should you describe "the clam" to some one, you may restimulate it in him to the extent of causing severe jaw hinge pain. One such victim,
after hearing about a clam death could not use his jaws for three days. Another "had to have" two molars extracted because of the resulting ache. The clam and all these incidents are very much present in the GE and can be restimulated easily. So do not be sadistic with your
describing them to people— unless, of course, they belligerently claim that Man has no past memory for his evolution. In that event, describe away. It makes believers over and above enriching your friend the dentist who, indeed, could not exist without these errors and incidents on the evolutionary line!
…
There was or is a spore method of procreation used by the clam. The spore was put on the inside of the lip and permitted to grow. Eventually it became large enough to become a clam on its own and would depart. There is a guardian-emotion on the part of the clam for these spores and a sadness on their departure. But there is more to the spore than this. The spore was like a barnacle. When the clam was cast ashore, these spores were still alive in the shell. The sun would kill the inner cells of the "barnacle" while the outer shell cells still lived. The dead inner cells would form a gas which, under the heat, would explode violently to the agony of the living barnacle shell cells. This bursting was sudden and painful. These spores gave incidents which permitted the human teeth to have a pattern. The ancient bursting engrams are still dramatized by the teeth which, under stress, burst or feel like bursting. Running out some of these bursting incidents will take the ache out of a tooth rapidly. The "fifth nerve channel" is around the mouth and is heavy out of all proportion. A nerve channel is as heavy as it has to conduit pain away from the area. Thus I deduced that there must have been much pain in this
area and that the "fifth channel" is the oldest main conduit and so it is. Audit all such incidents for all teeth and you have permanently taken the pain out of toothache and cut down decay. By the way, a barnacle, because of this bursting possibility, at length developed a "blow-out area" a cap which would blow easily. And teeth have such an area. It gives way and makes cavities.
If you find this "factual account" to be pretty bizarre, there are many far more bizarre passages in this book. And this book is required reading for all scientologists to be able to understand what scientology really is.