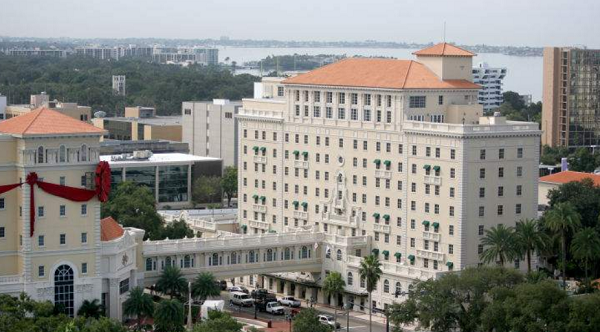 A new press release about the Fort Harrison hotel is more important for what it DOES NOT say than what it does.
Scientology puts out these paid puff releases pretty routinely. I came across this one accidentally, and of course, the lies flew off the page.
Everything that emanates from scientology is designed to create an impression of normalcy that is part of the grand deception. This is no different.
They proudly announce they provide "monthly tours" to the public.
They see the 9th floor. A room. The lobby. The Auditorium. And a restaurant. Hardly a "tour".  21 people (though the shot only shows 9 — I would guess 9 is closer to the truth) being escorted around the Ft Harrison once a month is worthy of a press release?
There are LOT of things they did not see. And certainly had no opportunity to speak with staff other than those hand-chosen to be standing ready for when the "tour" came through.
Perhaps one of the readers of this blog could sign up and take th3 tour and give us an insiders view of what they let you see, what they tell you and how they refuse to answer any questions?
But here is the big lie.
Scientology maintains this is a hotel "open to the public"? To qualify to participate in the Chamber of Commerce type organizations, they state that non-scientologists can rent rooms and stay at the Ft Harrison. That is a lie. Non-scientologists cannot book a room. Try calling the Ft Harrison to make a reservation. They will ask you how you heard about the hotel or if you are a scientologist in order to determine whether you are "Flag public". If they figure out you are NOT a scientologist, they will then tell you "Sorry, we have no rooms available" even though the entire hotel is empty.
Here is how they appear on Google — you will note they seem to go to some lengths to get "reviews" — and of course, they are from scientologists. The ONLY people that can stay there.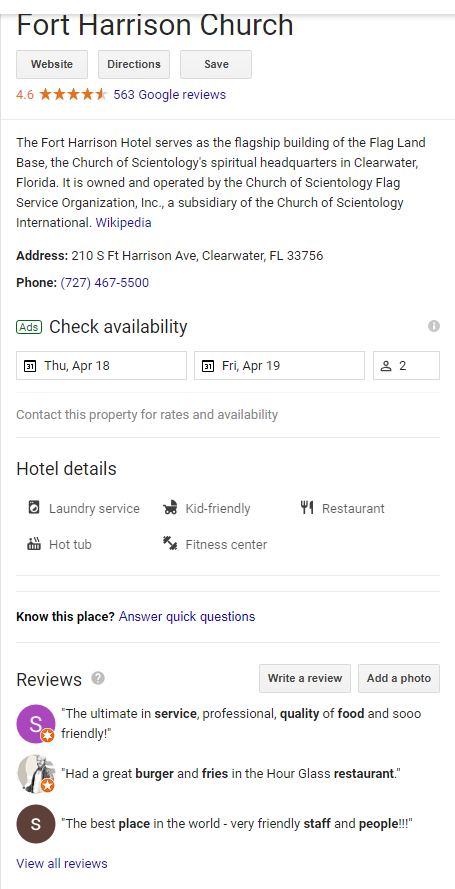 I did mange to find a couple of reviews from people who had TRIED to book, and were refused.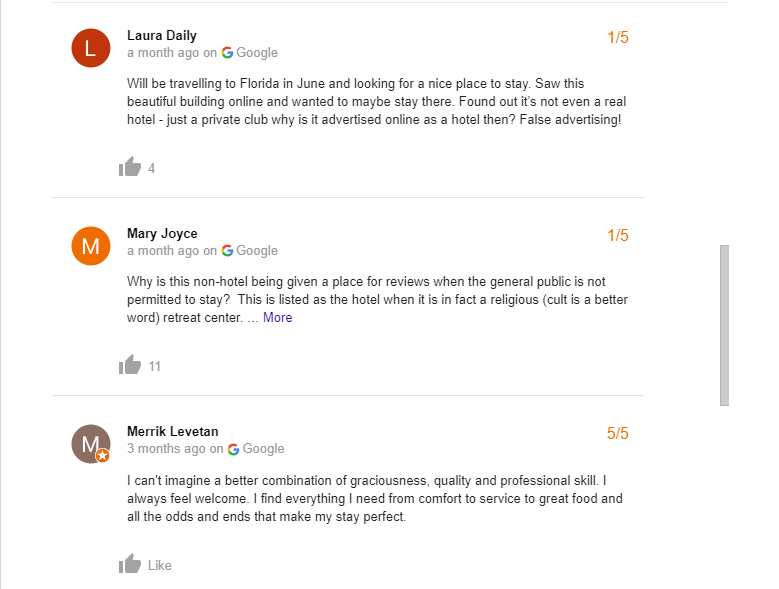 You know why they will not allow non-scientologists to stay at the hotel? It's not because they don't want their money….
Because they are TERRIFIED that one of them will begin talking to the staff there and ask them how long they work each day. Or if they go to school. Or when they last went on vacation. And then put the answers on social media. Or walk across the street to the Clearwater Police Department or call the Tampa Bay Times.
Or god forbid, one of the staff asks a non-scientologist staying in the hotel to help them escape.
Any of this would be catastrophic to the facade that this is just a "normal" hotel and not the Bates Motel.
So, you can try every trick in the book to get a room inside this hotel if you are not a scientologist and they will block it every chance they get. Despite the fact that their participation in the SKAL International society which according to their website is for "all branches of the travel and tourism industry" — which is the LAST thing the Ft Harrison is about: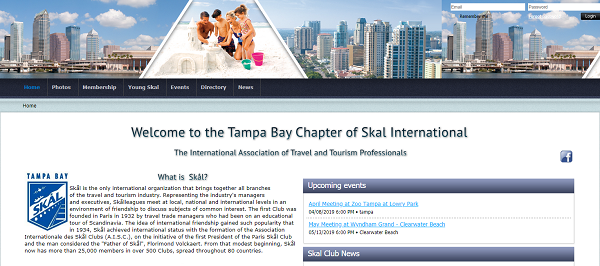 And look who is on their Directory — Lisa Mansell, the local PR for scientology (she has NOTHING to do with hotels and restaurants). Apparently SKAL have even had meetings at the Ft Harrison, which further creates the facade that the place is "open to the public."
There is more: one of the suckers people who took the tour bought the lie about charity events for "non-profits" that retain all their fundraising. What he or she doesn't know is that the non-profit "charity" is a scientology front group. Scientology creates front groups, then "donates" their facilities to the front group, and allows them to keep all the money they raise (as in, they keep it all for themselves).
And the final lie – 11,000 "scientology Churches, Missions and groups spanning six continents" – is absolutely absurd.
If David Miscavige personally stood to gain a million dollars if he could prove this lie he couldn't find even 1,000. Maybe not even 500. It's the same 150 "churches" it has been since the 1970's, and less missions and less groups. They've been saying 11,000 for a decade now — somehow the number never goes up despite their touted "massive international expansion."
When you scratch the veneer of normal they try to present, the sordid truth seeps out. Every. Single. Time.