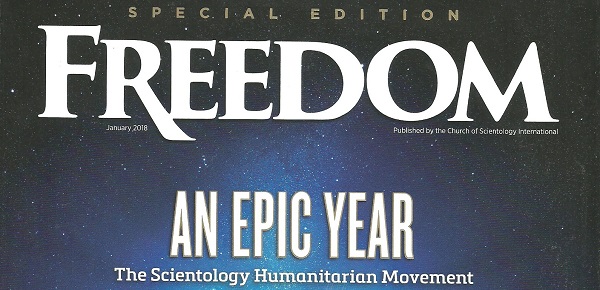 The next two pages of the Freedom propaganda mag, following yesterday's post.
The claims are just as absurd.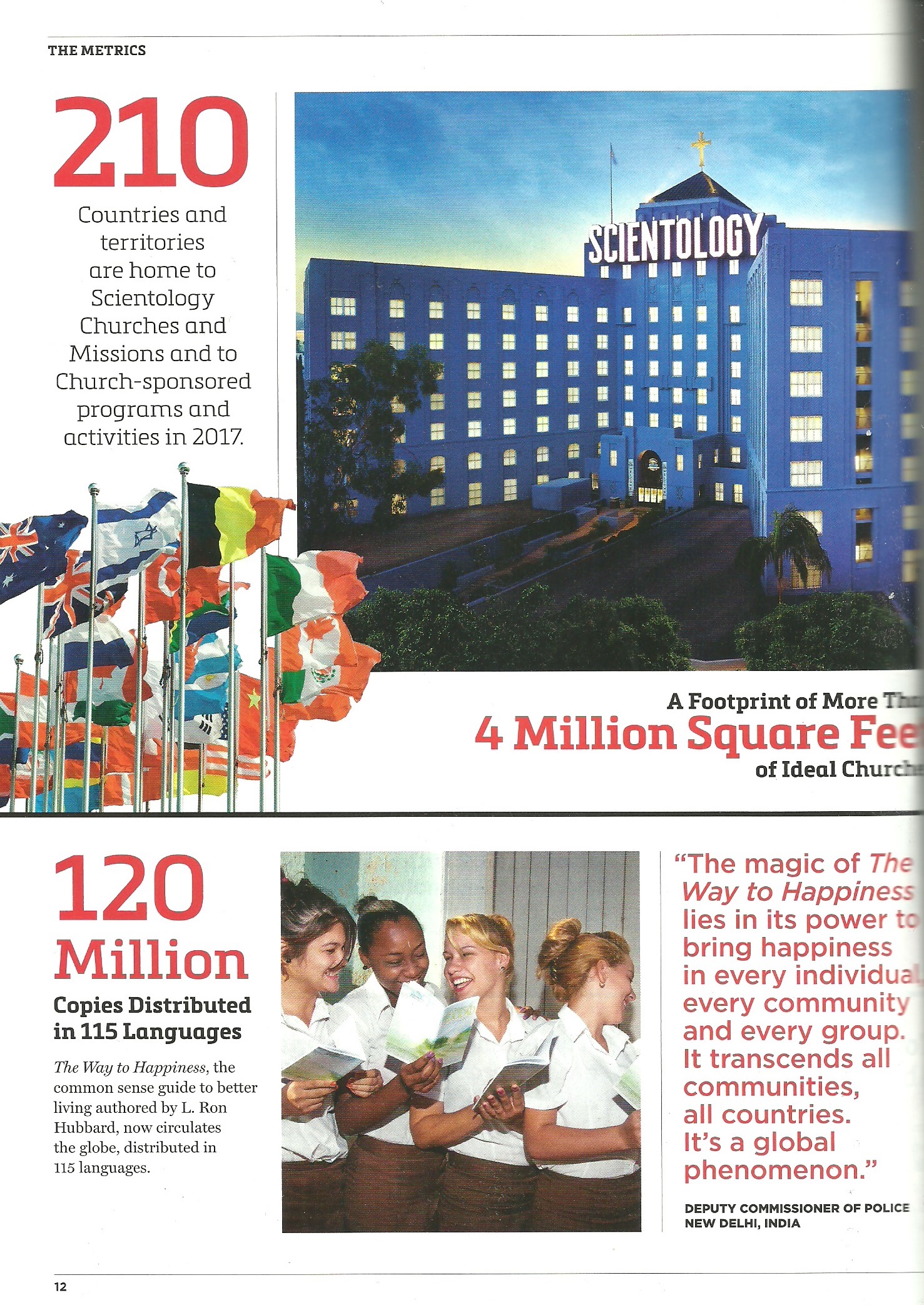 210 countries are home to scientology organizations and other assorted nobody knows-what-they-are things.
The fact is that scientology has official CHURCHES OF SCIENTOLOGY (except in countries where they are forbidden to claim they area church) in a grand total of 30 countries around the world. This is the same 30 countries that they have had official churches in for the last 20 or so years, with the additions of Ireland and Taiwan. They try to fudge it by adding on some entities that cannot even be found on scientology.org. There are scientology missions in approximately 30 other countries. Beyond that, this is a complete joke.
They might have printed 120 million copies of the WTH. They are constantly haranguing scientologists to give money to print these at exorbitant prices. Many of them get dumped on the street or are left sitting in basements and garages until they are eventually thrown away.
The 4 million square feet is likely the only number that is true. They hope the world believes this is proof of their massive international expansion ("see,  ot everyone thinks we are an abusive cult, we are growing in other parts of the world"). Of course they don't ever explain they have 4 million square feet of empty buildings. So does Kmart. Buildings alone do not a successful organization make.
And there is nothing inherently wrong with the Way To Happiness. What IS wrong is when scientology tries to claim that this booklet has reduced the crime rate by 50% in Colombia or virtually eradicated gang violence in Los Angeles. These claims are made to keep the flow of funds coming. Well-intentioned people want to give money to a cause they believe helps others. The truth is their money goes primarily to PROFIT and ROYALTIES for L. Ron Hubbard (now channeled to the Church of Spiritual Technology).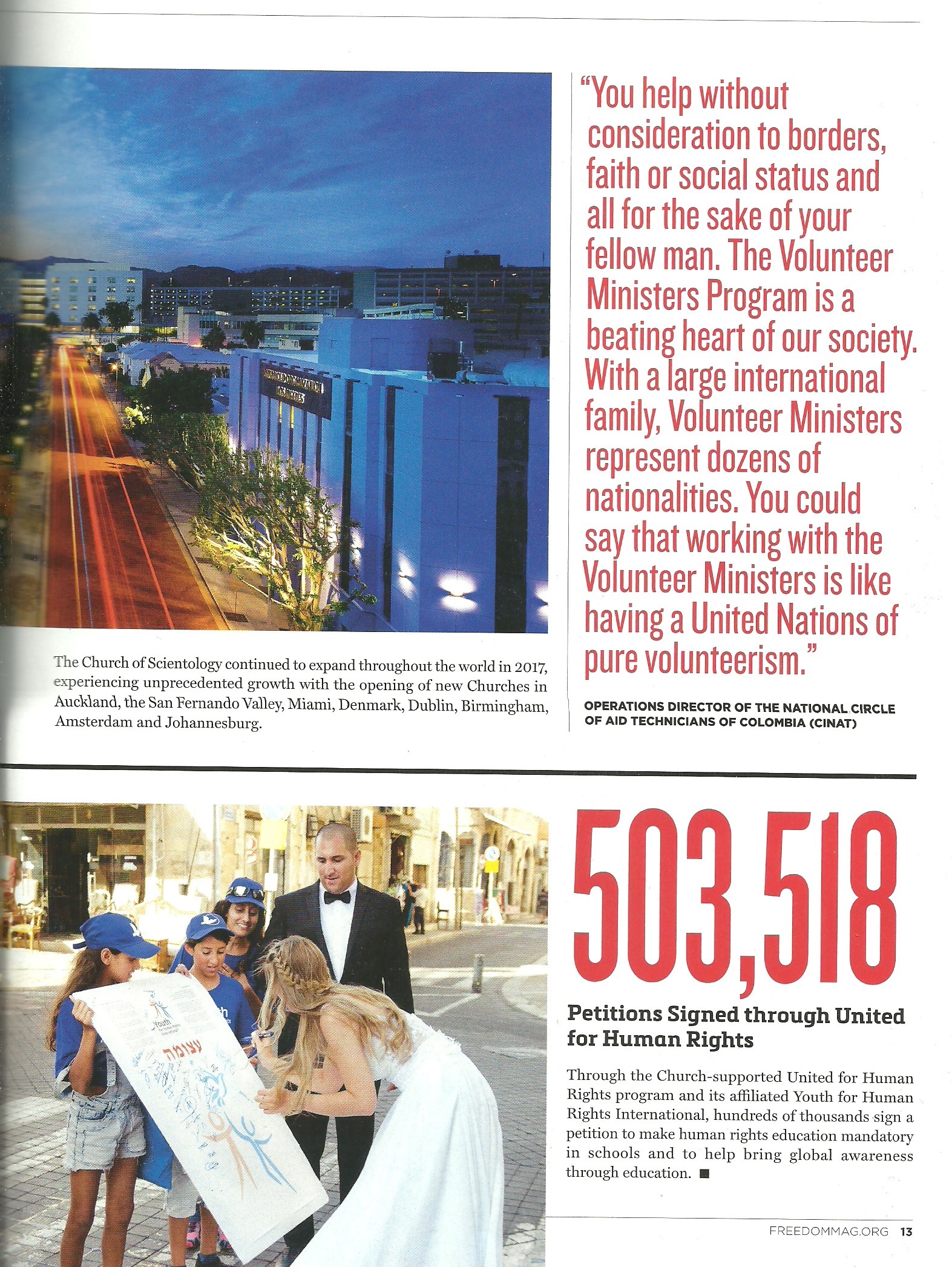 500+ thousand petitions? And what does this mean? It sounds like an impressive number. But as always, that is ALL it is. An impressive sounding number. What were the petitions for (other than seeking to cancel Scientology And The Aftermath show)? Was any change actually effected? Did anything at all happen as a result of these petitions? Of course, the answer to this is NO. These "petitions" are strictly photo ops. Look at the example they use. Where is a 4 foot high piece of cardboard going to be sent? It tells you how much time and effort they put into photo ops if they got more than 500,000…
And that really says it all about scientology's "humanitarian" initiatives. Each of them is designed and staged to garner propaganda and praise for scientology. Nothing happens in scientology's "humanitarian programs" unless they result in propaganda. This is why you see people in yellow T-shirts posing for staged shots as a priority over doing the work of helping people. Or why they have 4 foot high graphic cardboard "petitions" instead of the typical clipboard where you give your name and details.
Scientology: The Greatest Show on Earth wannabees.