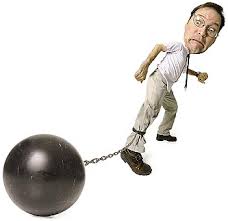 There are a few of these "briefings" that say nothing at all from the ED's who have returned from Flag.
Clearly things are NOT going according to the Master's masterplan.  These ED's including those all the way from South Africa, flew to Flag, spent 8 DAYS being briefed (most of which was sitting around doing busy work waiting for Miscavige to free up an hour from reading the internet to pay them any attention) and then when they could not hang around any longer, He sent them home with some brilliant orders to get everyone enthused and "through the Basics."  Meanwhile their tech staff are still at Flag, waiting to be able to leave, racking up more food and accommodations bills on top of what they have been charged for their "training." GAG II flounders around like a ship without a rudder. What a well-oiled machine this isn't… Perhaps Dave need a bit of oiliness table drilling?
 But here is what is really astonishing.  How they are positioning GAG II. Of course the thing He CAN say is that THIS is now totally on Source and doing things "the way Ron wanted." Gee Dave, doesn't anyone ever notice that you have been saying that for 20 YEARS, every new release is NOW the way Ron wanted…. when does anyone go "Hey, wait a minute, why have you been having us do it the way Ron DIDNT want it for the last 17 years?".
BUT, according to Dear Leader, the first step of doing things the way "Ron wanted" is for everyone to get through DAVE's Basics.
Really?  I have read a LOT of traffic from LRH about the Academy Levels and routes up the Bridge. Not ONCE does he ever mention studying all "Basics."  That term itself is invented by Miscavige when he decided he wanted to sell a bunch of his new books and made the brilliant "evaluation" that the "problem with Scientology is that nobody is really a Scientologist." Thus, everyone had to study the entire track of development of the tech, including the lecture series. That developmental track includes an enormous volume of techniques that are no longer used.  If you are really talking about "How Ron Wanted It Done" there is one overriding datum about training up to the Briefing Course. LRH was extremely forceful about limiting what was to be included on each Academy Level. From the sound of it, the new GAG II Academy Levels will be "streamlined" but He has come up with a new way of sabotaging it. In order to get ONTO the "streamlined" GAG II Academy levels, you have to plow through "The Basics." This is like promoting how you built a new superfast car to win a race, but you require the driver to run for a mile with a two hundred pound ball and chain around his ankle before he is allowed to start the race. 
And the suckers just lap it up.
This is batshit crazy.
Scientology is becoming more and more like Christianity.  Christian faithful are kept on the hook with the promise of heaven and the pearly gates and reuniting with loved ones and sitting at the feet of Jesus and God. Scientologists are kept on the hook with the "next big thing" (whatever it is) that will bring "heaven on earth" i.e.  "making planetary clearing a reality" and "accelerating our expansion beyond anything you could ever imagine". This same shtick has been used for The Basics and Ideal Orgs, and GAT 1 and GAT for OTs and the Quantum Emeter and the FART Div 6 and the Scientology Ad campaigns and the Dianetics Intro Route and, and, and, and… It's always the "next big thing" that will make our fading hopes come true.
And just like heaven — there is not a scintilla of evidence that the future promise will be kept. It is simply blind faith.
Blind faith is not wrong. Not unless you pretend what you are selling is NOT faith and it is provable and workable in the here and now. Which IS what Scientology claims. 
Unfortunately, the subject has devolved from a study that at least in theory was supposed to be based on knowledge, logic and understanding to a subject based almost entirely on faith — belief in provable lies. Even contradictory things with no apparent recognition of the cognitive dissonance. Scientologists these days act like fundamentalist christians who believe earth was created in 6 days despite all scientific evidence to the contrary. If they are told they are "clearing the planet" they are absolutely certain it is the gospel truth.
Albert De Beer is a very nice man. His heart is in the right place. Unfortunately, he has lost his mind somewhere along the way.  Believe me, there are more and more people who cannot keep ignoring the obvious. This ship is sinking fast. Captain Miscavige may still be standing on the Bridge yelling out orders and announcing "full speed ahead" but there are a lot of crew and passengers who are looking over the railing at the gaping hole in the side and seeing people in lifeboats paddling away. They are hearing the reassurances, but looking at the reality and increasingly they are grabbing life vests and making the leap.