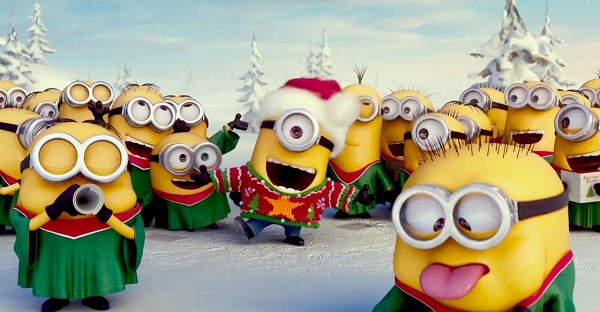 A special edition of the Funnies just for the holidays. There is an apparently endless stream of "Holiday" promotion — though scientology of course does not recognize Jesus as anything but part of the "R6 bank."
Virtual Freewinds
Wouldn't you like to be at the Freewinds for the holidays? So, to entice you to go there, they are holding a virtual concert in Los Angeles? WTF?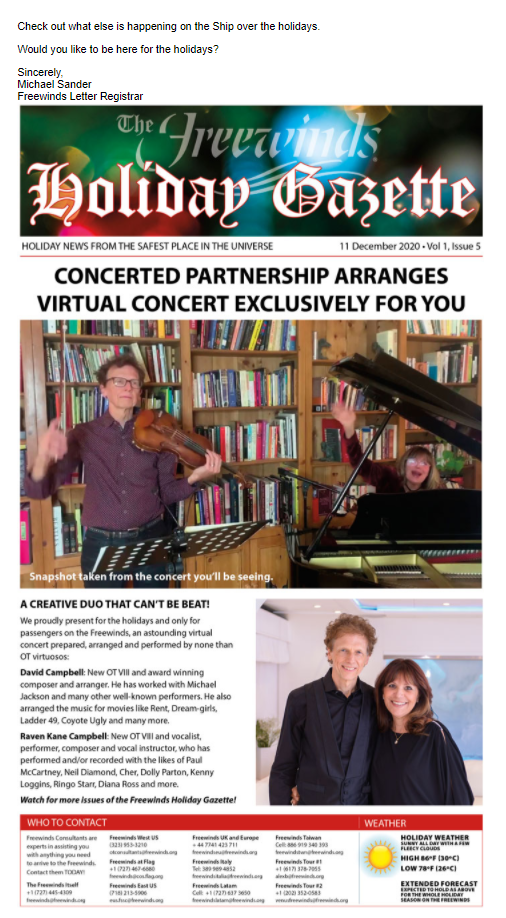 Virtual Hawaii
And the point of this?
Strictly a fundraiser obviously. What does Bodhi Elfman have to do with Christmas? Or Hawaii? Or anything at all?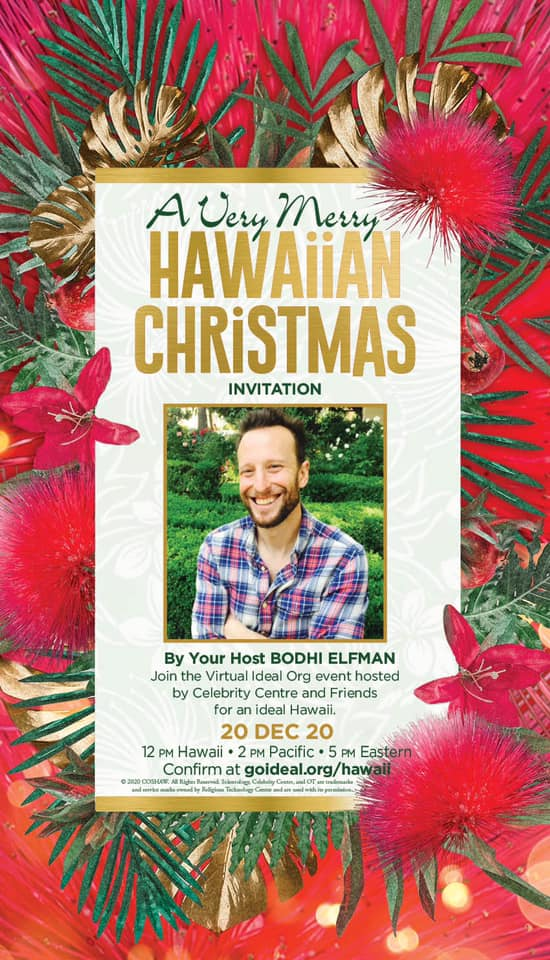 Well, they are going to do some singing… I guess this makes it a Hawaii Christmas?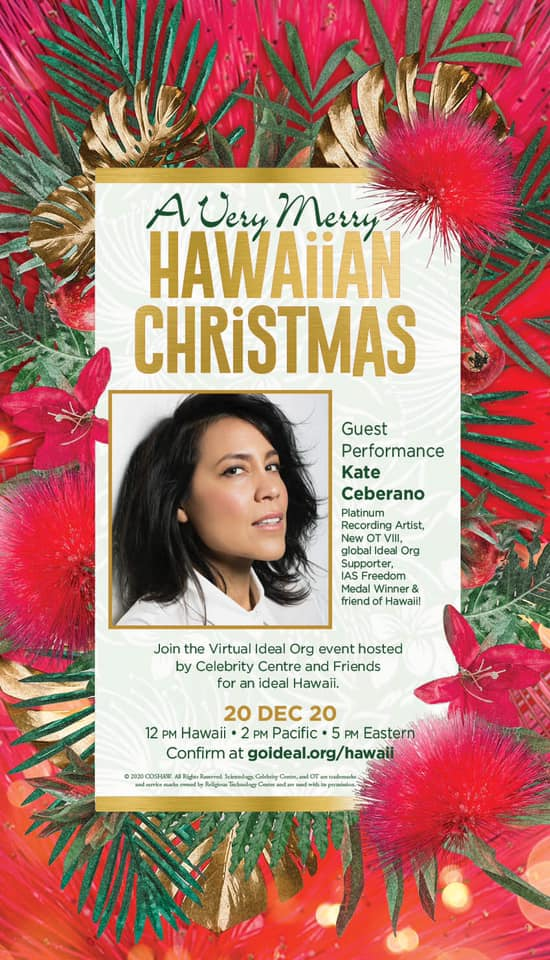 From Chief Body Reg
It's that special time of year again where you are supposed to give me your money.
Actually, it's not so special. It's every day.
Seems a strange choice of person to be sending out the good wishes from Tampa "ideal" org.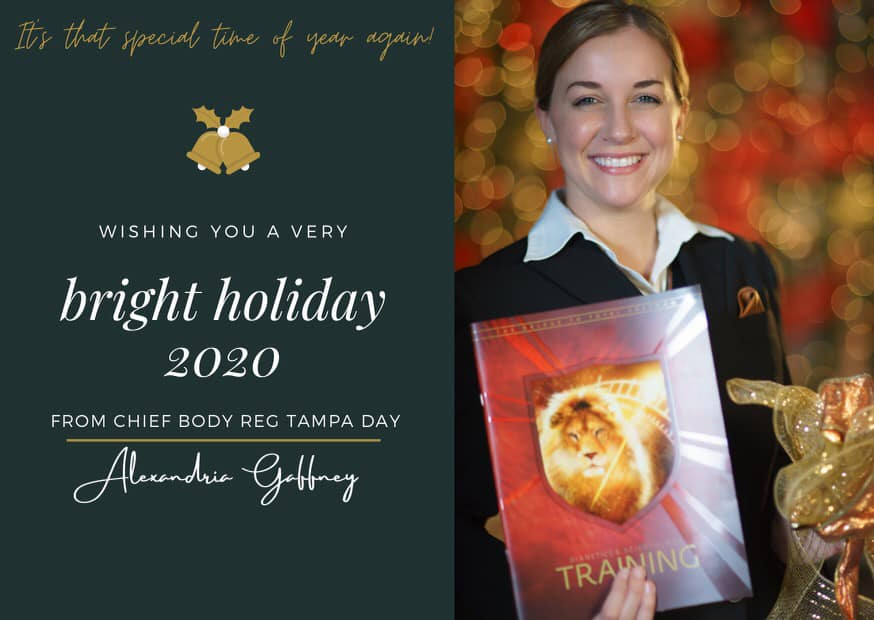 Yo Ho Ho
What public is this supposed to be for?
Kids?
Isn't this supposed to be the place where you do OT 8?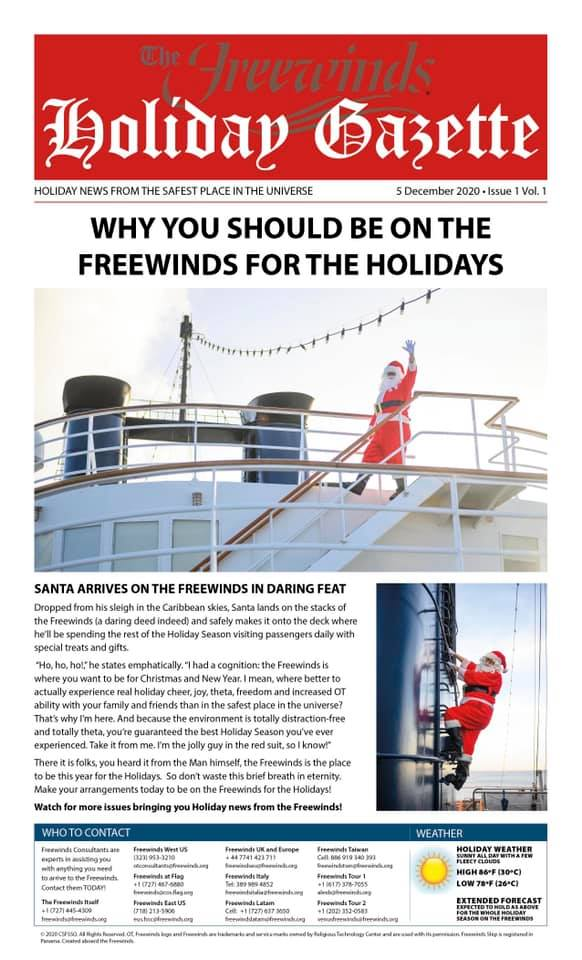 A Couple of Jolly Fellows
Just itching to take your money. Bedecked in gold jewelry and status badges, these two will bring the spirit of Christmas giving your way. You give us your money as your Christmas sacrifice.
Actually cannot think of anythi9ng more antithetical to Christmas than what these two conmen stand for.
More Freewinds?
Why would anyone choose at this time to bottle themselves up on a floating petri dish?
But then you read the fine print and it seems to say that you will spend 14 days at their "resort facility in Aruba" — so I guess even the Freewinds doesn't think it's OK to be on the Freewinds? But if that's the case, why is Santa arriving in the stack?
Boy, are their messages confused.
CC Int is in the spirit
Dave Petit puts on a red double-breasted blazer, and voila. It's Christmas.
Wonder if he mentions the R6 bank in his special Christmas sermon?
Or utters those famous words from L. Ron Hubbard: "The man on the cross. There was no Christ."