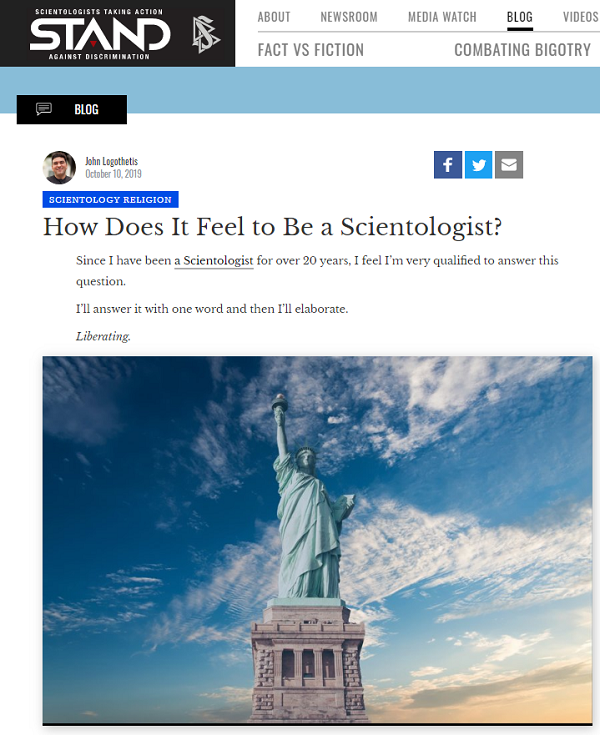 Before delving into this latest piece to be found on the STAAD fiction site, let me proffer a more honest answer to the question.
How does it feel to be a scientologist?
Superior — after all nobody else has the "tech" of life, they are all ignorant,misinformed or both
Certain — we know the answer to everything, all that is needed is to "do what Ron says."
Controlled — though they would categorize this as "dedicated" or "on purpose". But bottom line, every scientologists does what is good for scientology. Period.
John Logothetis expounds with the usual scientology "talking points" — all to create the impression that scientologists are "free thinkers".
He poses this question:
When I was 10 years old, I remember thinking: "God, why are there so many rules for so many things? Why is it I HAVE to act a certain way that doesn't seem to fit who I am? Why is it my parents fight? Why do other people fight? Why are there wars and why can't people just be happy?!"
He goes on to answer himself by saying he read the bible cover to cover and how wonderful it is, "but it didn't answer a whole lot of my questions."
Then he looked through his mother's  psychology textbooks  and "literally had NO IDEA what they were talking about—regarding anything." It's just not proper as a good scientolgist to say anything positive about any subject that begins with psych-…
Then he found Dianetics and he read that and it was amazing. And then he says "the one HUGE thing that Dianetics and Scientology did for me is liberated me from having all those questions that I thought would never be answered".
This is the rub with scientology. It claims to have the answers to EVERYTHING.
And he then proceeds with the big lie — the Orwellian "War is Peace" that is the mantra of scientology: "It was all so practical and did not demand that I believe in any certain thing or act any certain way… Scientology has no dogma. It does not demand of you that you be or believe anything at all."
Except, anyone who is a scientologist MUST believe a LOT of things. In fact, there is a scientology rule for every situation in life. You are NOT in fact free to disagree or reject or question any teaching of scientology. Quite the contrary. You must accept it as written. Other ideas or thoughts are decidedly NOT welcome. It is Hubbard's way or the highway. Have you ever read Hubbard's laws in Keeping Scientology Working John?
And he then goes on:
"Scientology and Scientologists never demanded anything of me."
Really John?
They never demanded any money? No participation in any events? No application of "standard tech"? No "don't spread entheta"? No "nattering"? No associating with anyone declared SP? No reading the media? No dilettantism?
See how much you get to "make up your own mind and think for yourself" if you say something they don't like.
You could run a little experiment. Try strolling into your local org and saying "I am concerned David Miscavige is physically assaulting his staff." See how much freedom of thought you are able to exert.
This is the same guy who tried the old "we welcome all religions" pitch in March of this year on this same STAAD blog. At that time he wrote: "It's not dogmatic (meaning it doesn't tell you that you must believe this or that to be one of 'us')." Further demonstrating his ignorance he stated "Scientology is all-denominational. That means anyone from any denomination is welcome in Scientology. No strings attached."
And we all know this isn't true either. It's a public "line" to try to make scientology seem normal. The real truth was confessed to the IRS:  scientology "is a very exact faith, and a fundamental doctrine of the religion is that its religious services must be orthodox. This doctrine holds that spiritual salvation can be obtained it, and only if, the path to salvation outlined in the Scripture's religious technology is followed without deviation."
But then again that's another notable fact about scientology. The truth is VERY malleable. It all depends on who it is being told to.
Hubbard even coined a term for this: "Acceptable truth."
Hubbard in many ways created in the real world what George Orwell contemplated in his terrifying 1984 and Animal Farm.