Word just in:  the handful of people who were planning to show up to the Greatest Event In History tonight in order to participate in the food and babysitting services have been told the event is cancelled.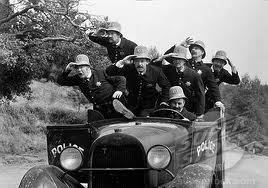 Instead, Graduation starts an hour earlier next week….
I would say Miscavige and His Minions are making the Keystone Kops look like a well-drilled machine.
Cancel the Maiden Voyage after promoting it and selling people on attending and replace it with the "Summer OT/IAS" event that is "The Biggest Breakthrough Ever In The History Of Mankind" and then when not enough people confirm — opting instead for the 7pm showing of Despicable Me 2 — CANCEL the event a couple of hours beforehand.
What, the projector broke? Come on, why CANCEL the whole thing? You just needed to turn on the video? Guarantee you no other event was taking place in the auditorium tonight. It was booked already….
Clearly the concern was that information about the sinking of the Titanic leaks out as fast as its taking on water and Miscavige was afraid of being embarrassed by reports of a half empty auditorium of nobody showing up to pay homage to Him. So, simple solution. Just cancel it with some lame story about how great the NEXT graduation is going to be "incredible"  ("because its going to start an hour early").
Believe me, the bombs that have been landing on Miscavige's bunker in the last couple of weeks have been shaking his little kingdom. And there is another one coming on Monday.
The indicators of panic are everywhere — from this event fiasco to the PI's once again following me to the supermarket and from the astonishingly lame responses to Leah Remini stories all over the world about what he did with his wife to renewed smear tactics of whistleblowers on the internet.  
The old saying: "It sucks to be Miscavige" has never been more true.