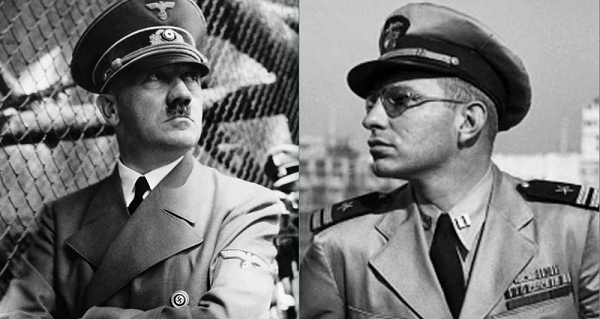 One of our regular contributors, Brian, provided this comment in response to the post about scientology comparing a Hollywood Reporter writer to Goebbels.
I thought it deserved a wider audience.
As they say, sauce for the goose, sauce for the gander….
Well now, since we are discussing people influenced by Nazis and follow his Hitler's philosophies — I present to you….
"But the most brilliant propagandist technique will yield no success unless one fundamental principle is borne in mind constantly and with unflagging attention. It must confine itself to a few points and repeat them over and over. Here, as so often in this world, persistence is the first and most important requirement for success." Adolf Hitler
"A consistent, repeated effort is the key to any success with this technique of propaganda." L Ron Hubbard
"The leader of genius must have the ability to make different opponents appear as if they belonged to one category." Adolf Hitler
"The art of leadership… consists in consolidating the attention of the people against a single adversary and taking care that nothing will split up that attention. Adolf Hitler
"Now, get this as a technical fact, not a hopeful idea. Every time we have investigated the background of a critic of Scientology, we have found crimes for which that person or group could be imprisoned under existing law. We do not find critics of Scientology who do not have criminal pasts." L Ron Hubbard
"Strength lies not in defence but in attack."Adolf Hitler
"Don't ever defend. Always attack." L Ron Hubbard
"I do not see why man should not be just as cruel as nature" Adolf Hitler
"It is a frightening level of bravery to use men you know can be cruel, vicious and incompetent." L Ron Hubbard
"Great liars are also great magicians."Adolf Hitler
'If you tell a big enough lie and tell it frequently enough, it will be believed." Adolf Hitler
"THE ONLY WAY YOU CAN CONTROL PEOPLE IS TO LIE TO THEM. You can write that down in your book in great big letters. The only way you can control anybody is to lie to them." L Ron Hubbard
Could it be that Ron actually studied Hitler? These sentiments betray that possibility now don't they?
I don't think L. Ron Hubbard was emulating Hitler. But I found this an amusing retort to the incredible ridiculousness of comparing a THR writer to Goebbels.
In the wacky world of L. Ron Hubbard, who knows? He didn't seem to discriminate much as to where he took his thoughts and ideas from. After all, the chief anti-psych admitted he owed a huge debt to Freud and others (before it was edited out of the books) and he has cited Genghis Khan and Alexander the Great…
Perhaps the real truth is that all who would be dictators/authoritarians come to similar conclusions about how to go about it…