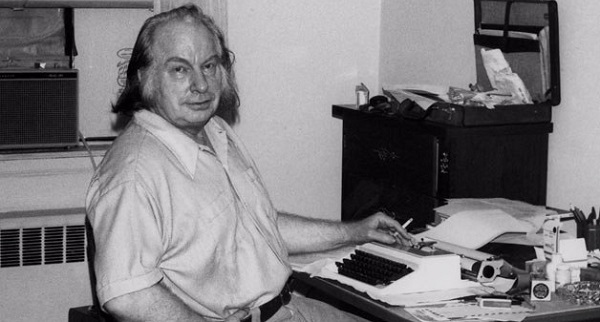 Today marks 37 years since the death of L. Ron Hubbard — founder of scientology, "Source" to his followers, compulsive storyteller and master conman.
I want to take a moment today to recommend Russell Miller's wonderful, detailed, enlightening unauthorized biography Bare-Faced Messiah: The True Story of L. Ron Hubbard.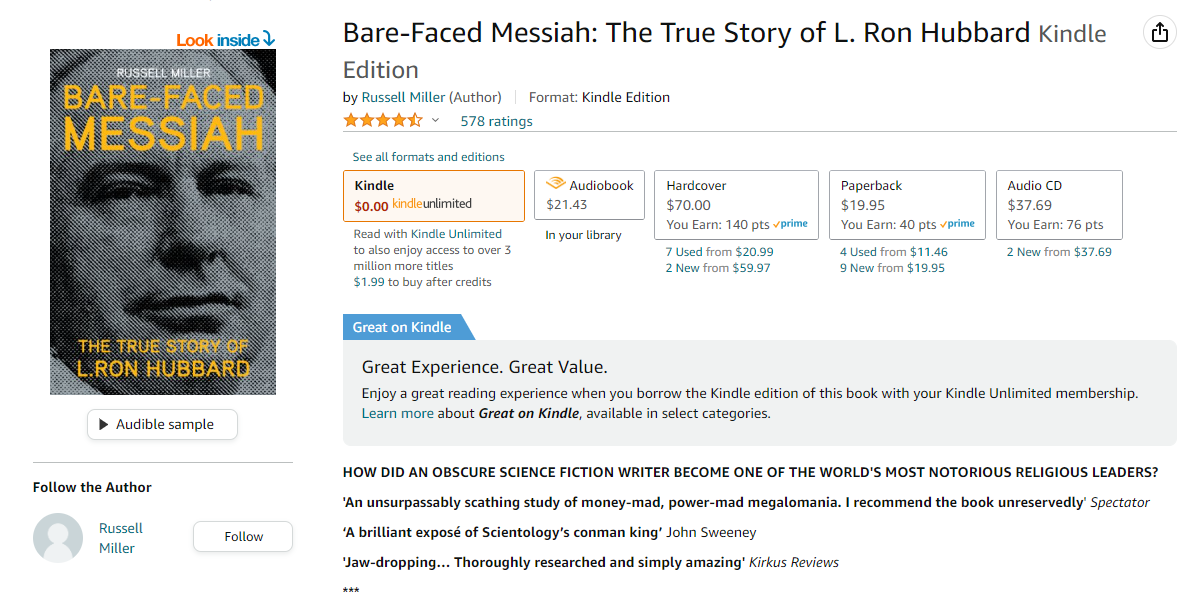 Miller's book opened my eyes to so much about Hubbard as he connected dots  and answered many questions. The diligent research and detail in his account is remarkable, sifting through the endless stories and lies told by Hubbard about his life and accomplishments to lay bare the real story. I cannot recommend it highly enough for anyone who was ever under the spell of "Ron."
Obviously, the death of LRH was truly a watershed in scientology's history.
It also marks one of the greatest cons foisted off on scientologists — the announcement held at the Hollywood Palladium that he had "causatively discarded his body" to move on with "advanced OT research."
I write about this event in A Billion Years and the subsequent power struggle and how Miscavige ultimately prevailed. This is how I described that event:
When I arrived at the Palladium on the evening of January 27,
around six p.m., the excitement was palpable. Several hundred scientologists
mingled outside and several hundred more packed into the
lobby. The foyer buzzed with speculation and anticipation, until it was
quieted by a stern voice that boomed over the speaker, saying, "The
event starts now," accompanied by weirdly discordant orchestral music
laden with heavy percussion, haunting horns, and angelic choruses. It
was a direct cue for us to move to our seats, and I took mine near the
front with the other OSA executives. Once everyone was settled, the
music stopped, and David Miscavige walked out alone and stood at
the small wooden podium in the center of the stage, looking even more
serious than usual.
"My name is David Miscavige," he began. At this time, most of the
scientology world still had no idea who he was—he was very powerful
but operated mainly in the shadows—though he had some name recognition
with the mission holders. From his tone, I sensed that this was
not going to be good news. My stomach began to turn.
Miscavige did not waste time getting to the point, announcing that
L. Ron Hubbard "has now moved on to his next level of OT research.
This level is beyond anything any one of us ever imagined." My spirits
rose: perhaps this was about the new OT VIII and beyond, and it was
now a reality.
"This level is in fact done in an exterior state. Meaning that it is
done completely exterior from the body. At this level of OT, the body
is nothing more than an impediment, an encumbrance to any further
gain as an OT."
This is an odd statement, I thought. The next OT levels are done without
a body?
"Thus, at twenty hundred hours Friday, the twenty-fourth of January,
AD 36 [Hubbard's calendar: 'after Dianetics'], L. Ron Hubbard
discarded the body he had used in this lifetime for seventy-four years,
ten months, and eleven days. The body he had used to facilitate his
existence in this MEST universe had ceased to be useful and in fact
had become an impediment to the work he now must do outside of its
confines."
There was a collective gasp from the audience of 3,500 people. I
was as stunned as everyone else. The Commodore has dropped his body?
How can this be? What the fuck?
What wasn't told to us was that three days earlier, Hubbard had
died as a result of an earlier stroke in his Blue Bird motor home on the
ranch he had purchased near Creston, California, called Whispering
Winds. The only five people with him at the time were Pat and Annie
Broeker, handyman and security guard Steve "Sarge" Pfauth, scientologist
doctor Gene Denk, and the Senior Case Supervisor International,
Ray Mithoff. Mithoff had been called to the ranch a week earlier, after
Hubbard suffered the stroke, in order to give him auditing. Notably
not present: David Miscavige; Mary Sue (who was living just ninety
miles southwest in Los Angeles, after completing her prison sentence in
1984); or any of Hubbard's three children with her—not even Diana,
his only child who remained a loyal Sea Org member. (Suzette and
Arthur left the Sea Org in the '80s; Quentin committed suicide in
1976.)
Hubbard, or Jack Farnsworth, as he was known to the locals, died
in circumstances less than fitting for an almighty leader. It was a bit
ironic, as he had taken great care in researching how other great men
died. He had specifically noted how Simón Bolívar, the liberator of
South America from Spanish dominion, was a tragic figure who, in
Hubbard's version of history, made so many mistakes that though he
conquered the continent, he died alone and penniless in a ditch. Hubbard
was not by any means penniless, but despite his self-proclaimed
wisdom and knowledge of all things, to expire from a stroke in a motor
home parked in a barn was hardly a noble end.
The concocted story Miscavige presented (perhaps dreamed up
with the Broekers; no one really knows), that Hubbard "causatively
discarded his body to continue his OT research," was, I realized much
later, another stroke of evil genius. Hubbard, far from being the powerful
OT at cause over matter, energy, space, time, and thought, was, at
the end of his life, a mess. He had suffered several previous strokes as
well as pancreatitis, he had been taking strong drugs for the pain, and
his mental capacity was seriously impaired—not that I, or any other
scientologist, knew that at the time. Without the story of his necessity
to "discard his body" to "continue his OT research," Hubbard's death
would have thrown a lot of followers into doubt. It may well have been
the end of scientology.
Instead, the "acceptable truth" that Hubbard was so far beyond
mere mortal status that he had left this physical world on his terms
was what we all wanted to believe. This was the promise of scientology
straight from the mouth of Hubbard: Follow the path I have laid out
and you will transcend the endless cycle of birth and death and realize
your full potential as a spiritual being independent of your body and the
physical universe. Even better, it was now possible for the Commodore
to finish his job of saving everyone. Yet again, what should have
been a crack in the armor of certainty that shielded my mind became
instead a reaffirmation and impetus to do even more. Now we had to
make sure the goals of the Old Man were achieved no matter what—
he had entrusted us with that task while he moved on to bigger and
better things.