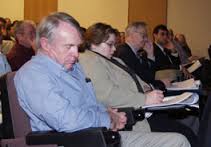 A report from one of our Bay area Special Correspondents with some perspective on the recent events replayed in the local orgs. Not a lot of detail about the contents of the events, but an interesting overview of the state of these "ideal" orgs and their public.
One thing is certain — I recently listened to an audio recording from one of these events — the Shermanspeak has reached absolutely mind-numbing levels.  
Voldemort never utters a simple sentence. Long, run on, convoluted wordplay peppered with "if that wasnt enough" and "not withstanding" and "not to mention" and all manner of other contortionist twists and devices. You literally move from one seal clapping pause to the next wondering what just happened and what, if anything, He said.  Word are coming out but they seem to be some strange foreign language (Shermanspeak?) that has its own rules of grammar, sentence structure and meaning of words.  Although I did catch Him proclaiming that GAG II "is the greatest recovery of lost tech ever" and it is "busting open eternity."  
Busting open eternity? Really? Total meaningless word hype.
He has become parody.  Perhaps He is preparing Himself for a new career following in the footsteps of one of my favorite comedians when I was a kid, the wondrous Stanley Unwin.
Enough of me, on to our Special Correspondent Report (who deserves an extra acknowledgement for the fortitude required to sit through these events).
Maybe it's morbid but we attended all the Golden Age of Tech ll events. This past weekend the IAS event was held locally and well, we couldn't help ourselves again. Mike, if you and Tony O. are questioning our state of mind for attending the events, just know we all checked The Underground Bunker and yours and Marty's blog for updates before walking in. We felt we needed a theta boost.
The attendance at the Bay Area org events was dismal at best. Each org held it's own event. The IAS event was the least attended. Surprise! Surprise! 
I think what most of us really wanted was a barometer reading for the inside attitude about GAT ll. With the staff and OSA not knowing most of us are the tiniest bit disaffected, we blended in. 
It's been made clear since the (re)grand opening events for the new(er) Ideal Orgs that no video or photo cameras, nor voice recorders were allowed. We saw this first at the Stevens Creek (re)grand Ideal Org (re)opening and they're policing it even more now. 
The local audiences were subdued for the most part. The average local age was plus 50, with about 8o% of the audience well over 55. It was clear by the age of the Purification actors they used for the video presentation that COB wants a younger crowd, not the geriatric bound ones in our audience. Also noted, when the audience was panned at the live event that there was less gray hair in the front row. As a fuck-you, COB put Grant Cardone and his green gown dressed wife in the front row and had them panned. This made us all laugh. You could see that Grant's wife couldn't quite understand all the Shermanspeak but had on her Wow!-game face. 
Just to touch a bit on the new Purif. It seems we're going back to junior high PE class. Purif uniforms, a gym bag and a water bottle? Also the vitamin dispensers were made a huge deal of but they're the same cereal dispensers you serve yourself from at a two star hotel that includes a free breakfast. My friends could not get over the repackaging of this new Purif. One friend couldn't get over having to wear a PE uniform in order to do the Purif and she's a runner. With many public needing to lose weight and considering the age group, it doesn't look like they could be used for the next Purif video. I guess they'll have to hire the actors again if they want pretty videos. Somehow I  don't see Dede Johnston looking good in this current Purif uniform but hey, there's always Photoshop. 
The references on niacin levels are worthy of their own article. 
I hope this isn't offensive to anyone who attended these events and is here lurking, but the local public at the events looked empty and felt soulless. The staff were really trying but there just wasn't that old feeling of vibrant energy we used to have at graduations. Even the few young second generation looked dazed. There is much more liveliness going on at the Elk's Club down the street. 
I believe the GAT ll events were more demoralizing to the public and the next few months will confirm this. The Usual Suspects will sign up initially but their lives will slowly guide them away. The rest feel the blocks have been made bigger. At least that's the word around here. 
Field auditors and Missions are a thing of the past. The following is paraphrased with some cynicism added by yours truly. "Bye bye field auditors and mission staff auditors. Thanks (NOT) for fronting our group. Oh, you've been auditing all these years? Yes, you've been doing it wrong. Never mind your PC gains and wins. Their wins weren't from GAT ll. Go back to course and start all over again. Oh, and that will be $10,000.00 for your new meters. Cash, check or Visa? Oh, and you better remain in good standing or else your meter won't work in a year. We'll deactivate it if you're trouble. Your next course is The New Newer Newest Newbie Student Hat. The tech on clearing a word and doing a demonstration will totally change your life. Start!" All public have been told to shred or pulp the "old" materials. All said with the straightest face. 
After talking to the staff, you can see they're so hopeful that GAT ll will solve the problems of their empty Ideal Orgs. Keep in mind that we have FIVE empty Ideal Orgs here, so that hope is even more imbedded in their zealot electrification. How did we get from doing Scientology to better our lives and trying to become better people by helping others to "salvaging this sector of the universe" and with such glee?
Oh, and Dave, in case you're reading this, here's some constructive criticism. Don't tease your hair so high. Get a better shade of blonde, too red. Maybe try not to smoke before the live broadcast several weeks before as your voice sounds like you're struggling to breathe and the left side of your face looks like it can't keep up with the right side. Possibly too much recent stress? We'll see you at the next event. Unless it's in a court room.
Sincerely,
WhoIsDisaffected