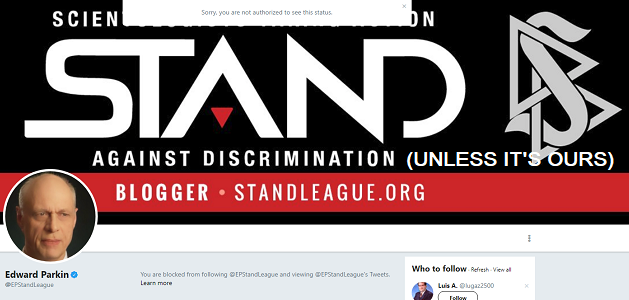 It's hardly a surprise that after being conspicuously absent (other than showing up as a note-taker in court), Fast Eddie Parkin has raised his particularly ugly head again.
After all, Leah Remini and I began a new podcast on the subject of Scientology Fair Game — and the only real purpose of the STAND League and Ed Parkin is to be a propaganda outlet for scientology hate and lies. They have still not realized that the very thing they think is effectively countering the exposure of their abuses, continues to provide evidence that they do exactly what we say they do.
Eddie (with 61.9K "followers" — none of whom ever comment on his tweets because all of them are paid for) reappeared after having lain dormant for months.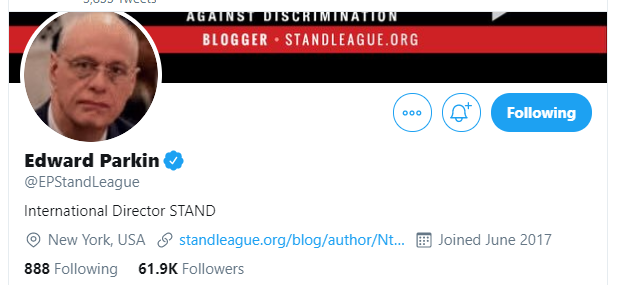 I will let Leah comment on his disgusting tweets about her, and will limit this to his two most recent ones that mention me.
First, this one. It's one of Miscavige's favorite lines to try to dead agent me. I slept all the time. Miscavige had his personal photographer capture images of me when I was asleep at a desk. I am surprised Eddie didn't pull them from the Freedom website?
The problem with this, as Eddie and EVERY Sea Org member on earth knows, is this: Sea Org members are routinely sleep deprived. Those at the international level have it the worst. Many times I "survived" on an average of 2-3 hours of sleep per night for weeks and months in end. SO members learn to grab naps when they can. Sleeping anywhere. Under desks. On top of desks. On the concrete floor. Even standing up (after being awake for 72 hours on the PAC RPF I once fell asleep standing up — leaning on a paint roller while painting a wall in "Big Blue.")
Sleep deprivation is a form of torture and brainwashing. So is food deprivation. Those are routine in the Sea Org for everyone other than the COB. He eats like a Saudi prince and sleeps until noon – though on the rare occasion he doesn't get his full allotment of beauty rest he announces it loudly "You SPs are making me do all your work. I am the only one who can do anything right."
Eddie has now tried to refine the story by saying I got all the underlings to do the work and took credit for it. Hah. That's a good one. Anyone in the SO knows another datum. You don't get credit for anything your juniors you, but you do get shit on when they screw up. I can honestly say that in all the years Ed Parkin was in OSA Int under me, I cannot recall a single thing he accomplished.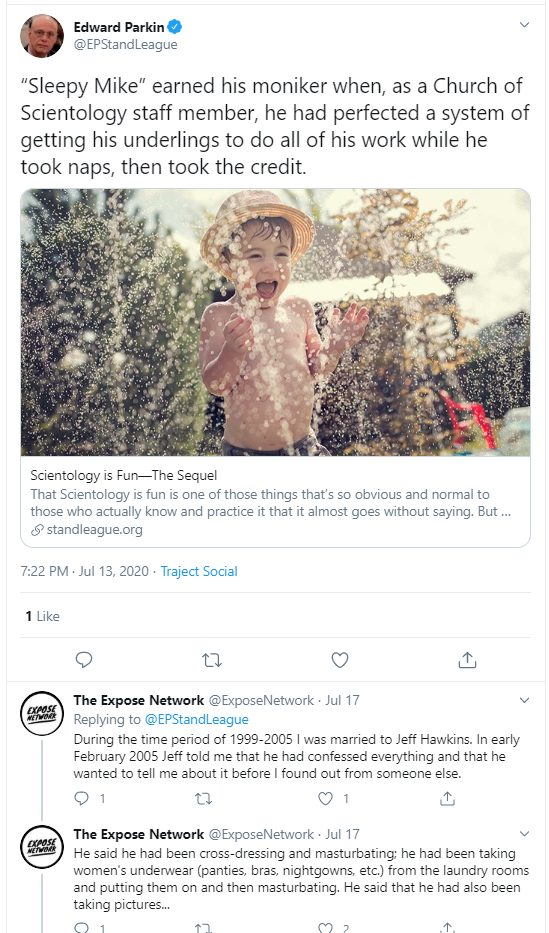 The article that goes with his tweet is completely non-sequitur.
And then the "Expose Network" chimes in (It's just another name for STAND — they cross "like" one another's posts and comments — the only people who do) and does the full-on Fair Game. Sliming Jeff Hawkins for no known reason, other than I guess they thought it sounded "cool"? Probably taken from a forced confession, this is an old trick scientology uses. Getting people to "confess" under duress. A lot of the so-called confessions in scientology consist of things people write to make the pain end. Many include "thoughts" which are then miraculously turned into "action" when they are recounted to try to smear the person.
What "church" could possibly think this is a good look?
And you can see the same technique employed in this second tweet. Statements taken out of context (the "it" is missing here, she could have been referring to the influence of her mother or husband, or the fact she has a conscience) which then have another twist — that Leah is "brainwashed" by me. If anyone truly believe I could brainwash Leah Remini, they obviously have never met her (and Ed Parkin has not). And just as final note on this Ed — the classic tools of brainwashing are sleep deprivation, food deprivation and physical and mental torture. People escape scientology to no longer have to put up with that kind of treatment. Brainwashing is what happens IN scientology,  not after you escape it.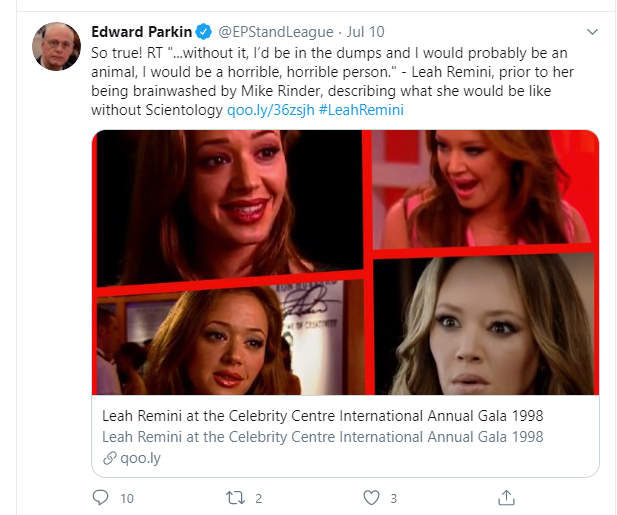 And then there is this. Sent in by a non-scientologist who was being "handled" by a scientologist acquaintance on "entheta" about scientology: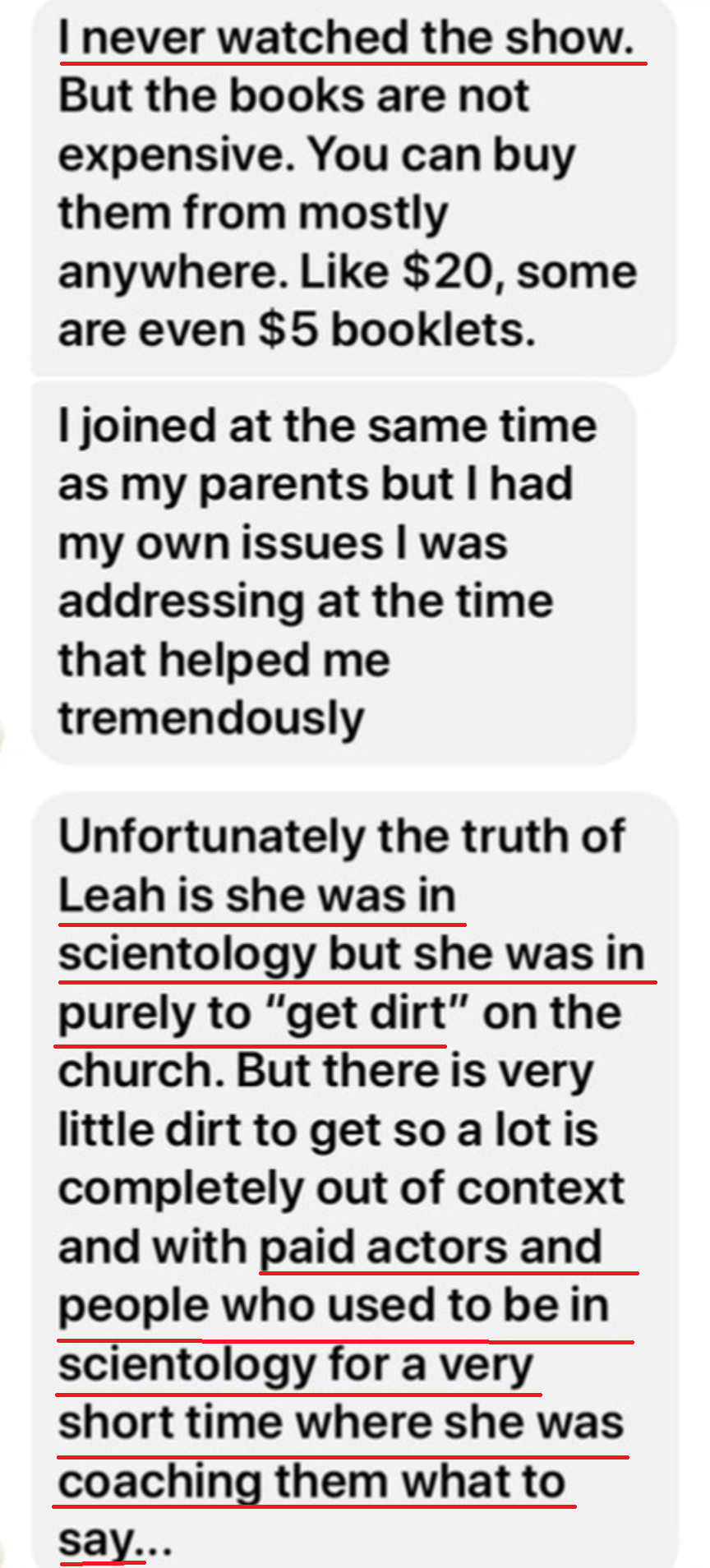 You gotta love scientologists, they are always experts on things they know nothing about and have not watched.
Then they try to sell Hubbard books.
Then they parrot the talking points they have been fed.
I guess Leah's mother hatched the plot to infiltrate scientology using her kids to "get the dirt"?
Paid actors? The people who appeared on The Aftermath were never paid (wish they had been, they deserved it). Many of them had been in scientology for most of their lives, and certainly longer than the poser who wrote this. I was in for 45 years, and in the Sea Org for 34 of those…
As for "coaching" I guess this is the best they can come up with. If this person had seen the show, they would know how absurd this statement is.
Final Thought:
That's Beck from Poltergeist on the left. Fast Eddie on the right.
I leave the conclusion to you.