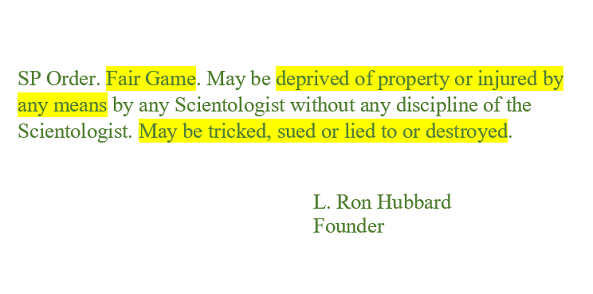 I mentioned in my post on Sunday that I would let Leah respond to the latest bs about her from Ed Parkin. He should know by now not to poke the bear. Here is what Leah has to say. As only Leah can say it.
Scientology uses a practice called Fair Game, these are directives and activities that seek to discredit and destroy anyone and anything Scientology considers a threat to their vile, illegal, and criminal practices.
The practice of Fair Game by Scientology, its employees and parishioners is nothing new. It has gone on for decades.
Here are some of the "Operations" carried out by the Church Of Scientology's Guardians Office, (now renamed The Office Of Special Affairs — OSA) available on Wikipedia.
List of Guardains' Office Operations
Scientology practiced and executed Fair Game activities on me, on Mike, on A&E and all our contributors on The Aftermath, as it has done to journalists, government agencies, the creators of South Park, HBO, Time magazine and many others. The list is endless, and the list of targets will go on.
Here is one example headline of Scientology's Fair Game on Alex Gibney after his Going Clear documentary on HBO.
 Scientology Creates Twitter Account to Discredit New Movie 
On top of these organized attacks on Alex Gibney, HBO and Lawrence Wright, Scientology also coordinated attack websites on EVERY person who has spoken out against Scientology or simply just told their story, or simply asked the wrong question.
They have taken to social media with these Twitter Accounts. It is reported over 70 million fake Twitter accounts have been deleted since May in Twitter's crackdown. As the fake accounts come down, Taryn Teutsch, Ed Parkin, and Scientology Stand league accounts have not even been addressed by Twitter. See Tony Ortega's article here.
These are some of their accounts:
@Standleague
@DSStandLeague
@PSStandLeague
@RBStandleague
@SLStandLeague
@JGStandLeague
@MKStandleague
@CESTANDleague
@ERStandLeague
@AS_STANDleague
@FreedomEthics
@TarynTeutsch
They took a break from targeting Mike and me (as they so proudly boasted on their social media accounts) when we wrapped The Aftermath claiming they were the reason the show ended. They were not. But this of course sends a message to Scientologists that Fair Game practices work. They kept the websites they created for me up here and here.
And for Mike, here and here and his daughter has created a false narrative for herself directed by Scientology here.
Here is the real story on Mike's blog, Tony Ortega's Underground Bunker and Jeffrey Augustine's blog.
And yet, Taryn continues to show up to Denim Day events pretending to be an advocate for her mother. Both are employees of Scientology. Scientology will go this far in attempting to discredit Mike. But lying that your mother was a victim of abuse is beyond my comprehension.
Mike and I now  have a podcast called Scientology: Fair Game where we finally get to fully expose the activities carried out by scientology employees (Sea Org members who work full time and live in church facilities and sign a billion year contract), their operatives and handpicked civilian Scientologists who are approved to bully, attack and attempt to silence those who are speaking out about the truth of Scientology.
Recently, Edward Parkin tweeted a photo of me. Here is the headline and picture from director of the Scientology Stand league
Ed Parkin, STAND LEAGUE director, and self-proclaimed "reverend" tweets out from his verified Twitter Account… @EPStandLeague
QUEEN-SIZE
King of Queens actress LEAH REMINI has packed on some extra pounds!"
Hate doesn't wear well.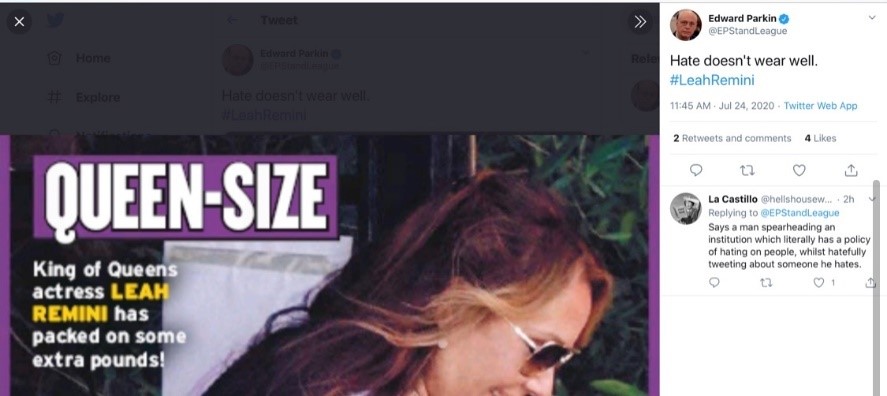 Ed Parkin claims to be a "minister" of scientology. He gathers together other fringe religious leaders under the guise of promoting "religious freedom" but really only uses them to try to give himself and his organization some credibility.
And this was then tweeted by another Scientology employee: @epdirectorstand — a female: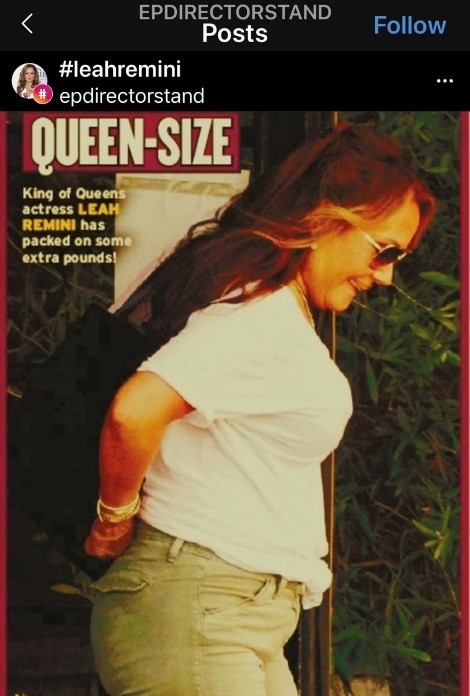 Whether it is me yesterday, me doctored, me from 16 years ago, isn't relevant and if I take the bait, it will be giving Scientology exactly what they want; for me not to focus on the true intention for doing so. They are bullies and this is just the lowest form of bullying: Body Shaming.
"Appearance bullying is the most common kind of bullying"
Here is an article from Psychology Today on the subject: Be Ashamed Body Shaming.
And this is an article from Healthline "Body Shaming in an Age of Social Media"  that quotes Los Angeles City Attorney Mike Feuer:
"Body shaming is humiliating, with often painful, long-term consequences," he said. "It mocks and stigmatizes its victims, tearing down self-respect and perpetuating the harmful idea that our unique physical appearances should be compared to air-brushed notions of 'perfect.' What really matters is our character and humanity.
While body shaming, in itself, is not a crime, there are circumstances in which invading one's privacy to accomplish it can be. And we shouldn't tolerate that."
You see the purpose of Fair Game is to bully, intimidate and ultimately destroy anyone who is speaking out against Scientology. They would love it, if from the many years of Fair Gaming, I would just commit suicide or die from a car accident or illness. Scientology does not believe their enemies deserve to live. They believe (because this is taught to them in Scientology) that we, those who expose Scientology abuses, are the truest evil of the world, and if we didn't exist, the world would be a much better place
If this were a picture taken by a National Enquirer type to just sell magazines, or just a person putting such a picture up with that headline, fine. We get the purpose of why it would be printed, to sell magazines and if it was was just a person on Twitter, it would just lead me to think the person was an asshole with low self-esteem who wanted my attention or more followers.
But this isn't either.
This tweet is sent out with the purpose of trying to drive me insane, to "get me", to ridicule me, to tear me down, for me to know that they are following me daily and have been, (tax exempt money by the way) all in an effort to cause me to do things where I couldn't make a living, and would have no means to speak about the abusive practices of Scientology.
Ed Parkin is a Sea Org member who works in OSA International. OSA stands for The Office Of Special Affairs and that is the department of Scientology that is dedicated to going after and destroying the lives of those who speak out.
He has been a low-level "PR" person for many years. He was at one time Heber Jentzsch's administrative assistant. Heber was the former president of Scientology who has not been seen in public in many years.
Edward Parkin  is now the head of STAND ("Scientologists Taking Action Against Discrimination") which is an OSA propaganda front group that presents itself as champions of free speech and religious freedom — but that is simply window-dressing to try to give legitimacy to its REAL purpose which is to be an outlet to "Dead Agent" (Dead Agent: Used as a verb, "dead agenting" is described by Hubbard as a technique for countering negative accusations against Scientology by diverting the critical statements and making counter-accusations against the accuser; in other words, to "attack the attacker")  and destroy "enemies" of scientology.
Parkin reports to the Public Relations Aide OSA International  (presumably still Karin Pouw — the official "spokesperson" for scientology who is never seen by anyone).
Edward Parkin has no latitude to speak without approval. He cannot post on Twitter without clearing his Tweets first. No doubt, many of them are written for him and are simply put out in his name (like the statements from Karin Pouw). His sole job is to do anything he can to destroy "enemies" of scientology.
Tweeting an unflattering picture of me, does not destroy my life, in any way. But it should at the very least grab the attention of Twitter and Instagram who have allowed this account and dozens of Stand League accounts to post thousands of hate filled tweets about me and all of us speaking out. We have on several occasions sent packets of twitter violations to the twitter legal department via mail and have reported these tweets daily. Twitter has not even responded.
Ed Parkin is even verified by twitter. He is listed as: @EPStandLeague with a blue check mark.
This implies Ed Parkin is what he says he is. That he is there as a representative of Scientology's right to defend of freedom of speech freedom of religion, and that it is an organization that defends human rights, fights for human rights. But really this is just a front group pretending to appear as something benign. And that is why Scientology sprinkles their Dead Agenting with a few tweets about real issues and real organizations, only to throw you all off the scent of their real purpose and the real purpose of OSA: To stalk, to harass, embarrass, discredit, and destroy anyone who exercises their first amendment rights against Scientology.
Why this is this so troubling to me?
Other than the obvious, this particular tweet of childlike vitriol coming from Scientology's Office of Special Affairs and the director of the Stand League is an attempt to not only body shame me, but the many like me who do deal with body issues. I wish I could say this is all they have done. This is just their most recent attempt to harass me, following the Fair Game doctrine of L. Ron Hubbard.
Scientology Fair Game Policy Confidential Public Relations Series 24 of 30 May 1974 Handling Hostile Contacts/Dead Agenting contains this quote from L. Ron Hubbard:
"If there will be a long-term threat, you are to immediately evaluate and originate a black PR campaign to destroy the person's repute and to discredit them so thoroughly that they will be ostracized."
Scientology is so out of touch, they believe that if I am exposed for being fat, I will somehow be thrown out of this business. They are following the directive to ostracize me, sending out the "Bat signal" to other Scientologists who are also Stand league operatives to do the same.
I have worked in this world that sees a size 6 as obese. That is this business. I have struggled with my weight most of my life, but it is exacerbated by an unhealthy standard. Most female entertainers are held to a standard that is just not normal. And yet, we try to achieve it. We have been shamed for being "normal" and "healthy." And then try to achieve an unhealthy, skinnier weight to be accepted.
I have been on every diet known to man throughout my career, I have resorted to taking diet pills that made me angry and violent, but I did not care. I did not want to be called fat anymore. I didn't leave my house at times in fear that a well-intentioned fan would get an unflattering (but accurate) picture of me and post it, or a paparazzi would capture me in a way that would cause an outpouring of negative comments. I have taken anti-anxiety meds just to get to sleep when this has happened to me over my career.
But times have changed, and body shaming is not looked upon kindly today. It leads people to depression, to drink, to do drugs to go to extreme measures to "fix" what magazines have written about them. For some, it is debilitating. It has led to depression and attempted suicide and sadly, people taking their own lives.
I am 50 years old, it's not so easy to keep the weight off anymore. Sure I have issues with my body and as I get older, it's harder to maintain, but I simply refuse to focus on it as I did when I was younger. I am more focused on the well-being of my daughter as she gets older, and I am more focused on doing the work that I love and being a better person and trying to do my small part in making the world a better place. And thankfully I have a husband who loves me "thick." But it wouldn't matter if he didn't. My body is my body. Period.
I have a 16-year-old daughter who struggles with her weight. She, unlike me, is growing up with Instagram, fake asses, fake waistlines, fake everything and this generation is dealing with some serious issues as how they see themselves.
What message does this send to my daughter, young women, older women who see this, post? Coming from an organization calling itself a church…. It says a lot that that leads to nothing good, which is Scientology's purpose in doing so.
People ask me what they can do. This is something you can do. It is unacceptable for these accounts to be verified by Twitter, accounts that exist to bully and harass.  These websites and social media accounts smear and attempt to silence former Scientologists who were molested, raped, and abused. These accounts exist solely to bully and silence those who bravely speak out and to discourage any further victims from coming forward. As if it isn't enough that they were raped, molested and abused and received no retribution for it, they spoke. And continue to speak. To have a 3-billion-dollar cult with unlimited funds and resources go after them day in and day out with intent to harm, is unspeakable under any circumstances. Let alone coming from an organization calling itself a church, with tax exemption.
If you ever want to see the scope of the millions of dollars they put into smearing people, pick a name of someone who has spoken out and look it up. Scientology's accounts are usually "who is…" (fill in the name) dot com.  This on top of the millions they spend on Private Investigators. This is NOT what tax exempt funds should be spent on, and yet they have been getting away it.
They are doing this today with the Danny Masterson victims, they are doing this with those who spoke out about being molested by Scientologists, they have done this with those who were beaten by the hands of church leader David Miscavige. And they will continue to do it if they continue to have the platform to do it
When you are an enemy to Scientology, you are labeled an SP. An SP is Suppressive Person. And SP's to Scientology and Scientologists are to be destroyed by Scientology.
Here is what Hubbard wrote:
"SP Order: Fair Game. May be deprived of property or injured by any means by any Scientologist without discipline to of the Scientologist. May be tricked, sued, or lied to or destroyed."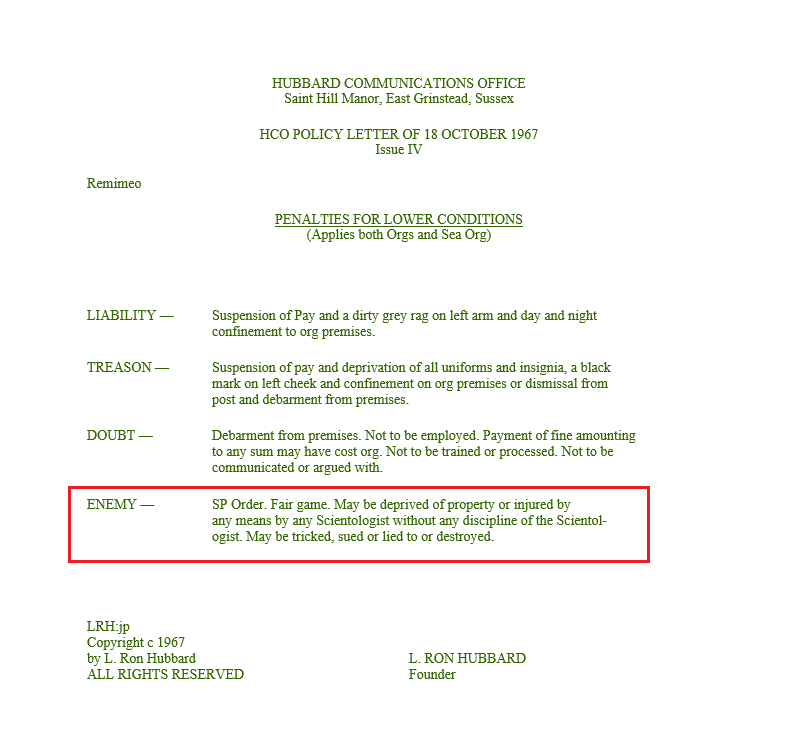 This means Scientology, its employees and practitioners can DO anything to an SP and not get in trouble. That could and has included, bullying, stalking, destroying evidence, making up evidence and lying to authorities to protect Scientology.
Here is another Scientology Fair Game directive. It reads:
RIGHTS OF A SUPPRESSIVE PERSON OR GROUP
A truly Suppressive Person or group has no rights of any kind and any actions taken against them are not punishable.
Once again, in the world of Scientology, anything can and should be done to silence those speaking out as they believe SP's have no rights.
In addition to the social media bullying, Scientology uses their hate-filled Freedom Magazine to bully those who have spoken out.
This cover is a depiction of all former Scientologist whistleblowers who were brave enough to speak to the media and authorities and reported the physical abuse they experienced at the hands of David Miscavige: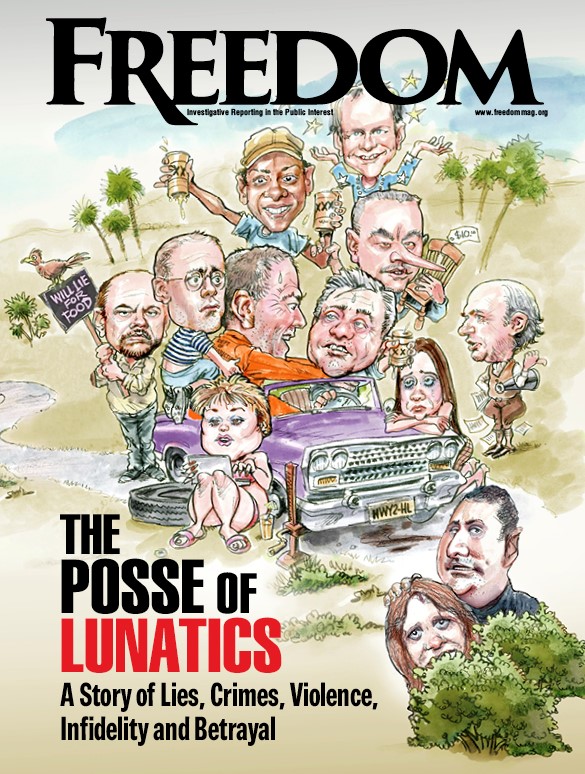 But their Fair Gaming, does not end with former Scientologist. They also Fair Gamed Anderson Cooper by dedicating a Freedom cover to him as well as giving him his own website on their "Freedom Media Ethics" website. Why? Anderson Cooper did a 5-part series about the abuse members received at the Gold Base at the hands of David Miscavige.
And the Fair Gaming began:
"Scientologists Made An Anti-Anderson Cooper Mag And Handed It Out At CNN"
And here is an article in The Atlantic about going after reporters.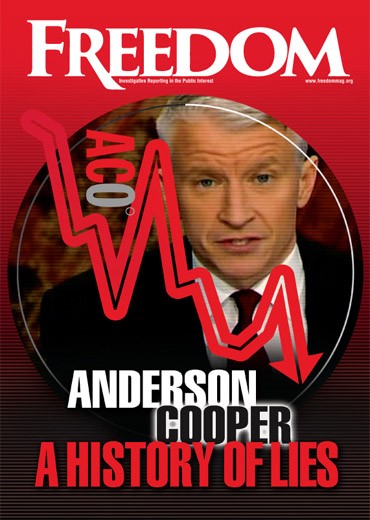 And when HBO greenlighted Alex Gibney's Going Clear, Scientology launched their Fair Game campaign against him.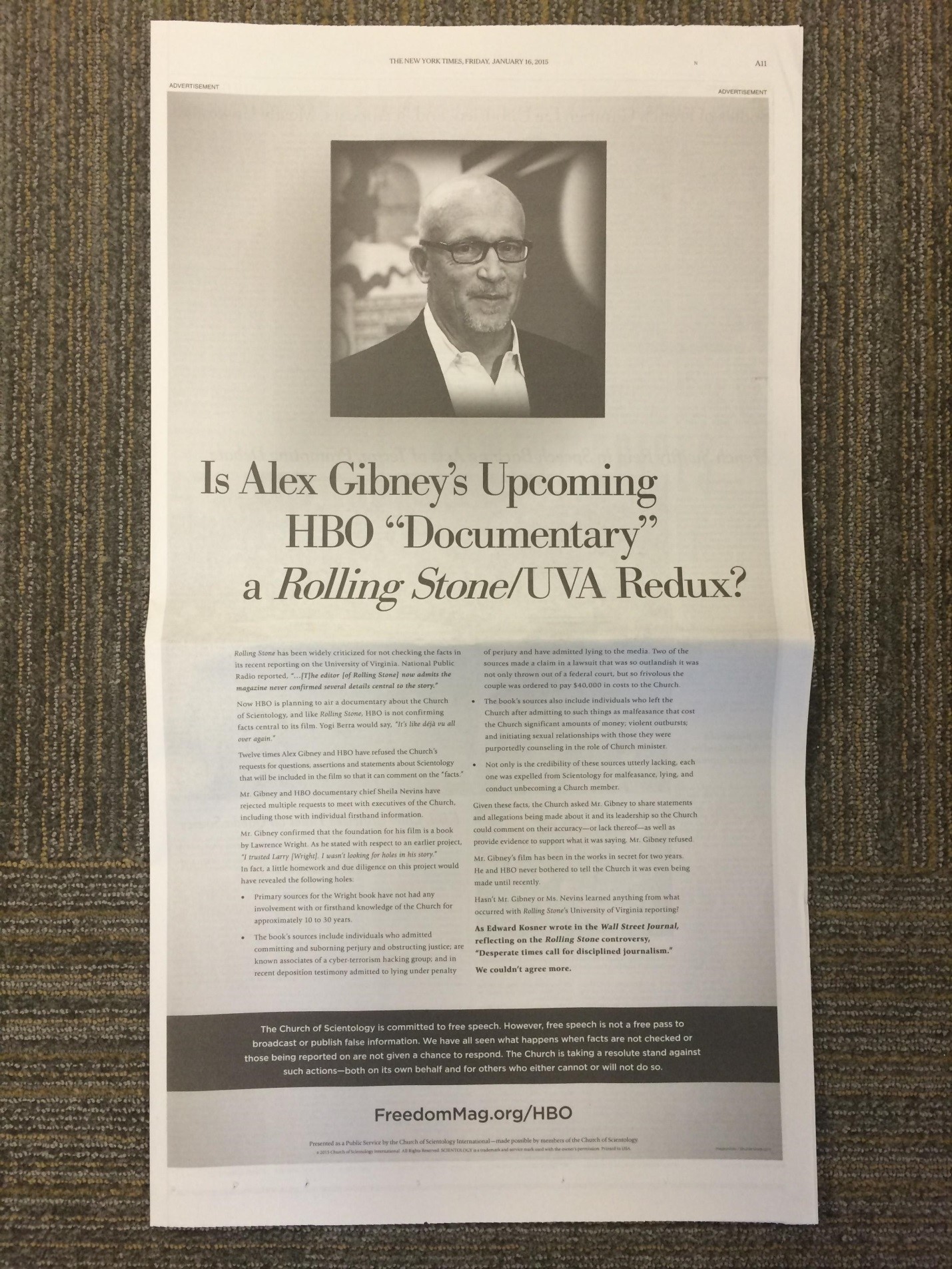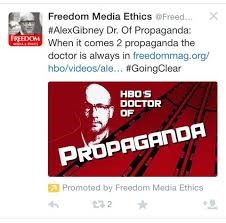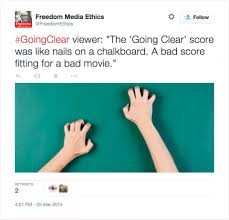 They even got civilian scientologists to cry religious bigotry: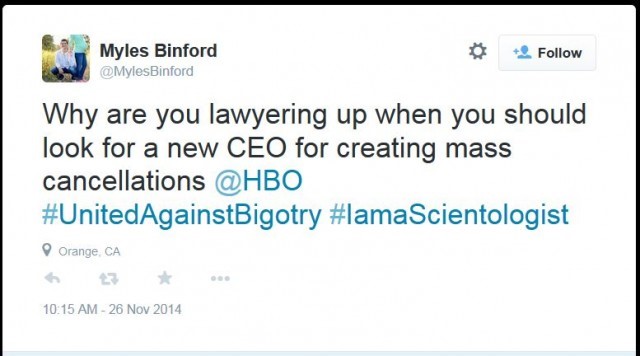 These are just a few examples of the thousands of Fair Game tactics Scientology has employed over 5 decades.
Here are some more Scientology Fair Game directives (all quotes from L. Ron Hubbard) that you can expect Scientology and Scientologists to employ where they are suing you or you engage Scientology in the legal arena:
"The purpose of the suit is not harass and discourage rather than to win
"The law can be easily used to harass, and enough harassment on somebody who is simply on the thin edge anyway, well knowing that he is not authorized, will generally be sufficient to cause his professional decease. If possible, of course, ruin him utterly."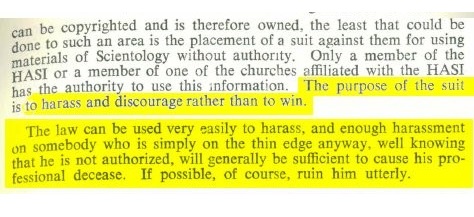 And this is a secret document authored by Hubbard entitled Counter Attack Tactics. It is the bible of the Office of Special Affairs:
Confidential
28 March 1972
COUNTER ATTACK TACTICS
PRINCIPLE: When PR and Legal find themselves engaged in handling attacks, Intelligence has failed.
SITUATION: Those who attack Scientology as proven by Oxford Capacity Analysis graphs, criminal or shady record, personal lives etc., are provenly suppressive.  When such people, as is currently common, ascend into the heights of governments or public or private organizations, or the press, they are able to exert the fullest dramatization against anything which might benefit others and usually do.
Being suppressive (a kind word for insane) their aims are destructive.
This is not limited to their fancied enemies.  They are
destructive to themselves and their own government or institution.
This is well known to us.  But there IS a situation in it which has not been solved.
WHEN YOU THREATEN TO UPSET THINGS WITH A COUNTERATTACK THIS IS PLEASING TO SUCH PEOPLE AND THEY GO ON ATTACKING AS THEY WANT THEIR OWN GOVT OR INSTITUTION ACTIVITY ATTACKED.
In other words, one plays into their hands.  They WANT riot and civil commotion.
Also, by the laws of insanity (see HCO B 29 Nov 70, C/S Series 22, PSYCHOSIS) they also want themselves destroyed.
This is also known as "being selected as somebody's executioner."
The more you attack, the more such people goad one.
This is the true principle behind Clausewitz's "laws of war" in which attack gets counterattack.
Such people are suicidal.
Investigation discloses, for instance, that certain persons in the US govt continually alienate OPINION LEADERS so they attack the govt.  Upward of 2000 army sergeants in Defense Intelligence were engaged in just this in recent years.
IRS picks a celebrity a year to attack and degrade "as an example".
The powers that be sometimes remove such persons.  Robinson, Minister of Health, Goodrich, former FDA chief amongst others were removed by other seniors at Scientology insistence but they themselves left on post would have gone on attacking harder and harder until the resulting counter-commotion had practically destroyed their agencies.
WHY: An attacker who is attacking out of his own dramatization will go on attacking until his government or agency is destroyed by the counterattack because he is generally destructive.
STATS: The UK attacks tapered off and successful recovery was begun when Robinson was removed.  The FDA agency attack began to cool down when Goodrich was forced to resign.  The AMA attack apparently continues via various channels and nobody has been removed.
IDEAL SCENE: (For Information Bureau) Attackers against Scientology located and removed from their positions of power so that Scientology can get on with it.  And any threat of attack restrained, leaving Scientology a clear field.
HANDLING:
BRIGHT IDEA:
These persons can always lose their jobs.  These jobs, permitting them power to destroy, are valuable to them.  This is A POINT OF VULNERABILITY.
If the person's job is also not valuable to him or if he cannot be made to cost his job, something can be found which he is seeking to protect, and it can be threatened.
EVOLVED OPERATING PRINCIPLES:
A. COUNTER ATTACK TO OBTAIN THE REMOVAL OF THE PERSON with a product of DISMISSED ATTACKER.
B. If on test, A is not feasible, SURVEY TO FIND WHAT THE PERSON CONSIDERS VALUABLE AND USE IT FOR RESTRAINT.
C. AVOID WHERE POSSIBLE THE COMMOTION AND WASTED ENERGY OF PARALLELING AN ATTACKER'S OWN EVIL PURPOSE OF DESTROYING HIS OWN GOVT, AGENCY OR INSTITUTION AND INSTEAD DISCOVER THE ATTACKER AND OPERATE TO COST HIM HIS JOB.
D. Where A and C fail, use B.
PLAN:
(a) Wherever an attack is in progress (and even when being held off by counter-propaganda from PR or actions from Legal) at once swiftly draw up a precise program using Intelligence principles and cross filing to isolate the attacker.
(b) Identify the instigator.
(c) When identified or even suspected as the instigator, draw up a project which includes at least three channels to cost him his job.
(d) Draw up a second project at once to survey and discover what the person really is defending and threaten it effectively.
(e) Execute the projects rapidly.
(f) On achieving success inform PR so that PR can call off the PR counterattack and capitalize on any information gained if it does not expose Intelligence.
(g) Inform legal so Legal can replan and utilize the information also gained to mop up.
NOTE: Intelligence in these regards is not feeding PR and Legal as the only fruit of its endeavors.  It is OPERATING INDEPENDENTLY of these two functions with ITS OWN PRODUCT: I.E.  A DISMISSED ATTACKER or its secondary product: a totally restrained and muzzled attacker.
Note: A small unit operating with superior technology can triumph over the most gigantic but vulnerable enemy and render him pleasant.
And here are some more quotes from Hubbard:
A MANUAL ON THE DISSEMINATION OF MATERIAL, 1955
"If attacked on some vulnerable point by anyone or anything or any organization, always find or manufacture enough threat against them to cause them to sue for peace."
HCO MANUAL OF JUSTICE, 1959
"When we need somebody haunted we investigate…When we investigate we do so noisily always."
"People attack Scientology, I never forget it, always even the score. People attack auditors, or staff, or organisations, or me. I never forget until the slate is clear."
Hubbard Communications Office Policy Letter, 7 November 1962
"This is the correct procedure: Spot who is attacking us. Start investigating them promptly for felonies or worse using our own professionals, not outside agencies. Double curve our reply by saying we welcome an investigation of them. Start feeding lurid, blood sex crime actual evidence on the attackers to the press. Don't ever tamely submit to an investigation of us. Make it rough, rough on attackers all the way."
"We're playing for blood, the stake is EARTH."
HCO Policy Letter of 15 August 1960 Department of Government Affairs –
"If attacked on some vulnerable point by anyone… always find or manufacture enough threat against them to cause them to sue for peace. Don't ever defend. Always attack".
"Ability" magazine March 1955
This is correct procedure:
(1) Spot who is attacking us.
(2) Start investigating them promptly for FELONIES or worse…
(4) Start feeding lurid, blood, sex, crime actual evidence on the attackers to the press.
Make it rough, rough on attackers all the way. There has never been an attacker who was not reeking with crime."
HCO Policy Letter 16 February 1969 Battle Tactics –
If you uniformly apply the tactics and strategy of battle to the rows we get into, press or legal or public confrontation, you will win.
If we and they are considered as two hostile and opposing nations at war, then a huge array of tactics and strategy become visible.
We must ourselves fight on a basis of total attrition of the enemy. Just go all the way in and obliterate him.
One cuts off enemy communications, funds, connections. He takes over enemy territory. He raids and harasses.
The only safe public opinion to head for is they love us and are in a frenzy of hate against the enemy, this means standard wartime propaganda is what one is doing…
You preserve the image or increase it of your own troops and degrade the image of the enemy to beast level.
Treat all skirmishes like wars.
People who leave the official Church of Scientology and start their own group that practices pure Scientology or an altered version of Scientology, are also labeled as Suppressive Persons and are viciously attacked as Fair Game targets.
HCO Executive Letter 27 September 1965 AMPRINISTICS –
Over the past 15 years we have seen a lot of groups splinter off from Scientology…
We call them "squirrels"…
They are each fair game, can be sued or harassed.
Any meeting held by them should be torn up. Harass these persons in any possible way.
Under freedom of religion, people have a right to practice the religion of their choice. They have a right to practice pure Scientology or to mix it with their own ideas, and they do not need sanction from any "official Church" to do so.
But the people who started their own Scientology group have been treated as Fair Game.
And finally, sworn testimony from two senior officials in David Miscavige's organization (Religious Technology Center) who he banished for refusing to accept his authority:
Former Sea Org member Vicki Aznaran affidavit dated 27 January 1992
I, Vicki J. Aznaran, of Mesquite, Texas, do herewith depose and swear:
That from the approximate dates of 1984 until 1987 I held the positions of President and Chairman of the Board of Directors in the Scientology organization called the Religious Technology Center (RTC) …
That also, to my certain knowledge, David Miscavige conceived, planned and ordered the implementation of the basic strategic and tactical actions of the church against those whom he considered to be causing legal or public relations conflicts against any church or against his personal and absolute control of Scientology. He also ordered the allocation of and made available funding for the financing of these actions, which included the declaring of those whom he considered to be his "enemies' as Suppressive Persons, the implementation of the policies known as "Fair Game" against these persons once so declared, the infiltration of private and governmental environments which he deemed hostile to his absolute control over Scientology, the organization of vigilante groups within the organizations of Scientology to be used against those individuals whom he deemed to be his enemies.
That following Miscaviges' orders, I transferred monies to Spain, and witnessed briefings by Miscavige …concerning covert operations taking place in Spain against former Scientologists…
That during this same period and as part of these same operations, a plan was formulated to destroy the reform movement in europe by completely eliminating the leaders of this reform movement, William Robertson, John Caban and others, by any means possible.
That additional orders were given to institute any action necessary including false denunciations, assaults by covert agents apparently in bad standing with the church, to infiltrate, offset and attack those leaders of the reform movement…
That the policies known as "Fair Game" are, as described in the writings of L. Ron Hubbard, ethics policies, and other organizational policies are in fact continued as originally written by Hubbard, and that it is the purpose of the RTC to see that all of his policies are followed exactly as intended.
That the organization known as the Guardian's Office, while apparently abandoned, in fact was moved from the position as a separate organization or network, and incorporated within the organizational structure of Scientology, and all of the purposes and most of the Guardian personnel have remained the same.
Jesse Prince, another former RTC executive stated:
Under orders from Miscavige, he would order others to engage in illegal activities against perceived enemies of Scientology. These activities included, but are not limited to, wire-tapping, planting illegal drugs on enemies to set them up to be arrested, and destruction of documents that contained evidence of illegal activities. They also commonly went through parishioner's confessional records looking for confessional material that could be used for blackmail or extortion. 1
1985 – A black operation was begun to physically attack witnesses for government litigation against the Church, and other "enemies." The operatives had the code name "The Minutemen."
In 1986, one such vigilante was sent to attack expelled Scientologist, Bent Corydon. A big man went to where Corydon was working, and failing to find Corydon, he beat up one of Corydon's assistants. The assailant said – "Since Corydon is not here, you'll do." He then yelled "You are standing in the way of Ron's bridge!" and proceeded to punch the assistant in the face and knock him around.
In addition, obscene and threatening phone calls were often made to Corydon's wife.
_ _ _
This is just to give you a small window into what Scientology has been engaged in for 5 decades.