Clearly scientology is worried that Mark Bunker is proving to be a viable candidate for the Clearwater City Council. They are now resorting to one of their tried and true tactics against those who worry them the most (see below in this blogpost for earlier examples of the same playbook).
Following is a series of short videos of a recent candidates forum. Scientology sent along a gaggle of hecklers to disrupt Mark's statements — pursuant to the policies of L. Ron Hubbard. Unfortunately, there is no video showing their faces — perhaps next time when both Aaron Smith-Levin and I are not out of town we will be able to identify the perpetrators and let the world know who they are. In these clips we can only hear them.
Here is the start of their antics, trying to shout down Mark:
The next clip covers some of the statements of Eliseo Santana, who has become a surrogate for scientology, making snide comments about "reality TV."  This seems to be a reference to the fact that Mark appeared on Scientology and the Aftermath. Obviously this guy is making a play to collect whatever votes he thinks scientology may be able to direct his way. It is important for Clearwater that he NOT be elected and become a scientology tool on the City Council — regardless of whether Mark Bunker wins. He has now officially assume the mantle of "scientology candidate" for Seat 2.
It would appear Eliseo has been supplied with a copy of the 20 year old injunction scientology is still trying to enforce against Mark Bunker (see the episode of Scientology and the Aftermath where we discuss the craziness of this with the Clearwater PD — who subsequently announced they would not be attempting to enforce this) and he even brought it to the meeting. What a limp scientology sock-puppet he turns out to be.
The hecklers get louder, and Santana begins his attack on Mark Bunker for having "hate in his heart"… Now he is simply mimicking scientology talking-points, almost as if he has coordinated with the hecklers beforehand.
Bunker responds — "I'm not a shrinking violet and I don't have hate in my heart"…
And finally Bunker makes a pitch for reforming scientology.   The screaming scientologist sounds a lot like the infamous Mary DeMoss.
This is not a random cross-section of "concerned citizens" — these are scientologists sent to disrupt and "confront" Mark Bunker by the Office of Special Affairs.
You don't need to believe me — you can read Hubbard's writings on how to deal with critics of scientology.
Believe me, no scientologist would dare make a scene like this that might end up in the Tampa Bay Times — generating bad PR — without being directed by the Office of Special Affairs.
Apparently these are two of the culprits.
Loudest screeching lady: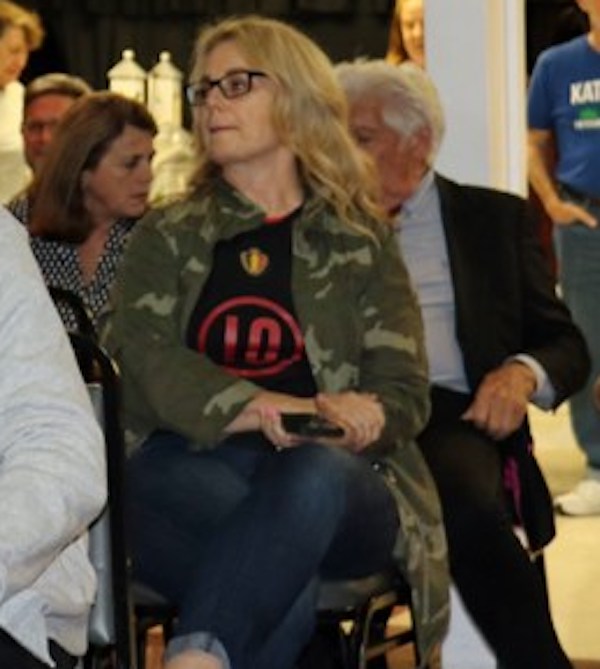 And this is the guy who shouts that the injunction was "not from scientology, it was from the 6th judicial circuit court" — obviously palsy with Eliseo:
Here is an earlier example of the screeching scientologists (including the infamous Mary DeMoss) sent to deal with Bunker and the Lisa McPherson Trust.
And here is another example of the tactic: David Miscavige's personal attack-bitch Jenny Linson at LAX "confronting" Marty Rathbun back in the days when he was exposing the abuses in scientology and needed to be stopped.
They sent people to disrupt and heckle Sara Goldberg and me when we did a screening of Going Clear. Mark Bunker took a video of this and it was put up on Tony Ortega's site.
You can hear attack-bitch Jenny Linson and 6 others (including Dave Bloomberg from the video above) approaching me in the secluded parking lot of a doctor while I waited for my wife:
(For a transcript of this incident, see this article Mike Rinder: "Lady Killer")
This is precisely why it is so important to elect Mark Bunker. Scientology believes they can bully anyone they don't like in Clearwater and get away with it. For too long they have and nobody has said anything. They continue to thumb their nose at the city and the citizens of Clearwater.  Miscavige summons the city officials to meetings and they obey, only for him to tell him he doesn't know anything about the properties being purchased… They send people with the express purpose of disrupting candidate forums because they don't like the fact that Mark Bunker is not intimidated by their tactics and threats.
If you care about the future of Clearwater, please help elect the one person running for office who will never back down or bend to the will of scientology.
Go to his website MarkBunker.com and donate to his election or volunteer your time. Spread the word.