Hot off the press…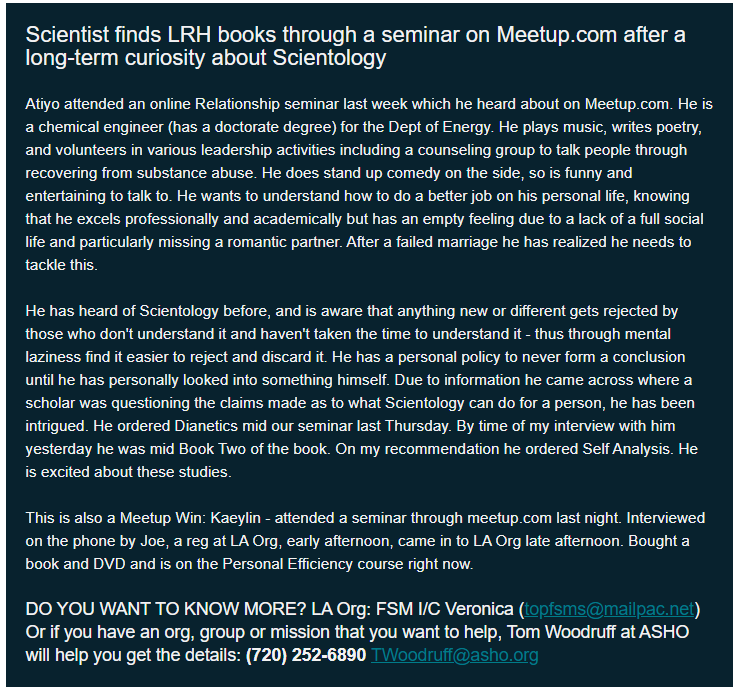 This is a new level of desperate.
Announcing to the world that they got a single person to buy a book — some person looking for a romantic partner who is apparently a nerd got caught on a MeetUp.com phishing expedition by a reg at LA Org.
Take note of the defensive attitude in this "promotion" piece: "anything new or different gets rejected by those who don't understand it and haven't taken the time to understand it – thus through mental laziness find it easier to reject and discard it."
So much to unpack in that sentence.
First, you can be certain the person who wrote this has no idea of the real truth about scientol0gy — ie they have not reached the OT levels.
Second, this is a classic "you don't know about it, so your opinion is invalid" which falls apart the second you consider I am certain I know a LOT more about scientology than this person does. And I reject it.
Third, the accusation of "mental laziness" is likely true about the writer of this hype — they believe anything and everything they are told about scientology and L. Ron Hubbard BY scientology. They never investigate anything for themselves.
But all that aside. LA Org and ASHO combined "win" is that they got a person to buy a book. Wow!
Scientology is shrinking fast.