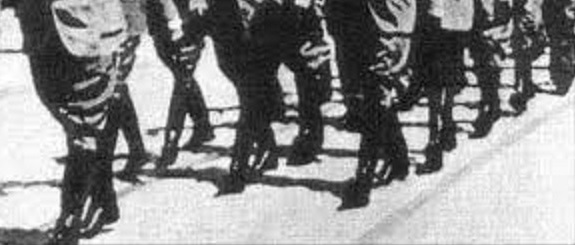 SadStateofAffairs made a comment about the Jobur Jackboots that was a blast from the past when he mentioned the "Latam Strategy."
The comment was right on. The Jobur Command Team is exactly following the Latam Strategy. For most of you, this is meaningless, so I will provide a little background that is necessarily abbreviated. The topic is instructive to the current scene.
In the early 80's there was considerable concern by LRH (who was in seclusion) that he and management had lost control of Scientology. There is a LOT of LRH traffic about the "Mission Holder Mutiny" and the Guardian's Office and moonlighting and "org ripoffs" and "external influences." LRH sent some very harsh direction to "quell the revolt" and be ruthless with "the SP's, GO crims and squirrels." 
"External influences" was THE catchphrase of the period. A lot of investigation had been done at LRH direction in the late 70's on the what he termed "Con Evil" telling management to raise their "Confront of Evil" and that there were a lot of people trying to take over orgs for their own benefit. WISE arose out of this investigation and LRH direction about coralling "Scientology businessmen preying on orgs." 
This whole subject reached boiling point with the Mission Holder Convention at Flag. Bill Franks was ED Int and was viewed as a traitor for "siding with the money-motivated Mission Holders."  WDC and ED Int sent weekly reports to LRH along with a stat analysis and he sent back lengthy responses to these reports with many orders about what was to be done and how Scientology was to be gotten back under control. This included direct orders concerning the subsequent San Francisco Mission Holders event where LRH ordered that "SO Ethics Presence" be re-established and RTC and CSI were to put the fear of God into the Mission network. 
Around this time, a Mission was sent to the Continental Liaison Office for Latin America (Latam) as their stats were very bad. The Mission, with John Alesso in charge (then in CMO PAC, now I believe a folder admin in AOLA) had orders to go and find the "external influences", declare them on the spot and get the stats back up. They found some people that qualified as "external influences" and declared them (following the pattern piloted by Miscavige at the San Francisco Msn Holder Convention), ran a "heavy ethics program" on everyone in the CLO to scare the hell out of them that they would be the next ones declared if they didnt fall in line and stat pushed the hell out of the stats.
The stats (whether false or not I do not know) went into steep Affluence and a new catchphrase was born "The Latam Strategy." Guillaume Lesevre as ED Int reported the "success" to LRH (he and my ex-wife had run the Mission, she was WDC Scientology at the time I think) and LRH jumped on the "Latam Strategy" bandwagon and pretty soon there were Missions fired out to every Cont not in affluence to "repeat the successful action." The "Latam Stategy" was a fad like "Ideal Orgs Program" is today. It was the "one-shot Clear" answer to everything for a time. (This one-shot Clear "think" is worthy of a post by itself, it is THE pattern of operation in Scientology — if it's not Ideal Orgs, it's Super Power, if not that it's KTL, not that it's Purif, not that it's NOTs, not that it's The Basics, not that its….)
Primarily the successful action of the "Latam Strategy" was to arrive in full SO Uniform with guns blazing, shoot a few people with verbal declares (SO Missions have unlimited ethics authority), scare the hell out of everyone else and then stat push like there was no tomorrow. Eventually the fad died out as it was NOT sustainable and after a while Missions were no longer able to push stats any longer (for a time, Guillaume and Cathy ran every CLO through a "Latam Strategy" SO Mission on a daily telex with daily stats from "Int Management").
Nearly 30 years later, Miscavige is bringing the "Latam Strategy" out of mothballs it seems.
Pretty clearly, He IS losing control of Scientology. Too many "disaffecteds" in too many places.  He has to act.
I can imagine him pulling out all the old traffic from LRH and having an "Aha!!" moment and then telling his minions how on source he is because THEY have not been doing what LRH said and now he is going to get it done (there is a LOT of LRH traffic commenting very favorably on these heavy-handed methods at that time).
But He doesn't seem to notice a couple of really important differences:
1. The internet now makes communication possible. You can easily discover, if you want, whether what you are being told is true. Back in those days, the only source of information about what was going on was direct from the church. They said what was convenient about the people they declared and were able to black PR and control the flow of information.
2. 18 Public OL's is not the same as a couple of crims who were trying to make money OFF THE ORGS. These people are giving money TO THE ORGS. 
And He cannot really follow the Latam Strategy because there isn't anything TO stat push. The orgs are empty shells. They can scream and threaten all they want but if you don't have any auditors or supervisors and there are no public there is little that can be done to "get stats up."  The only solution becomes to report false stats.
But most importantly, His biggest screw up is this:  
In the Miscavige universe, there is no other Opinion Leader in the Scientology third dynamic. He knows He is THE Opinion Leader and so nothing else and nobody else matters. The rules about Opinion Leaders in the PR Series can be ignored by Him, after all He IS Source, or at least Source For Lost And Modified Tech.
Declaring a group of long-term Opinion Leaders is a footnuke of magnitude. He is trying to control the flow of information by having everything done VERBALLY. Otherwise it will get onto the internet — the tool of the devil. But it is not going to work. He has only sped up the process of the demise of Corporate Scientology in South Africa.
Just for shits and giggles and old time's sake, here are some quotes from HCO PL 11 May 1972 PR Series 6 Opinion Leaders.
Following are some quotes from LRH policy on the subject of Opinion Leaders. This is what Miscavige loudly proclaims that He, above all mere mortals, follows to the letter as the most on-Sourcy of all them all.
Take a read and see how on-Source he seems in light of these passages (this is a long PL, I only selected a small portion of it to highlight the point I am trying to make):
An "opinion leader" is that being to whom others look for interpretation of publicity or events. Through wisdom, proximity to data sources, personality or other factors including popularity itself, certain members of the group, company, community or nation are looked to by others for evaluation.
…
This would be almost mathematical in computation. Spokesman X issuing a Bulletin A that offended 55% of the opinion leaders would get, roughly, a 55% opposing reaction from the whole public.
…
The general unrest and unpopularity is largely traceable to a violent disregard of the subject of opinion leaders.
Attaining power is done usually by the consent of or with the help of the opinion leaders.  Arrival in a position of power too often causes the person to shift the basis of his operation. He is now associating with different people in a power strata. It would require quite an effort of will to not be seduced. Having achieved power by opinion leaders, the person may forget them and seek to maintain power by other means or by force. This is essentially a violation of the Power Formula which indicates one should not disconnect. By disconnecting from the previous opinion leaders, the person begins his own demise.
…
Thus a truly suborned leader would desert "opinion leader" as a basis of power and begin to use FORCE and MONEY to hold his position.
But when one assumes a position of power, regard for opinion leaders should broaden, not be dropped.
…
Attilas and Huns and Genghis Khans solved this by simply murdering all imagined hostile elements. They may be known in history but politically they built nothing that endured. Even the pyramids of skulls vanished.
Men like Hitler went so far in reverse in handling this problem as to finally slaughter even their adherents.
…
Omitting the opinion leader is bad enough. Seeking to destroy him is far, far worse.
Yes, one says, but how about the violent opposition? How about that fellow?
Well, he's a problem. But he is an opinion leader.
One has to decide how much of an opinion leader he is.
If you don't handle a would-be opinion leader who is anti but who is NOT an opinion leader, people get cross.
The decision here stems from
a. Is he talking about actual abuses, or
b. Is he just lying?
In either case one has certain courses of action. If the abuses are actual, work to remedy them.
…
Abuses by those in charge are never put right by force. They are only worsened.
Perhaps there is no excuse whatever to use force to enforce an opinion. Wars are notorious for failing to solve.