After Tracey McManus'
bombshell article
dropped on 20 October, scientology immediately began their efforts to revise history. The next day,
Freedom
magazines started popping up all over the city. I wrote an article addressing some of the falsehoods
Scientology BS Grows Deeper
Then they began trying to make a dent in the social media world to cast the article as a bigoted assault on scientology and highlight the wonderful contributions they make to Clearwater. Freedom magazine has a twitter account @Freedommag and on October 21 they began sending out tweets.
This is the tweet that is pinned to their page: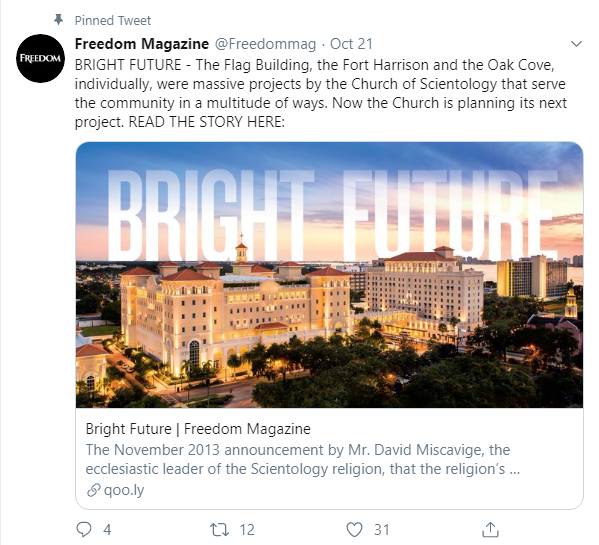 As you may note, it has 31 likes and 4 comments. With 15,000 local scientologists and 10 million worldwide you would think they could do a little better than that…
Scientology has the ability to tell amazing lies with a straight face. And they are astonishingly easy to disprove. Just start with the FIRST LINE of this tweet.
Two of these buildings (the MONSTER SP Building and the Oak Cover) serve absolutely NO purpose for the community. Members of the community cannot enter these buildings and if they try to do so they will be escorted out. SOME members of the community may occasionally be invited to the Ft Harrison when they have a special PR event. But you must be INVITED.  You cannot simply walk in. The SP Building took an entire city block off the tax rolls. Yes, scientology pays bed tax on occupied rooms in the Ft Harrison and Oak Cove, and some percentage of property tax on those buildings. They hide behind this, claiming they are the "largest taxpayer" in downtown. Might be true, they own almost all of it that is not government owned property. The real analysis of this is — what if the Fort Harrison and Oak Cove were Marriott hotels? Or Holiday Inns? Or 4 Seasons? How much would THEY be contributing to the city — property tax, bed tax AND a massive infusion of tourists that spend money in the community. Scientologists do NOT. They are discouraged from staying or eating anywhere other than in the scientology facilities. They are NOT encouraged to spend time at the beach or local attractions — this is considered being "dilettante". And most from out of town are desperately trying to finish the training or scientology auditing they paid for so they can go home to their family or return to their jobs.
And then we get to "Now the Church is planning its next project."
Just ask the city how much they know about this "project" or whether they are being consulted. It is made to sound like everyone should be giving them a standing ovation — they are ONLY planning whatever is best for scientology.
Then we come to this one: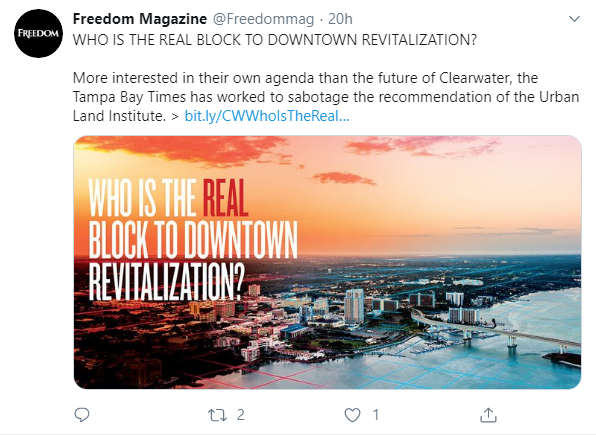 One like, no comments. I bet this is because they deleted all the comments.
This is utterly shameless. I saw this tweet and responded to it with this: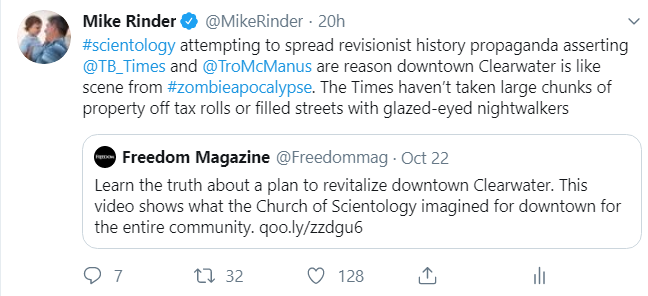 Scientology is compelled to attack anyone that says anything, no matter how factual it is, that they don't want said. Tracey McManus is simply the latest victim of their smear campaign.
But it goes on.
This next one is quite correctly PAST TENSE. When the Aquarium stuck to its agreement to sell a piece of land David Miscavige wanted to the city, Miscavige had a hissy fit and unilaterally withdrew this "plan". He had dangled it as something he was "planning" to do if the lot was sold to him, and when his plans were dashed, his downtown "redevelopment" was unilaterally trashed and he stopped communicating to the city altogether.
This is now recast as "here is our amazing plan that you rejected."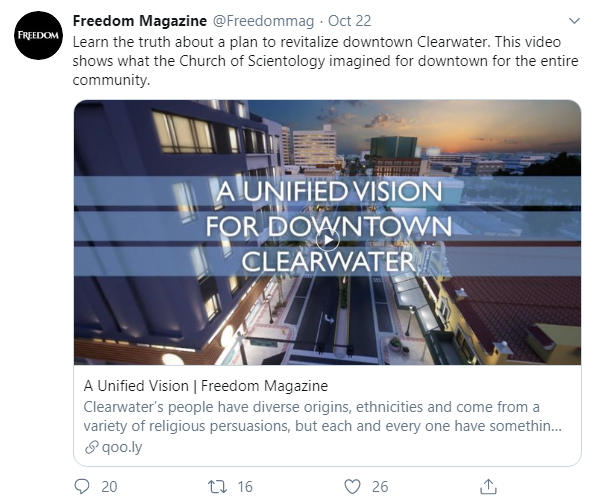 They even have a video about the "Oak Cove" — it is really NOT a joke that if any who is NOT a recognized scientologist tries to set foot on this property, they will be escorted out. If they were to say "wait, you put out statements that this is for the community, and I am a member of the community and I want to come in" they would then call the CWPD who would dutifully show up (spending YOUR tax dollars to do so) to issue you a trespass warning.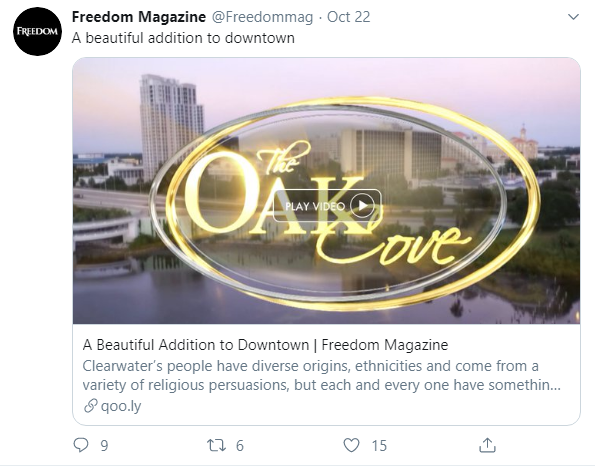 This next one is also especially rich.
Yes, scientology pours hundreds of millions of dollars into its buildings.
Yes, they spent some money purchasing and upgrading the buildings along N. Ft Harrison as a sort of Potemkin Village to be able to promote "look how we are open and friendly." This is a TINY percentage of the property they own and these spaces are specifically designed to display scientology front groups "good works" to the world. There are numerous OTHER properties that sit empty and forlorn, even across the street on N Ft. Harrison.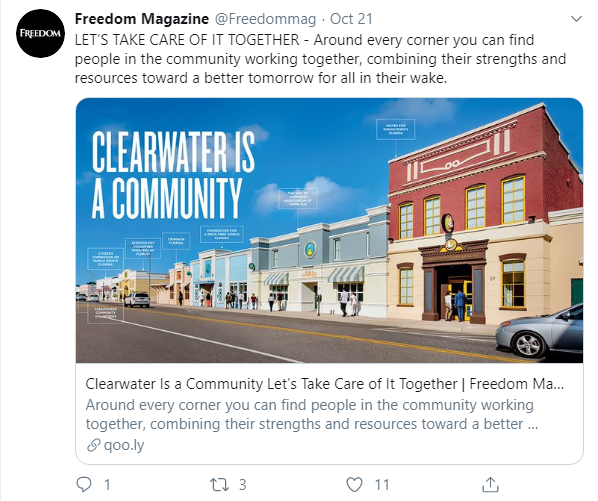 "Around every corner" you can find another piece of empty property owned by scientology or scientologists.
This next one is their big winner as far as comments go. I suspect someone feel asleep at the switch and had not deleted the negative comments when I checked the twitter feed.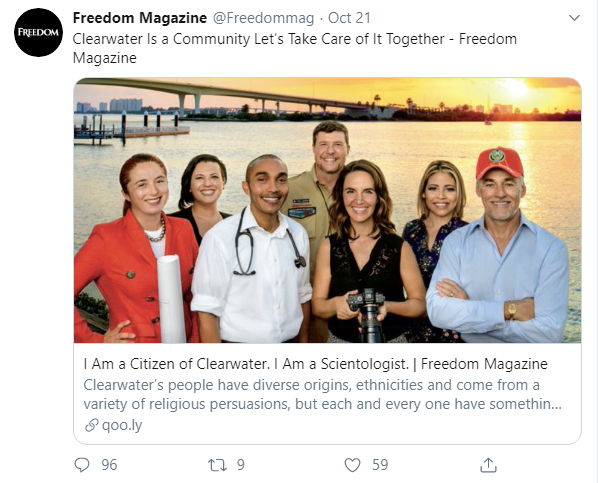 Here is a screenshot of the first comments — after the first one which was from 21 Oct all the rest are less than complimentary and it continues on from there. I guess the person responsible for this account just did their job the first day they posted it and then feel back to sleep. By the time you read this, they will probably be deleted again: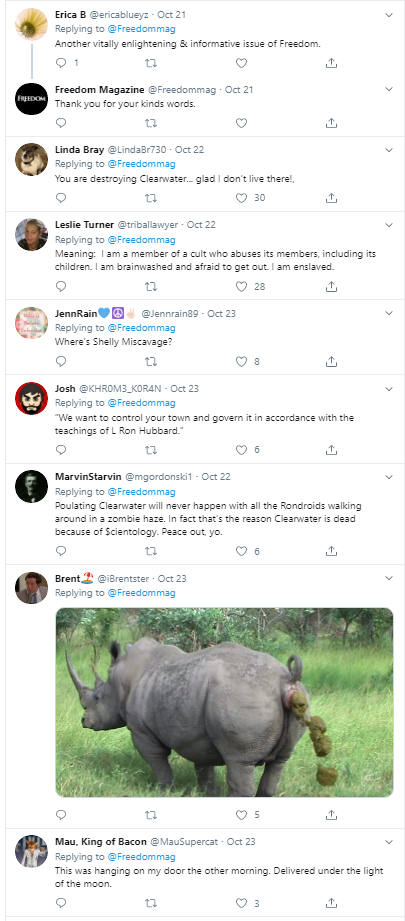 This one is another blatant lie. As I said in my article, the easiest proof this is not true is that Miscavige can barely scrape together 2300 to attend the L. Ron Hubbard Birthday Celebration at Ruth Eckerd Hall. This is the same venue they have been holding this most important event on the scientology calendar at every year since the 1990's.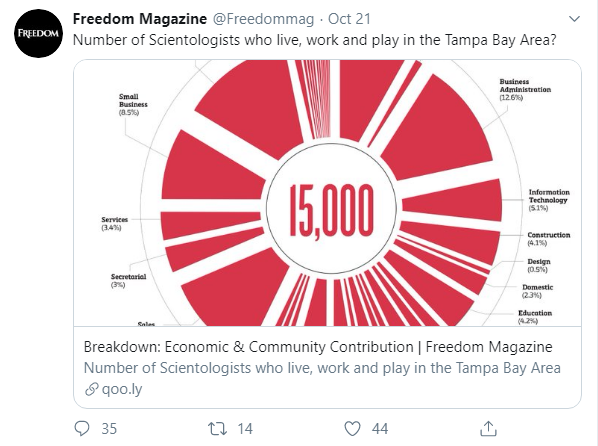 The only thing you can say about this — more comments than likes? Because the vast majority of comments are not positive. And it must be at least slightly incongruous that out of the 15,000 scientologists, not even the number of people featured in the magazine could like this tweet (there are more in the mag than are pictured)?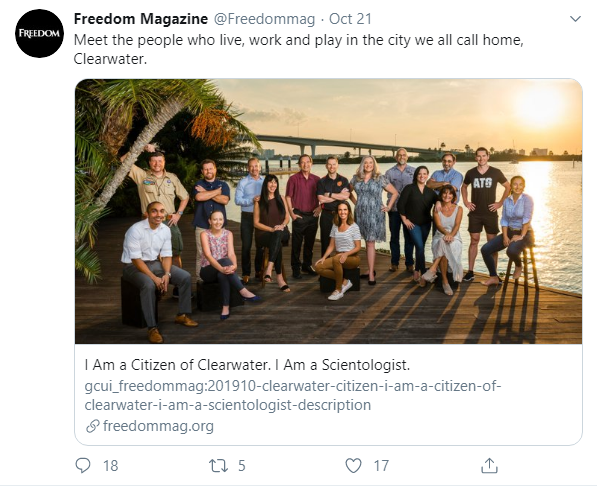 This is just ha ha funny filler.
ScientologyTV is not seen by anyone outside of those forced to watch it inside the bubble of scientology.
One like and no comments?
Now that is a fan base.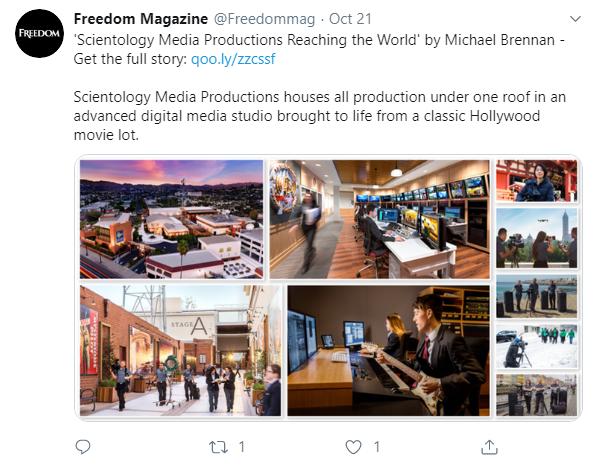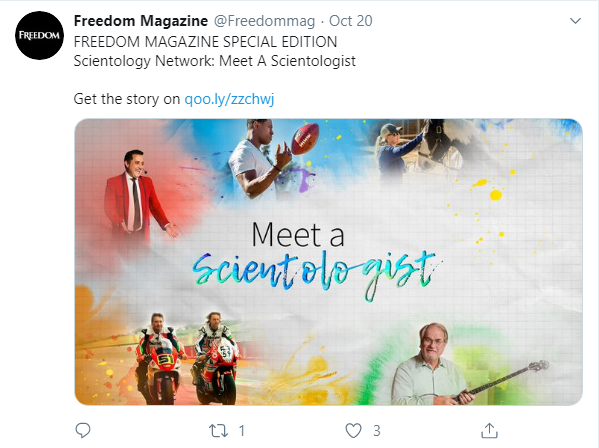 And finally, in anticipation of the story dropping, they put up the obligatory plug for David Miscavige. 4 likes says it all.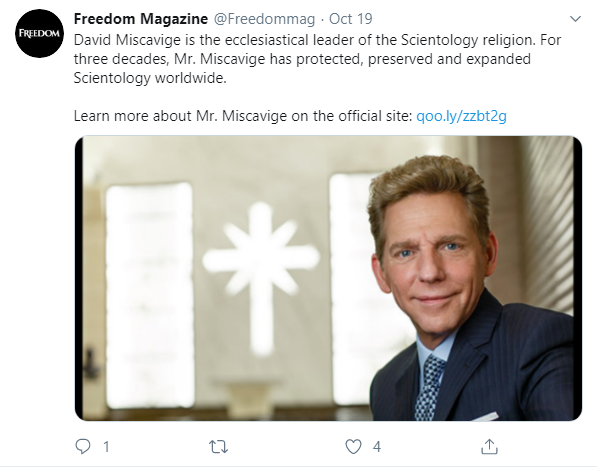 Hey scientology — social media has a huge disadvantage for you.
It is OUT IN THE OPEN. Everyone can see it and can see what you do.
PROGRAMMING NOTE: I will be making a short appearance this morning on Michael Smerconish show on CNN around 9:30 am EDT to talk about Clearwater.