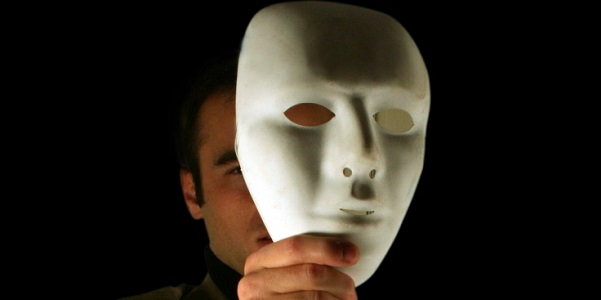 Hypocrisy in scientology runs very deep.
It is almost axiomatic that if scientology claims something virtuous about itself, the opposite is true. They are masters at the art of pointing the finger at others to avert scrutiny of themselves. Just a short list:
They proclaim they are champions of free speech, while seeking by any means necessary to silence anyone who says things they don't like.
They claim to be against hatred and bigotry while putting out a continuous stream of hate-filled utterances and offering a safe harbor and support for the likes of Tony Muhammad.
They announce they are the most ethical organization on earth, while driving people into bankruptcy with high pressure sales techniques and obtaining and maxing out credit cards for their marks.
They assert they are pro-marriage and families while practicing disconnection.
They say they are pro-gay and don't discriminate against anyone while subscribing to core beliefs that are entirely homophobic — to the point of eradicating gays from society.
They pronounce they are not anti-Christian while teaching that Jesus is an implant in the reactive mind.
And now comes this: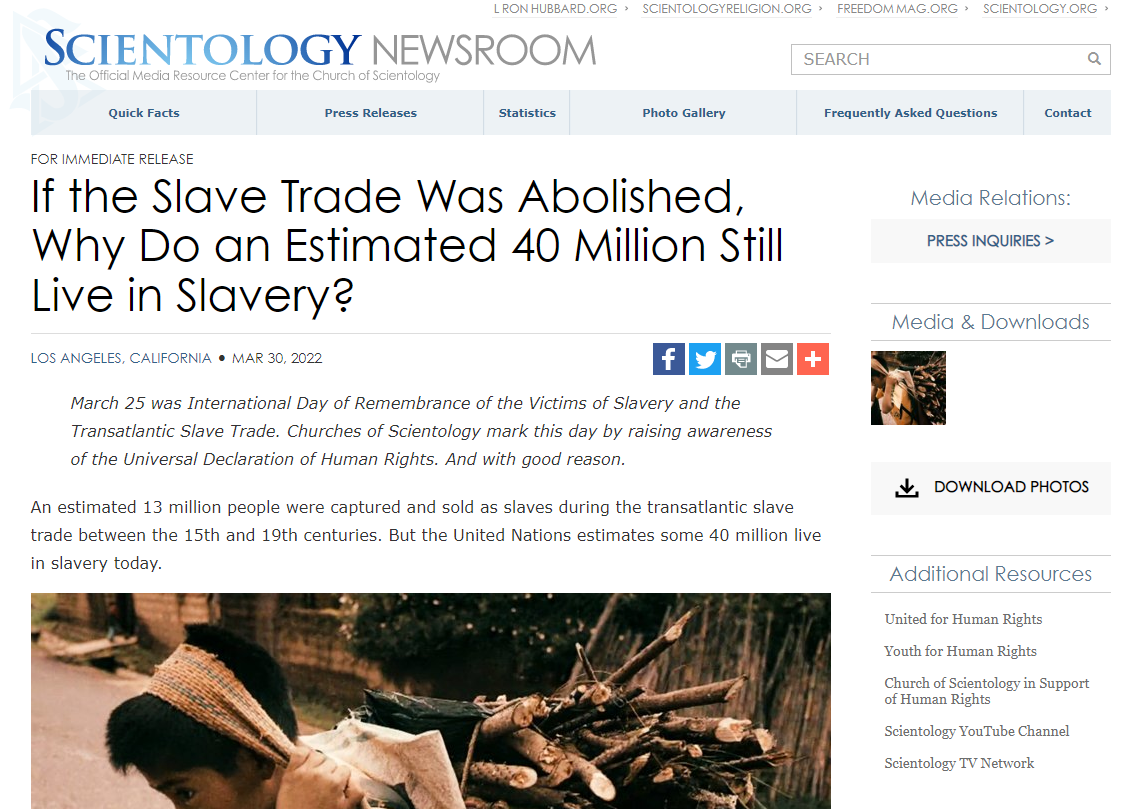 After the usual stuff citing statistics around the world, they roll into what incredible work they do to counteract slavery in the world, based on the words of L. Ron Hubbard.
In 1969, Scientology Founder L. Ron Hubbard observed: "Very few governments have implemented any part of the Universal Declaration of Human Rights. These governments have not grasped that their very survival depends utterly upon adopting such reforms and thus giving their peoples a cause, a civilization worth supporting, worth their patriotism."
Universal Declaration of Human Rights article 4 states, "No one shall be held in slavery or servitude; slavery and the slave trade shall be prohibited in all their forms."
But as Mr. Hubbard also pointed out, "Human rights must be made a fact, not an idealistic dream," a statement borne out by these Antislavery in Domestic Legislation Database statistics.
Scientologists believe that raising awareness of human rights is the ultimate answer to this and other forms of abuse. They take part in educational initiatives to increase understanding of the Universal Declaration of Human Rights. They work to mandate human rights education in their nations' schools. And they urge their governments to enact legislation to ensure the articles of the Universal Declaration of Human Rights have the force of law.
The Scientology Network features the work of human rights activists who have adopted these programs to end human trafficking and other abuse. Their work, and the inroads they have made, is demonstrated in episodes of the original TV series Voices for Humanity.
These include:
Mary Shuttleworth, who witnessed rampant human rights abuses growing up in apartheid South Africa. Committed to ending human trafficking and other violations of human rights, she founded Youth for Human Rights International to teach young people around the world the importance of human rights.
Cynthia Guerra, who grew up in Guatemala during a civil war that was notorious for rampant human rights violations carried out by its military. An estimated 20 percent of Guatemalan children, some as young as seven, are subject to forced labor. To counter this and other human rights abuses, Guerra leads a nationwide program to educate civilians, police, and the military on human rights.
Braulio Vargas, whose episode exposes a hidden side of Costa Rica with an eye-opening account of the problems plaguing many of its citizens — from human trafficking to homelessness. His work in promoting human rights is raising awareness across the nation.
Raúl Arias, who came face to face with human rights violations when he and a friend were nearly abducted by kidnappers. Later, heartbroken by the stories of those who lost family members to human trafficking, he confronted the issue head-on by becoming executive director of Youth for Human Rights Mexico.
The Church of Scientology and its members sponsor one of the world's broadest human rights education and public information initiatives, United for Human Rights, and its program for young people, Youth for Human Rights. Through this support, they ensure these educational materials are available free of charge to all.
What this ignores is the fact that scientology, especially the Sea Org is engaged in daily violations of human trafficking laws. That scientology Sea Org and staff are treated like slave labor while being designated as religious workers and volunteers to avoid labor laws.
The truth is that rather than sponsoring "one of the world's broadest human rights education advocates public information initiatives," it actually engages in daily, worldwide violations of human trafficking and labor laws, carried out in plain sight, shielded by the cloak of religion.
Scientology claimed it was a lie that they were being investigated by the FBI for human trafficking. When the summary report from the investigation was disclosed under the FOI laws, they then changed their tune and claimed it exonerated them as there was no prosecution.
Lack of prosecution of a case may have many causes, but it does not necessarily mean exoneration.
Prosecutors may have evidence beyond the statute of limitations.
They may think the facts are going to be too hard to prove beyond a reasonable doubt.
There may be political influence.
Budgetary concerns.
Lack of resources.
Fear.
Read the summary below — this is NOT an organization that has been exonerated.
And it is not an organization that changes.