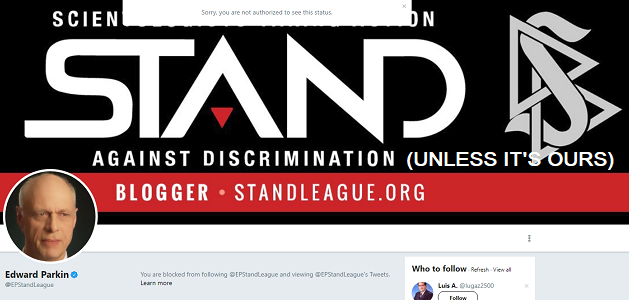 I was perusing the STAAD website as I sometimes do, and came across this which caught my attention.
The theme that scientology is fun is a tough pitch. Sounds all well and good, the old catchphrase used to be "If it's not fun it's not scientology." I am not sure if this was EVER true, but in these days of crush regging, enforced disconnection and endless re-do's of every level of the Bridge, I doubt there are many people, even the hardcore, who would describe scientology as "fun."
But it's an appealing concept and makes scientology sound like a good thing.
And then I read the body of this piece.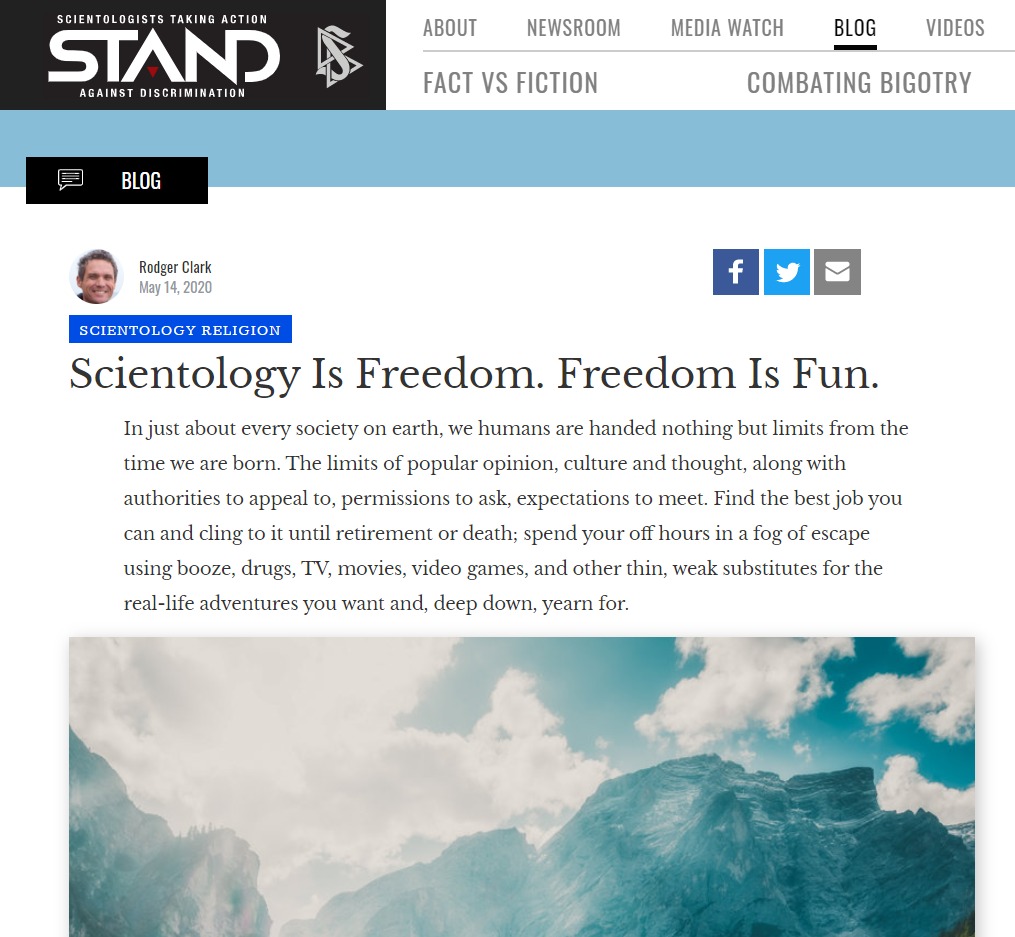 Right off the bat, he sets the stage for his premise:
In just about every society on earth, we humans are handed nothing but limits from the time we are born. The limits of popular opinion, culture and thought, along with authorities to appeal to, permissions to ask, expectations to meet.
What a terrible way to go through life — limitations on our opinions, culture and thought. But this is the world of scientology. Just try expressing the opinion that David Miscavige is not perfect. Or verbalizing a thought that perhaps Ron was wrong about insisting that people consume massive amounts of niacin. Or that smoking cures lung cancer…
And as for authorities to appeal to, permissions to ask,expectations to meet — this IS scientology at its essence. You are always expected to be giving money. To be on auditing or on course. Try getting OFF a course without permission from the "authorities." It is part and parcel of everyday life in scientology that you must get permission to act, think or speak.
He then doubles down on this theme:
When beginning to study L. Ron Hubbard's brilliant works, we discover that we can in fact, do whatever we want—live the life we want, or as many different lives as we want. With the tools we study, there are no barriers and no limits. We have the keys. The door is wide open. We are free to live our best lives.
He, of course, omits one VERY significant factor. You can do whatever you want, live the life or lives you want, AS LONG AS THEY COMPORT WITH WHAT HUBBARD DEMANDS OR SAYS IS ACCEPTABLE.
He then goes on to offer the explanation of how Hubbard was so brilliant. It's simple: He never asked for "permission" from anyone.
To me, L. Ron Hubbard was the ultimate rebel (my kind of guy). He never sought approval or asked "permission" from anyone. Anyone. A highly successful writer, engineer, researcher, philosopher, explorer, navigator and expert in many other fields, the man not only did as he pleased but succeeded at whatever he did.
This excuses his completely wrongheaded conclusions — his theories about radiation for example. He didn't need "permission" from people who are expert in the field — in the mind of scientologists this means he didn't need their "approval" because he was already the ultimate expert. An "engineer" and "researcher" which of course means that everything he "discovered" was based on sound research and engineering. Including the fact that drug residues are lodged in fat tissue and expelled through sweat. Or the Piltdown Man will be found on everyone's time track. Or Dianetics will cure the crippled and restore the sight of the blind. It's amazing how scientologists buy into the idea that Hubbard knew everything and was the world's greatest expert.
And then, at the end, because this is the STAND league after all, he offers this view of "rabid critics" (like me?):
You'll find that the rabid critics of Scientology have the common trait of resenting freedom. They have nearly all suffered a devastating loss in their past—a great failure of some sort, having to do with being who they wanted to be. They come to resent the idea that anyone would dare break out of "the box" and do as they pleased. But their criticism is really the last spark of hope that their dreams could become real, that they could live their lives as they would choose to. They become the obstacles they have failed to overcome. Yet underneath all of their "ranting," they are really, deep down, begging for someone to prove that it's true.
That they can be free.
This is a confusing bunch of gibberish,  bit the gist of it is probably best described as projection.
I can assure you Rodger, I have never felt as much freedom as I did once I walked out the door of scientology. Maybe you should give it a shot, and break out of the "box" (I call it a bubble) and be able to do as you please. Rather than having to write brown-nosing drivel to try to prove you are eligible to get onto the "OT levels" or should be allowed to be upgraded from your lower ethics condition.
At the very end of the article you include this description of yourself:

If you really were in "recovery from authoritarian education" you would be on your way out the door. There is no more authoritarian education than scientology. But Hubbard said "I'm not authoritarian" and you have been hypnotized to accept that sort of statement as fact and believe it wholeheartedly, even when the lie of it slaps you repeatedly in the face.