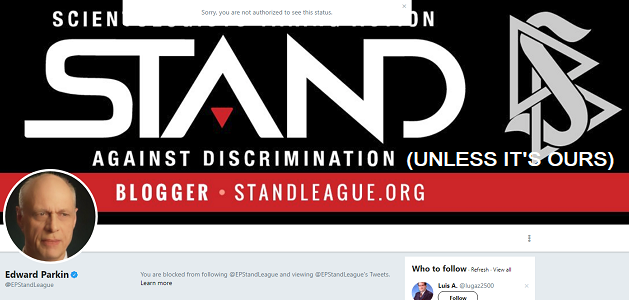 STAAD puppet Rodger Clark has produced a "sequel" to his earlier effort claiming scientology is "fun."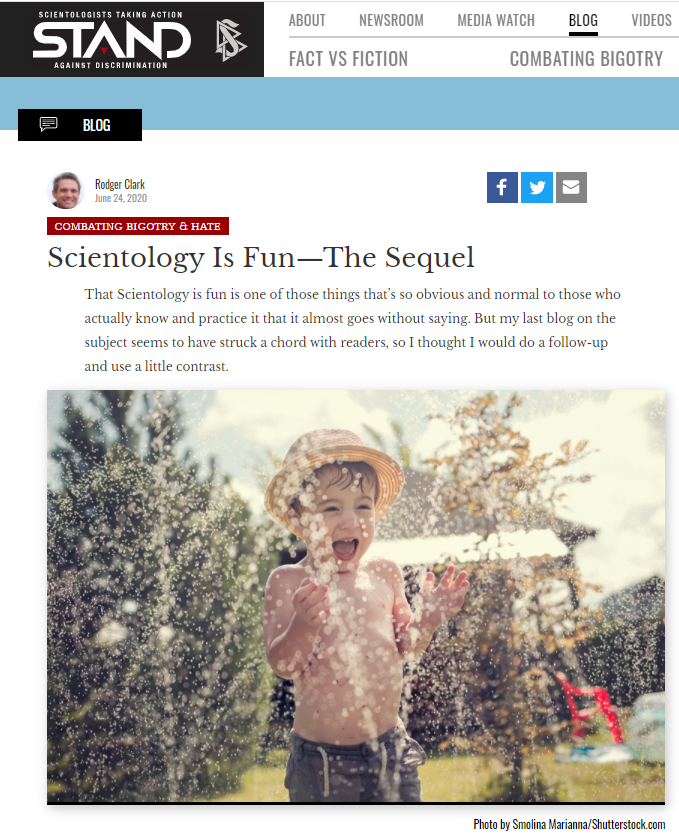 He claims his earlier piece "struck a chord" with readers…
Apparently the reader(s) is me. Just me.
I had responded to his "Scientology is Freedom, Freedom is Fun," with my take on his assertions "Scientology is a Happy Place."
It seems Rodger was not too happy about what I had to say, as he quickly launches into a smear of me. Not much "fun" or "happiness" on display from Rodger, just a whole lot of name-calling.
He gets underway with this (after his happy stock photo you see above)…
Exhibit A: Mike Rinder. For anyone unfamiliar with "Sleepy Mike" Rinder, he's the guy who plays Leah Remini's version of Igor the faithful assistant in A&E's show where Remini plays the modern version of "Scarlett the Southern Belle" with her small clan of rebels talking about how mean the Yankees are for freeing the slaves ("Why, Yankees are not gentlemen!").
"Sleepy Mike" earned his moniker when, as a Church of Scientology staff member, he had perfected a system of getting his underlings to do all of his work while he took naps, then took the credit.
A bunch of name-calling in his first paragraph. I wonder if he thinks this is clever and "topical" because Trump calls Biden "Sleepy Joe"? But put aside the names, isn't it amazing that anyone in the super sophisticated, state-of-the-art administrative system developed by L. Ron Hubbard could get away with this scam for 30 years… None of the smartest people in the world, who had all the incredible tech of L. Ron Hubbard at their fingertips, ever noticed?
Anyway, Sleepy Mike's system was so good that he worked his way up the ladder until his incompetence became so glaring, and annoying to coworkers that he, umm, "felt it was time to leave" ("Buh-bye now!"). Now he makes a living by using his special talent and getting other people to grouse about the people he harmed. A classic Shakespearean scenario.
Funny about that. Apparently my "incompetence" was so glaring that I was sent to London as scientology's International Spokesperson to forewarn and protect John Travolta and deal with the BBC. And I escaped from there. Nobody was complaining about me being "annoying" to my co-workers. David Miscavige was personally directing my every move every day.
In truth, Rinder and Remini have been there. They know Scientology works.
Interesting that this is the best they can do. I remember Miscavige commenting about people who had blown the Sea Org, "They are desperate to come back" and "jealous that they are no longer part of our team." Hahahaha. It's the only thing they can say that makes them right. It's not possible for anyone to conclude that scientology is a fraud or that conditions in the Sea Org are beyond abysmal. Being in denial is an important element of the scientology mindset.
The funny thing about critics like Sleepy Mike is they attempt to issue the proclamation that I'm not having fun at all as a Scientologist, when I could have sworn I was enjoying myself thoroughly! Damn… I have a great family I love, vacations, hobbies, goals to pursue, a religion I can enjoy—the whole nine yards. But according to people like Sleepy Mike I'm really quite miserable.
And according to Sleepy Mike you have obviously never been in the Sea Org, and definitely nowhere near the top of the Sea Org. Family life? Hobbies? Vacations? Those are NOT things that are in the life of Sea Org members. Working 18 hours a day, 7 days a week, sleep deprivation, food deprivation, physical and mental abuse — those are the elements of life at the "top" of the scientology food chain. Rodger, like other apologists can ignore this by saying "I have not witnessed that." But then also claim they HAVE "witnessed" the wins of others in scientology, when in fact all they have done is heard what they have to say. But when someone says they were abused "that's not my experience." It's a double standard they cannot acknowledge.
Rodger even pulls out the old line:
Mike Rinder, a former Scientologist expelled from the Church for grossly unethical conduct.
But he doesn't know me and he has never bothered to find out anything about me. He just takes the party line he is told and repeats it. Over and over. I escaped. I was not "expelled." They "expelled" me for talking about David Miscavige physically and mentally abusing people. As long as I didn't do that, they were perfectly content for me to remain the international spokesperson of scientology and sit on the Board of Directors of Church of Scientology International. Never heard that Rodger?
In truth, Rinder and Remini have been there. They know Scientology works. It improves people—their vivacity, happiness and well being. They've seen it for themselves. 
"In truth"?
Evidently Sleepy Mike's alternative to Scientology is to spend one's life being a self-righteous cynic, pointing a finger at everything "wrong" which one could possibly pretend to find anywhere. Of course all that will accomplish is to lose one's mind and, along the way, become an insufferable bore.
There is not one critic that ever lived who has created any happiness, let alone fun.
Well, according Rodger, I have never created any happiness or fun? And he knows this how?
I wonder if he has ever watched Leah Remini in King of Queens, one of the most beloved sitcoms of all time? No happiness or fun there either?
L. Ron Hubbard in his technical bulletin "Psychosis, More About," revealed the key to why individuals and societies get suckered into losing their minds, and as a consequence, have no fun at all. They get sold on the idea that finding and stopping everything "wrong" will make everything right. But what actually happens is that they keep finding more things wrong until (in their mind) everything is wrong.
This is what real students of the mind would call projection. If ever you wanted to find someone who finds everything wrong — look no further than a scientologist and their mentor L. Ron Hubbard. The entire "wog world" is wrong. Education is wrong. The government is wrong. Psychiatry. Medical doctors. Psychologists. Bankers. Physicists. Interpol. Biologists. Astronomers.  Colleges. FBI. Judges. Courts. The media (chaos merchants). SP's. I could go on and on. Everything that is not scientology is wrong and needs to be made "right" with some scientology "tech."
So, keep it up, Sleepy Mike and Co. You'll find yourself speeding down the Prozac highway, straight to the loony bin where you can spend the rest of your life getting your brain zapped, drooling down your shirtfront and wearing diapers to bed.
Happy Rodger wraps up his "fun" piece with an image he hopes will come true. This is a perfect example of what "good scientologists" are taught to think. As an SP, this is what I deserve and it will be my inevitable fate. Maybe they can help it along and put together some programs to get me incarcerated in a mental institution — just the like they did with Paulette Cooper? In their minds, this is righteous and perfectly justified. So justified, they even say it out loud. Yet if you confronted Rodger Clark on "Op Freakout" which was designed to do just that to Paulette Cooper (listen to our podcast earlier this week), he would at first say "I don't know what you are talking about" and then, if shown it, "that was done by a rogue element of scientology and they were expelled for malfeasance." And he would deny that this sort of thing would ever even cross the mind of a "good scientologist." While he wrote exactly that.
L. Ron Hubbard was quite succinct in stating "we are interested in a science which returns motion and action to existence." Well, grousing, debating, complaining, faultfinding are not only not fun, they aren't living.
And his final thought is this bizarre quote from Hubbard. It is meaningless. But he tacks on his own thought, which is a perfect description of what he has just done. If the positive, fun activities of scientology are all that matter, what the hell is he doing spending time to write and publish this drivel about someone he knows is going to end up drooling down my shirtfront, wearing diapers to bed?