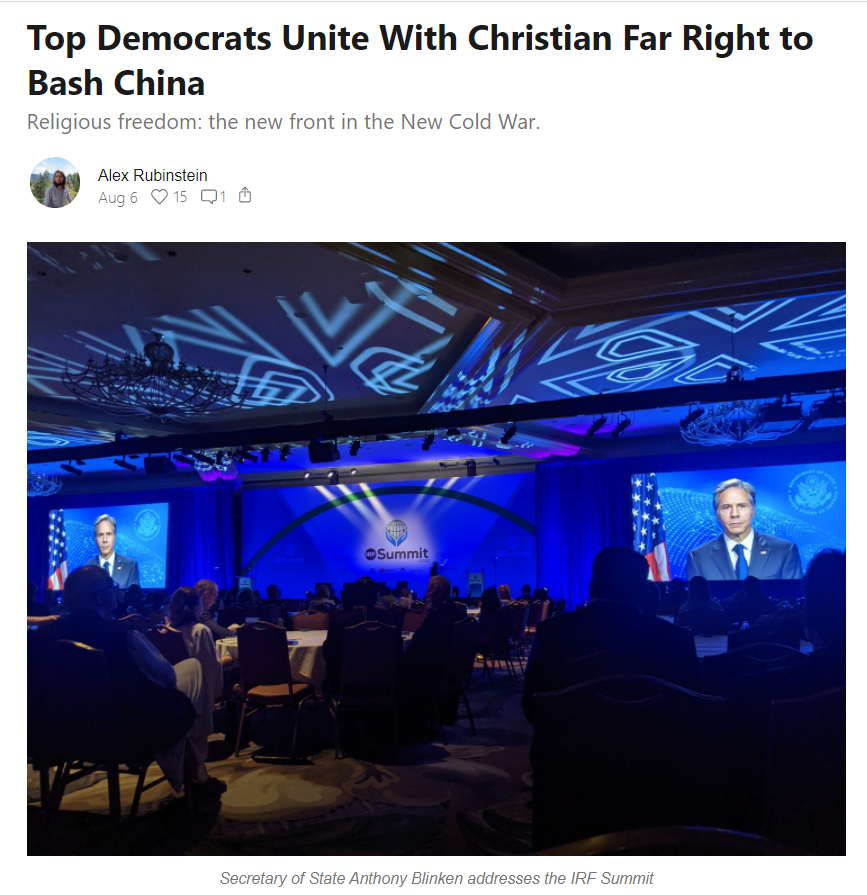 Our friend ISNOINews provided another interesting article that I felt was more important than being left as a comment on a disrelated topic.
This is a lengthy article by Alex Rubinstein on a recent event held in Washington DC that scientology participated in. Alex has some fairly extensive mentions of scientology in the article, which I have excerpted below. The entire article can be found at the link above.
          Using a friend's company on my application and adopting a fake persona, I attended a three-day summit on religious freedom where                      leading figures in the Democratic Party including Nancy Pelosi, USAID Director Samantha Power and Secretary of State Anthony Blinken            joined up with anti-gay Evangelicals, a slew of shady NGOs and multiple bonafide cults to ratchet up pressure against China.
…
An enormous number of US government representatives — as well as foreign government representatives — were involved in the event including Nadine Maenza, Commissioner at United States Commission on International Religious Freedom, Senators James Lankford, Chris Coons, Tom Cotton, Josh Hawley, Director of the Office of International Religious Freedom Dan Nadel, Representatives Henry Cuellar, Chris Smith, Ro Khanna, Jim McGovern, Jennifer Wexton, Michael McCaul, former Congressman Frank Wolf, House Speaker Nancy Pelosi, David Saperstein, Former Ambassador-at-Large for International Religious Freedom, US Commission on International Religious Freedom Commissioners Nury Turkel and Anurima Bhargava, USAID Director Samantha Power, Rita Stephan, USAID Regional Coordinator for Religious & Ethnic Minorities, Adam Phillips, Director for Center for Faith-Based and Neighborhood Partnerships USAID, Melissa Rogers, executive director of the White House Office of Faith-Based and Neighborhood Partnerships, Pam Pryor, former Senior Bureau Official for International Organization Affairs at the State Department, former Secretary of States Mike Pompeo, current Secretary of State Anthony Blinken and potentially more.
…
Among the exhibitor partners is the Campaign for Uyghurs and the Church of Scientology National Affairs Office.
The Church of Scientology has in the past formed a strategic alliance with the Christian far right under the belief that the ostensible fight for religious freedom could ultimately benefit their operations; the IRF Summit being the latest example. In country-specific reports from the US State Department, alleged discrimination against Scientologists is frequently cited. As Scientology is banned in countries like Russia and China, it has found common cause with its one-time enemy, the United States government.
Scientology was founded by science fiction writer L. Ron Hubbard and teaches to longtime adherents who have paid $3,000 for access to "esoteric" knowledge that humans are bonded to alien spirits called "Thetans" which were originally sent to Earth by an alien dictator named Xenu in order to deal with an overpopulation crisis. He then gathered them around volcanoes and killed them with hydrogen bombs. These "Thetans" are said to be the cause of human suffering and Scientologists are encouraged to "remember" the experiences of their Thetans during interrogations.
The book The Road to Xenu by a former adherent of the cult quotes L. Ron Hubbard's handwritten notes: "The head of the Galactic Federation (76 planets around larger stars visible from here) (founded 95,000,000 years ago, very space opera) solved overpopulation (250 billion or so per planet, 178 billion on average) by mass implanting. He caused people to be brought to Teegeeack (Earth) and put an H-bomb on the principal volcanos (Incident II)."
To gain access to these writings, even longtime cult members are forced to undergo interrogation in an "ethics clearance" which employs the infamous electronic "E-meters" that measure electrodermal activity and are used for "spiritual purposes" by Scientologists. During the ethics clearance, those seeking access to the supposedly esoteric teachings of L. Ron Hubbard are asked questions ranging from "Have you ever had anything to do with Communism or been a Communist?'" to whether they have ever enslaved a population or committed genocide.
Former members of this cult have accused it of everything from forced abortion, brainwashing, human trafficking, child sexual abuse, mysterious deaths and disappearances and physical abuse.
In an attempt to give Scientologists free reign in defense of the cult, L. Ron Hubbard implemented the "fair game" policy, allowing enemies to be "deprived of property or injured by any means by any Scientologist without any discipline of the Scientologist."
Journalist and author of the book "The Bare Faced Messiah: The True Story of L. Ron Hubbard," Russell Miller, was trailed by Scientologists while writing his book, had his home placed under surveillance, his phone tapped and his mail intercepted.
Aided by Freedom of Information Act Requests and leaked documents from former cult members, Miller unveiled an unflattering portrait of the organization's founder.
In an effort to evade authorities and set up a safe haven for his cult, L. Ron Hubbard unsuccessfully attempted to flee to Rhodesia, apartheid era Zimbabwe. He also believed he was British imperialist and mining magnate Cecil Rhodes (from whom Rhodesia took its name) in a previous life. But Rhodesian authorities refused to renew Hubbard's visa. Eventually, Hubbard purchased a fleet of ships and took to the seas, where his inner circle consisted of "messengers."
These messengers were "little nymphets in hot pants and halter tops who ran errands for him and competed with each other to find ways of pleasing him. Eventually they helped him dress and undress, performed little domestic tasks like washing his hair and smearing rejuvenating cream on his fleshy features, and even followed him around with an ashtray to catch the falling ash from his cigarettes," according to Miller's biography. Those who got on Hubbard's wrong side were confined in darkness in the chain locker and delivered food in a bucket. Hubbard ordered one man who dropped a bow-line to be thrown overboard.
At the Church of Scientology National Affairs Office booth inside the Ambassador's Ballroom at the IRF Summit, I picked up a large amount of literature, most of which was branded under Youth for Human Rights, a front for the Church of Scientology. Another human rights front for the cult is called United For Human Rights, which owns the HumanRights.com domain name.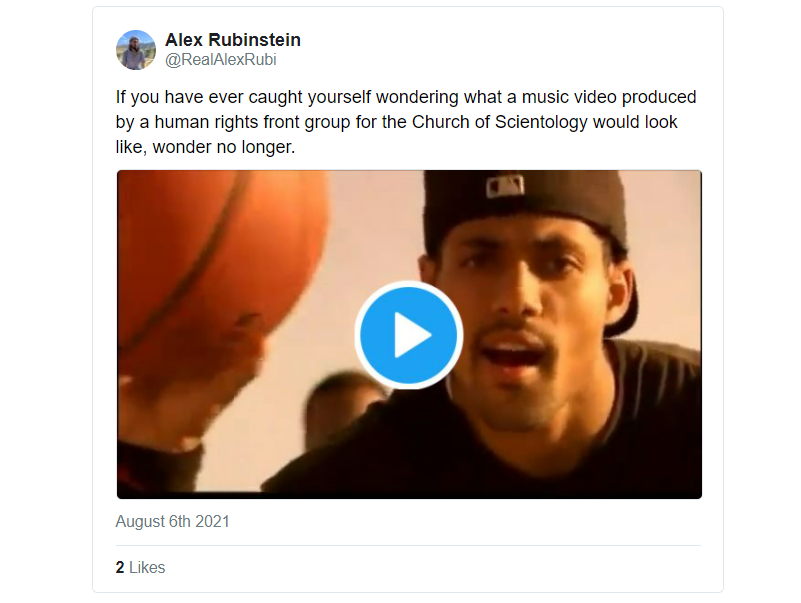 One booklet I obtained branded under Youth for Human Rights claims that the organization is "active in 197 countries & territories" and that 50,000 schools, institutions and groups use their education program. In a DVD I obtained from the booth it claims "at the UN's Human Rights headquarters in Geneva the voices of tomorrow's leaders are given a form at the International Youth for Human Rights Summit. Young delegates from 42 nations speak out for human rights."
The DVD shows footage of the United Nations with a United for Human Rights banner prominently displayed overhead. The narrator claims that "Linking with every like-minded humanitarian organization plus every minority organization, Youth for Human Rights became an official voice of the Danish Human Rights Council."
"Then there is Guatemala," the narrator continues, "where the United for Human Rights curriculum rolled out to some 22,000 Guatemalan soldiers from the National Naval Academy to the Security Army Brigade and the Ministry of Defense and Guatemalan Army Command, all culminating in a permanent partnership to implement United for Human Rights on behalf of more than 1.5 million people."
The DVD then shows footage of Youth for Human Rights' public service announcements playing "on Argentinian trains, at Cape Town International Airport, an Athens soccer coach convention, St. Petersburg shopping center."
This is the first part of an investigation into the IRF Summit. In the next article I will reveal more cults sponsoring the IRF Summit which given de-facto endorsement by high level leaders of the Democratic Party. The following piece will also discuss the various "breakout session" attacking China and expose the shady characters hosting them.
Did you enjoy reading this article? I value the free exchange of information, so I don't put anything behind a paywall. Consider kicking me a few bucks on PayPal to support my independent reporting or becoming a patron.
A note to media outlets: You are free to re-publish my writing in-full with the following text at the bottom:
Alex Rubinstein is an independent reporter on Substack. You can subscribe to get free articles from him delivered to your inbox here, and if you want to support his journalism, which is never put behind a paywall, you can give a one-time donation to him through PayPal here or sustain his reporting through Patreon here.
Scientology is willing to jump into bed with anyone on any cause if their presence allows them to hobnob or associate with people who have real credibility.
They absolutely do NOT believe in anything the Christian far right stands for (except perhaps their anti-gay stance). They also have a general antipathy towards Democratic politics (as Democrats support healthcare which includes funding mental health and welfare programs that "reward downstats" and larger government and higher taxes). But if they can get photos of themselves standing with leaders of any stripe or have their name associated with any organization that has more legitimacy than them (which is virtually anyone other than identified terrorist groups) they will do so every chance they get.
This is "Safe Pointing" and it is why the "National Affairs Office" exists.
I walked past the National Affairs Office in DC yesterday. It's deader than a doornail.