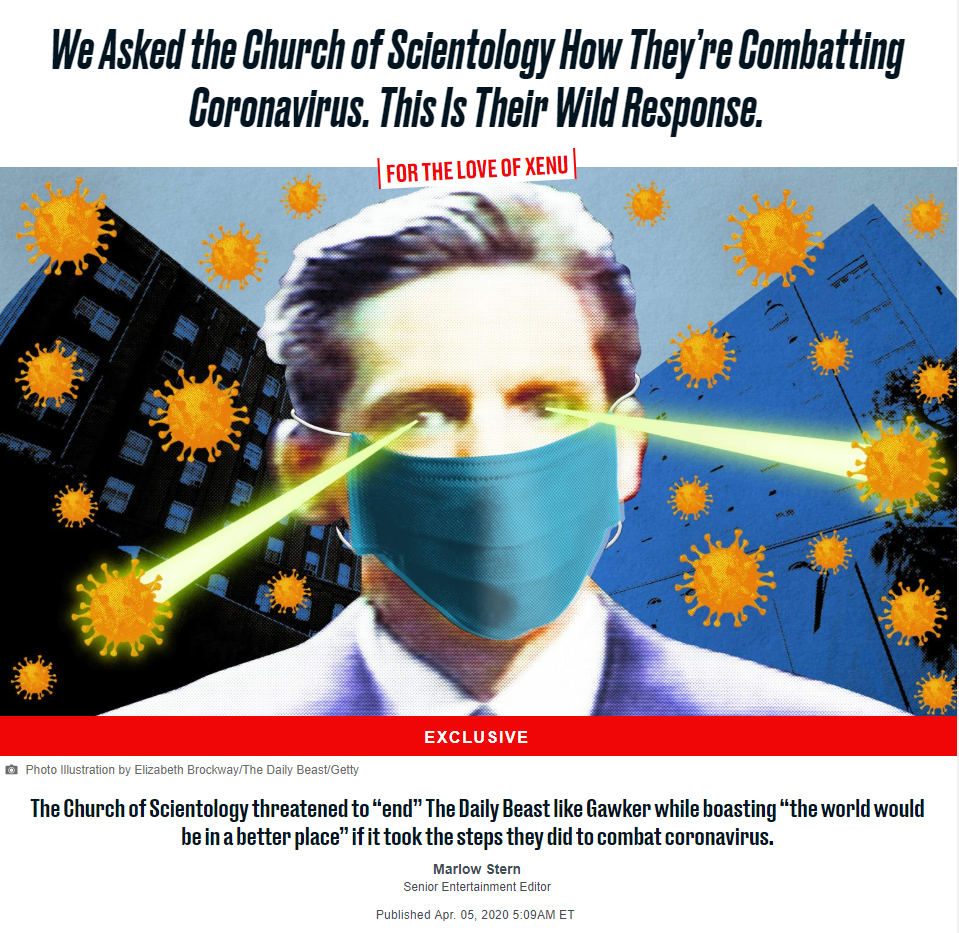 Marlow Stern has written quite a number of stories relating to scientology. They have often questioned scientology's practices and have failed to regurgitate the scientology propaganda they try to feed the media. That makes him an "enemy."  And what does Hubbard say about enemies? You threaten what they seek to protect and cost them their jobs. See this post for the exact words from Hubbard:  Dealing with Critics of Scientology: The L. Ron Hubbard Playbook
What never ceases to amaze me is how proudly scientology comes right out with the very worst of themselves, proving time and time again what a toxic, deluded and unlikable organization it is.
So, here, once again are scientology footbullets writ large. In fact, their threats and chest pounding became the bigger story than the story itself. Marlow's latest piece lays bare the absurd threats his inquiries about scientology's responses to COVID-19 brought forth.
He covered the Mach 30 story by Tracey McManus in the Tampa Bay Times, where she accurately reported Sea Org members were "still packing buses as they moved from living quarters to church buildings" and "sitting shoulder to shoulder."  Remember, this article appeared the day after the video was posted on my blog showing dozens of Sea Org members unloading from a bus in front of the SP Building in Clearwater. They were packed in like sardines.
Note well the DATE of that video.
Note well the quoted passage concerned SEA ORG MEMBERS.
Note well the fact that no mention has been made anywhere about SEA ORG MEMBER BERTHING. Or that Sea Org members are complying with social distancing requirements at all.
Somehow, Marlow managed to get a response from spokespuppet Karin Pouw.  Clearly the letter was NOT written by her, but that is nothing new. Miscavige has dictated letters to the media for years and had them sent out in others' name — quite a number in my name in years gone by.
Because of how outrageous the response was, the Daily Beast published it in full, but without a lot of comment.
Here are some of the key points in her letter:

Well, the "entire" story has NOT been "debunked" — the video is proof that the "most stringent preventive measures for the safety of all" had NOT been implemented at the "onset of the outbreak" or even with the IGNWB 88 on 13 March (far from the "onset of the outbreak").  In fact, Sea Org members seemed to have been entirely excluded from the "safety measures" yet they are the most vulnerable population in the scientology bubble. They live, eat, work and travel together.  Like sardines. As the video showed. That was 2 weeks after Miscavige's missive.
And this post from 21 March showed the Valley Org, right under Miscavige's nose, encouraging people to come in to take courses. That was 8 days later.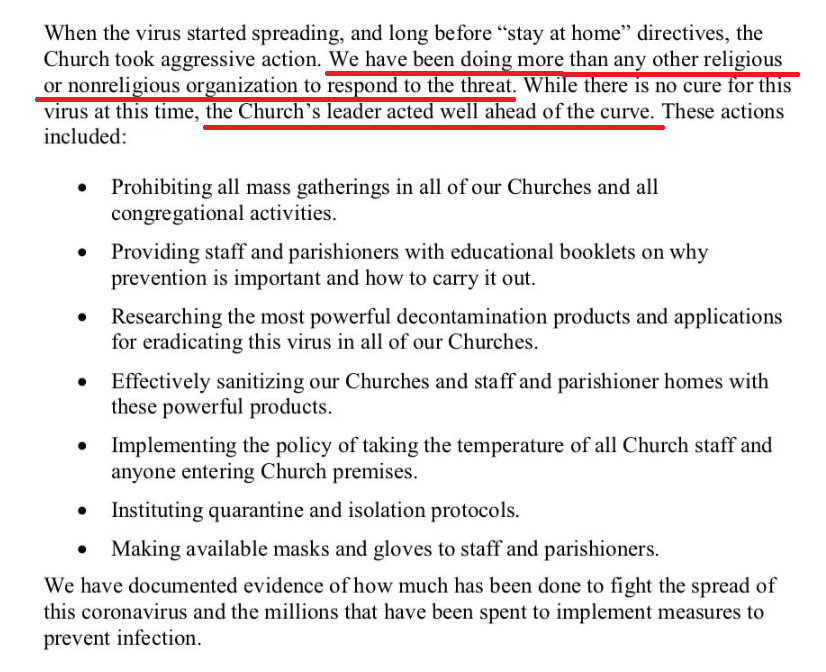 "We have done more than any other organization to respond to the threat"… obviously an absurd claim on the same order as "we are the largest private relief organization on earth" and "we have the only effective drug rehabilitation program."
And if Miscavige finally canceling the event scheduled for March 13 on March 12th and issuing an announcement about the "planetary bullbait" is "ahead of the curve" then he must be measuring his actions against the idiotic Governor of Florida.  In fact, Miscavige has NOT issued a "stay at home" order to scientologists, as of today they are still proudly announcing they are going door to door to "disinfect" and people are still posting on Facebook that they are "completing courses in the Advanced Org."

As above, the story from the Times is NOT false. And in fact, they do not even address the key question. What about the video of the Sea Org members?
"Our good name"? surely you jest…
The letter then goes on to tell The Daily Beast what they should print: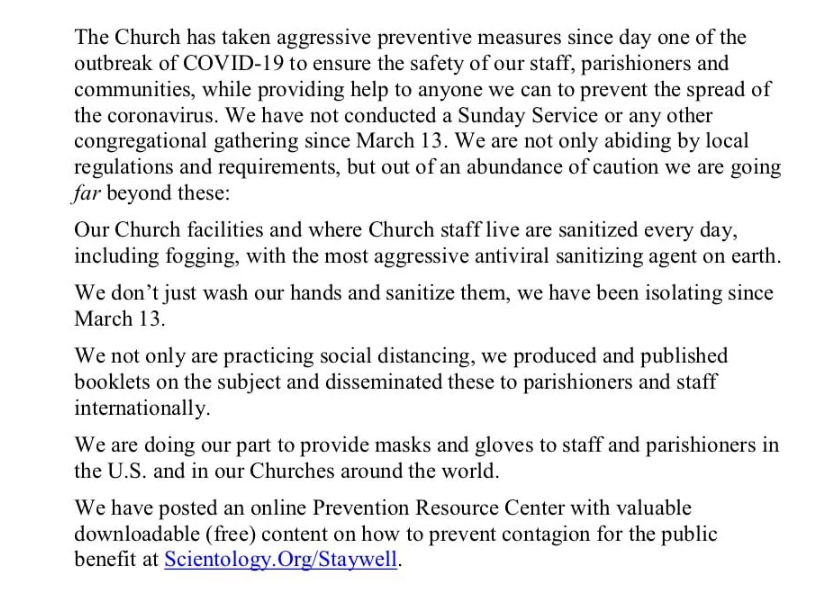 Nothing like a bit of arrogance to make the cheese more binding.

Marlow then recounts that he received two legal letters. Here is part of one of them — the typical empty threat "Told by an idiot, full of sound and fury, Signifying nothing." 
How do we know it is empty? I have folders full of similar letters sent weekly to The Aftermath that were equally as over-the-top and equally as ridiculous. They bluster about the "proof" they have, yet the proof of what was said is right in the video, the promotional pieces, the Facebook posts and the writings of L. Ron Hubbard. One would think these lawyers would learn they are damaging whatever reputations they have by agreeing to send foolish letters simply because scientology pays them well. This is the sort of thing that gives lawyers a bad name…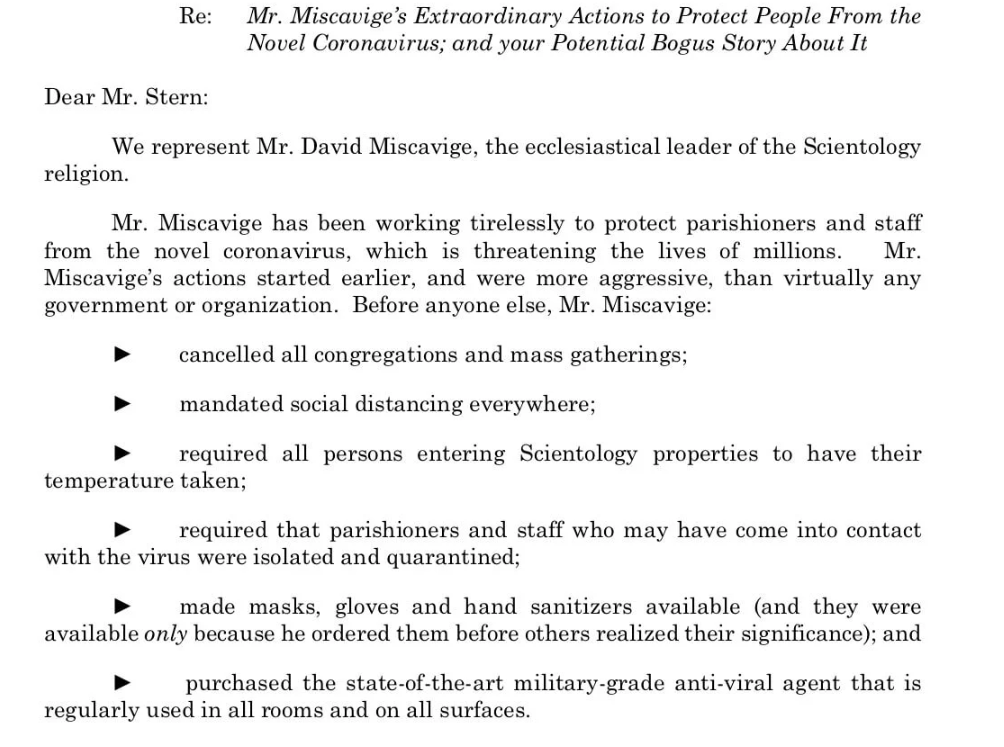 Interesting that Mr. Miscavige, who is absolutely NOT involved in the day-to-day activities of scientology (just read the legal briefs his lawyers routinely file when seeking to prevent his deposition or inclusion in lawsuits) is suddenly making gloves and masks available , overseeing the isolation of individuals and purchasing a "military-grade" anti-viral agent? He is awfully involved for someone who is not involved.
And finally, the threat.

But, the truth is that this is all ignoring the underlying fact that scientology believes that ALL ILLNESS = PTS.  This is a hard-bound rule straight from the mouth of L. Ron Hubbard. So, all of these "precautions" are just for show. Scientologists believe the only way you can get sick is by being connected to a Suppressive Person.
I had spoke to Marlow about this and he quoted me at the end of the article. I just don't think people who are not familiar with scientology understand how significant this is.
"I just look at it and I go, all of these things are cosmetic," says Mike Rinder, a former senior executive of the Church of Scientology and Sea Org turned whistleblower, on the church's COVID-19 practices. "Scientologists believe that the only reason someone gets ill, or catches a virus, is because they're what's called 'PTS.' They're connected to a 'suppressive person.' And as long as you're not connected to a 'suppressive person' and you're not 'PTS,' you will not get sick."