More scientology sickness hiding in plain sight.
This is one of Hubbard's most important edicts on dealing with the media. It lays out scientology's policy on how to "control the press." It is the first policy in the "hat pack" of every scientology PR person.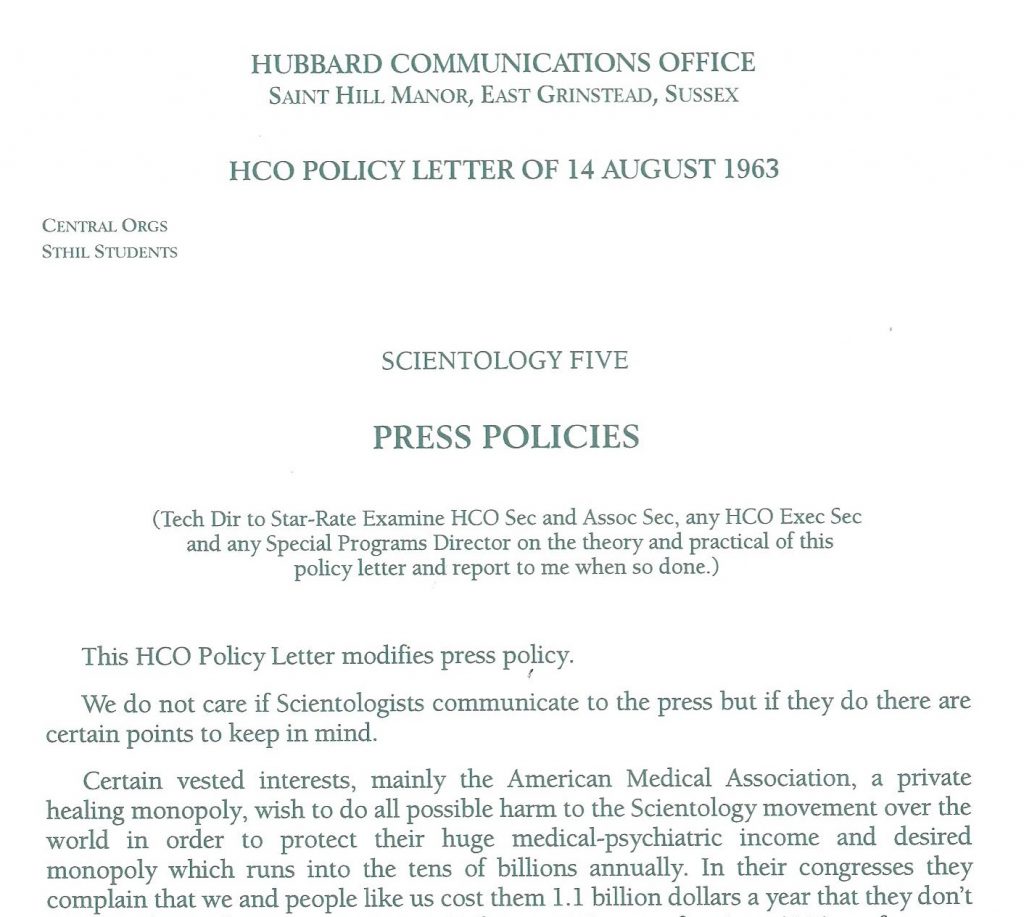 This is not "historical" or "we cancelled that" (like they claim about the Fair Game policy). They proudly stand behind this and even more proudly follow exactly what it says in their day to day actions.
If you want to read the whole thing, you can do so here: Scientology Five Press Policies
I want to focus on one page of this 5 pages of insanity, and in particular the example Hubbard uses to make a point about how to go about influencing the media.
The example he chooses to use is a teenage girl who has been "beaten and raped by teenage boys at high school."
And what does Hubbard say to do about this? Take it to the police so justice can be done? Of course not…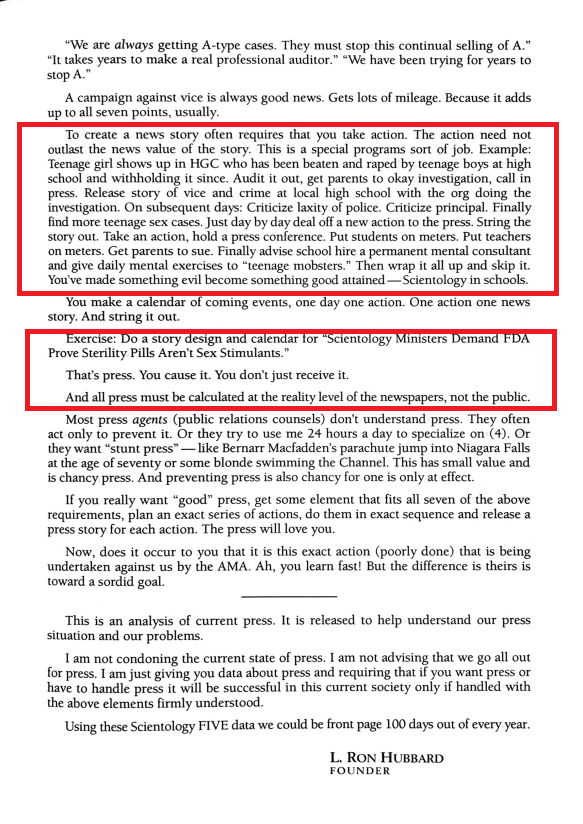 No, he would rather exploit the circumstances for the benefit of scientology. "Criticize laxity of police" (even though he says the victim had never spoken about it before). Call in the press. Get parents to sue. And on and on, with the end results of "something good attained — Scientology in schools."
The evil cynicism of this is hard to fathom.
He goes on with another example and then gives the rule to be applied about press, "You cause it. You don't just receive it."
Though these days the media is pretty immune to scientology's attempts to get good coverage, we see these scenarios now playing out on social media.
Designed campaigns that string out over time, repeating the same messages with no concern whether what is being said is true or false. They lie about how they get companies to cancel their advertising if the show has Leah involved (remember F.Gavina and Sons coffee that Stefanie Hutchison did an epic takedown on) and even made up a new one lately that her "publicist had quit because she is a hater and bigot" — it was completely untrue.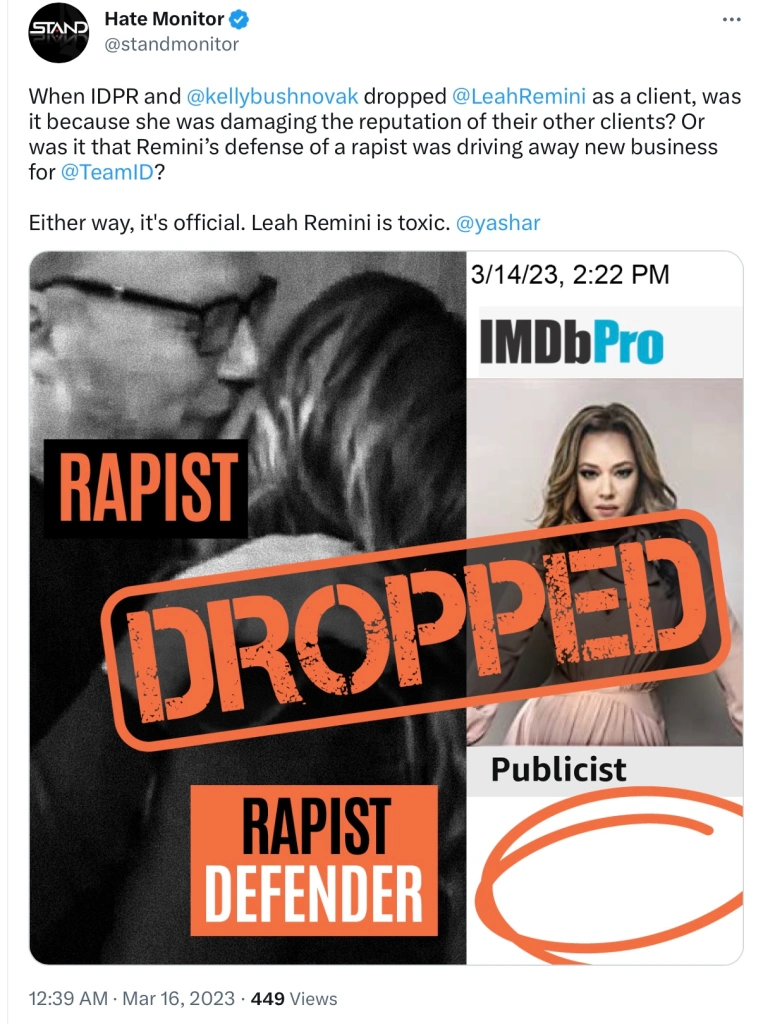 For scientology, this is normal operating procedure.
One of Hubbard's other orders is to: "Start feeding lurid, blood sex crime actual evidence on the attackers to the press." You can read this policy here: HCOPL 15 FEB 1966 ATTACKS ON SCN ADDT'L
Scientology OSA trolls have been running a daily campaign against me for years — "Mike Rinder the wife beater." It has been disproven over and over, but they continue to pump out the lurid stories, including manufactured blood and violence.
They have accused Leah and me of "inciting a murder" though that too is completely false.
Their latest disgusting angle is targeting Leah (and to a lesser extent me) as an "Eternal Rapist Defender" and shoops with "I heart rapists" shirts. Right out of the scientology Press Policies reference above that says to FOCUS ON SEX.
This is because Leah and I were asked to testify in Paul Haggis' trial.
Let me make a few things clear about this.
I told the truth, unfortunately I was unable to tell the whole truth due to rulings of the court about what could be talked about. For example, I was NOT allowed to say that Paul Haggis had gone to the District Attorney when Haleigh Breest first sent her $9 million demand. She NEVER went to any law enforcement agency but instead hired a lawyer to do a shakedown. This was a civil case trying to get money, not a criminal case.
What I was able to testify to was my interactions with Paul over the years and some of my experiences with how scientology has framed people who were deemed their enemies. I stand by my testimony that Paul has always been a kind, polite gentleman. And I believe he was set up. Another factor in this equation that increases the likelihood of scientology involvement: Bryan Seymour's 10 part expose of this case and the machinations behind it was prevented from ever airing — that was NOT the doing of Haleigh Breest. That was the direct result of scientology pressure.
I also say: remember Paulette Cooper. She was being prosecuted in Federal Court for crimes she had been set-up by scientology. She would likely have ended up in prison but for one thing. The FBI raided scientology and the documents were uncovered that proved she had been framed.
Unfortunately, there has been no FBI raid of scientology since 1977, otherwise I believe evidence of their involvement in achieving their goal of Paul Haggis as a "dismissed attacker" would have changed the outcome of this case.
But there is another point to be made here. What scientology accuses people of is often a projection of precisely what they do.
There is a long history of scientology covering up sexual assault when it might reflect negatively on them. From the nursery in Los Angles to Tony Strawn, the SO member in Florida, there are numerous examples. Let's not forget Alexander Jentzsch and even Amy Scobee.
So, while the hypocrites in the "STAND League" like to spread hate, bigotry and propaganda, let's stop to think for a minute about what is going on in what IS a criminal case of one of scientology's most prominent members. Scientology has not only NOT distanced itself from Danny Masterson — they have actively supported his defense.
Another thing to consider. Scientology has the detailed records and the witnesses to every incident that is the subject of Masterson's prosecution. Reports in auditing folders. Reports in the ethics folders. Reports from the Chaplain. The people that spoke to the victims and to Masterson. You can be sure that if there was evidence in these files that would exonerate Masterson, they would have made them available to preclude the prosecution from happening. The ONLY time scientology withholds such information is when they believe the information would be detrimental to them. Laura Dieckman's case is the perfect example. She asked scientology to hand over her auditing files as she knew that the records were in those files to support the claims in her lawsuit. Scientology fought it all the way to US Supreme Court and eventually lost. They then settled the case. But when they can use information from auditing or ethics files to harm or smear those who are their enemies, they have absolutely no problem doing so.
This is the world of scientology, following the policies of L. Ron Hubbard. It will not change until they are FORCED to change.
It's time for law enforcement to take action.
See my new YouTube video on this today at SPTV.