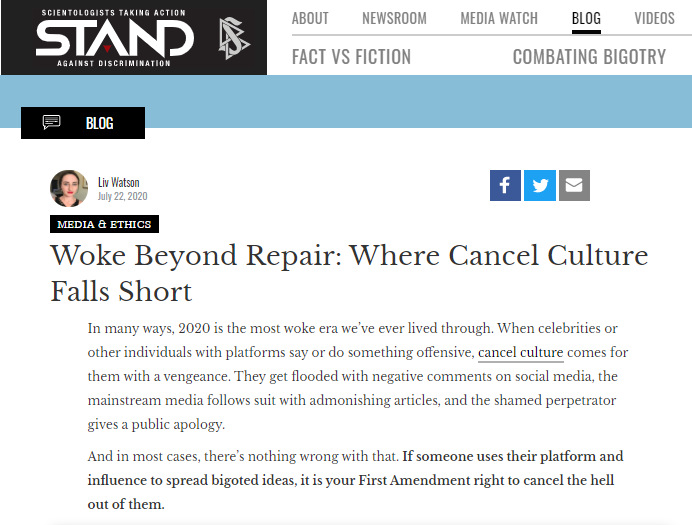 OK, so a little more from our friends at the STAND League.
The "Reverend" Ed Parkin has some vetted and cleared "volunteers" who write things for him and they put them on their STAND League blog. It is pretty much inevitable that every item somehow worms its way to rail against Leah Remini (and often me). No matter what piece of news or view they are expressing, somehow all roads lead to Remini and Rinder.
This is one of their latest pieces. And I comment on a few notably ironies within it. It doesn't matter who Liv Watson is. All OSA flunkies are the same. They might sometimes write something, but it is thoroughly vetted. Almost certainly the majority of what appears on the "blog" is actually written by someone in OSA Int and a name is simply attached to it so it seems not to be coming from the same source. They want it to appear there are many of them and they are all independently participating and contributing. Nothing could be further from the truth.
Here is what "Liv Watson" has to say, with my thoughts interspersed.
In many ways, 2020 is the most woke era we've ever lived through. When celebrities or other individuals with platforms say or do something offensive, cancel culture comes for them with a vengeance. They get flooded with negative comments on social media, the mainstream media follows suit with admonishing articles, and the shamed perpetrator gives a public apology.
And in most cases, there's nothing wrong with that. If someone uses their platform and influence to spread bigoted ideas, it is your First Amendment right to cancel the hell out of them.
Yes, we think Twitter should cancel the hell out of @EPStandLeague verified twitter account for spreading hate.
The media loves to cancel people. It's newsworthy stuff, and it sure generates a lot of ad revenue. But where I take issue is the blatant hypocrisy with which we cancel some bigots, but not others.
Like IAS Freedom Award winner Tony Muhammad who is a virulent anti-semite?
Religious intolerance is not culturally acceptable these days—think Islamophobia or anti-Semitism—except when it comes to Scientology. Certain newspapers and TV networks have tried to make it trendy to bash the religion.
Exactly. I could not have said it better. Anti-Semitism is NOT acceptable. Except when it comes to scientology. They support the anti-Semitism of the Nation of Islam and have never uttered a SINGLE WORD decrying the horrendous hate speech that vomits forth from them.
How many more Scientologists have to be discriminated against, harassed or even murdered before this bigotry is socially unacceptable?
Substitute Jew for Scientologist and look in the mirror. And unlike scientology, Jews HAVE been murdered by anti-Semites or those stirred up by them. The only examples you have of murders in scientology were both committed by people who had a loved one IN the organization. While you tried to claim we were responsible, with absolutely no basis, the facts have still not been disclosed in these two cases and likely the underlying cause of these terrible acts of mayhem are found in what was done by scientology trying to ruin the relationships.
Leah Remini has used anti-Scientology hate speech to stay present in the tabloid media and prop up her long-dead career. She filed false police reports, freely admitted she never vets her sources, and paid criminals (whom she describes as "her people") to be "witnesses" on her show. After the show incited hate crime and the murder of a Scientologist last year, it was finally cancelled.
So, here we are, just a few paragraphs in, and the real purpose of the article is laid bare. I bet you would love a "long-dead" career of winning Emmy awards and every other accolade possible. There has never been a "False" police report, you misunderstand what a finding of "unfounded" means on a missing person report. She never said nobody vets the sources, be sure with the hundreds of legal threat letters that emanated from scientology about every source on The Aftermath, in Going Clear, in the Truth Rundown etc etc the sources have been very thoroughly vetted and have been supported by the media who have aired their stories of abuse.
Do you really think the show was "cancelled" because you claimed it "incited hate crime and murder"? Scientology has been making the same claim for decades. Never able to back it up with facts, these threats fall on completely deaf ears. And it is a little rich coming from an organization that has a written policy to utterly destroy its enemies.
And finally, 3 seasons, Emmy nominated every season, is not a show that gets "cancelled." It ran its course, we moved on.
Even as Scientologist parishioners selflessly volunteered during the pandemic, helping to sanitize local businesses and hand out informational booklets on how to stay well, certain media outlets criticized their efforts, as if helping people was somehow scandalous.
Oh yes, the excellent "volunteer" work that only happens if a video team is present. Always got to toss some of that into the mix.
These "news" stories are thinly veiled attempts at boosting ad revenue by attempting to stir up controversy where there is none.
Well, I beg to differ. There is PLENTY of controversy. That is why there are so many news stories. When you seek to destroy people. When you abuse them. Break up families. Drive people into bankruptcy. There is plenty of interest. You sound like a child who murdered her parents and is now whining about being an orphan.
How many more Scientologists have to be discriminated against, harassed or even murdered before this bigotry is socially unacceptable?
People have a right to live their lives as Black, gay, trans, Jewish, Christian, female, old, young, or whatever—including Scientologist.
I certainly agree with your last sentence Liv. And what about NON-, EX- or FORMER Scientologists? You don't appear to believe they deserve to live the lives they choose and have the freedom to express their opinions. In your world, what they have to say is labeled as hate speech and bigotry. Your label justified them being prevented from speaking at all.
Scientology is a religion protected under the First Amendment. Its members are well-meaning, productive people. And they don't deserve hate crime, death threats, or bigotry propped up by the tabloid media.
Well, scientology is actually a business pretending to be a religion. But I do agree, nobody deserves hate crime, death threats or bigotry. But they also don't deserve to be abused by the organization either.
The media institutions that propagate this bigotry are hypocrites. They'll happily cancel someone for a racist tweet or an insensitive comment, but write anti-Scientology hate speech without a second thought. Such "journalists" need to take a long, hard look in the mirror.
Are you talking about Freedom magazine here? Or the STAND League?
You jump up and down and shout from the rooftops that you got our show canceled (you didn't but that doesn't stop you from saying it) and then write the most vicious lies about people because they are "Suppressive Persons."
People who promote bigotry don't deserve a platform. People have a right to live their lives as Black, gay, trans, Jewish, Christian, female, old, young, or whatever—including Scientologist.
Couldn't agree more Liv.
Shut down the STAND League website, Freedom Magazine and scientology's black propaganda websites. Distance yourselves from Louis Farrakhan and Tony Muhammad and decry their vile hate speech.