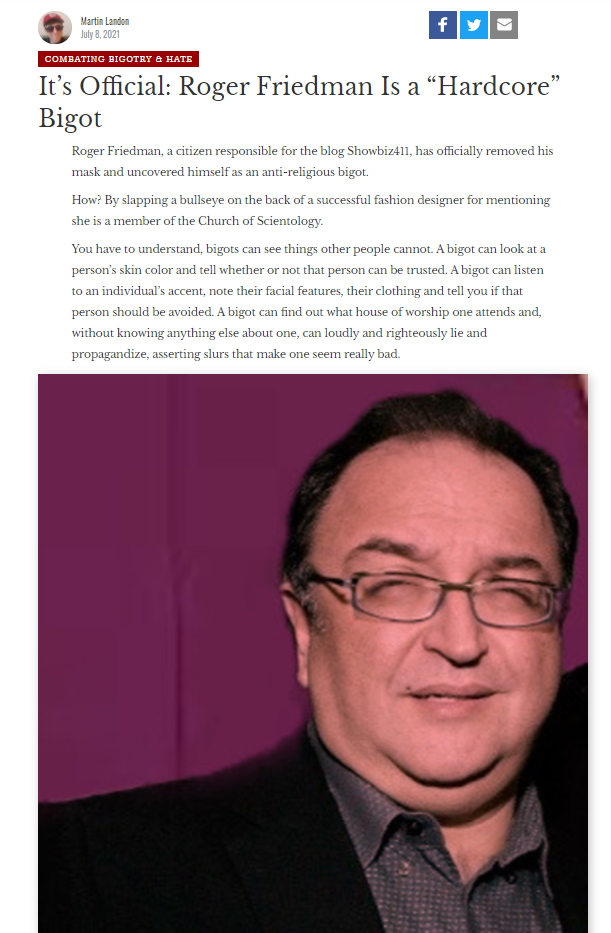 The champions of free speech lash out at another journalist who said something they didn't like.
In fact, his article takes the NY Times to task over its puff piece on Rebecca Minkoff — excerpt below:
Fashion designer Rebecca Minkoff is a member of a religious cult.
She reveals in today's New York Times that she's a practicing Scientologist. This is a smart, talented woman raised Jewish. I wouldn't buy one more thing from her if it was on sale, discounted, or free. She's crazy.
"I think there's a lot of confusion when people hear the word 'religion' — immediately you hear that I pray to L. Ron Hubbard," she tells the Times. "I study it, I take classes and that's the extent of it, and it's helped me stay centered. I don't have all the answers. When I needed someone, it was a place for me to go get some answers."
Jessica Testa wrote this piece for the Times but it doesn't bother asking Minkoff about the hard evidence against Scientology a cult that separates families, takes their money, preys on the weak, disseminates idiotic information about the after life, the current life, etc. Testa doesn't ask Minkoff if she's read "Going Clear" or seen the documentary, or seen Leah Remini's award winning TV series.
Testa, instead, give us just this:
the designer refers to what she believed to be "horrific misinformation" about the church and its belief system, which she considers "more of a self-improvement philosophy."
But her interest in self-improvement is also one reason her book exists, with assurances like: "Fear can be overcome. You have the power to take action."
So let's look at Minkoff's history. She's listed in Truth About Scientology as a member since 1991 under the name Becky Minkoff. She is hard core, folks. Here's a link to her page.
I laud him for saying what I have been saying for years. Why do journalists give scientology celebrities a pass on having to answer what they know about the abuses in scientology. These people are shilling for scientology and trying to persuade people to participate, "come on in, the water's fine…"
For this, scientology decides that Roger Friedman is an "official" (?) "bigot." Apparently joining every journalist on earth that says something that doesn't follow their party line.
What is so incredible about these scientology shills is their absolute lack of self-awareness. They are so assertively indignant they often don't realize how insane they sound. The author of this piece, our old friend Martin Landon, offers this hard-won advice:
You have to understand, bigots can see things other people cannot. A bigot can look at a person's skin color and tell whether or not that person can be trusted. A bigot can listen to an individual's accent, note their facial features, their clothing and tell you if that person should be avoided. A bigot can find out what house of worship one attends and, without knowing anything else about one, can loudly and righteously lie and propagandize, asserting slurs that make one seem really bad.
Erm, Martin. Pot. Kettle. Black.
You are the one throwing around labels. You are saying this journalist cannot be trusted. You are the people who claim that because I no longer attend you "house of worship" I should be destroyed.