As is their modus operandi, STAND goes after any journalist who dares publish anything they don't like, no matter how insignificant or tangential. They do so with a fervor that is comical, reveling in purple prose and what they consider extremely clever put-downs.
This one caught my attention. While claiming this reporter had engaged in "prosecutable libel" in her vicious and unwarranted assault, it made no mention of what the supposed libel was (and Martin, perhaps it's news to you that you cannot libel a dead person, something you should know before you spout off about it with such typical scientology condescension).  So, of course, I had to look it up. It was not hard to find with a google search of the reporter's name and L. Ron Hubbard. I wonder how many other readers of his STAND piece did the same? And by doing so, exposed themselves to the horrific information it contains.
Here is the relevant paragraph of Ms. Hyde's offending article.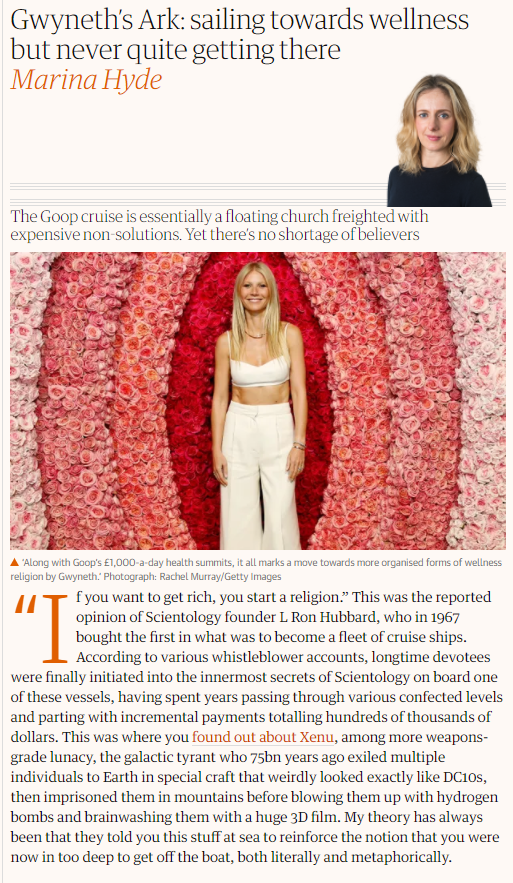 Out of that introduction to a much longer piece, STAND focused on a single statement about getting rich by starting a religion. Marina Hyde is quite correct, it is reported that Hubbard opined as such. In many places. Matin's "dead-agent" evidence, if you follow his link (he probably didn't, he just told to include it) is actually for a different statement about making a million dollars that Hubbard is also reported to have said. Never mind whether this is an accurate quote from Hubbard or not, he DID in fact start a religion (he pursued "the religion angle") and he DID in fact make hundreds of millions of dollars as a result.
Even more significantly, Martin ignores the entirety of the rest of the paragraph. Everything about the hundreds of thousands of dollars in payments to ascend the Bridge, Xenu and the 75 million year ago cataclysm that has left every human on earth a complete basket case. He could have taken issue with the fact that she mistook 75 million for 75 billion and DC8's for DC 10's, and he would have been correct. But he would also have drawn attention to the OT III story.  Not a whisper about any of this really strange stuff being untrue or "prosecutable libel" even though it is far more damaging than a single statement in quotation marks.
Of course, we all know the reason this was ignored. This is all super secret information in the world of scientology that you cannot be exposed to unless you have made your way through all the earlier levels of the Bridge (and of course made the necessary payments) to reach the exalted level of OT III. Scientologists at OT III DO believe this. As South Park so aptly put it:  "What Scientologists Actually Believe."
It's a problem for the drones at the STAND League. They cannot address anything that relates to the OT levels.
So Martin waffled on about some other story Ms. Hyde wrote in 2008 about Elton John.  In order to somehow prove what she said about Hubbard and scientology must be untrue.
It is a tactic scientology uses often. If they can somehow "prove" any statement from the person ever is questionable or untrue, they are instantly dismissed as an "untrustworthy source." Everyone is held to that standard except scientologists and most especially L. Ron Hubbard. Stack Hubbard's lies about himself and scientology end to end and they would reach all the way to the implant stations on Mars. Yet scientologists accept every word he ever uttered as absolute truth.
In trying to take down Marina Hyde, Martin Landon has not only made a fool of himself, but has brought attention to a single paragraph that no scientologist would have ever known existed. It's now preserved forever to remind anyone who stumbles across it just how bizarre the world of scientology is.