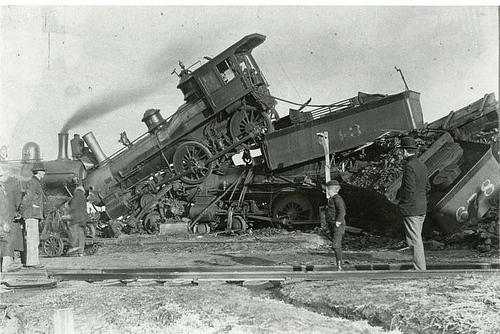 We have already reported about the downgrade of the IAS Event – see The IAS Event Is Already A Bomb from 8 October.
It is one thing to downgrade the 30th Anniversary of the IAS celebration to the parking lot on LRH Way, but its a total train wreck when the Flag event is suffering a similar, even more ignoble downsizing.
They are not going to be holding this event at the Ruth Eckerd Hall but instead at the Fort Harrison….
The Auditorium there holds 1500 people. They claim to have more STAFF than this and "2000 people from out of town on service at any given time" PLUS 12,000 scientologists in the "local community." Scratching together 2500 sheeple should require NO effort at all — so where are they going to put them?
Here is a recent email from the FSO:
I am writing you as we 6 DAYS AWAY from the upcoming IAS 30th Anniversary event.

In case you haven't already heard, this is a REVOLUTIONARY EVENT where earth-shaking new footholds in global salvage, making an impact on every continent will be announced, and where the next monumental advance towards an OT civilization, that will turn your world upside down, will be revealed.

This is the next revolutionary step! This is big. You do not want to miss this.

The event will be on Friday night, October 24th, with the doors opening at 6:00pm in the Fort Harrison.

The dress attire for this event is formal, which means tuxedo, dark suit or long gown – basically what you wore for this year's live LRH Birthday event.

On Sunday there will special IAS Field Briefing with complimentary brunch in the auditorium. Doors open at 10:30am. I want to ensure you have your plans all ready so you make it to this event and brunch. I also want to make sure you tell others as we are just around the corner and want to ensure no one misses it.

Bring your event card to both of these events.

Please send me a quick reply to confirm you are coming to the event Friday and the Brunch on Sunday.

Meagan Tucker
Local PR Officer FSO
Now, to add insult to injury, Bill Maher of Religulous fame, has booked the Ruth Eckerd Hall on Saturday night. He poked fun at scientology in his movie (along with all organized religion) and is going to draw more people to a bigger venue in Clearwater than the church for its super-spectacular 30th anniversary bash. That's embarrassing. And it's probably partly due to Miscavige being incapable of setting a date for the event until it is too late to book a hall. The IAS Anniversary has been 6 October since 1984, surely by now they could firm up a date at least a few months in advance. It's not like the date changes each year?
What is contained in this REVOLUTIONARY EVENT, where earth-shaking new footholds in global salvage, making an impact on every continent will be announced, or in the words of the CO CLO ANZO: "THIS IS THE BIGGEST EVENT IN IAS HISTORY! We have just heard that something is being presented at this event that is SO big, it will change our lives, personally."
Well, hold onto your seats:
Dear Leader's earth-shattering announcements were:
1.  "ideal" Narconons (though he has NOTHING to do with this whatsoever if you listen to his attorneys). This is hardly earth-shattering news — see here at Tony Ortega's site on April 6 where I am quoted about this.
And here is an excerpt from a March 2013 Miscavige address to the faithful at an IAS fundraiser in Clearwater Florida taken from the IAS Impact magazine:
"But lest you think that's all you are making possible, it's truly just a glimpse of what the future holds. By way of just one example, immediately in the aftermath of 9/11, the IAS planted footholds for social salvage, including a flagship drug rehabilitation center at Narconon Arrowhead. Well, if such represents a "Flag" [the church in Clearwater, termed the "mecca" of Scientology] Organization for that sector, what is the equivalent of an "Advanced Org" in each continent. As I speak, that's exactly what's going down—meaning a forthcoming fleet of Continental Narconons: for Africa, ANZO, Latin America, Canada, Europe, UK and, just for good measure, another in this nation's capital.
"We've already located all the buildings. In fact, we already own several of them and those we don't yet own are due to be purchased in coming weeks. If I haven't grabbed your attention yet—then imagine an "Ideal Narconon" epitomizing the very ethnic and culture in its geographic zone: A celebrity Narconon in California, overlooking the Pacific and even including its own helipad. Or how about the nation's capital? Our new Narconon is the former presidential retreat of Presidents Hoover, Roosevelt and Eisenhower on a Maryland national preserve.
"It's the same-again scenario on every other continent: a hacienda villa in Mexico, a game preserve in South Africa, not to mention, another arising on Hubbard's peak in the Himalayas of Nepal. The point is that's how you train sufficient numbers to proliferate facilities in every crisis zone. And it's all coming in 2013 and, yes, that's the IAS in the name of Planetary Salvage."
2.  "ideal" AO's — the "big announcement" here was the "new ideal AO in Australia" which we covered here on 6 September:  Let's not forget, he already has 3 other "new, ideal AO's" that have been previously announced — in Mexico, Canada and South Africa. All are sitting empty and falling to pieces.
3. 3 new Public Service Announcements (they already have DOZENS of these that have never been used anywhere — I guarantee you there is not a single person on earth that could describe even ONE scientology "PSA" that has been released over the last 20 years.
4. freedom medal winners that sound extremely "same old, same old" including pulling Kate Ceberano out of mothballs — a VERY strange choice given the state of scientology in Australia/NZ, not just shrinking and failing, but the subject of relentless media exposes.
If that is a revolutionary, earth shaking, personally life changing event, then unplug the life support machines. It's a waste of electricity that might be otherwise gainfully employed.
And just for a final bit of fun, here is how the Chief IAS Shill in Clearwater is promoting this upcoming extravaganza of magnificence:
Dear Flag OTC Members,

I attended the IAS live event in the UK this past weekend!!!! Many Scientologists from Clearwater were in attendance.   With the release of the Golden Age of Tech II, Super Power, Cause Resurgence we know the world of Scientology has never been the same since.

Take what we know and now put it on the 4th Dynamic!! This 30th Anniversary of the IAS is monumental in every aspect.   We really are building an OT Civilization – it is really occurring NOW!!! Every single member of the IAS is creating this together!!!

The release and details of creating this OT Civilization is laid out completely. The New Golden Age of Tech II release of the Narconon Network will leave you breathless. It has moved up to level of professionalism that will communicate to the world. What is now done and in place is the renovations of our Continental Narconons!!!!!

The 3 Freedom Medal Winners – one from a country where we never have had one before and how he changed an entire country. The other two are extraordinary artists and how both of them used their Artistic talents to communicate about Scientology and our 4th Dynamic Programs – simply will blow you away.

The 3 New Ads – for our Internet and TV!!! CCHR, How we Help and our new Scientology ad (remember the last one about our Majestic Cathedral Flag Building, e-meter) this new one is off the charts.

We are a part of something so special, we all come together as Freedom Fighters to ensure we guarantee our Religion is here for Eternity. This Event will make you so happy and so proud to be a Scientologist.

We really are building a NEW OT CIVILIZATION! You are all invited to attend the 30th Anniversary Event at Flag, I look forward to seeing you there!!

ML,

Kathy Feshbach
One thing she CAN do. Use exclamation tech. It has not yet been replaced with the Golden Age of Exclamation Tech, so her skills are still valid. Once the GAET comes though she is going to have to stop using them until she retrains from the bottom up.