The idiocy continues…
The "Wild West" is going to become the "All Ideal Wild West" (as long as you hand over enough money).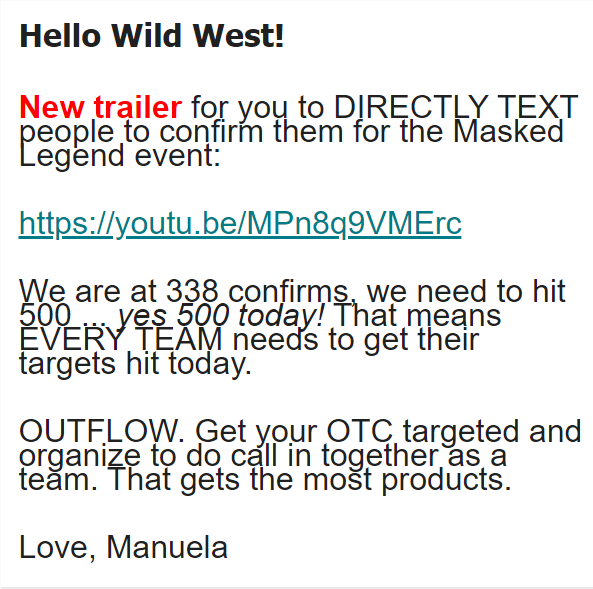 Not only that — out of the entire western half of the US (and Flag) they have scraped together 338 "confirms" for this monumental event.  The vast majority of those "confirms" are people who say they confirm just so they don't get 5 or more calls a day. The number who will actually show up for this latest fundraiser is likely about 10% of that.
As a special treat — here is the video she is touting. You can click on it yourself and see how many views and likes it has.:
The three buildings they have to complete to make an "Ideal WUS" are Austin, Hawaii and Albuquerque. Traditionally failing orgs even before the era of failing orgs.
But what is so laughable about this "All Ideal WUS" is the idea that once they complete those orgs the Western half of the US will be taken care of.  How lucky are the populations of Alaska, his birth State of Nebraska, Idaho, Wyoming, North Dakota, South Dakota, Oklahoma, Arkansas, Iowa, Louisiana and even Ron's childhood home, Montana. They don't get ANY scientology org, ideal or otherwise. And in many of the other states there are some pretty substantial cities that don't have orgs either: San Antonio springs to mind. Tucson. Bakersfield, Eugene, Tacoma. You can bet all of those states and cities have Jehovah's Witness Kingdom Halls, many more than one, let alone Synagogues and Christian churches.
And finally, let's not forget, according to the scientology definition, the entire Continent of Asia is "ideal" as the two orgs (Tokyo and Kaohsuing) are "ideal." Never mind there is not a single org in the rest of Asia, including China, India, Indonesia, Malaysia, Thailand, Vietnam, Pakistan, Bangladesh etc etc. Between Asia, Africa and the MidEast (also "ideal" because Tel Aviv) far more than half the planet's population has no access to any scientology organization… They're really "Clearing the Planet."