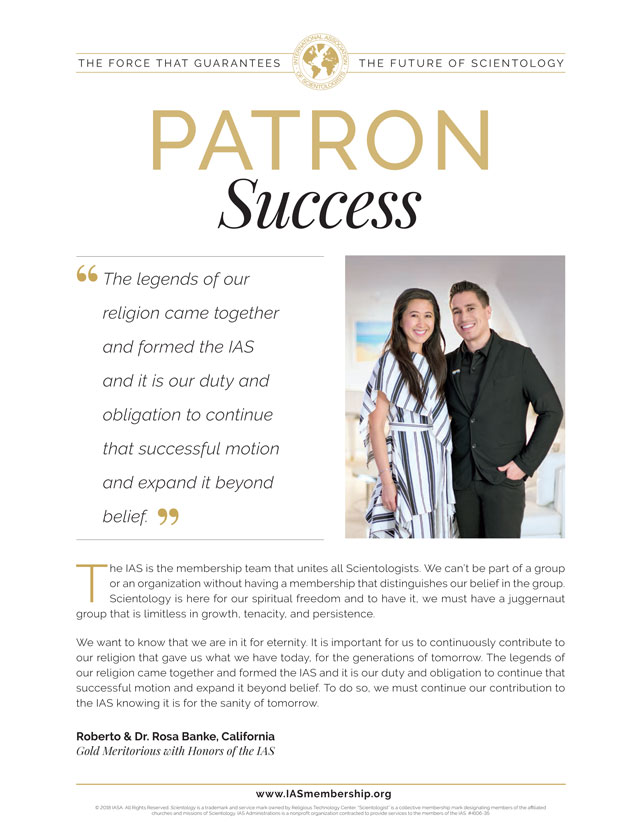 This new propaganda piece raises an important question.
Where ARE those "legends of scientology"?
It is true that many of the "leading lights" of scientology at the time signed this pledge. Though the real story of the IAS is a very different one than the revised history scientology tries to make it out to be. This "pledge signing" was merely a PR stunt — the IAS had been formed by a Danish lawyer as a means of keeping money outside the purview of the IRS. It was a "bright idea" to form an "association" which was a uniquely European thing and to divert all funds from orgs outside the US to this new entity operating in Cyprus. Monies that had been being sent to the mother church were sent there instead. The IRS had no way of getting those funds in Cyprus, and with a billion dollars of tax assessments looming in the US that would have wiped out scientology (Miscavige talks about this in the 1993 event) this was a desperate measure that had nothing to do with a "Pledge to Mankind" other than in the broadest sense because this was viewed as the last ditch backup to save scientology.
But back to the legends.
Some of the more prominent signatories of this Pledge were:
Heber Jentzsch President Church of Scientology International — locked up in the Hole for a decade. No longer has any role in scientology.
Guillaume Lesevre Executive Director International — same as Heber. No longer has any role in scientology.
Ray Mithoff Senior C/S Internation — same as above. No longer has any role in scientology.
Norman Starkey head of Author Services (Hubbard's personal literary agency) — same as above.
Marc Yager Watchdog Committee Chairman and CO CMO International — same as above.
Lyman Spurlock former executive at Author Services — died of cancer.
Janet McLaughlin President of the IAS — no longer in the Sea Org. Was put in the Hole in 2006. Has never spoken out about the financial crimes and abuses she witnessed.
Vicki Azaran Inspector General RTC — left the Sea Org and sued scientology.
What other "legends" are you referring to Roberto? Oh, I get it, the ONLY ONE. True Leader David Miscavige. This was a win-win move for him. The IAS has spent a ton of your money over the years financing his scuba diving and scotch sipping vacations. That's pretty legendary.
It's amazing how events are re-cast and facts are altered to suit their purposes. The TRUE purpose of the IAS was to keep funds OUT of the hands of the IRS, so since 1993 there has been no need to "continue that successful motion" let alone "expand it beyond belief." It served its purpose and became superfluous in 1993. But it had become a massive source of revenue for scientology, so the "legend" of the IAS continued to be reshaped and expanded. It even became associated with the "Portland Crusade"  when it had NOTHING TO DO WITH THAT. And because the "Crusade" happened in the US there was NO WAY any money from the IAS would have been spent on this. It was a reservoir of funds kept OUTSIDE the US.
In fact, the IAS is the biggest money-making scam in the history of scientology. And it had nothing to do with Hubbard.
The only thing legendary about it is the magnitude of the scam.
Addition:
Martin Ottman kindly referenced a photo of the gathering of legends.
I have included the names of those I recognize — there were a number of people who were "fillers" representing various countries where there was nobody significant to do so. Some info on those not mentioned above:
Chris Cobb is deceased
Dan Feeley is deceased
Carl Heldt is still working in OSA as far as I know
Nigel Oakes was on the RPF for more than a decade, but don't know where he is now.
Dan Pryzblski was a grounds person at Int
Hans Hasslberger was at Int last I knew
Cliff Woods became the head of in infamous Int Finance Police. Now a full time FSM.
Richard Haworth was the Flag spokesperson until he suffered a heart attack or some other heart condition. Now hangs around the Phoenix ideal org.
Christine Weightman was formerly the head of OSA UK. No idea where she is now, though no longer in the Sea Org.
Maureen Brigatti is deceased. She was one of the people who ran the IAS operations in Cyprus.
Kenny Lipton left the Sea Org and is deceased.
Phyll Stevens is deceased.
Anne Hogarth last I heard had been shipped out to South Africa from OSA Int to deal with "mutiny" there.