This is a fascinating insight into the world inside the scientology bubble.
This image was posted to a scientology message board on FaceBook.  Shortly after this screenshot was taken, the group's admin asked that it be taken down as it didn't have "Issue Authority."
Despite all the LRH biography briefings, websites, press releases and books in today's official scientology scripture there is no mention whatsoever anywhere that L. Ron Hubbard even had a wife (or 3) or any children.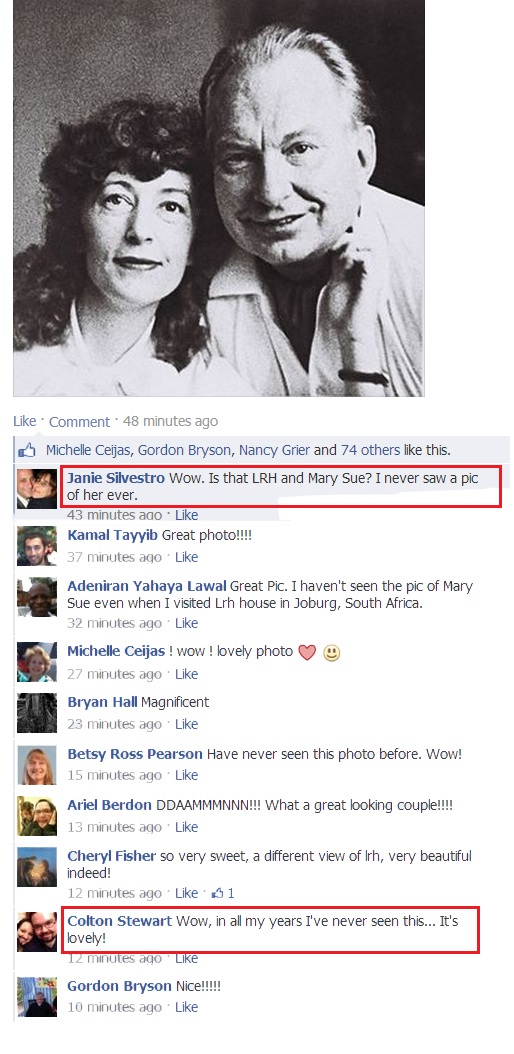 One of the reasons the Briefing Course is no longer available is that the lectures have not been edited to remove reference to all sorts of individuals from Reg Sharpe and Herbie Parkhouse (and NUMEROUS others who have since been declared) to the frequent Mentions of Mary Sue. LRH speaks of her quite often in glowing terms. These references must ALL be excised. Miscavige does NOT want any "Hubbard family" to ever be seen as "rightful heirs" to the Hubbard empire that is all his.
Hubbard himself was pretty good at this trick. He disowned his first children Katie and Nibs. Though he originally took her to Cuba while he wrote Science of Survival, and even dedicated the book to her, he later informed Alexis "you are not my daughter" and because he married Mary Sue when he was still married to Sarah Northrup (Alexis' mother) he then claimed he was "never married" to Sarah and only had 2 wives (his first wife Polly has also been completely "disappeared" from history).
Remember this famous photo of LRH and his second "non"-wife Sarah. Tony Ortega covered this in detail on his blog. Scientology airbrushed Sarah out of this shot, and publishes it in the "Ron Series," along with the story of LRH the "Master Mariner" "surveying" the coast of Alaska.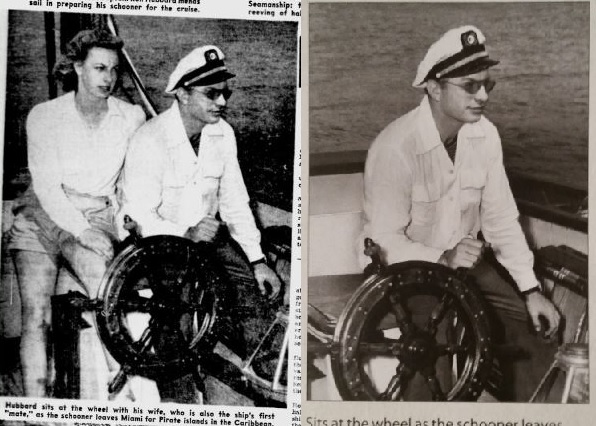 The family life of L. Ron Hubbard does not live up to his proclamations about the subject.
Let's not forget, in the end, when he thought Mary Sue was a liability to him, he disconnected from her completely. He did not even read the letters she sent him. They were handled by his "secretaries." The children he had not previously abandoned (Katie, Nibs and Alexis) or died (Quentin) — Diana, Suzette and Arthur — were also abandoned under the justification that he had to be in hiding from process servers. Why was that so paramount over his family? Because he did manage to have various other people around him including Dr Gene Denk – clearly he was important enough to pierce the recluse veil.
Interestingly, you see Miscavige following in Hubbard's footsteps with his wife Shelly. She has been "disappeared" and it is verboten to mention her. Just as it is verboten to mention Sarah or Polly or now even Mary Sue. And let's not forget Miscavige's father, brother, nieces and nephews who are now also "dead" to him.
When scientology claims "we honor and cherish families" one only needs look to the life of its Founder and Leader to put that lie to the sword.