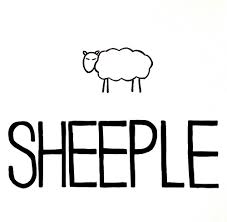 Here is a random selection of recent hype from a variety of sheeple.
What is interesting to note about these people and their comments is how well they duplicate what they are fed. They have been trained to hear and see things from  "authority" and then regurgitate it as if it was their own thought. 
There is not much comment required, but I, as is my wont, have included a few:
From: MarcB Registrar <la.day.theta@gmail.com>
Date: Mon, Nov 4, 2013 at 11:12 AM
Subject: Whoooooo Hoooooo!! Here We Go People!! : )
To: MarcB Registrar <la.day.theta@gmail.com>

Ok…
I just got "refreshed"at The Sandcastle!

I found my very first little taste of "Phase 2" auditing to be amazing and wonderful and FAST and WOW!

I happened to be at the Graduation when we got "the Dates!!"

Which was stunning!!

I got to feel the excitement in the air the whole time I was there!!!

The Future looks SOOOOOO bright!!

Let's pour the coals on and let me remind you….

This is a FANTASTIC Time to help your friends and family get going on the Bridge and

TOTAL Spiritual Freedom! (you know Basics, Courses, anything!)

It's a very cool thing to do!

Let me know if I can help you with anyone or anything!!

The Stars Wait!! : ))

Marc
OT, Staff, Cool
818-269-0988

If you don't want to get emails from me let me know!  

Bam!!!

 
Come now Marc. Isnt this just a little over the top?  You practically had an orgasm because you were there when they announced the dates?  After 4 weeks of no announcement and lies I guess that was quite a thrill. But honestly, your standards for what gets you all giddy and excited are not too high…. Bam!!!
TOTAL Spiritual Freedom! (you know Basics, courses anything!) So, why would I pay for OT Levels and to be constantly sec checked if I can get this from the Basics? Aren't you a Reg?
From: PAC OTC <otc@pacotc.org>Subject: EMERGENCY BRIEFING for ALL OLs, OT VIIs and VIIIs and FSMs

To Upstat Scientologists, OLs, ALL OT VIIs and VIIIs and FSMs,

You are very urgently needed to attend a EMERGENCY field briefing by the Captains of AOLA and ASHO on Tuesday Nov 5th at 6:30 pm in the ASHO Chapel. 

It is vital to get the top Scientologsts to attend this briefing. So spread the word via your personal comm lines. DO NOT POST ON THE RAZZLINE!!!

We need every upstat, on-purpose, on-board Scientologist, all opinion leaders, FSMs, all OT VIIs and OT VIIIs at this briefing. Everyone will be bonded prior to the briefing. THIS IS NOT DATA YOU HAVE HEARD – the Captains have just returned from almost 7 weeks at Flag and the dates for the opening have been announced.

PLEASE, DO WHATEVER YOU HAVE TO DO TO MAKE IT TO THIS BRIEFING. IT IS THAT IMPORTANT.

Please reply via email, text or phone to Erica Newman, Dir Clearing AOLA, text or call 916-812-3163 or email Ericanewman@mailpac.net.

See you TUESDAY night.

ML,

Sue Frey & Nick Lekas
PAC OTC Co Chairs
OMG — NOT THE RAZZLINE!!!! DONT LET ANYONE KNOW, THIS IS SECRET STUFF! AND THAT RAZZLINE IS INFESTED WITH UNEMPLOYED BITTER DEFROCKED APOSTATES ON THE FRINGES OF THE INTERNET. OMG. THEY ARE EVERYWHERE!
Date: Tue, 05 Nov 2013
From: Aaron Sheppard <ukidealorgs@scientology.net>
Subject: About to launch

Hello Xxxxx,

We do not know what is about to launch exactly but we do know its the biggest thing ever and it is going to make a huge difference to our expansion on all 8 dynamics and that is very important.

One of the biggest factors in all of this is the creation of Ideal Orgs around the world. Being that the UK is the center of the universe now is the time to make our UK Ideal Orgs a reality in every major city in the UK and there are many many of you out there who are already helping with that.

This is the time to disseminate to all of your comm lines and get them onto The Bridge, get them involved and help them help theirselves.

So while we have come this far, there is still a road ahead for the future generations and that is where the importance of becoming a UK Ideal Org Humanitarian takes on a whole new meaning.

So keep the postulate there and make it happen. I know you want to.

Thanks for listening.

Kind Regards,

Aaron Sheppard
UK Landlord
We do not know what is about to launch exactly but we do know its the biggest thing ever… Maybe the best comedy line in the last month. And Aaron alone has had some doozies.
Thanks for listening.  Reading maybe?
Also like how we can help people help theirselves. The RCS doesnt need Facebook Police, they need Literacy Police.
Date: Thu, 07 Nov 2013 
From: CLO WUS <westuseventsunit@scientology.net>
Subject: THE CAPTAINS ARE BACK!!! B-I-G GRADUATION THIS WEEK!!!!

The release of Golden Age of Tech Phase II is happening in less than 2 weeks!!!!!

GET BRIEFED AT YOUR GRADUATION THIS WEEK!!!

CO CLO WUS, Vicki Shantz
CO CC Int, Dave Pettit
Captain AOLA, Cal Cole
Captain ASHO Day, Jon Lundeen
Captain ASHO Foundation, Rene Norton

ALL of these executives just returned from Flag after 6 weeks and are going to be doing a "Golden Age of Tech Phase II Preparations Briefing" this Friday at 8:30PM at the L. Ron Hubbard Way Graduation!

The Entire Greater LA Area is coming together for this — CC Int, AOLA, Valley, LA Org, ASHO — EVERYONE!

REPLY TO CONFIRM YOU'LL BE THERE TO HEAR THE NEWS!!!!
Typical, the 6 day briefing turned into 6 weeks. No doubt these people literally sat around doing NOTHING waiting for Him to make time in His busy schedule to be able to brief them. Someone then sent Him a "CSW" asking for permission to let them return to their orgs, it was rejected 6 times by His secretarial unit for not adequately acknowledging COB for His brilliance and after it finally got through them it sat on His desk for another 2 weeks and then was sent back to "update it with current information." Eventually, He asked what suppressive had stopped the ED's from returning to their orgs when he noticed Rene Norton standing around in the Sandcastle. A full investigation was conducted and some poor fool bit the dust and is on dumpster duty with Ken Krieger and Alex Faust now.
But come to the Graduation and they will "brief" you (as if you didnt know) that GAG II "IS COMING SOON AND IT IS INCREDIBLE."
Date: Wed, 6 Nov 2013 
From: CC Int OT Committee
Subject: Golden Age of Tech II Event Confirms Game is ON

Dear OTC'er,

The BIGGEST RELEASE in our religion's history is about to occur. Next week at Flag, Golden Age of Tech Phase II and Super Power will be released.

In Los Angeles we have the following events:

Friday, Nov 8, at 8:30pm on LRH Way: Graduation with the COs of CC, ASHO, AO and CLO WUS. Every LA area org is combining for this graduation for a briefing from all of these executives on what is coming for the GAT Phase II.

Saturday 23 November at the Shrine: Release event for the Golden Age of Tech Phase II

Sunday 24 November at the Shrine: Release event for Super Power and Cause Resurgence Rundowns

The main activity the CCI OTC is doing now is confirming for these events. No one will want to miss these historic events on November 23rd and 24th. Spread the word and send in your confirms!!!

Thanks
Joe Scoglio
CCI OTC Div 4 Sec
That's right — hammer those "confirms" or be hammered. That is the motto of the CC OTC.
Date: Wed, 6 Nov 2013
From: CC Int OT Committee
Subject: This Week's OTC Meeting – 7:00 pm – PAC Base

Dear OTC Members:

A CHANGE in time/place for this Friday's OTC Meeting!

This Friday the CC Execs and CO are asking for our help in lieu of meeting at our normal spot at CCI for our weekly OTC…
They are asking us to come and help make calls and confirm people for the GAT2 event. They really need our help Friday night.
Then there is a PAC graduation where all the CO's from the each org will be speaking about what's ahead.

7:00pm – OTC Meeting members huddle at the LA Org FSM area to HELP!
830pm – Attend PAC graduation

Warmly,
Andrea Doven
CC OTC Co-Chair
Oh, now the heat is REALLY on.
Huddle at the LA Org FSM area to HELP! Does this sound desperately pathetic or what?
To sum it all up — everyone needs to come in and watch Miscavige Shoot His Wad.
We don't know exactly vaguely what it is going to be like, but we DO know it is going to be the greatest event in the history of Scientology, probably because it will be the LAST one.
Anything after this will  be an anti-climactic downstat and COB. Does. Not. Do. Dowanstats. Period.
So, he will just stop doing events at all. He's committed to New Years wrap up of annus horribilis and he can sleaze a March 13 event by only talking about LRH and Birthday Game winners.
I predict after that if Int Events are held at all, he will parade out some Holees to repeat some Shermanspeak as this will not embarrass Him (everyone can sit in wonder and pine for the days when COB did events with some real showmanship) and it will make it appear there are in fact "other people" running the church and it isnt all just Him.
Hah….