New Bright Idea
It seems they are trying to match the success of the "Extension" courses the church offers. They apparently don't realize the Extension Courses have become the preferred method of avoiding regges and Call In people — "I am doing my Basics Book Extension Course so leave me alone…"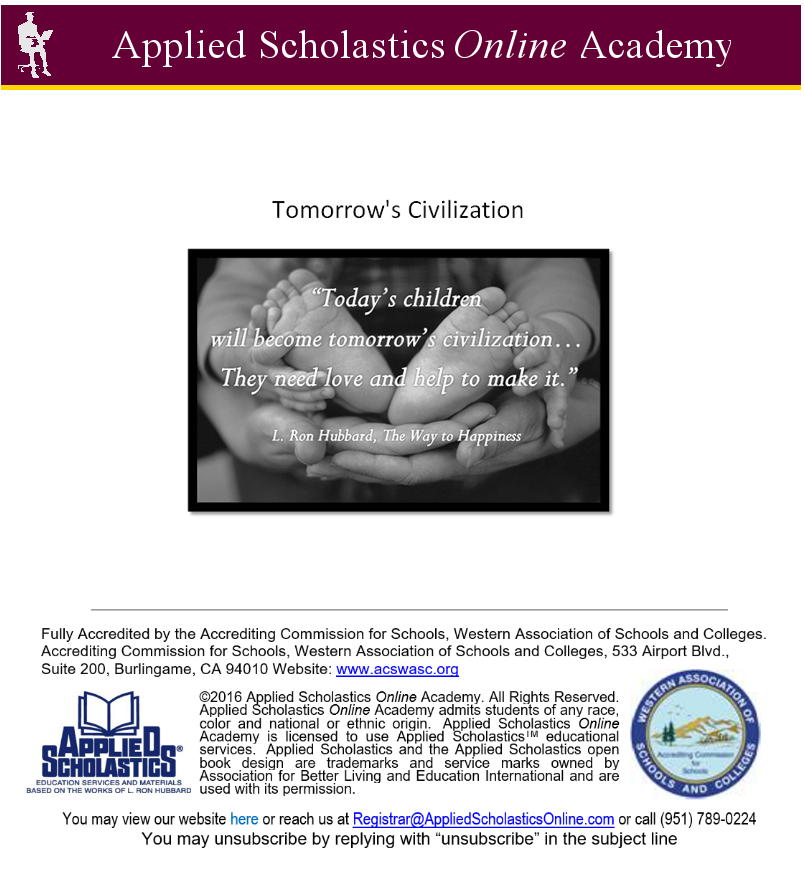 What Do You Get?
Not this, that's for sure. One thing EVERY ideal org FART Div 6 has is common. They are completely empty.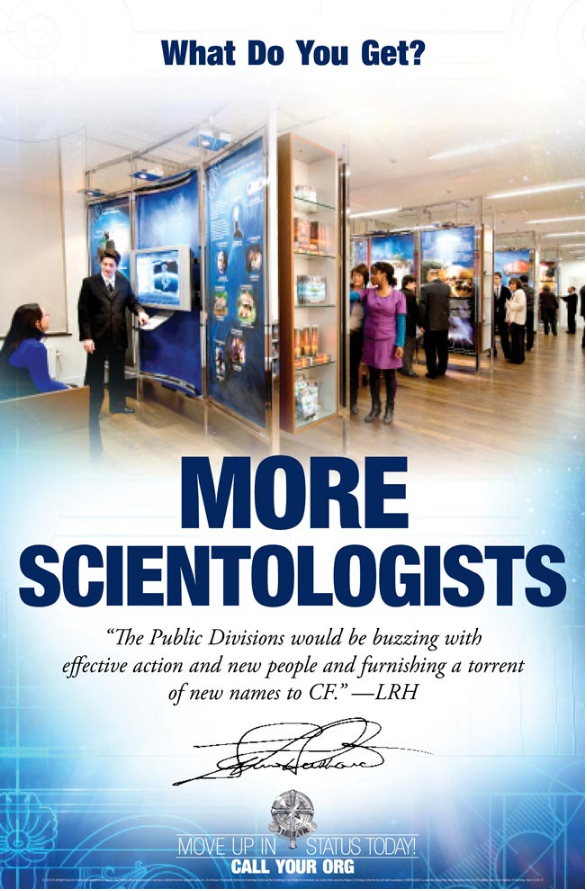 Plan to do it at a later date?
It's getting more bizarre. They are not just asking "would you attend if we put it on at a later date?" Now they are turning over scheduling their "conventions" entirely.
It takes Everyone…
This is their idea of "everyone"? The biggest, baddest, "most important" ideal org on earth mustered a photo of 50 people to represent "everyone"?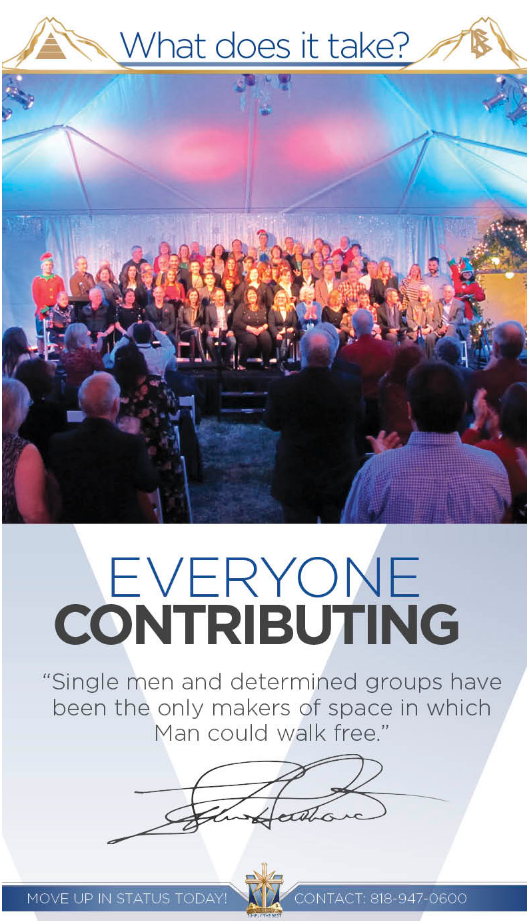 What, no Star Wars?
Dinner is a large helping of cheese.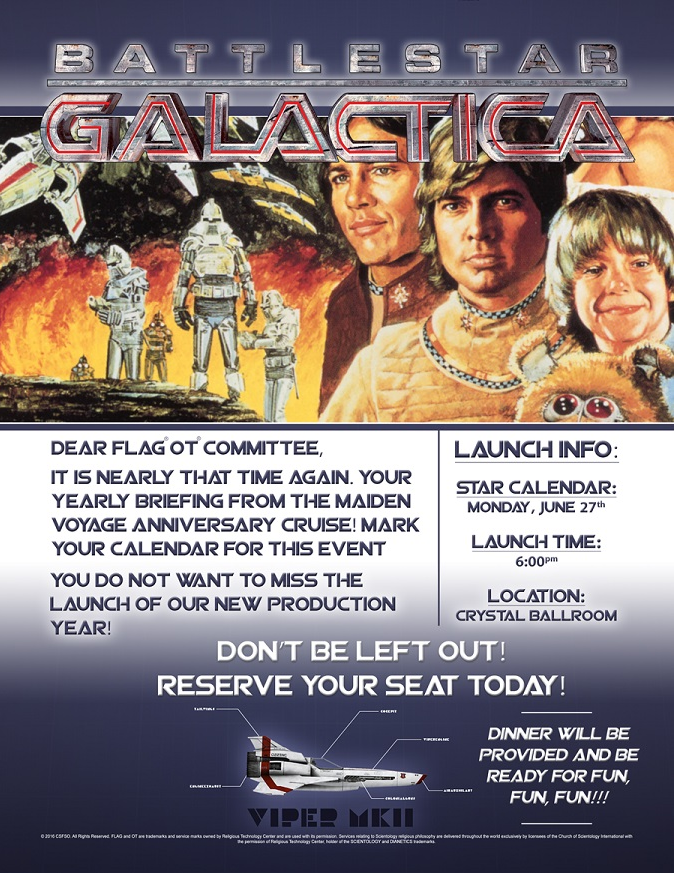 They went there and still can't spell it…
Colombia.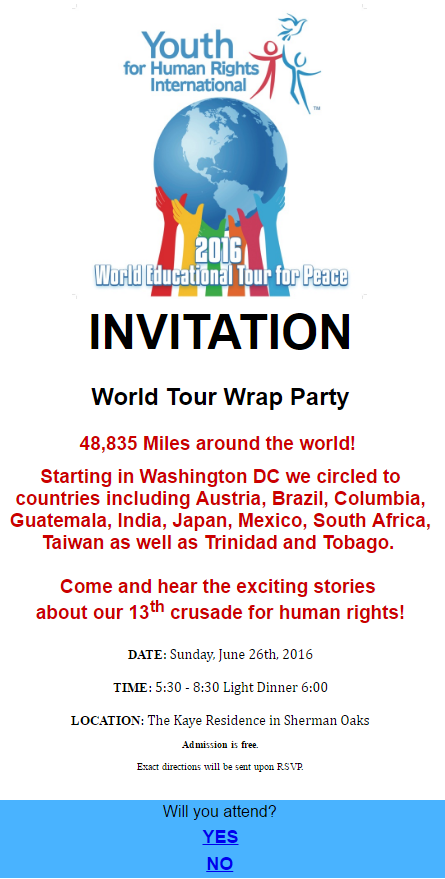 Scientology App?
WTF – maybe someone can check out what this is.
But of course scientology IS the coolest cult on earth, so no surprise they have an App.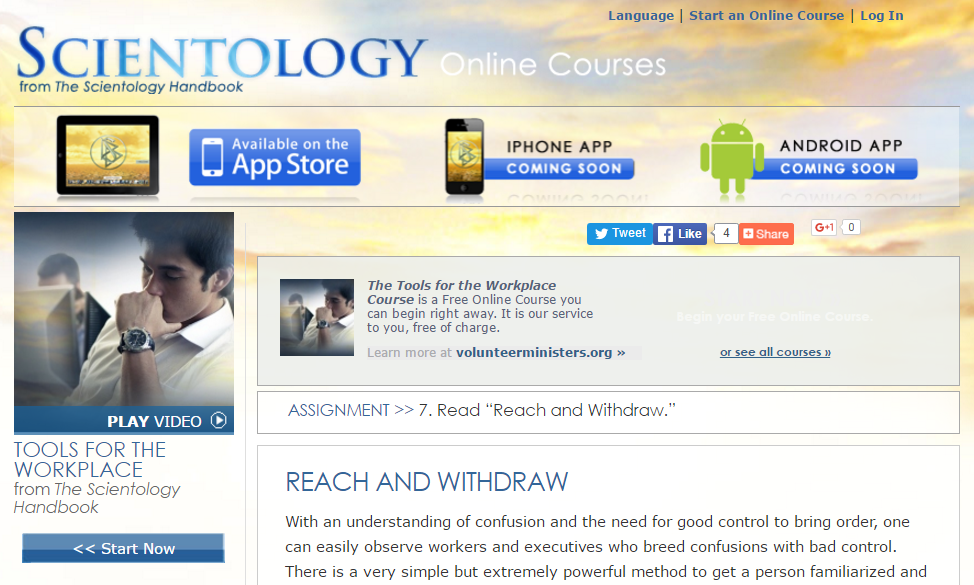 Doubling Down
Someone please get these people to stop with the "wee ones" pitches.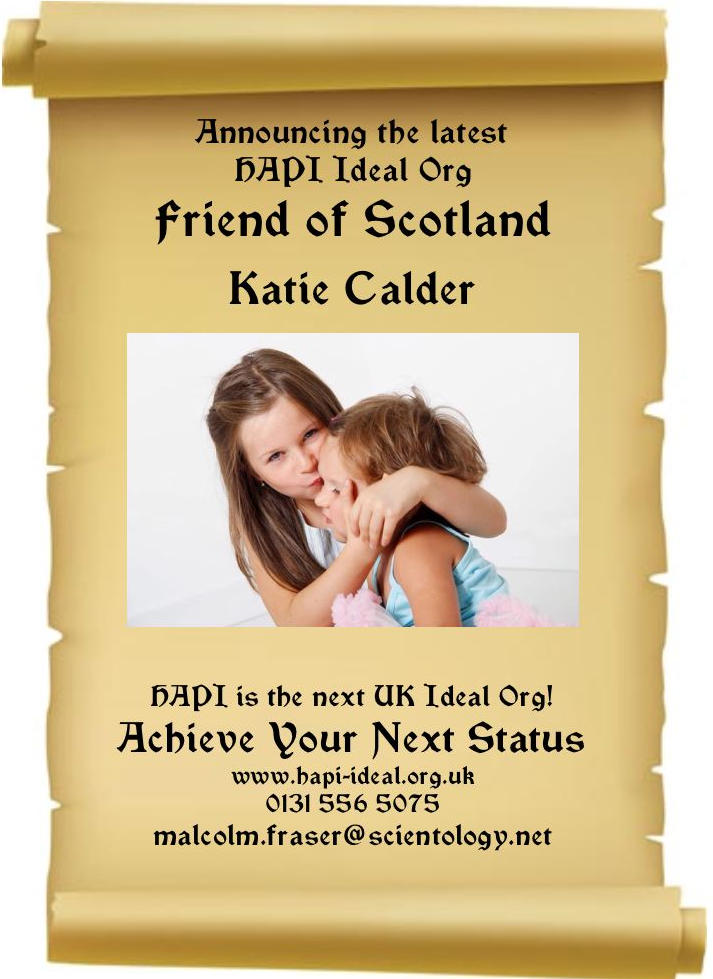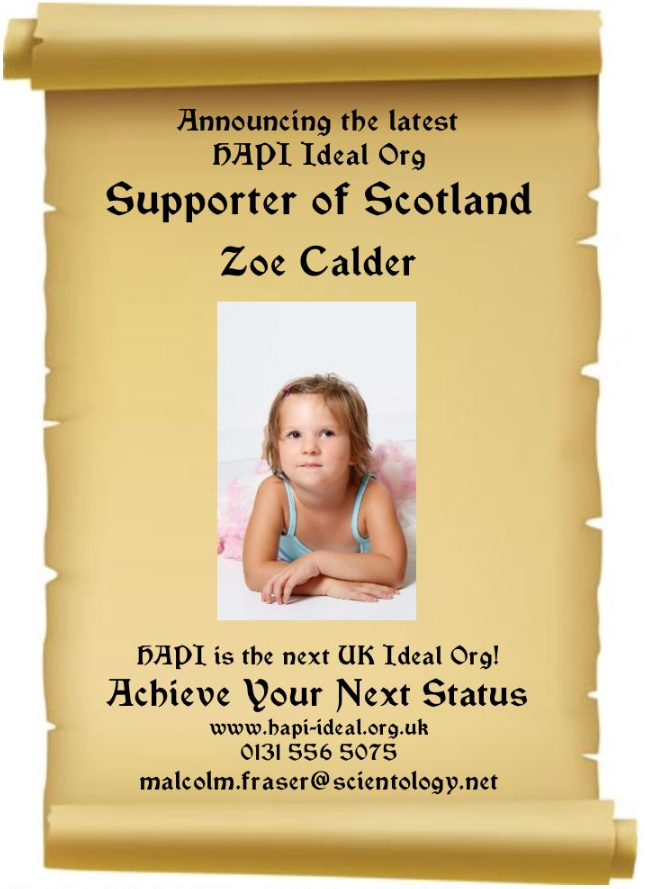 Quote for the ages…
These mountain burning thetans should get busy constructing the universe of ideal orgs.
Freewinds Child Success
Even the Freewinds is getting in on the act. The grammar and syntax is 8th Grade level. And no entheta? Obviously did not get regged by the IAS. This can only mean on thing — this is written by a child.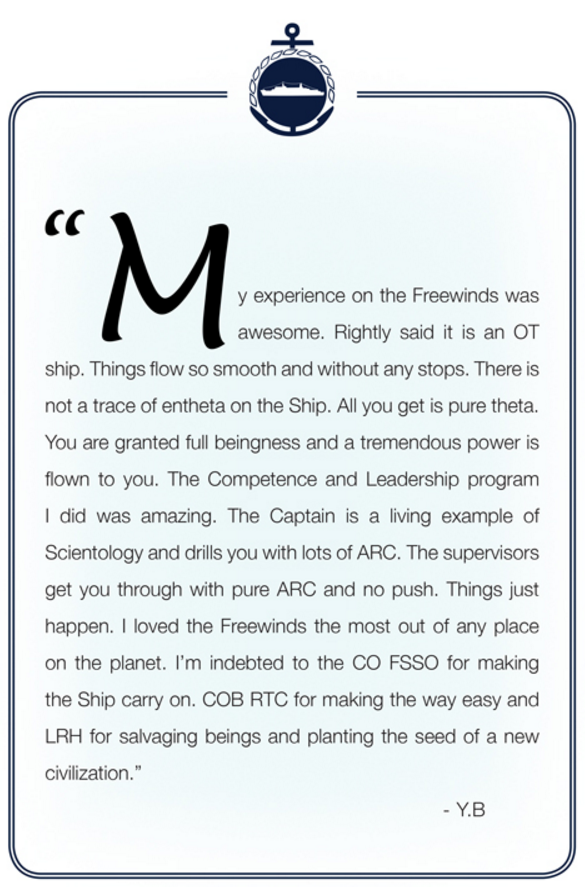 Ideal Org wins
More wins – another ideal org with backlogged filing and not even any space to put CF. Now that is pretty ideal.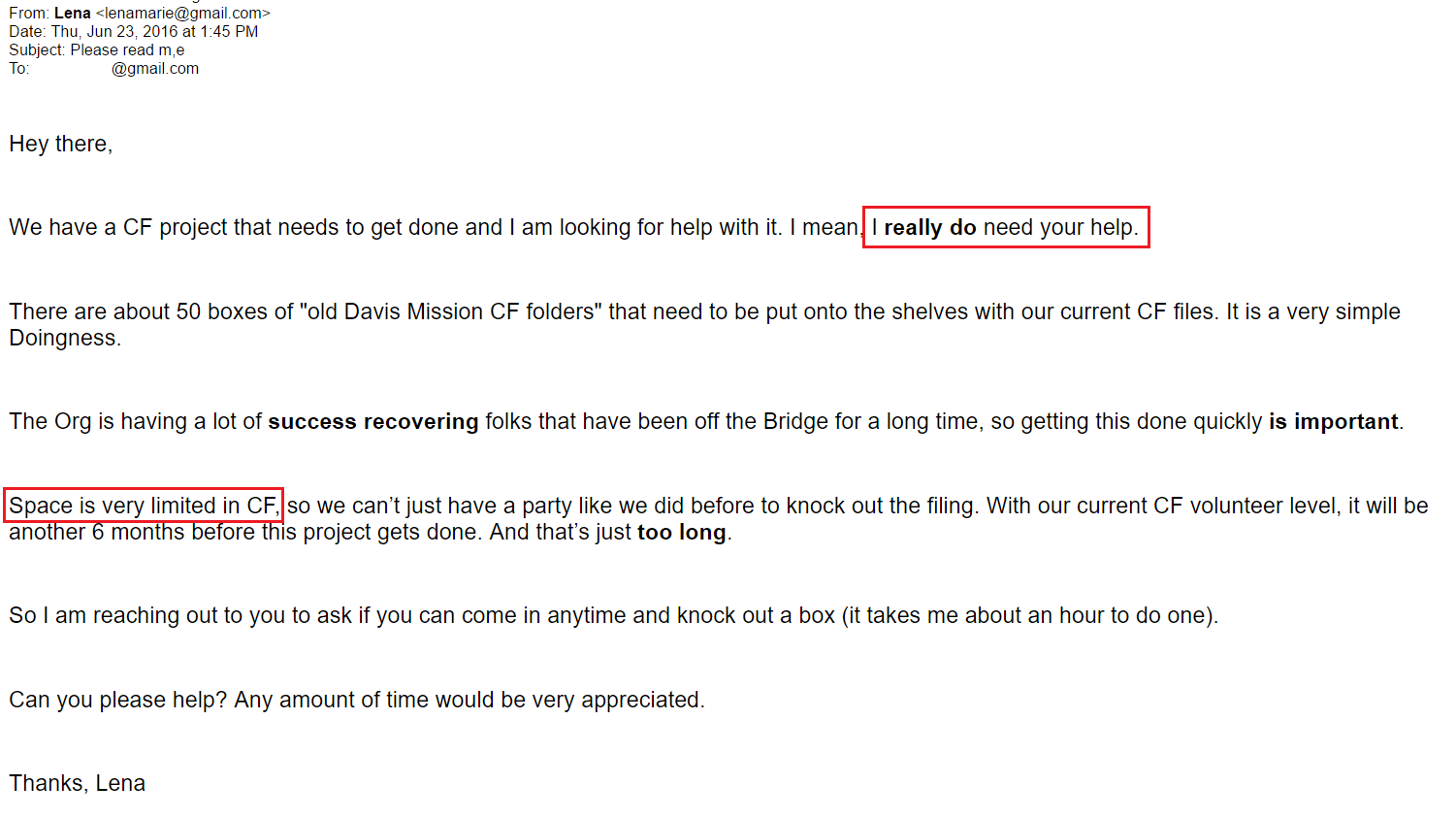 Individuation
While the plebes are to gather on L. Ron Hubbard Way for the MV event showings, the IAS elites/whales are going to be at the W….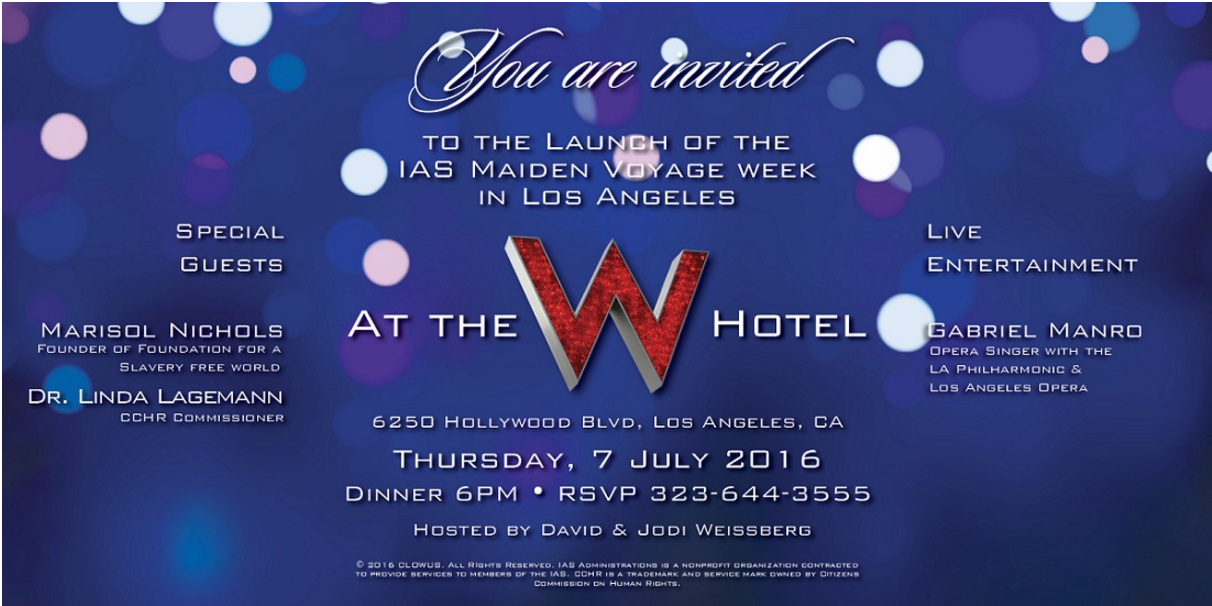 The Relentless Regging
This is the ANZO (and UK?) (and "BE") "team" in international management… They are apparently hoping to make some commissions.
Back in the day, the thought of scientology managers trying to directly reg public was unthinkable. The Vulture Culture is all pervasive.
Attend and pick up your Commendation
Of course, you don't want to miss this one. Unlike all the others….

It's the Fastes route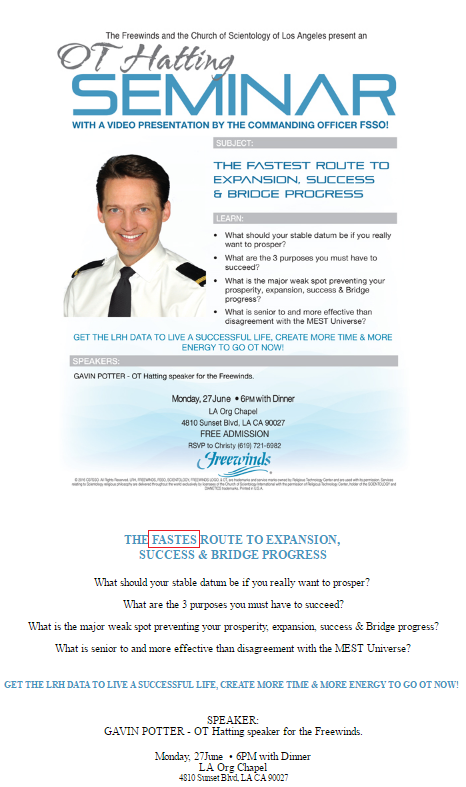 A Terl cut-out!
Wow what an EPIC gift idea…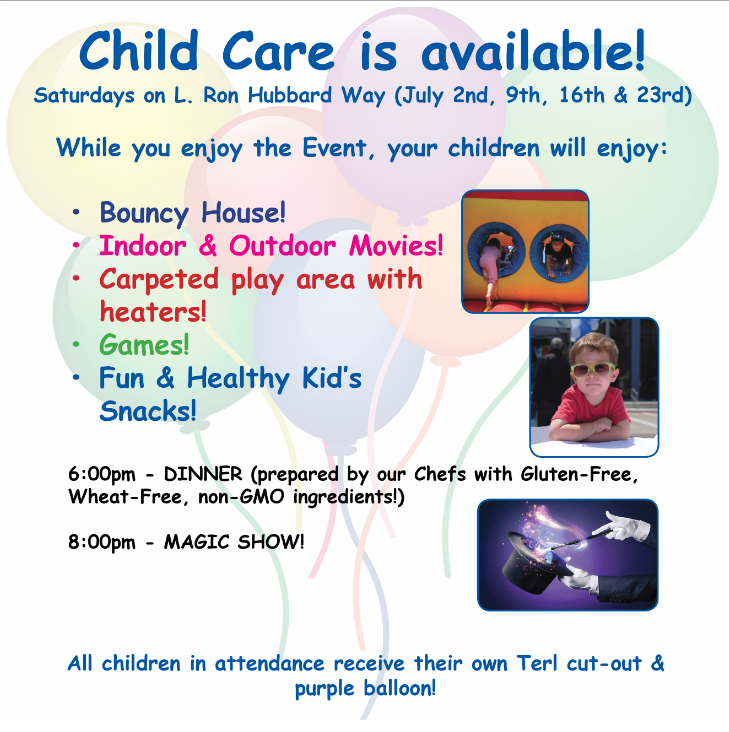 WTF?
This is utterly insane. I guess he doesn't understand what it actually SAYS, but just thinks it's great because L. Ron Hubbard said it?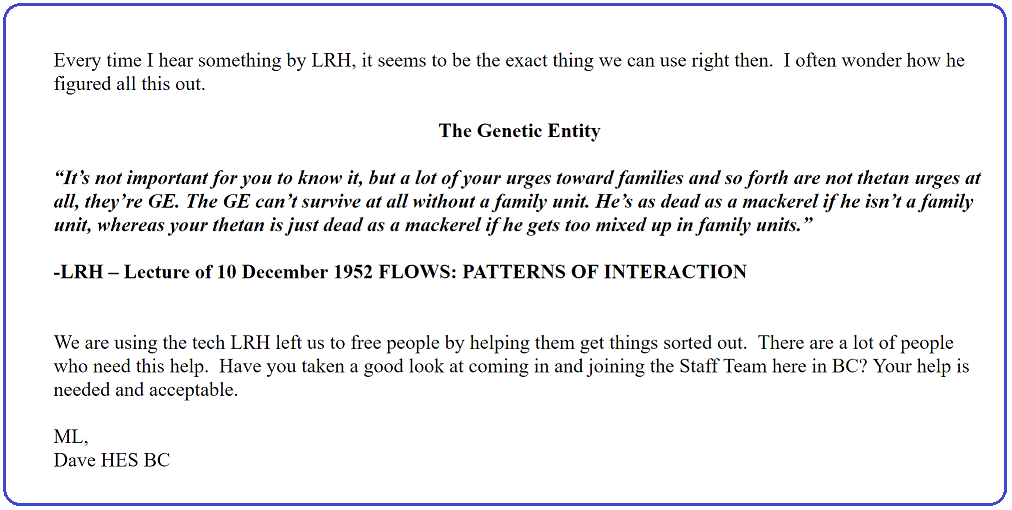 They are through the letter "H"
Funny — they were going to be "done" before MV…
This truly is a double ideal org.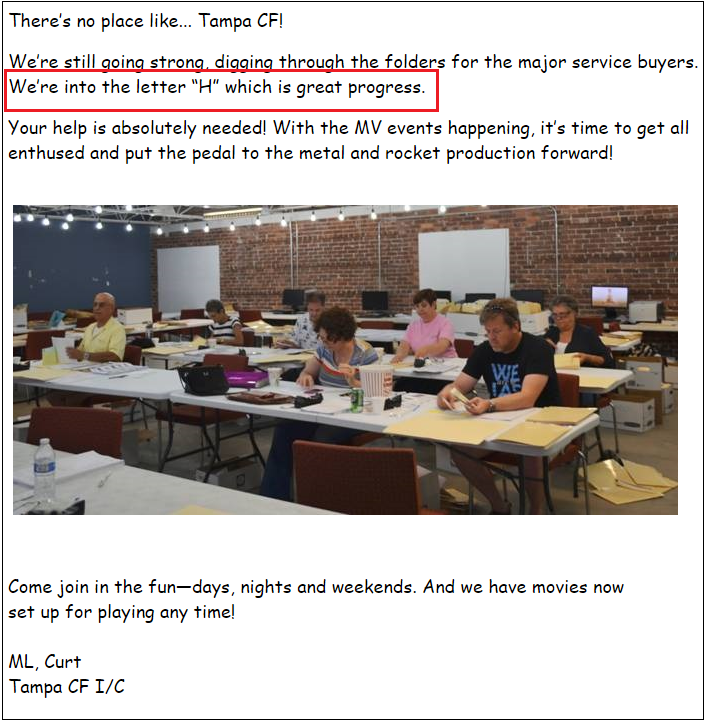 There are "floods" of people in Birmingham
Just check out the photos. Indeed, they could use a new building to house all 30 of them. 100,000 square feet should do it. That way each person can have 3,000 sq ft to wander around in aimlessly.
Oh dear…
I guess he didn't fess up to them about his shoplifting conviction. They are having him back for more tall tales…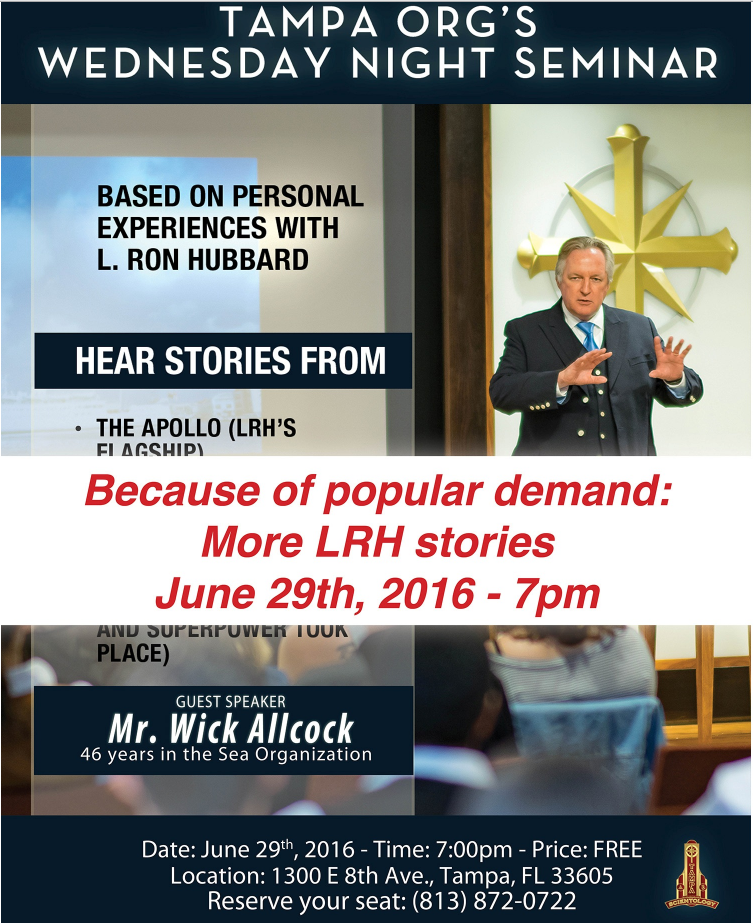 It gives you an idea how serious we are…
Not at all. Either this guy is incapable of auditing or they have absolutely zero public on audited NOTs.  It's one or the other. The old St Hill ain't what she used to be….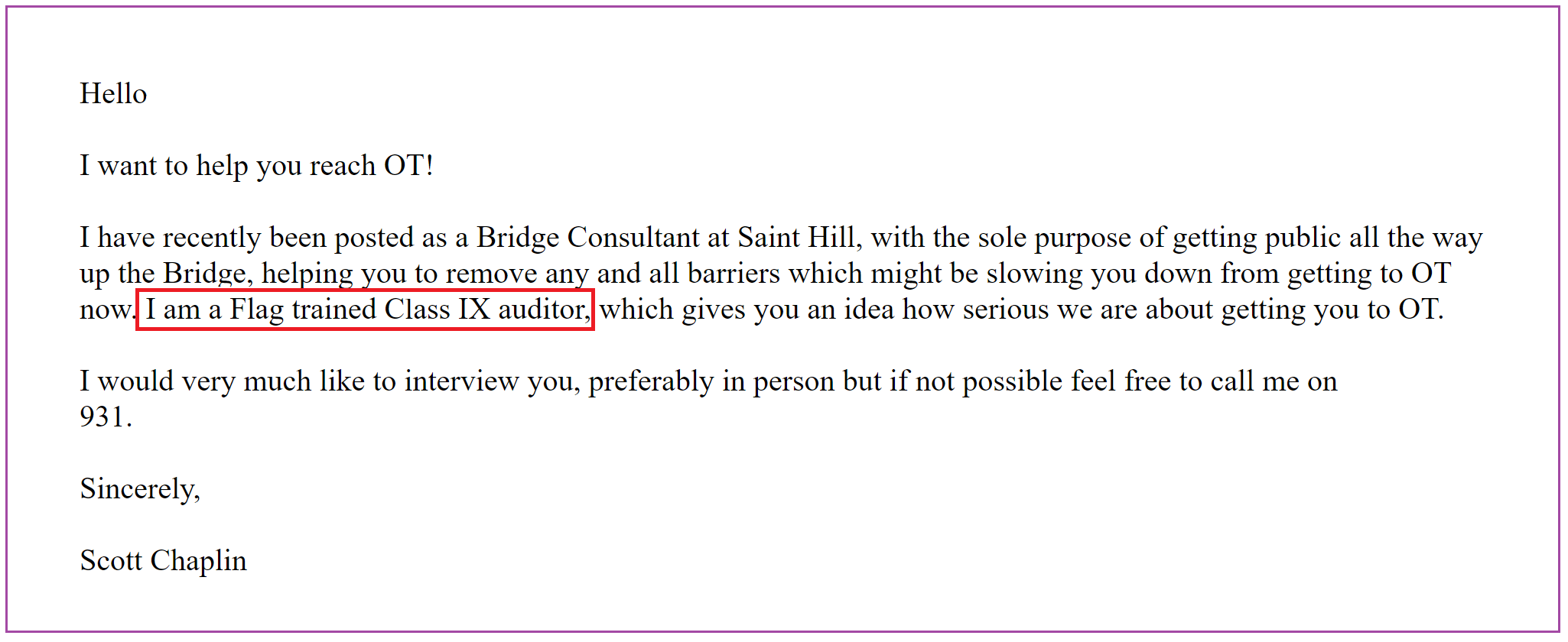 Hurry (not really) Half Humanitarian Statuses still available
Do any of these suckers EVER notice that their "buy nows" never end?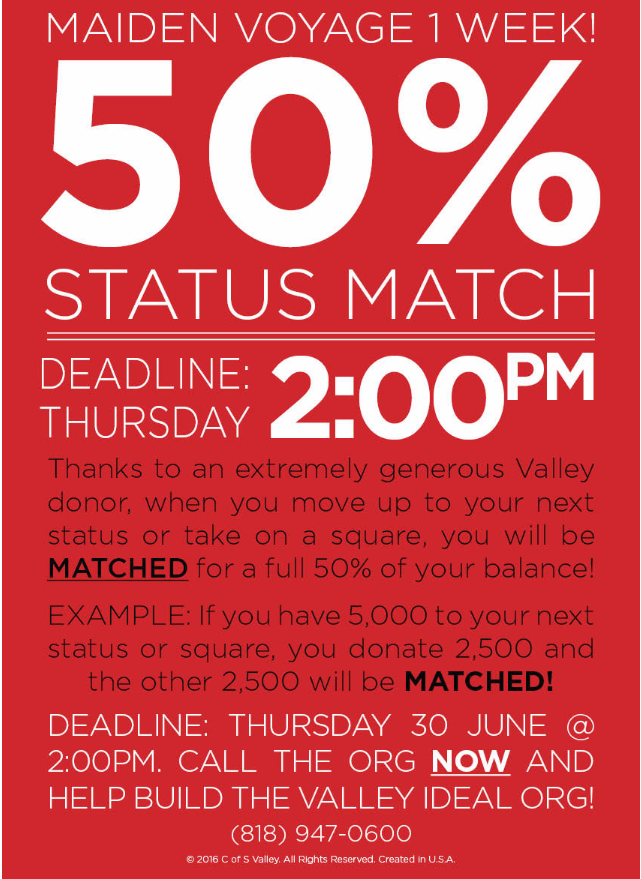 We have a Sea Org Mission and we are proud of it!
And they are getting orders from very high up on the org board.
We are going St Hill Size in 6 weeks for sure — but the information is "privlidged" – too sensitive to go on an email.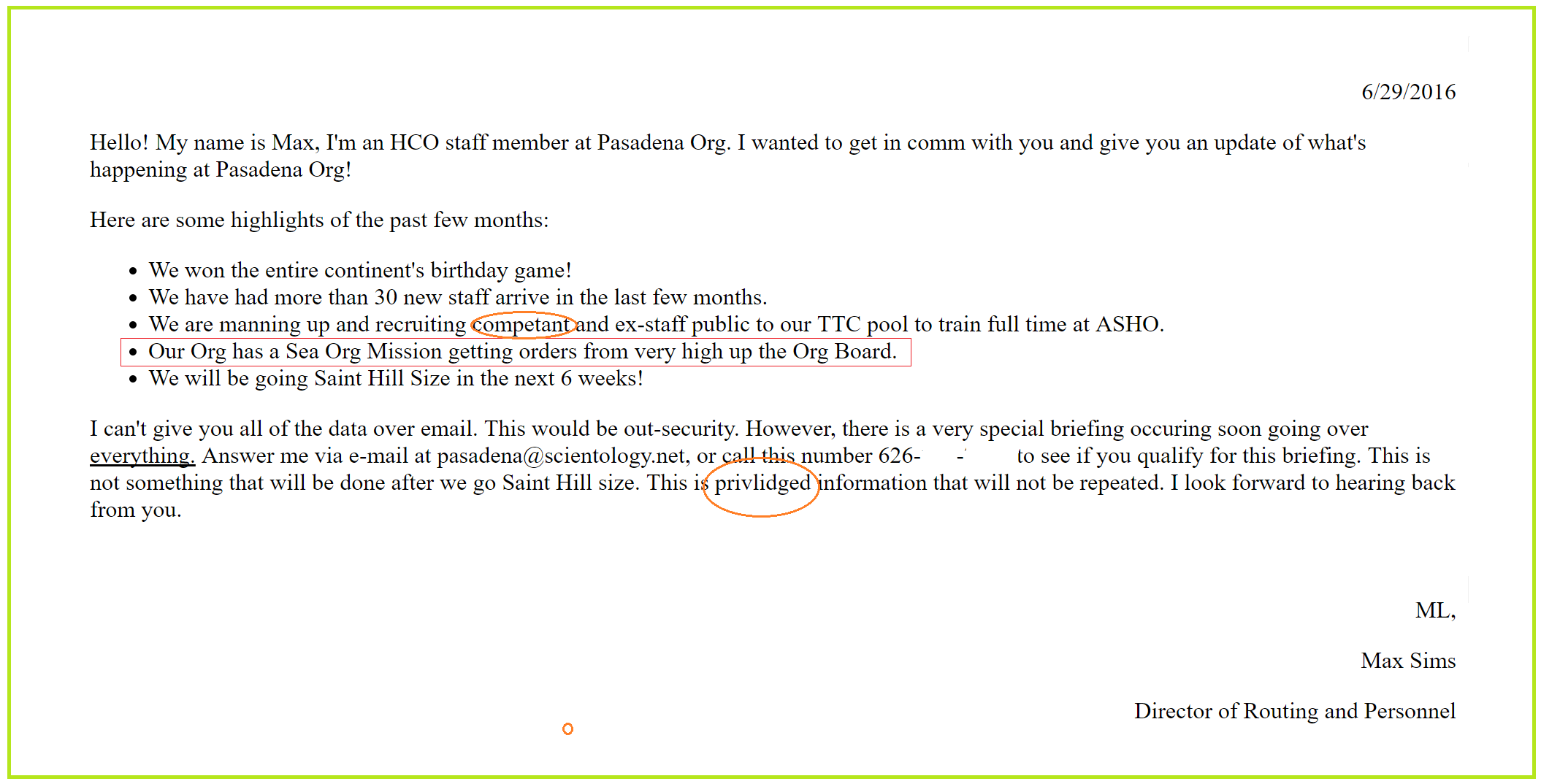 Like I said…
The old St Hill ain't what she used to be. They are actually PROUD of the fact they have 64 people auditing on OT VII in the entirety of the UK. That is less than 1 in a million people. And it takes YEARS to complete.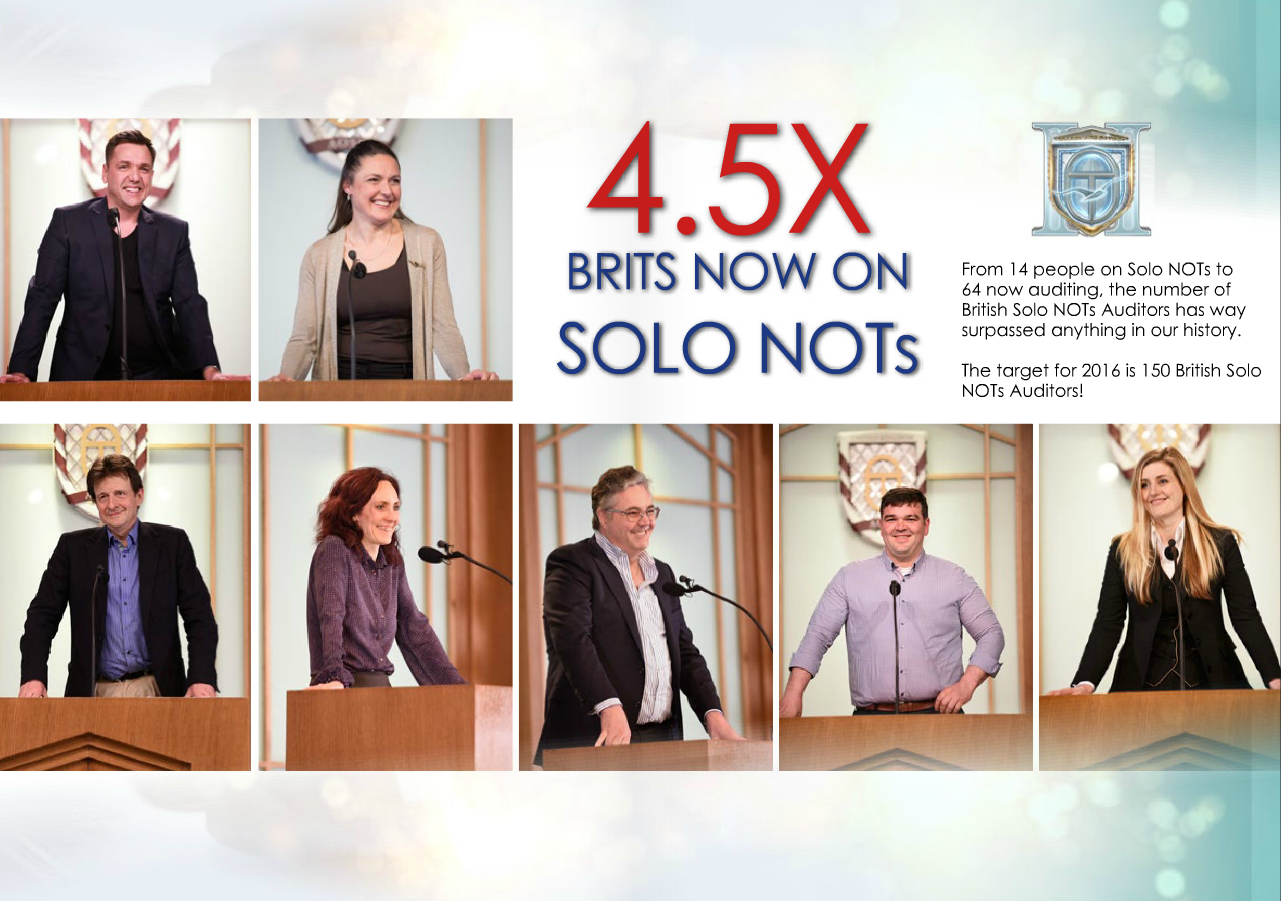 It's not what it seems
The "campaign" has not been released despite what it says.
They have finally made the books so you can hand over your money for a special leatherbound Atlanta DMSMH. Once all of them are sold, they will then have money to do a campaign. Isn't that just the most wonderful news. 3 months after opening they are going to start fundraising to collect money so they can then do a Non Existence campaign for the ideal org.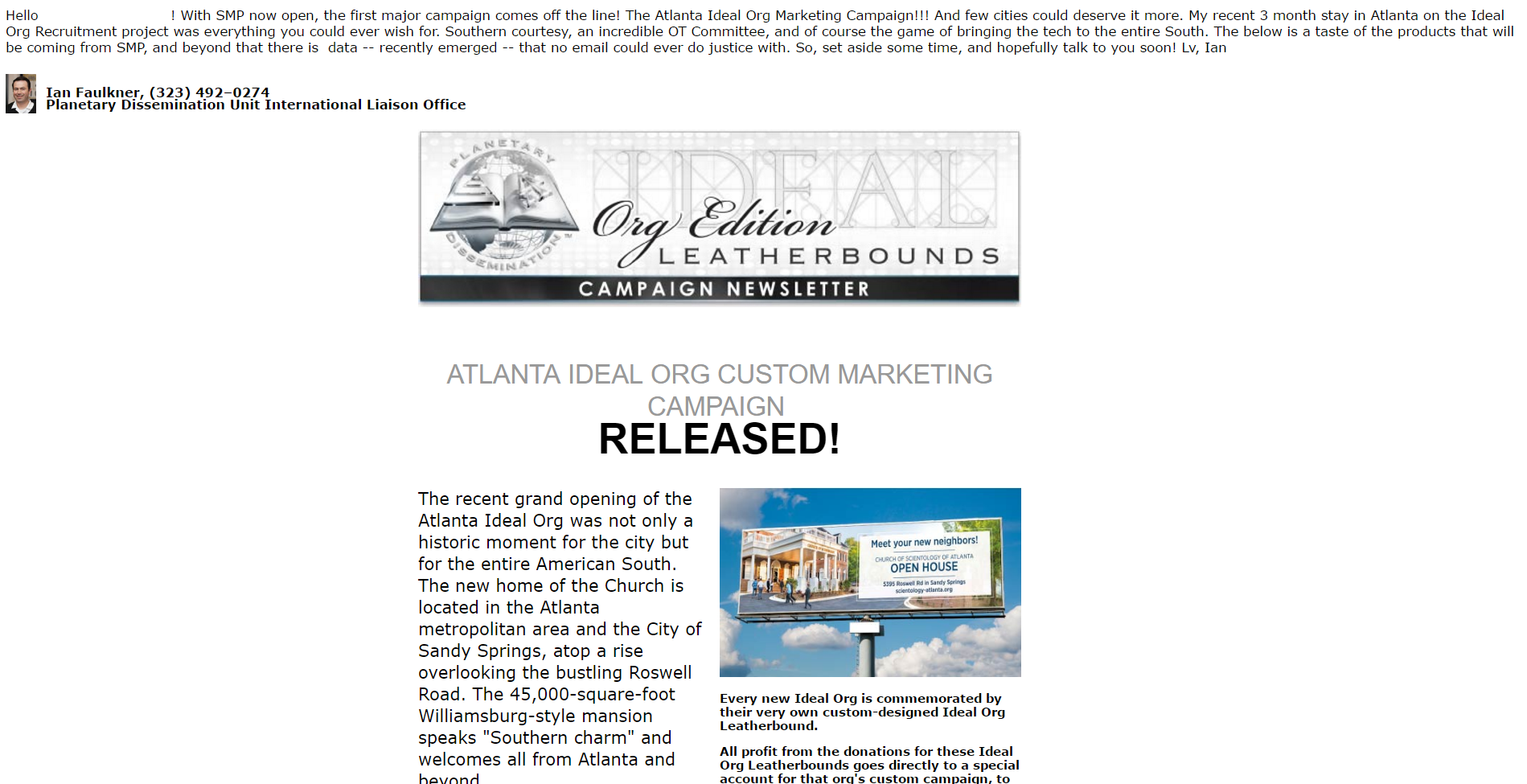 Is she or isn't she?
Is Erin now doing her Purif Rundown in the NOT OPENED "ideal org"? Surely not… But it is what it says. COB is going to be really mad. Nobody is allowed to use these buildings until he has blessed it with an official ribbon-yanking. Uh-oh…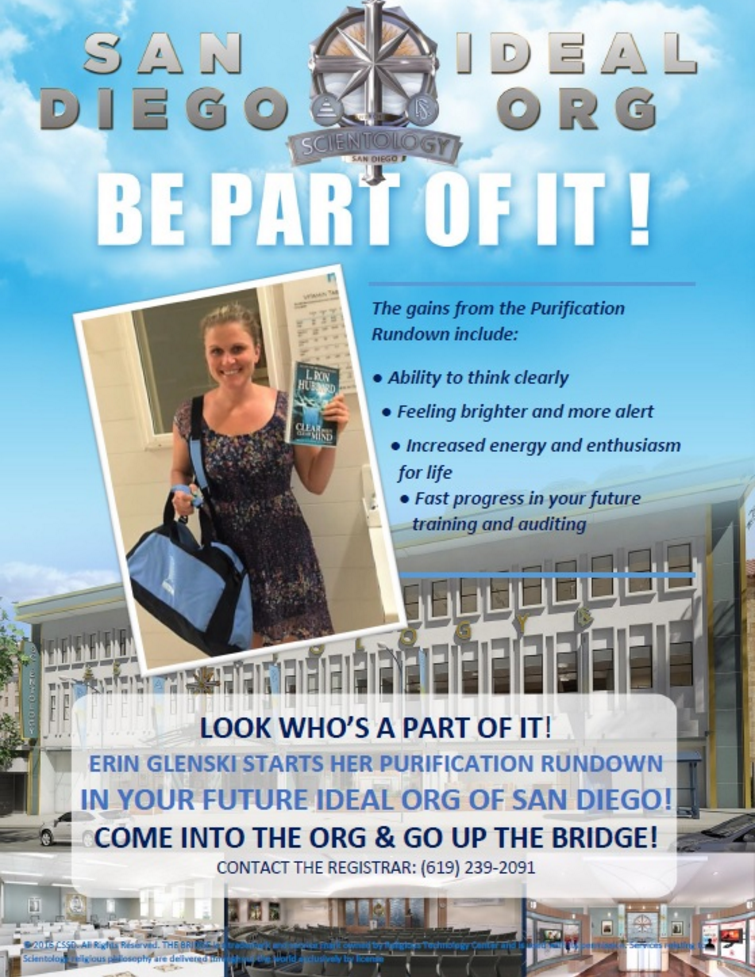 Saved the best for last
It has finally dawned on them that it is a "new era" of dissemination – dealing with difficult, suspicious "prospects."  I wonder what they teach them? Turn and run? Cross to the other side of the street? Probably connected to an SP so don't even bother.
But then again, when nobody confirms to attend, the convention probably won't ever happen.