Fearless Leader?
Back in action with more ridiculousness. Wee gatherings and big gatherings — but no details about where or when. That's a secret!

Highest Ever after Highest Ever
Haha. If they are expanding like crazy and have all these Highest Evers, how is it possible that after 6 years as an "ideal org" they are still not SH Size. In fact, they don't even have their filing up to date!

The Foundation for Planetary Clearing
There are apparently 50 or more of these ideal orgs. By now something should be visible in the planetary clearing department?
Crickets.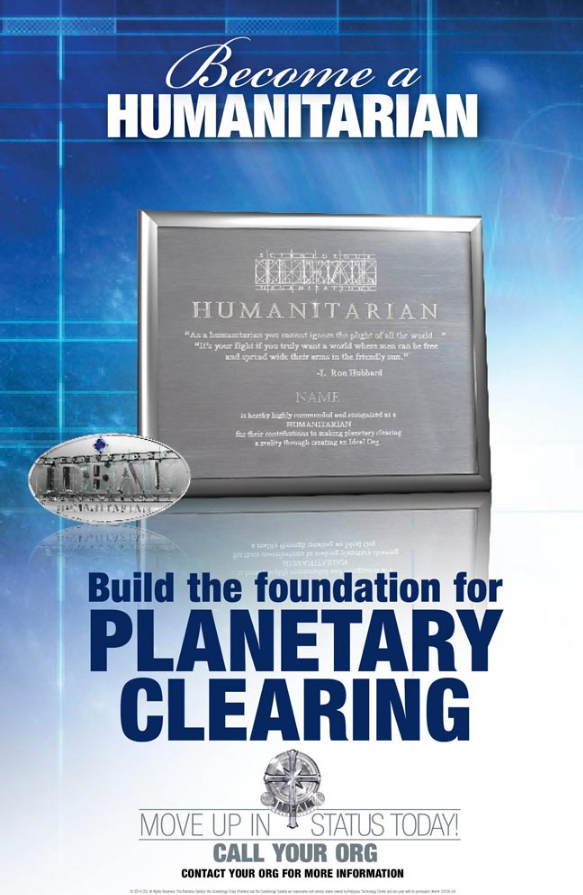 PROSperity Summit
Being PROSperous is truly "OT"- of course the PROSperity disappears once you have to start paying for your OT Levels and concurrent required IAS statuses…
The Ultimate OT Level — Running in Circles
Gosh, you would have thought that thousands of hours of solo auditing and hundreds of thousands of dollars would have accomplished freedom from memories, restraint, pains, even chains. Could have saved a hit load of time and money just running in circles instead of all that other stuff that apparently didnt work.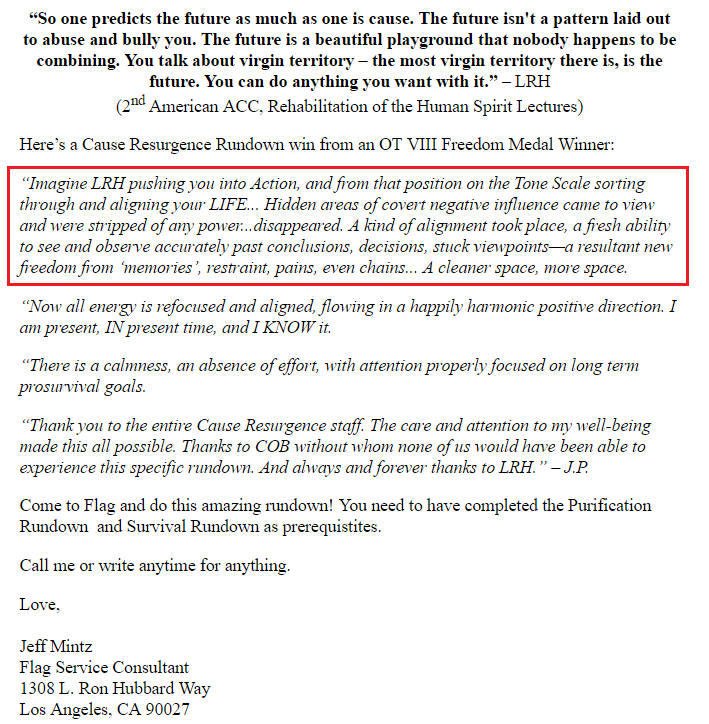 It's so Epic
"Command's full speech" is going to be seen by ALL ORGS one time only on 5 August. It was SO important for everyone to hear, he traveled all the way to Budapest to deliver it. Because that is the center of the scientology world and of course THE most important things are announced there.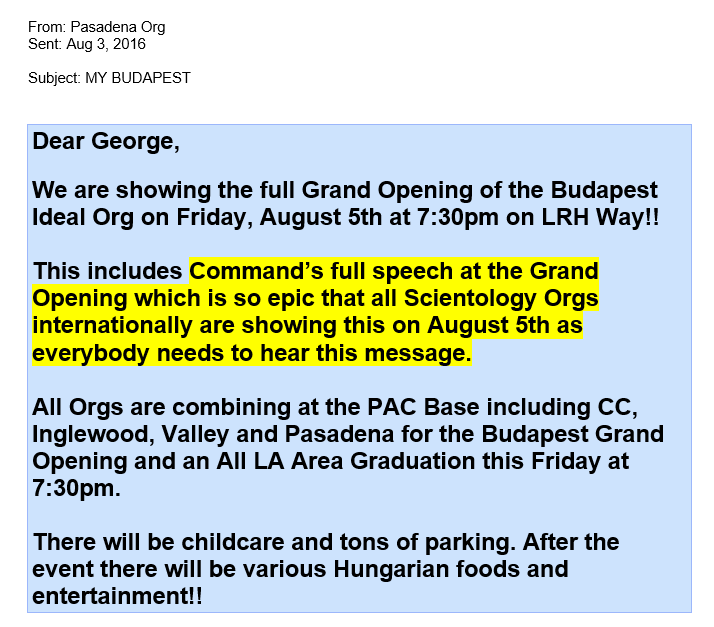 Let me talk about myself in the third person…
…and explain to you how important I am. Really nothing odd about this. Nothing self-centered. Nothing creepy. Really.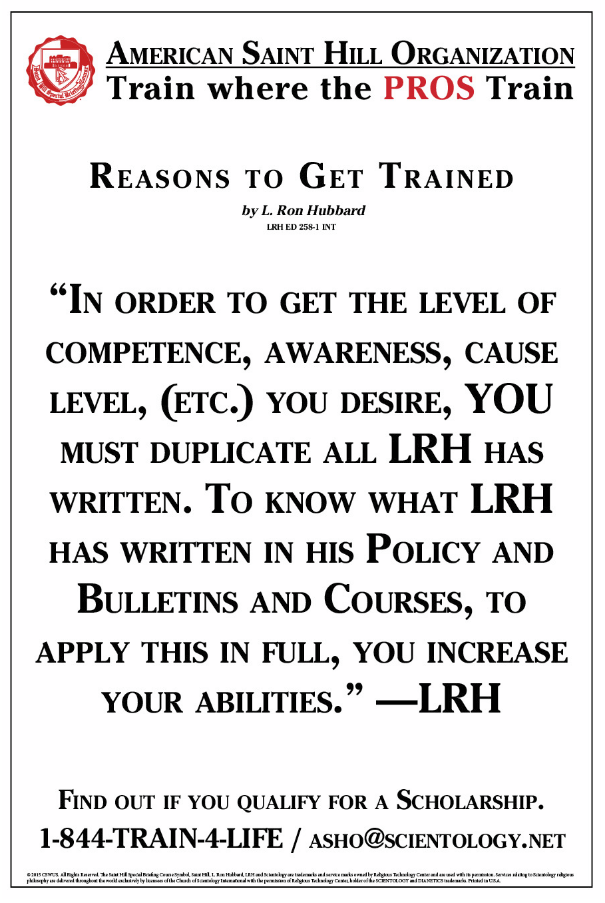 OT Hatting Speaker
Aptly named Hattenbach – but if he knows so much about attaining power in life NOW how come he doesn't have a real post? Wouldn't he be the Commanding Officer of the FSSO by now and get some people onto that ship and enough income to buy some fuel? Nah, let's send him out and have lecture others on how to do what he cannot do.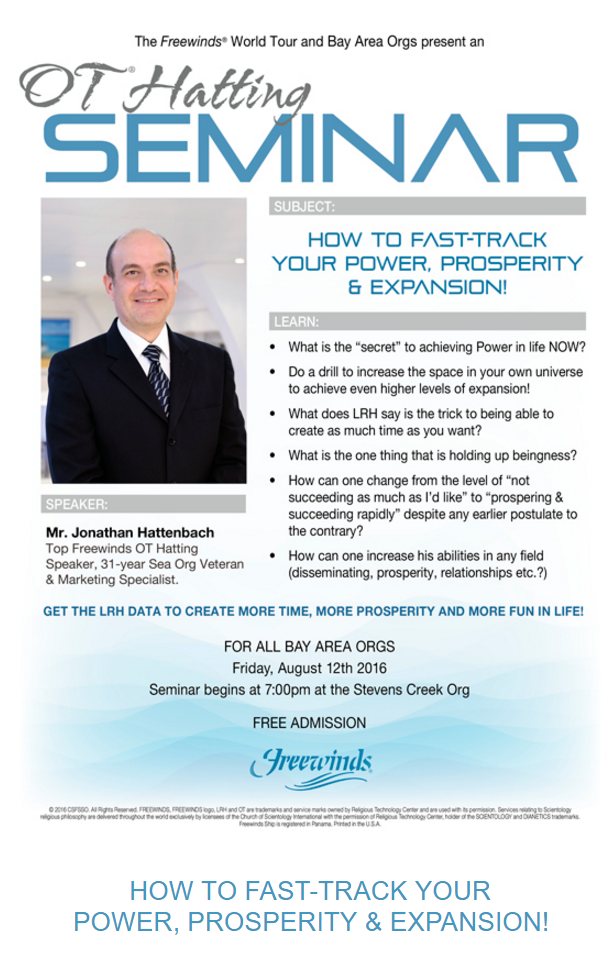 IAS v Ideal Orgs
I thought it was the ideal orgs that were clearing their areas? And BTW, there is an IDEAL org in Dallas, so how come it's all going wrong there (at least according to the expert, Michael Roberts)?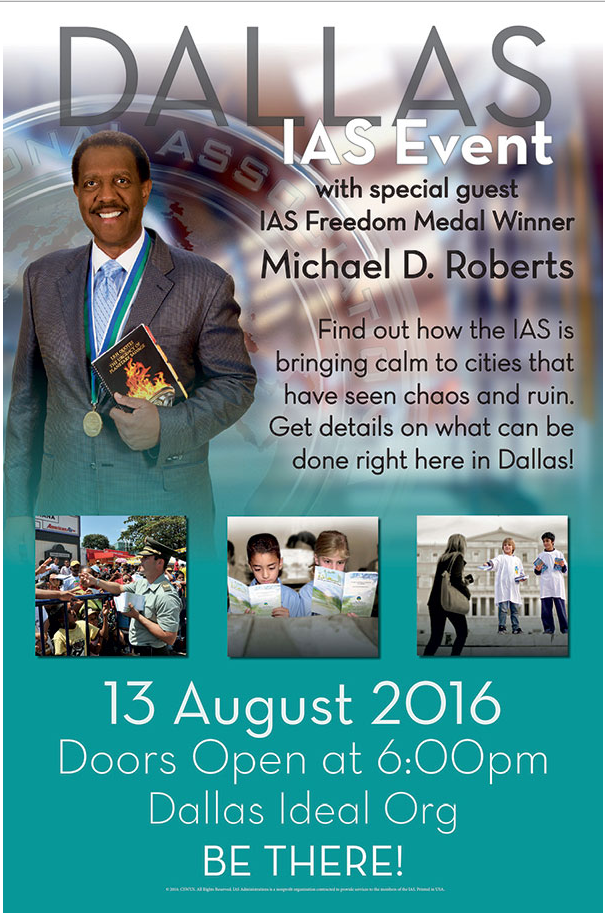 It just doesn't add up that society is falling to pieces but scientology is clearing the planet…
How religious
Final Countdown….
This is just the major service buyers. The vast majority of CF is bookbuyers.
They ONLY have 400 folders left. Tampa org boasts they have 200 staff. So why don't they get each staff member to do 2 files tomorrow and be done with it?  If this is SO important, why are PUBLIC doing it instead of the staff?
Bizarro
Are they having Wick Allcock speaking Italian?
The exit route from suffering and death mapped out…
…if that is the case, what happened to Ron?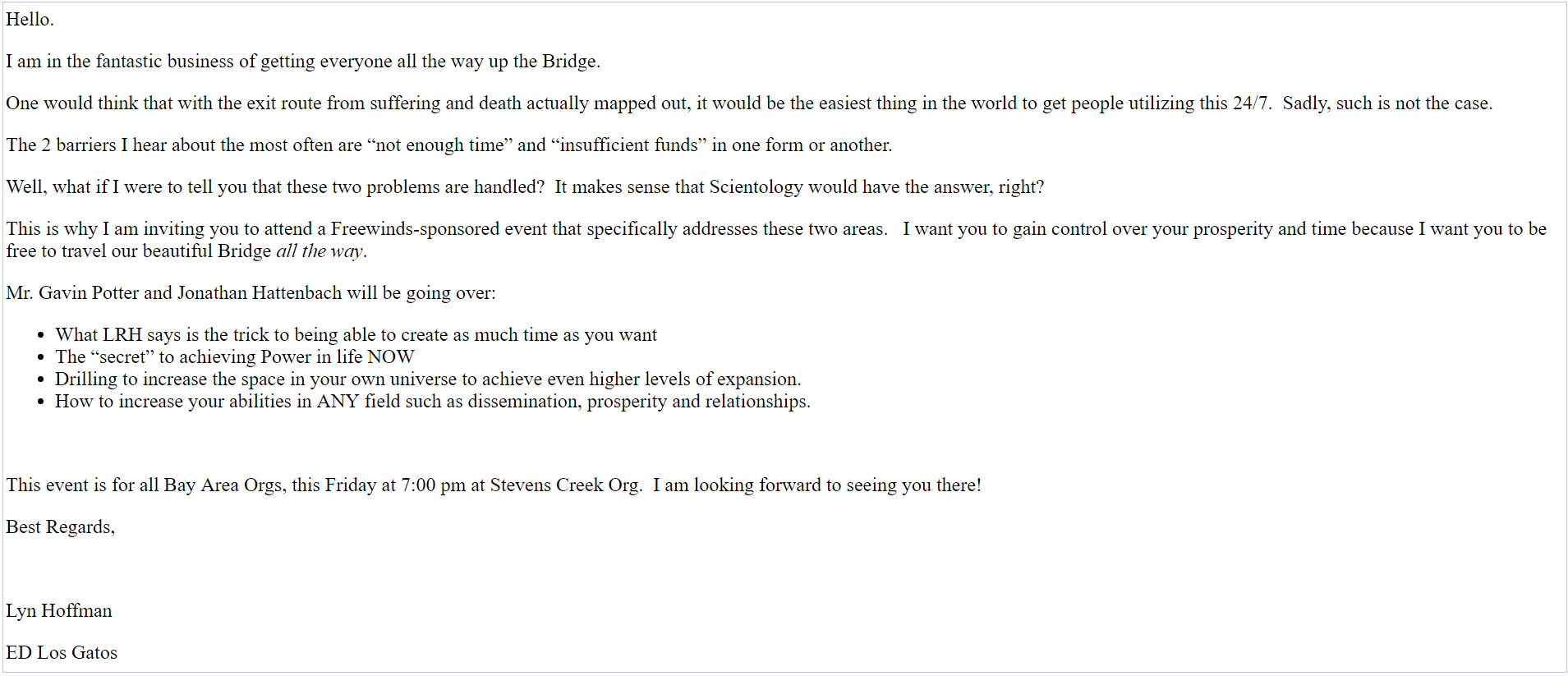 KC is getting rolling…
Should provide some entertainment over the next few years as they are moving into the pirate parties/superhero gatherings/door auctions phase.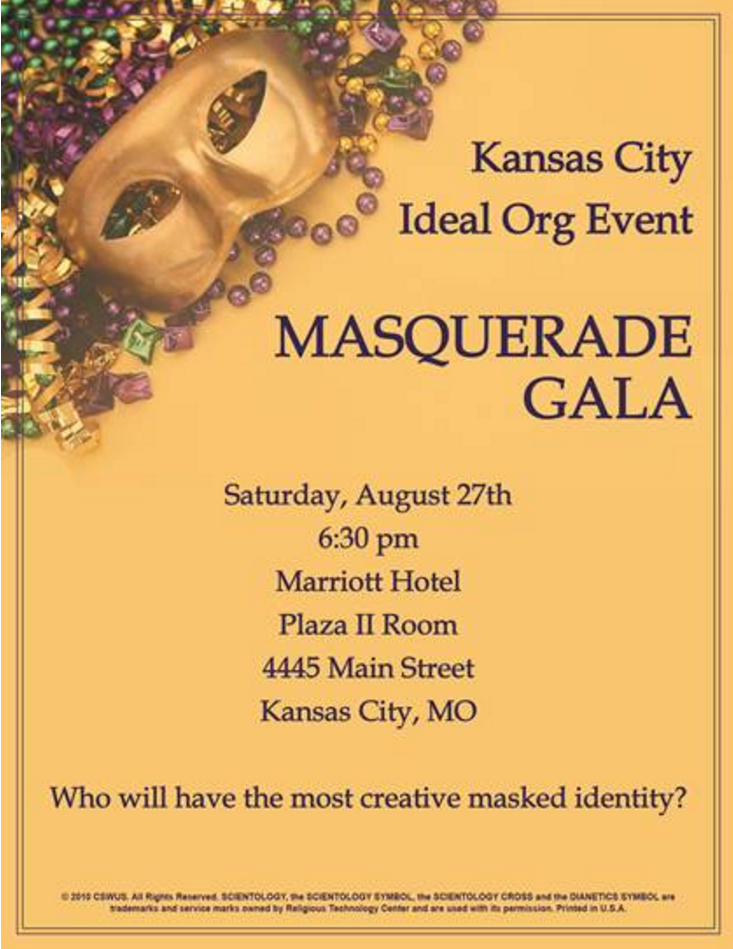 I would love to hear your feedback…
OK, here goes. Meaningless claptrap.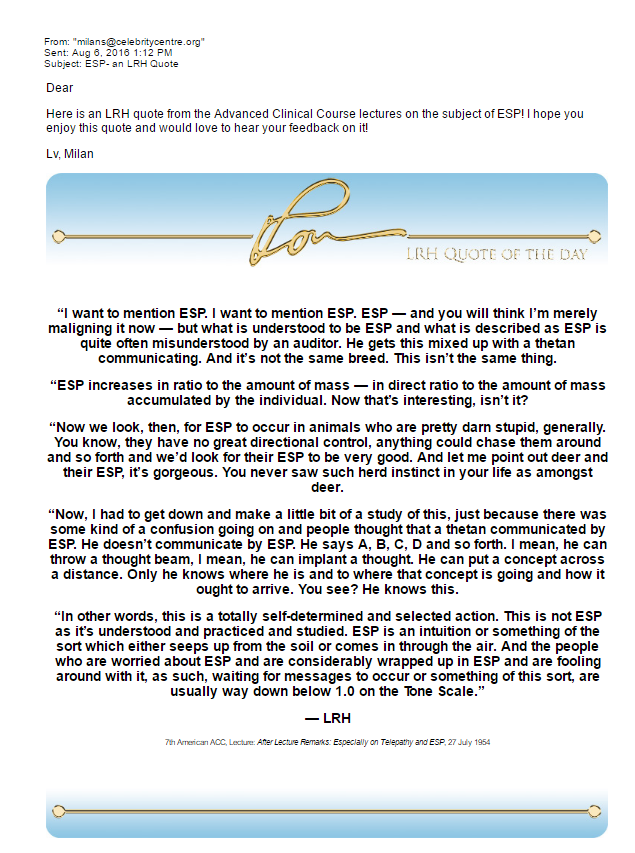 All orgs, one time only: 5 August
Well, if you missed the one time showing there is another one time showing another time.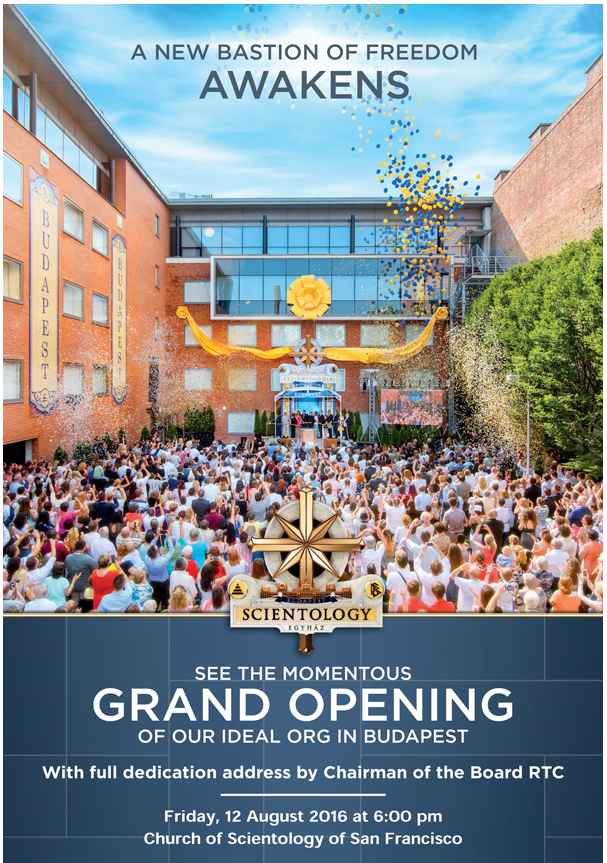 This is a joke, right?
You moved from Pakistan to Cincinnati after hearing about Jeanie Sonenfild?  Another "huge" ideal org that is expanding like crazy but STILL isn't SH Size (LRH said it took a matter of weeks).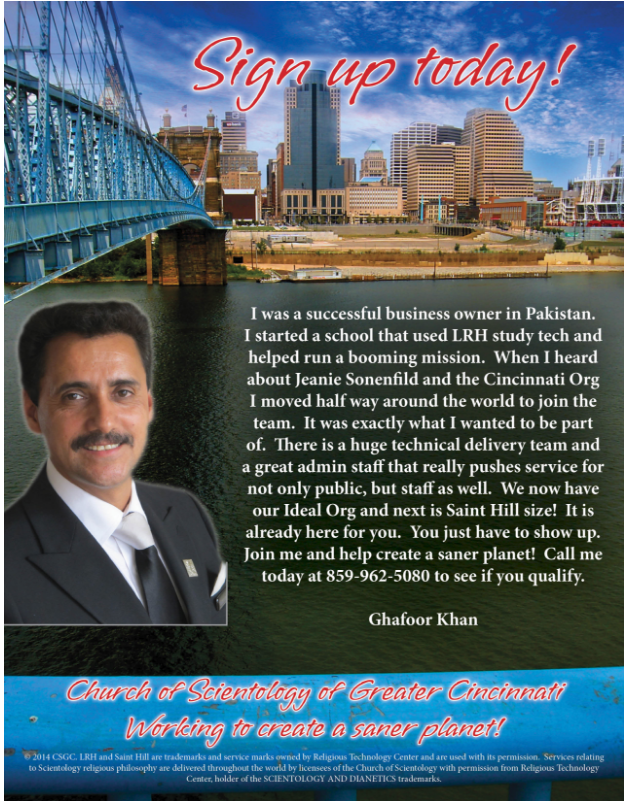 The Elite 100
They are creating an "ideal scene for LA with Scientology" (are they serious?)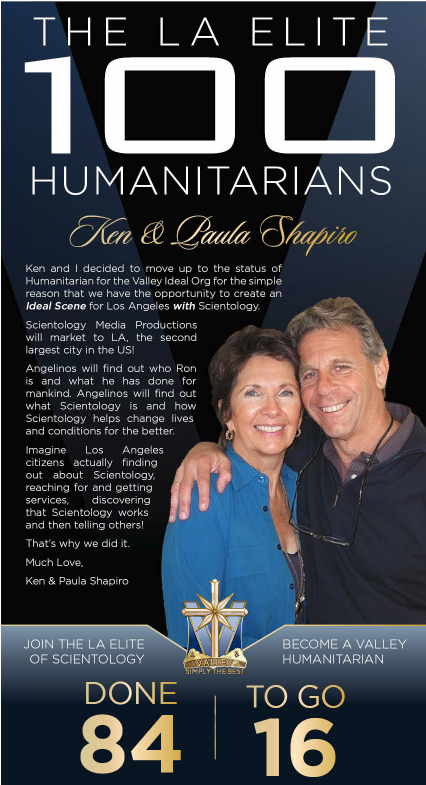 How do all these SO members (apart from the Bayback silver spoon babies) have money to give to ideal orgs? Oh yeah, they are all regges….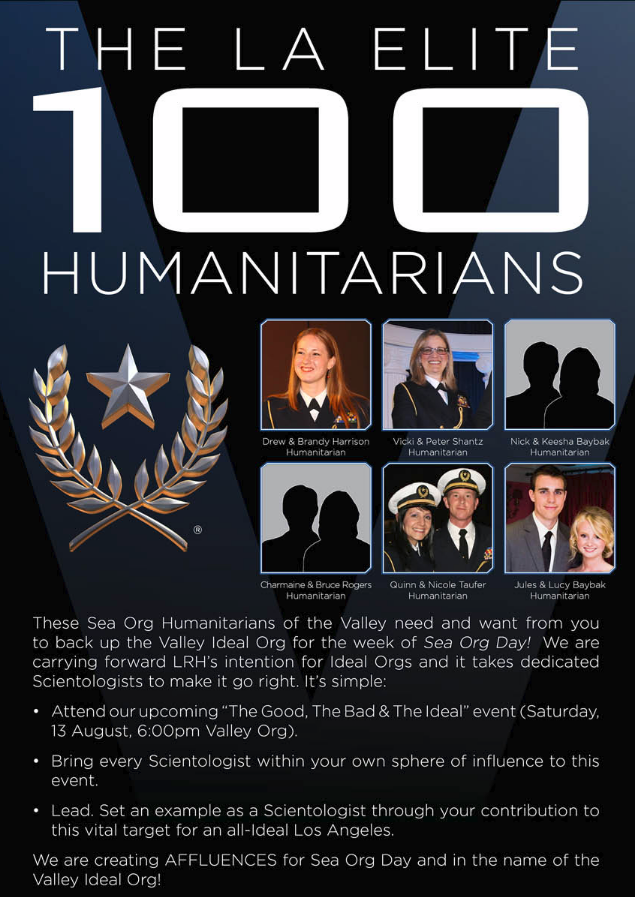 Or full time FSMs…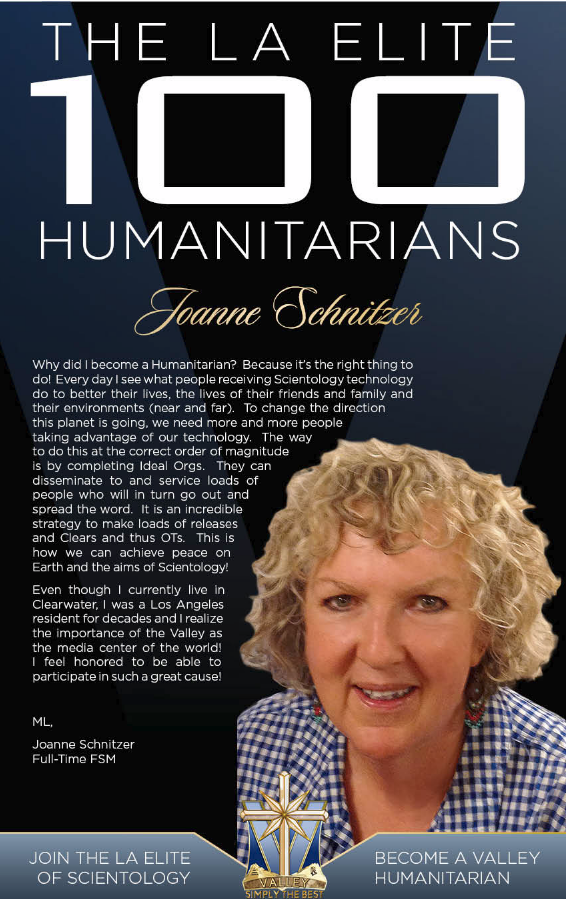 Wishful thinking
More like delusion. Not sure which is funnier — one of those fiction prints offered at $6,000 or a set of PDCs for $10,000. She wouldn't get any offers if she cut the asking price 90%.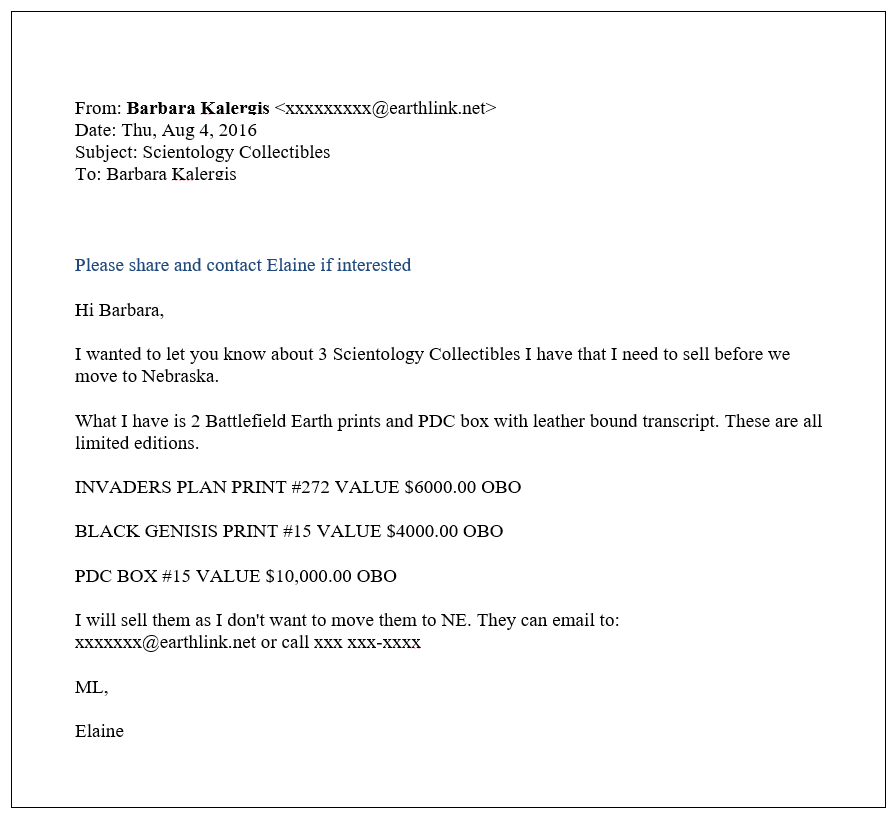 Burn baby, burn
Whoever thinks up the themes for these things is batshit crazy.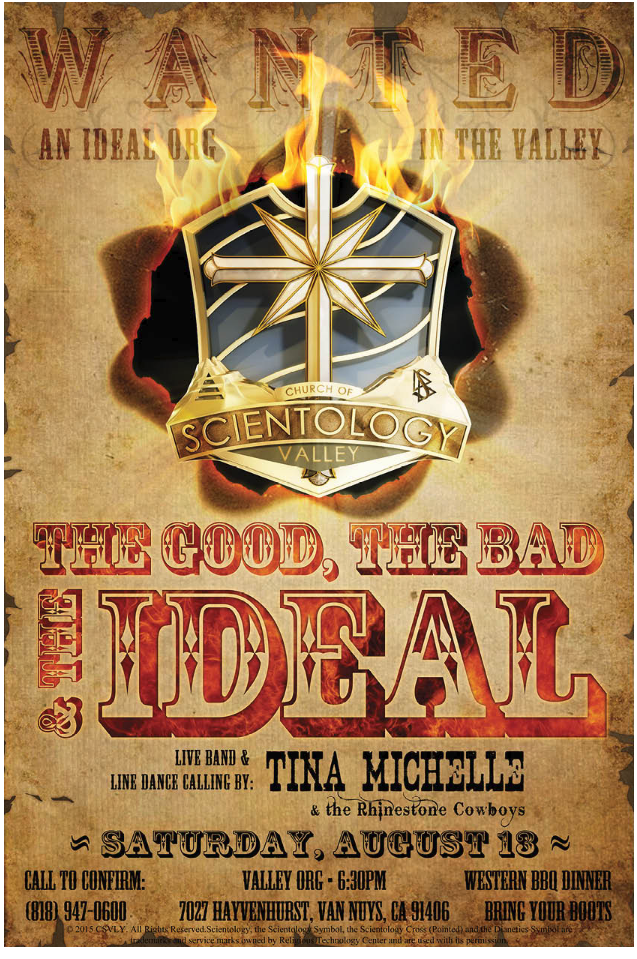 More Central Files fun
And bring the kids! What fun it is for them.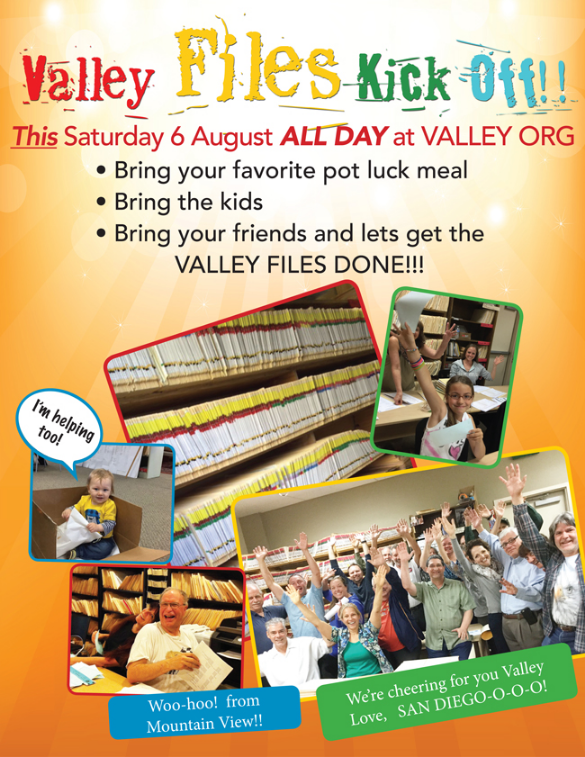 Might My Mammy
They have come roaring back to life. Pity they apparently don't realize LRH is dead.
Special Speaker
This is a clue as to how Vicki Shantz has enough money to be donating tens of thousands to ideal orgs. The true holy man in scientology is not the auditor, it is the reg.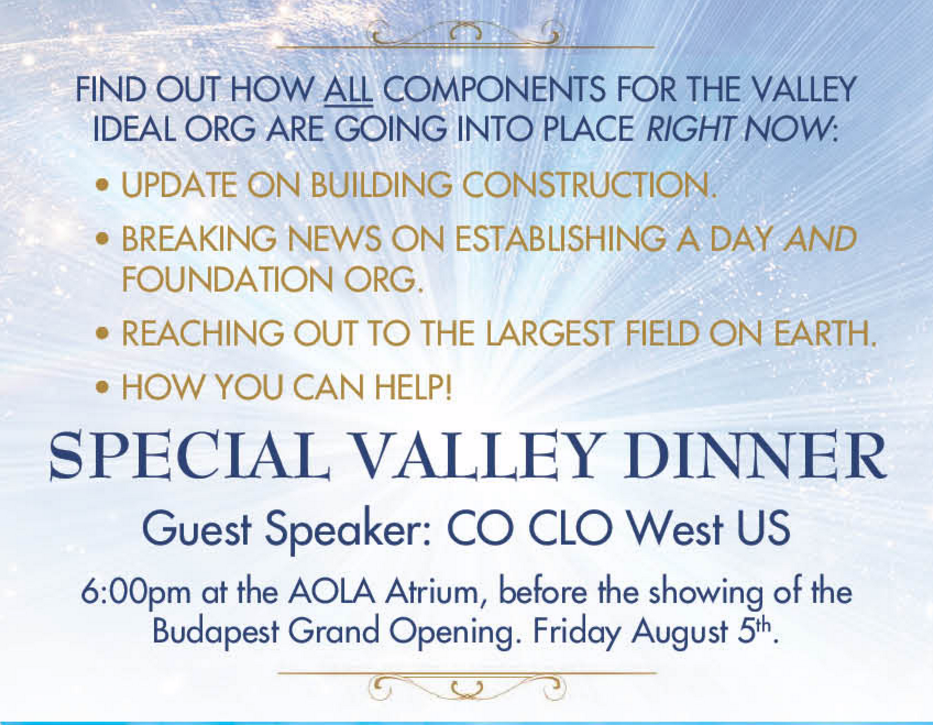 We ARE going ideal
That's why we are begging for computers, switches and patch cables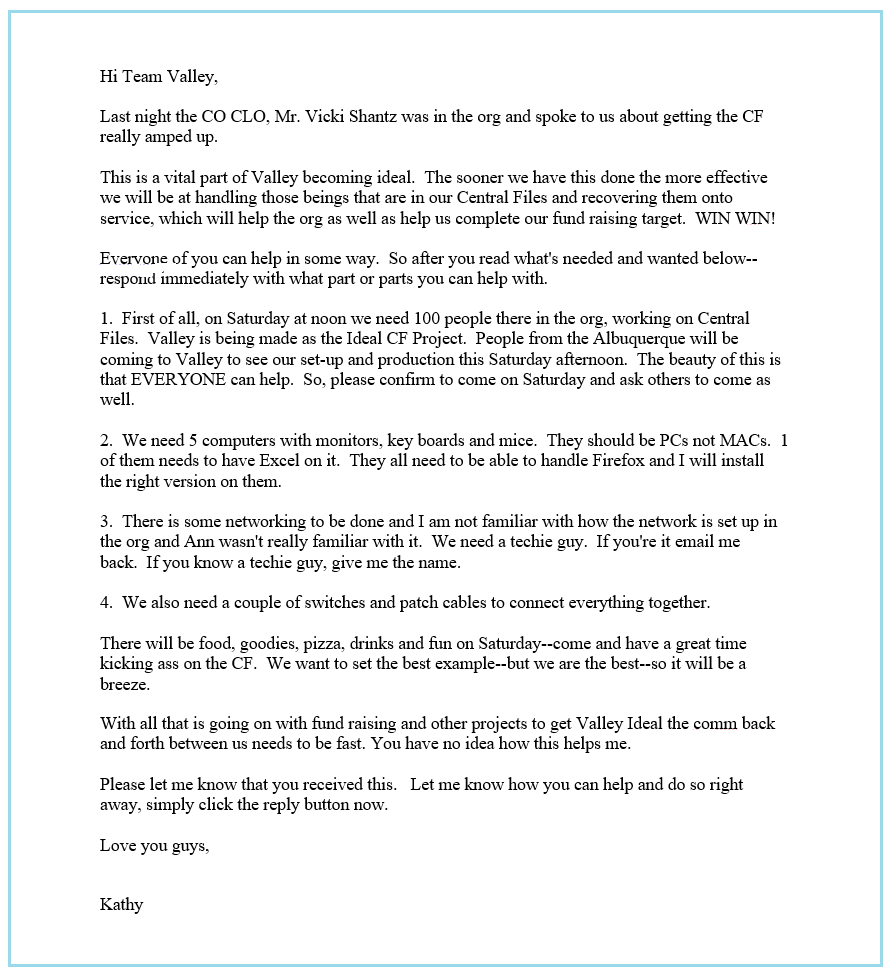 For the record
Here is the full complement of the ship of fools proudly proclaiming their stupidity to the world
OT VIII success
Just you wait until you get to start running around in circles. Being able to duplicate various shapes and sizes will seem like NOTHING.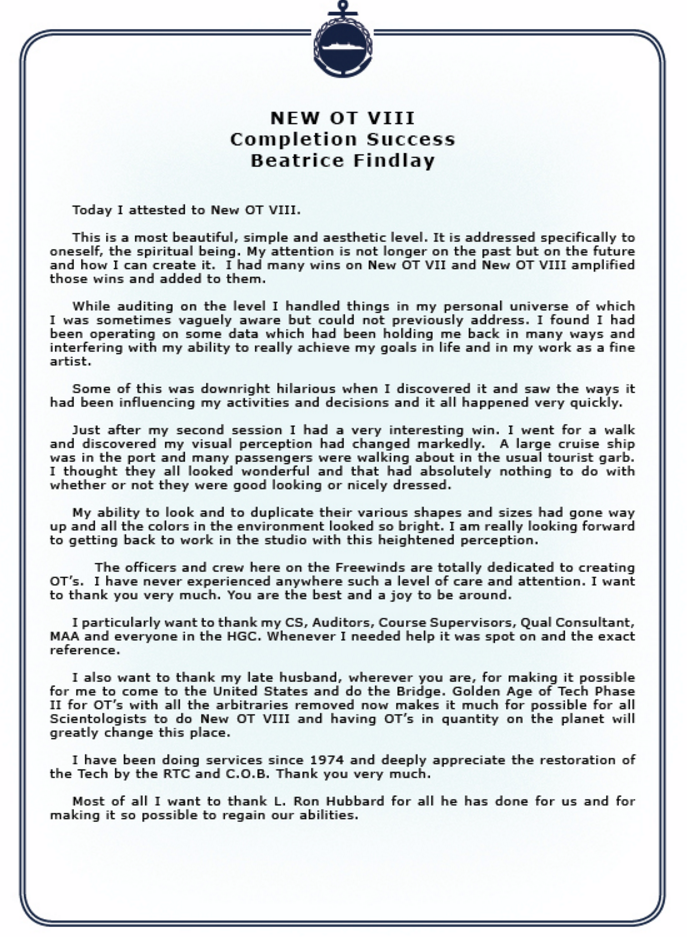 Captain David Miscavige
Here he is in all his glory, featured in the latest edition of Source magazine. Remember when his lawyers in the court in Texas complained that it was a deliberate insult to call him "Captain Miscavige."  You will note the editors of the magazine got the word, so he is nowadays "Mr." Miscavige. But rest assured, those are Sea Org "Captain" gold bars on his sleeve. Captain Queeg might suit him better if he doesn't like Captain Miscavige…
PS: Photoshop much?